INTER CLASS COMPETITIONS
GLOBAL WEEK CELEBRATION
"Let us take advantage of the opportunities and lay the foundations for a more prosperous and secure future for all."
To accelerate progress towards the Sustainable Development Goals( SDGs) - also known as the Global Goals , Global goals week was celebrated in Mount Abu Public School. The students of class VII worked on the topic "SOCIAL JUSTICE " on 17 September 2021. A TEDx Video on Transgender Laxmi Narayan was shown to the students . The students were asked to express their feelings and views after watching the videos on the transgenders and how would they feel and react being in their shoes
They got an opportunity to look at the successful transgender people who broke the shackles to become the ones to achieve big in their area of interest, from academics to politics.
.
It was also a chance to speak out as one voice, share ideas and transformative solutions in the fight to recover better from global challenges.
Global Week Celebration was an opportunity for the students to realise that it's not easy to face the world when one is constantly being looked down upon by the society . Almost every other person has to face the abusive behaviour in the society they live in. To make one's life better and to make a mark with this identity, one has to take the tough path.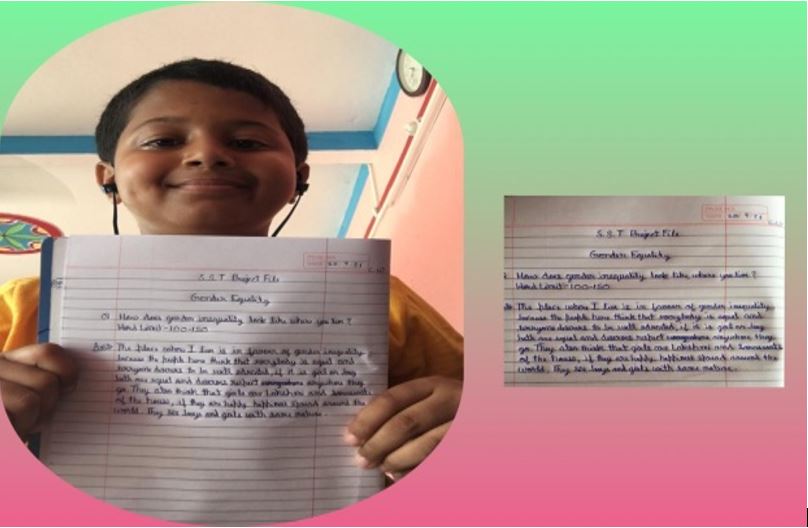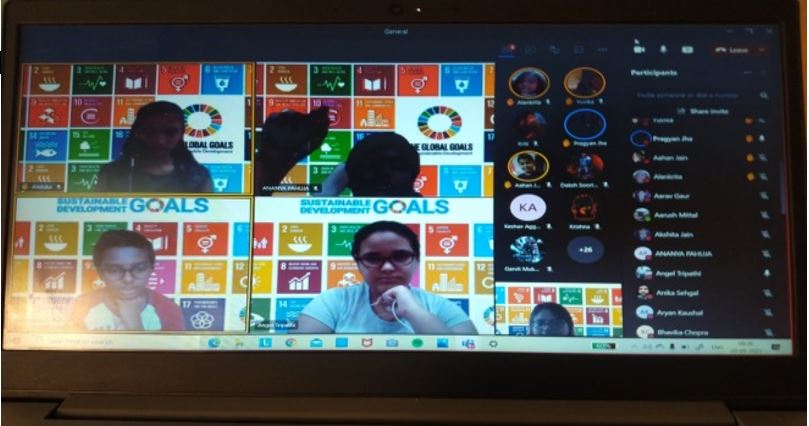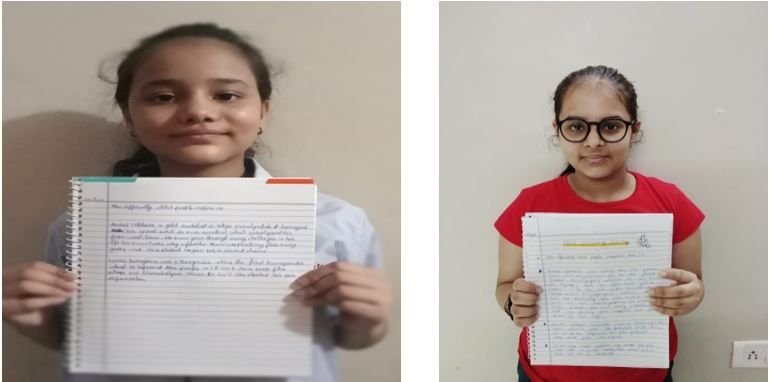 ---
WORLD COMPUTER SCIENCE WEEK
Students of the School celebrated World Computer Science Week from 9th December to 15th December 2019, wherein they participated and enjoyed the activities on Hour of Code like Learn to code with Minecraft, Hot Wheels, Monster High, and many more fun, game-based activities and earned Digital Certificates. The Hour of Code is a global computer science initiative that creates a fun and creative environment for students to be introduced to the concepts of computer programming.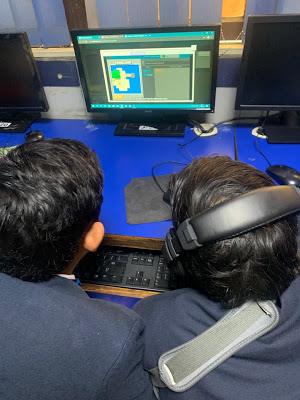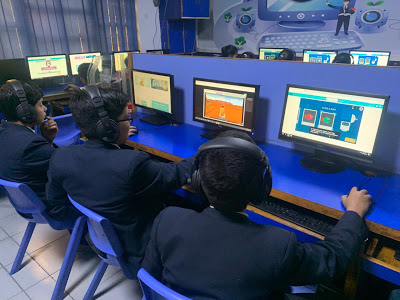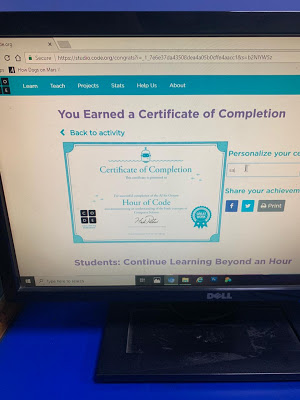 ---
INTER CLASS INTERVIEWING MATHEMATICIAN
To make the students aware about renowned mathematicians and their valuable contribution in making mathematical concepts easier, an Inter class Interview session for class IX was conducted on 6th November 2019 during Mathematics Week. The young students dressed up as Indian Mathematicians of their choice were interrogated by the interviewers where in each participant got exposure and showcased their caliber. Participants of class IX-A bagged First Position followed by IX-D participants as Runner up.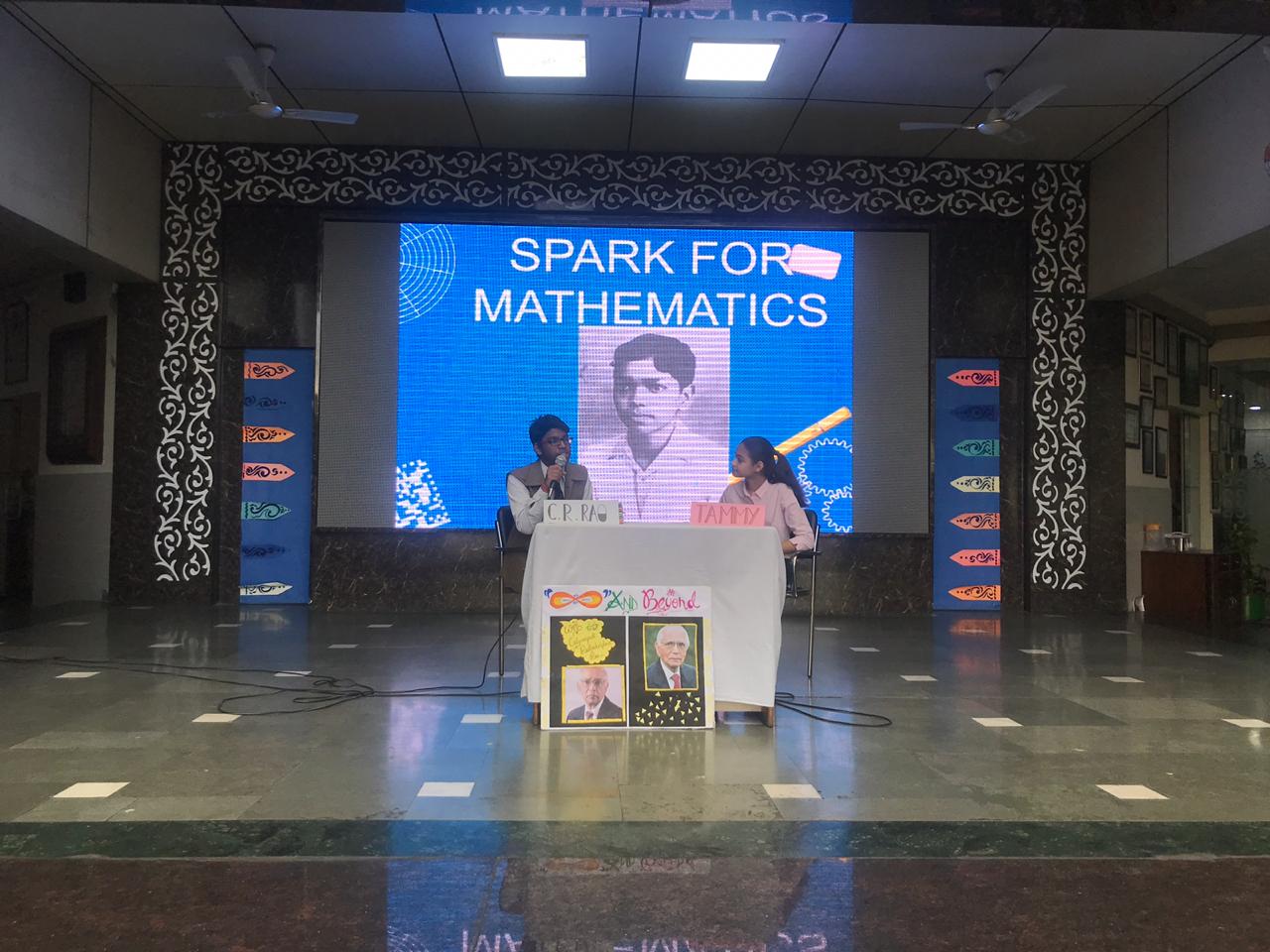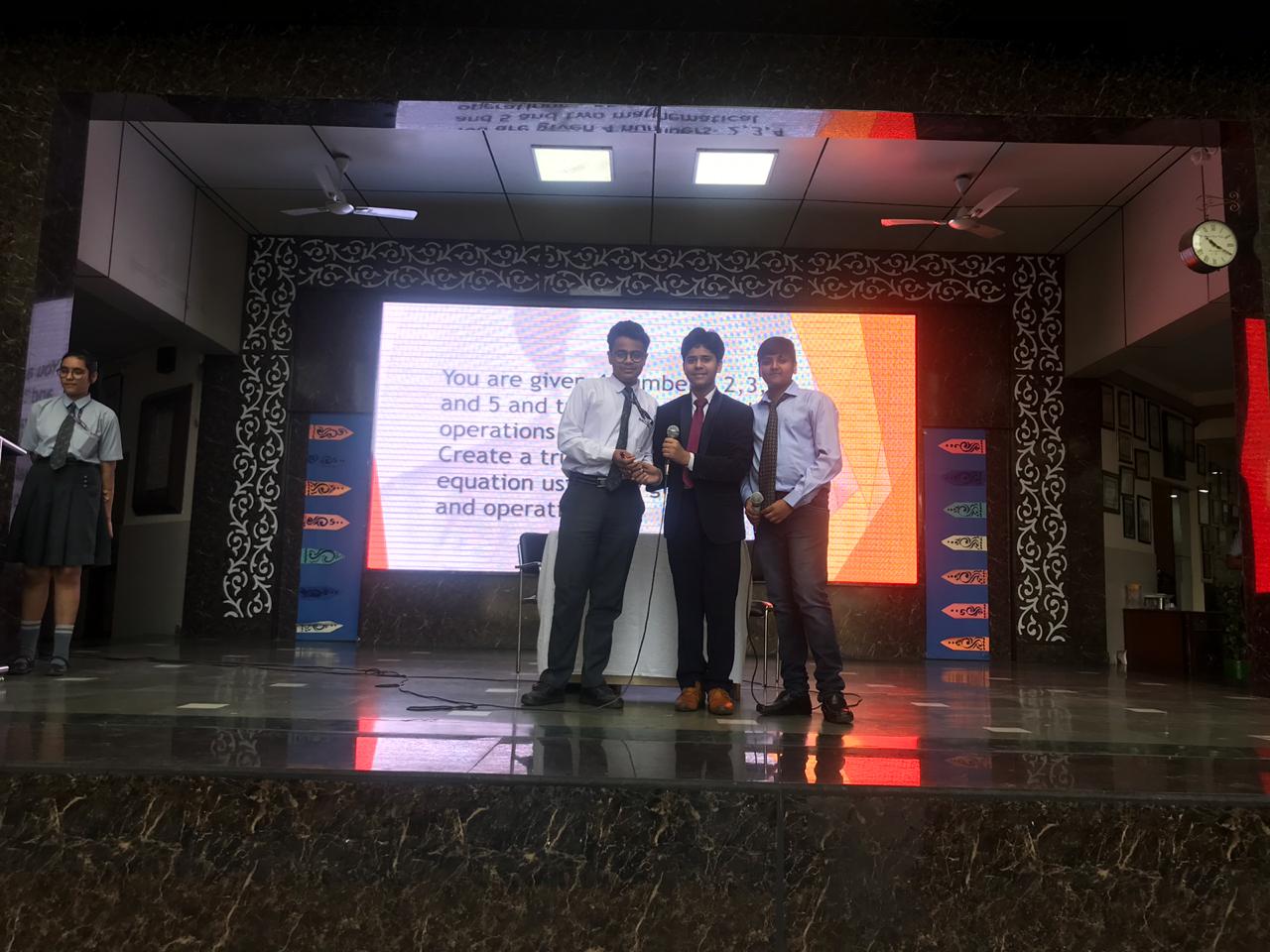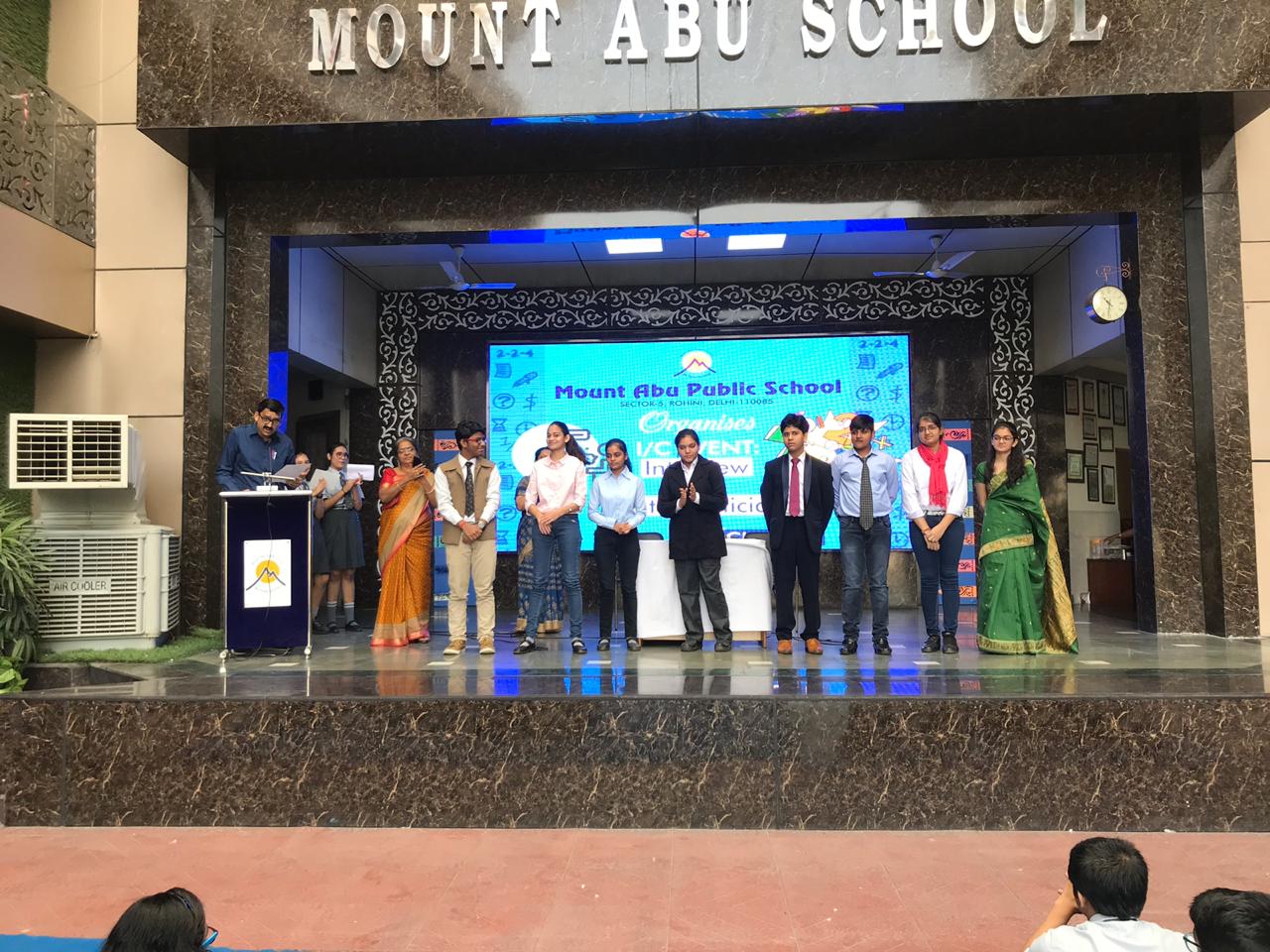 ---
SPORTS FIESTA
Sports Fiesta was held for students of Class X on 22nd of August '19. It was an eventful day with students coming in best of their tracks and playing sports of different formats. The event had Cricket for boys, football for girls, flat race and Tug of war for all. Students played with full team spirit and enthusiasm. Winners of various events were awarded with certificates at the end of the day.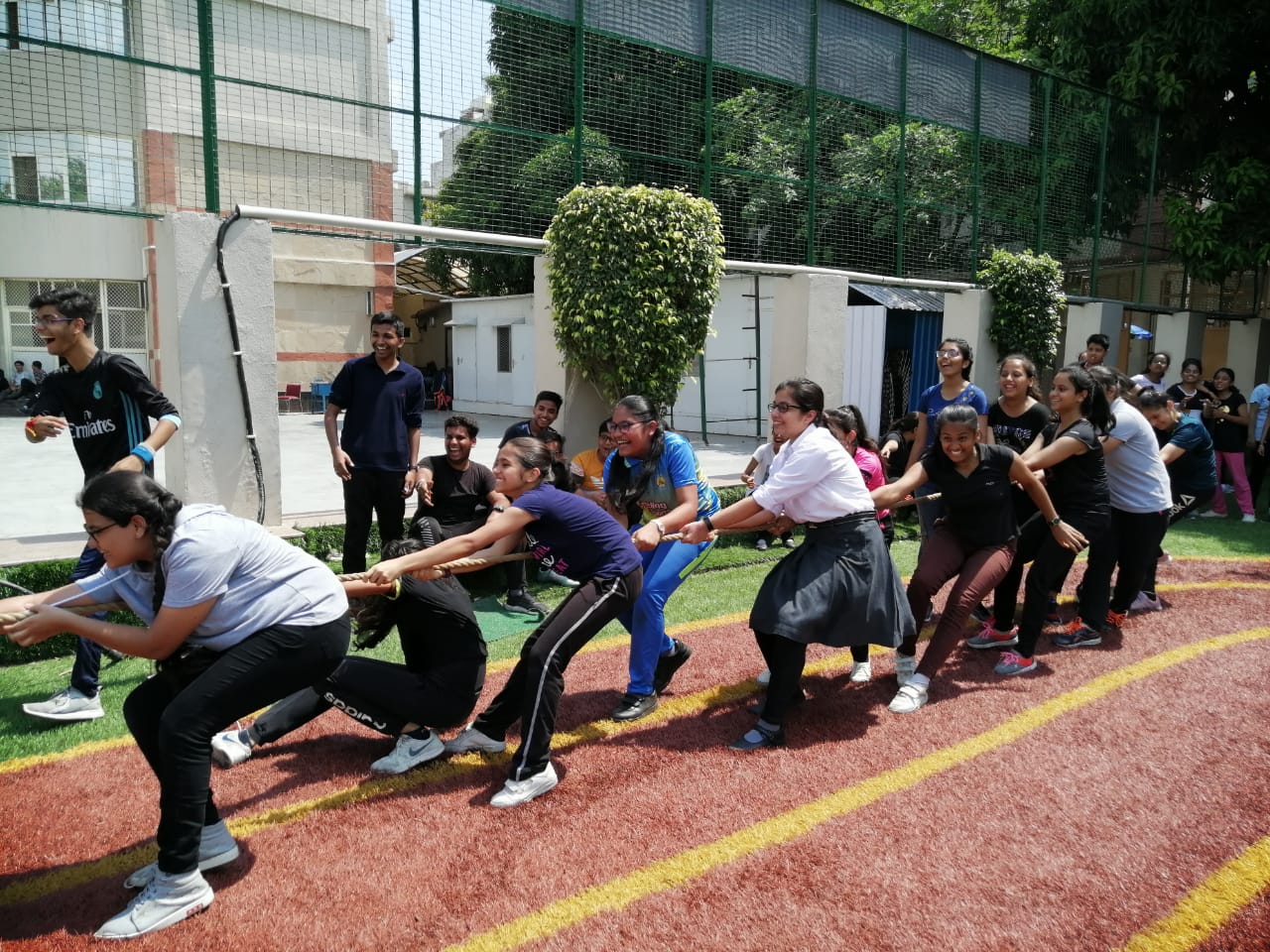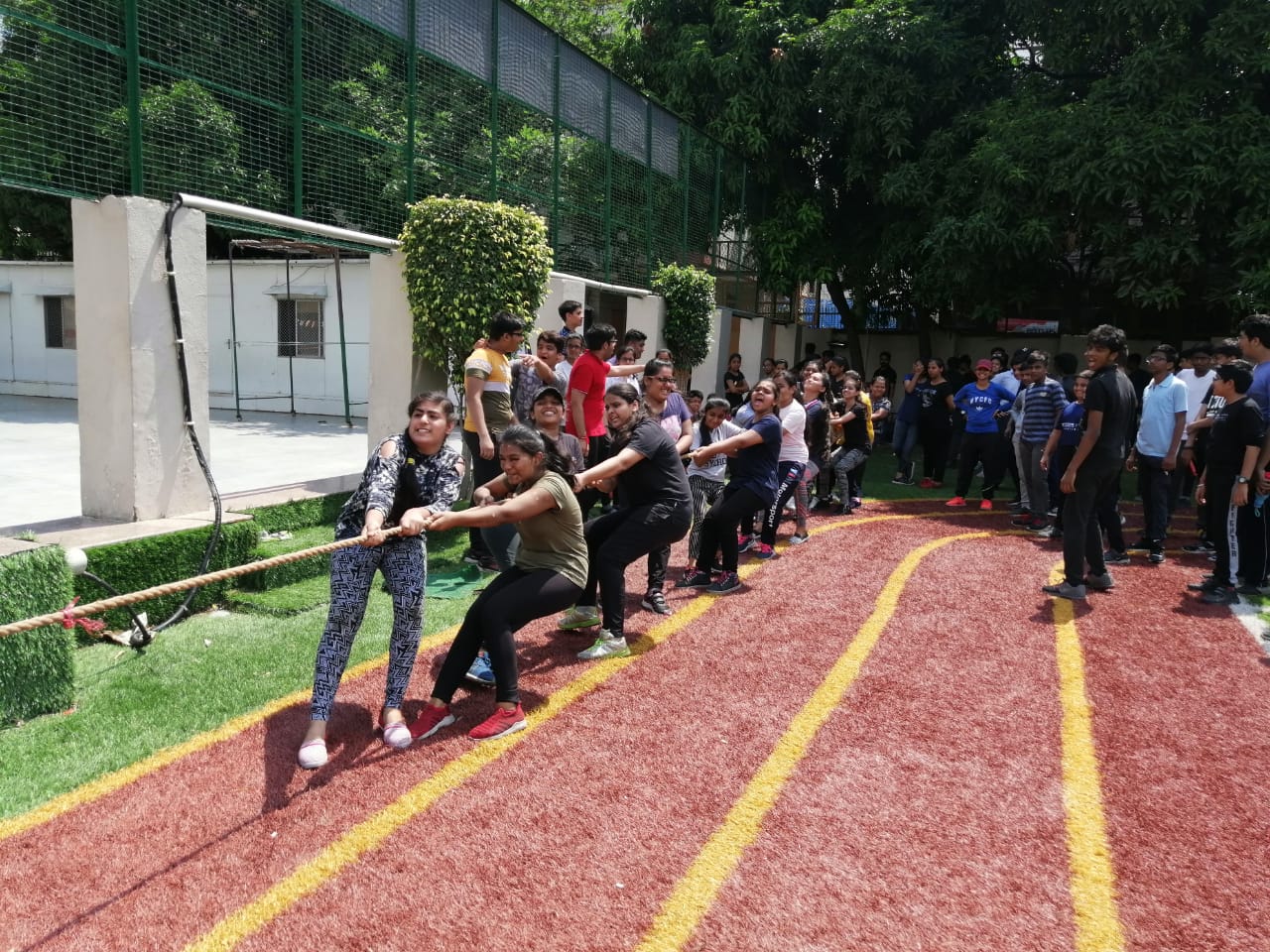 ---
20TH ANNIVERSARY OF KARGIL WAR DIWAS
On the occasion of the 20th Anniversary of Kargil War Diwas, students of class VI, VII and VIII paid tribute to the sacrifices of the brave Indian soldiers. The students were shown a video depicting the life of Indian soldiers during the war of Kargil. Later, the students of class VI and VII prepared flashcards wherein through flashcards, personalized texts and pictures, they paid tribute to our brave men. The students of class VIII expressed themselves by imagining them to be a part of the war and thanked the army of our nation for keeping their lives secured. These activities enhanced the values of patriotism, unity and integrity among children.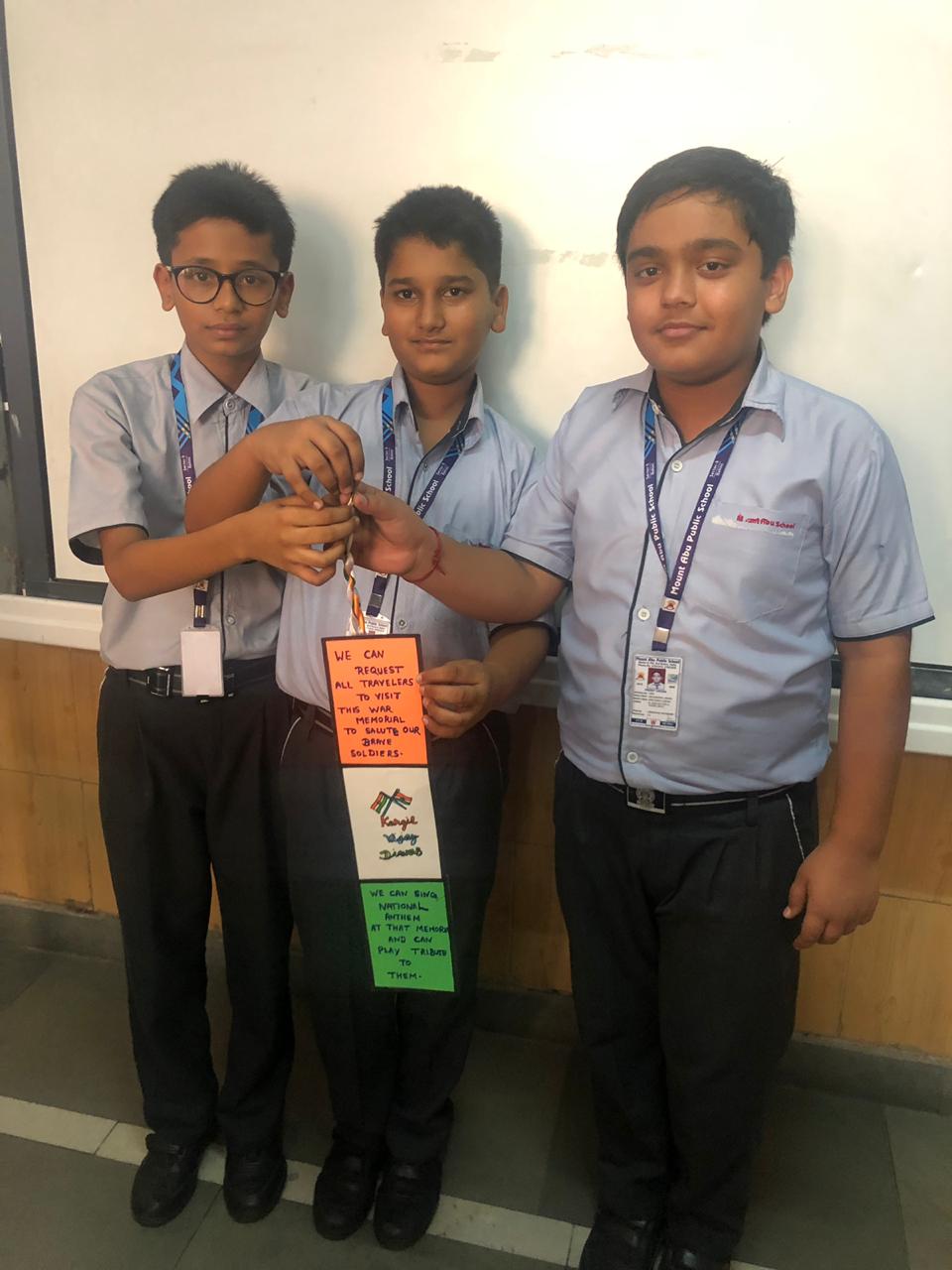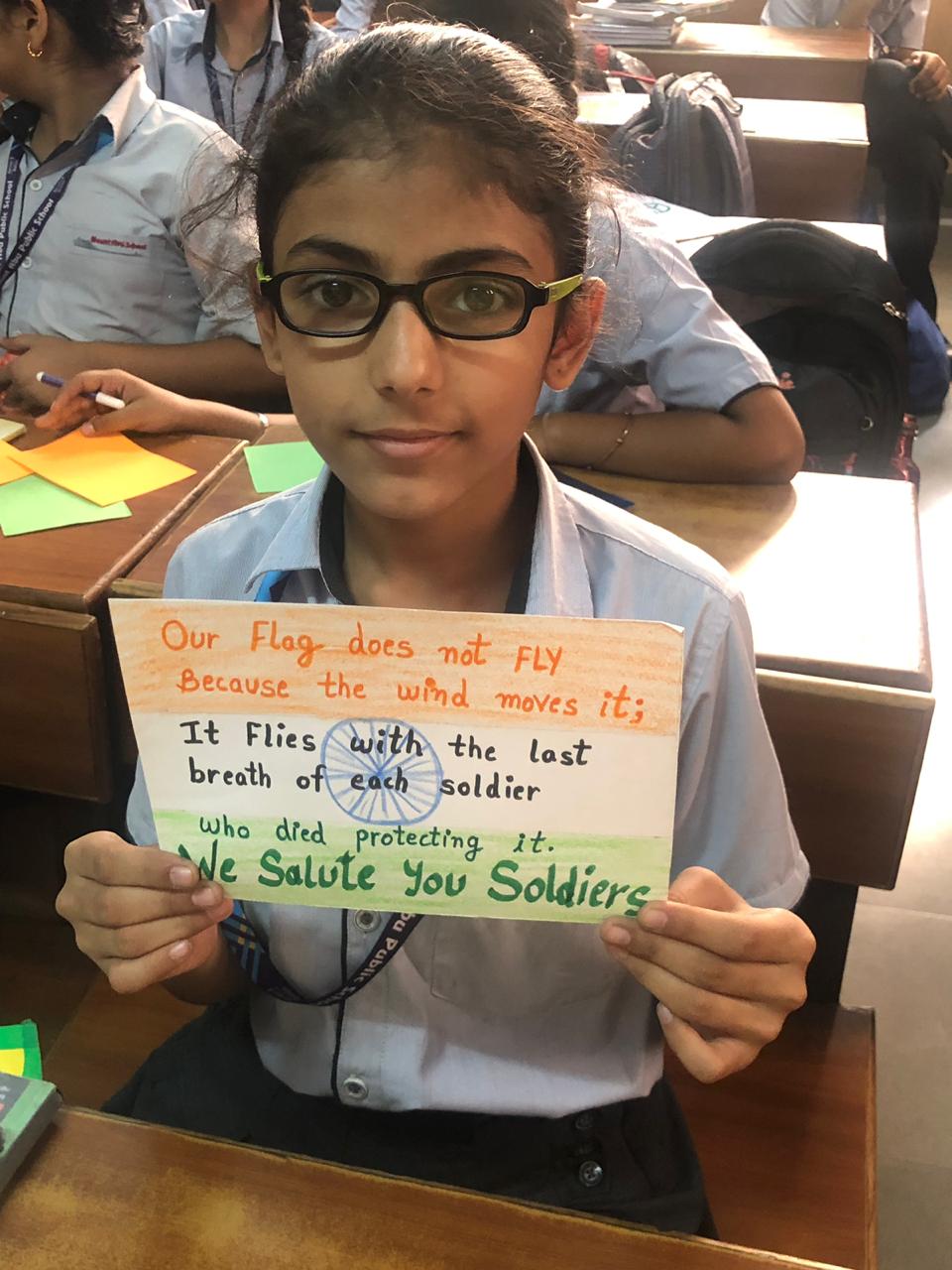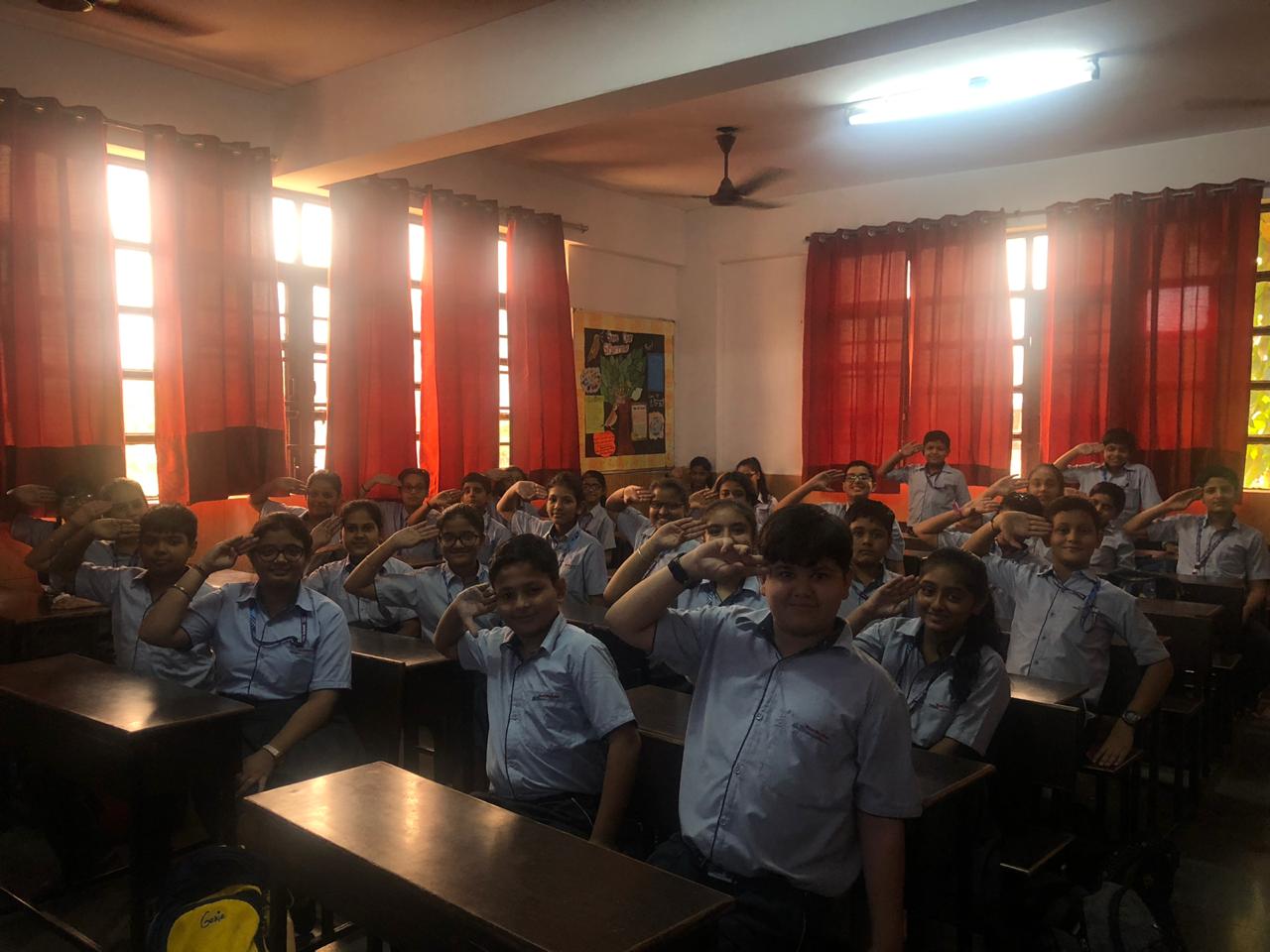 ---
SCIENCE WEEK CELEBRATION
Student of classes VI, VII, VIII were involved in Science Week from 22nd July to 26th July and activities were conducted. Class VI enthusiastically participated in Science magazine designing, expressing about different aspects of Science & Technology such as Flora-Fauna, Astronomy, Invention & latest discoveries. This activity involved research work at student's end. Class VII & VIII presented different skits based on motive to raise awareness among students about plastic & its effects as well as merits. Plastics are used by us in our daily life by skit they were able to comprehend the merits of plastic.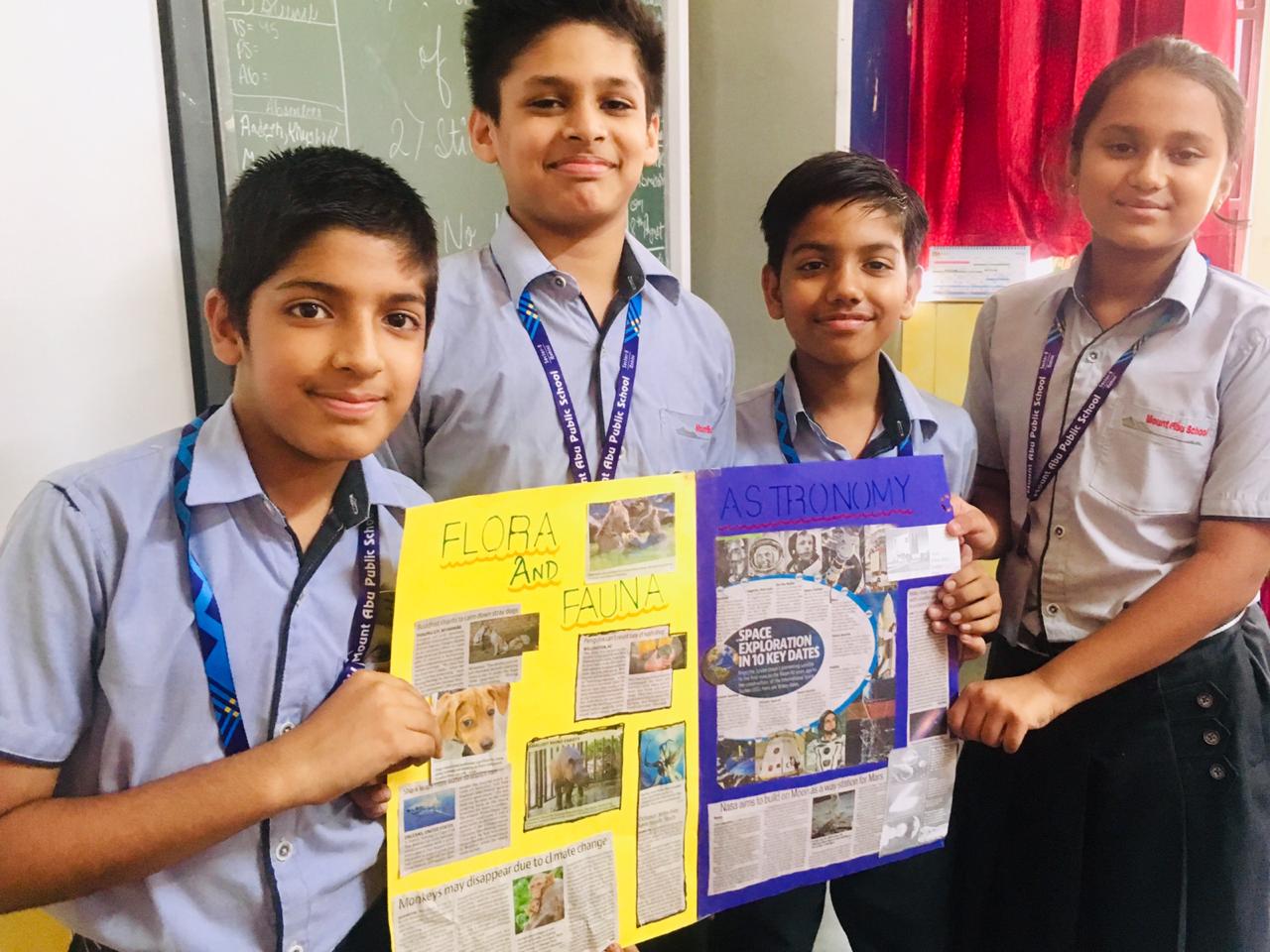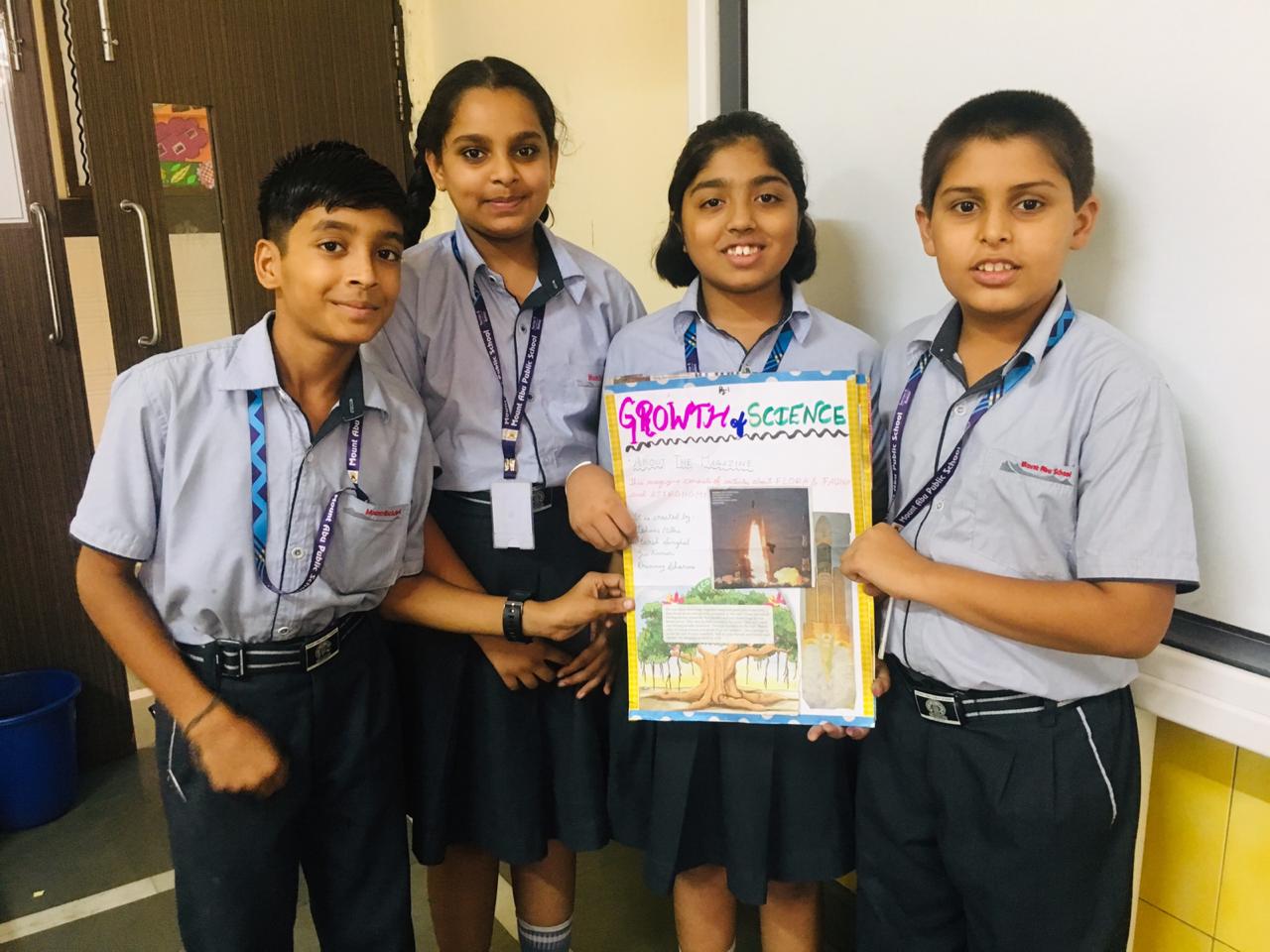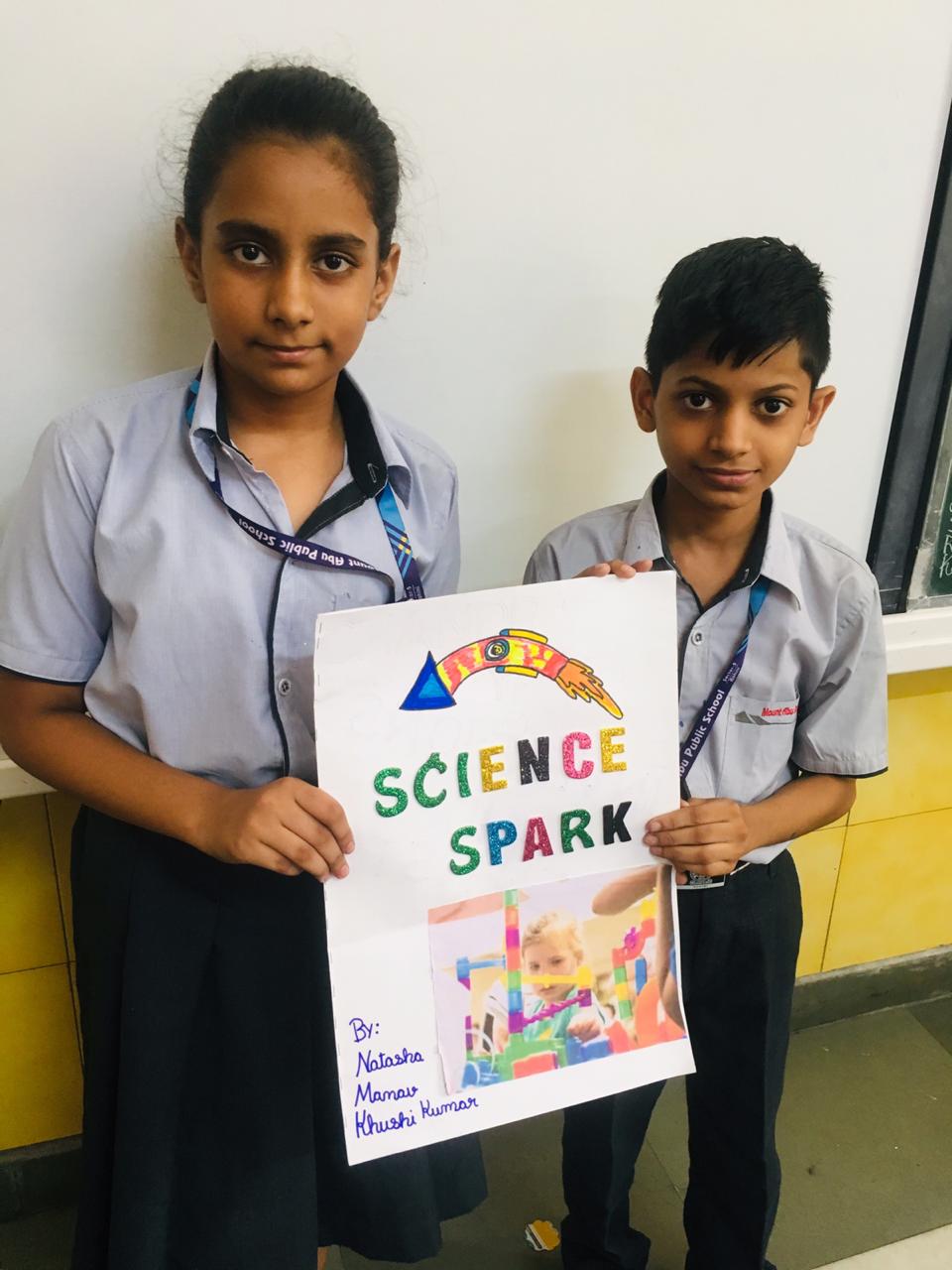 ---
T-SHIRT DESIGNING
An activity of T-Shirt designing for Class VII was conducted on 10 July, 2019 on the theme – 'LIFE ON LAND'. The students brought A-3 size sheets, crayons, sketch pens to present their T-Shirt in a creative manner. The students were given about 30 minutes to design their T-Shirts with logo on one side and slogan on other. The students emphasized on saving our mother land- EARTH. Best three T-Shirts were selected from each class. Further, the winners were chosen.
Ist Position - Rashi Saini (VII-A)
2nd Position - Arnav (VII-A)
3rd Position - Lavanya Tyagi (VII-B)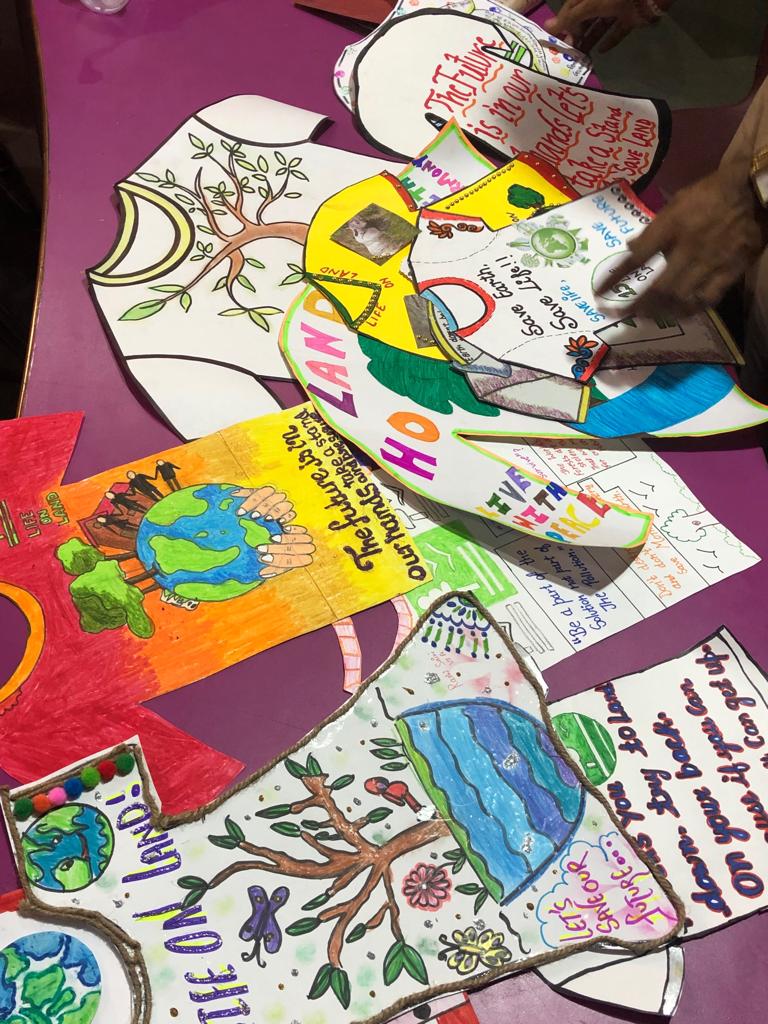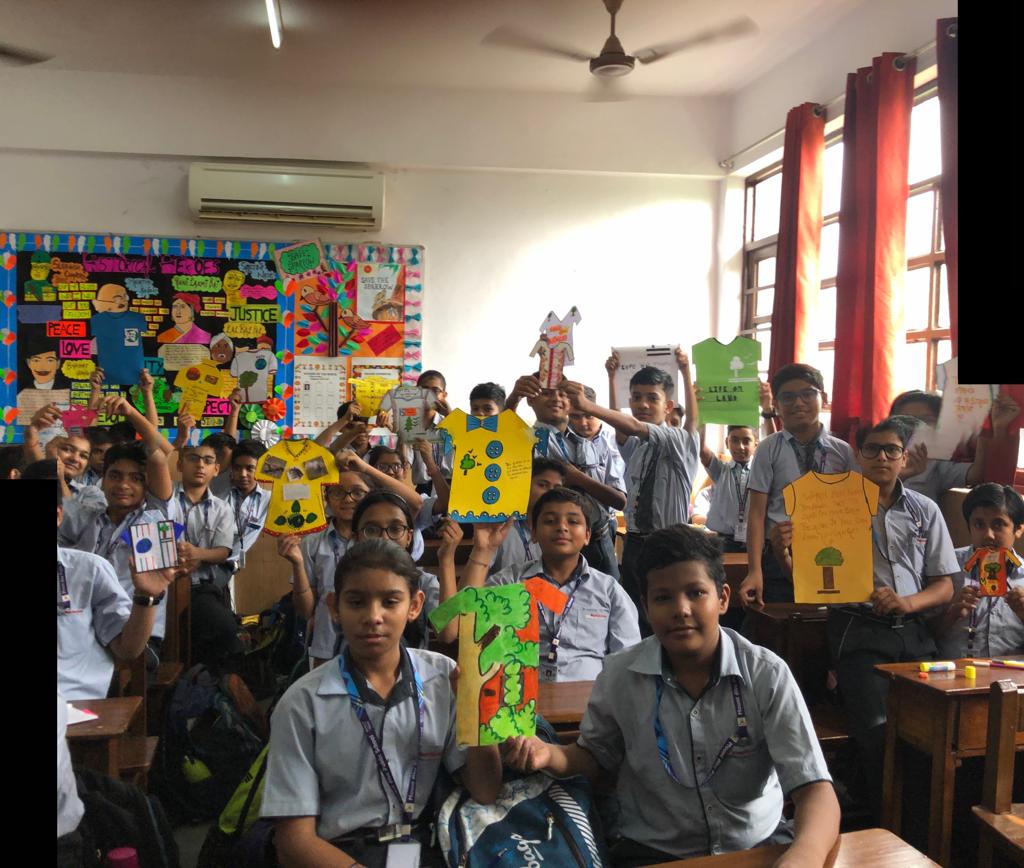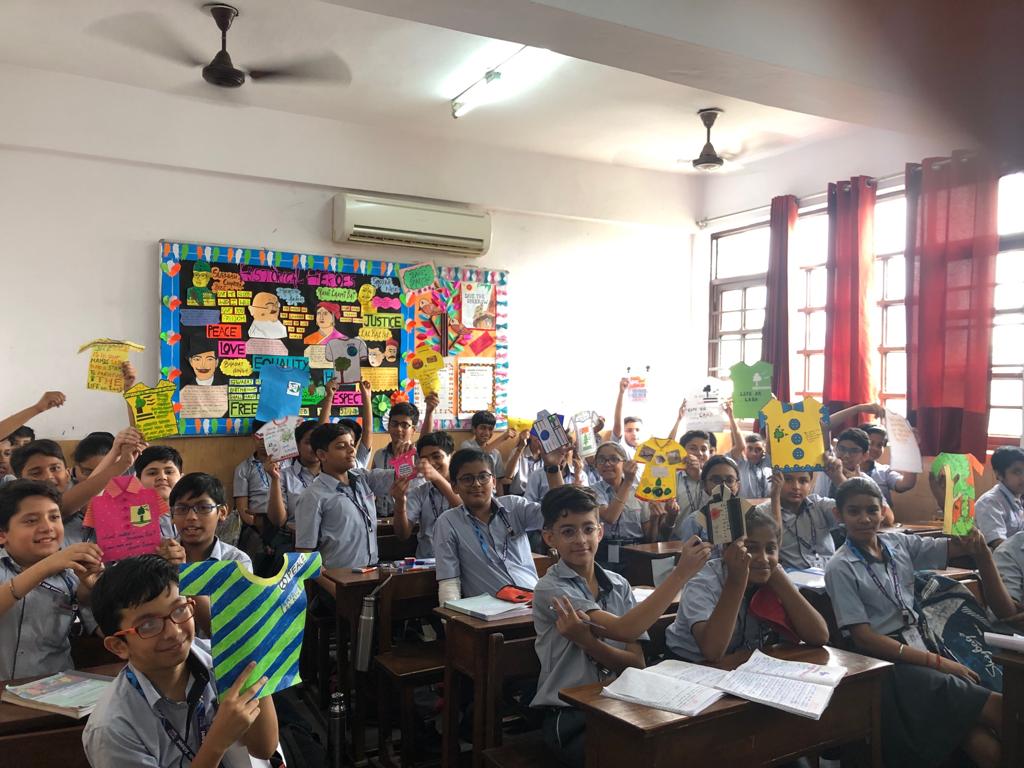 ---
CLEANLINESS DRIVE CONDUCTED BY CLASS VII
Class VII had their cleanliness drive on 16th May 2019. All the four sections were assigned their tasks of cleaning of each floor respectively. The students were carrying their gloves, masks and dusters. They cleaned the corridor walls, almirahs in the corridors, benches, library walls and the various furniture objects placed in the corridors. The students appreciated the helpers in the school for the hard work they put in and thanked them for always providing them a clean environment.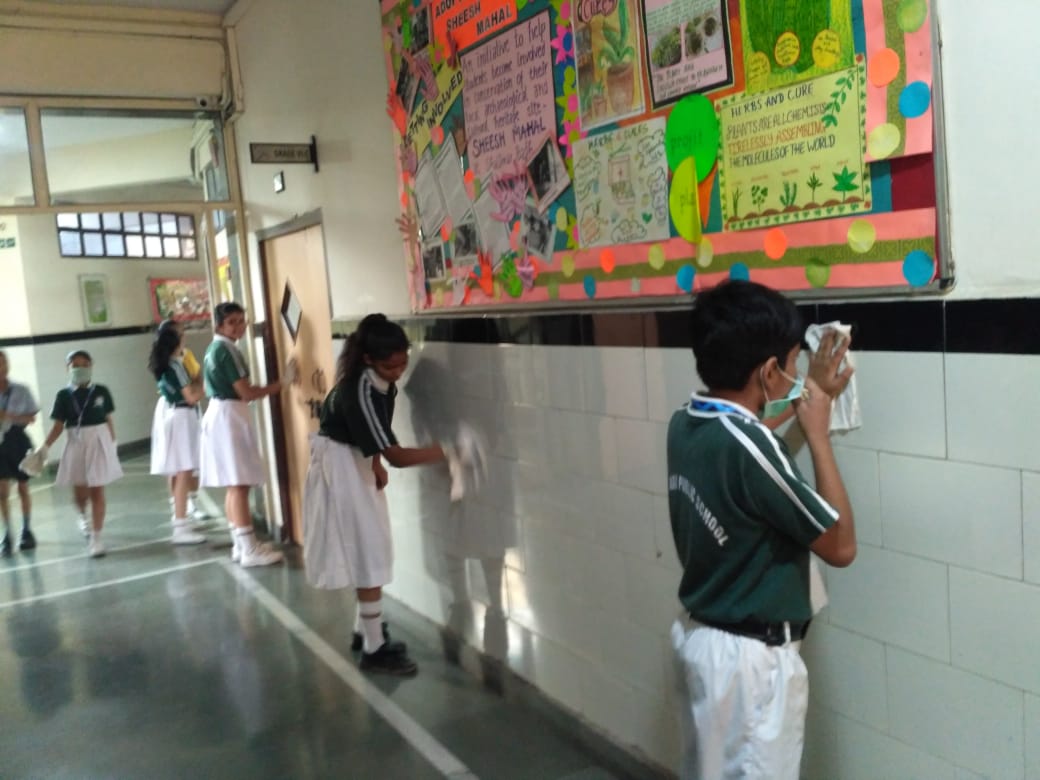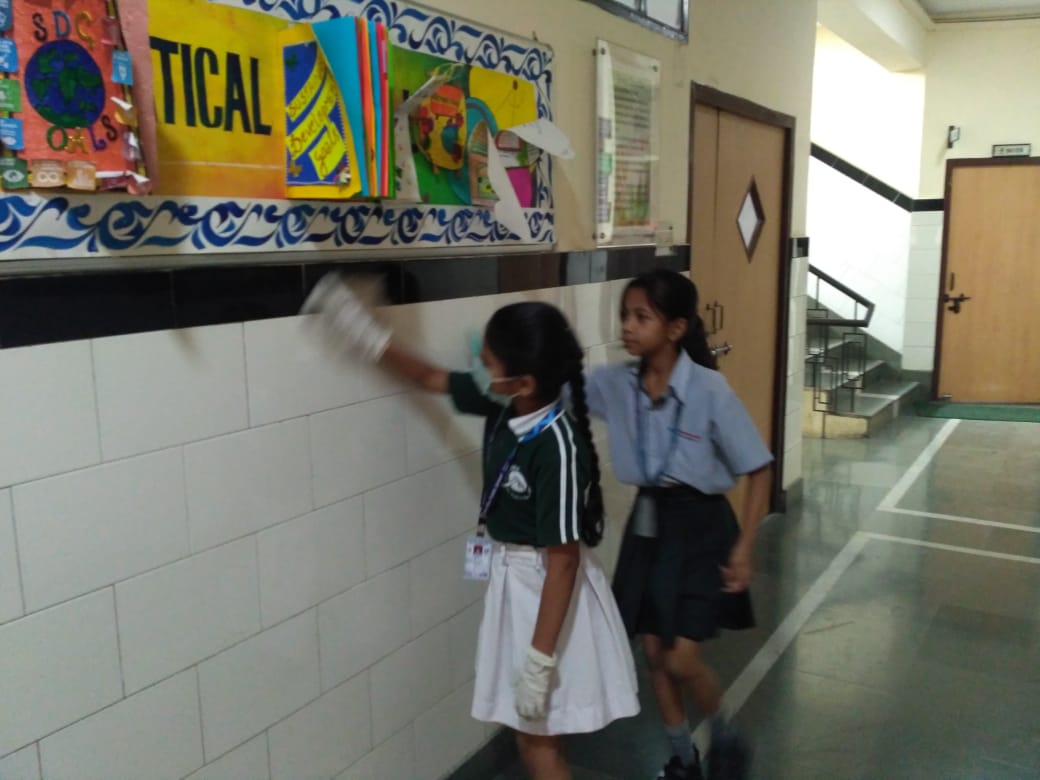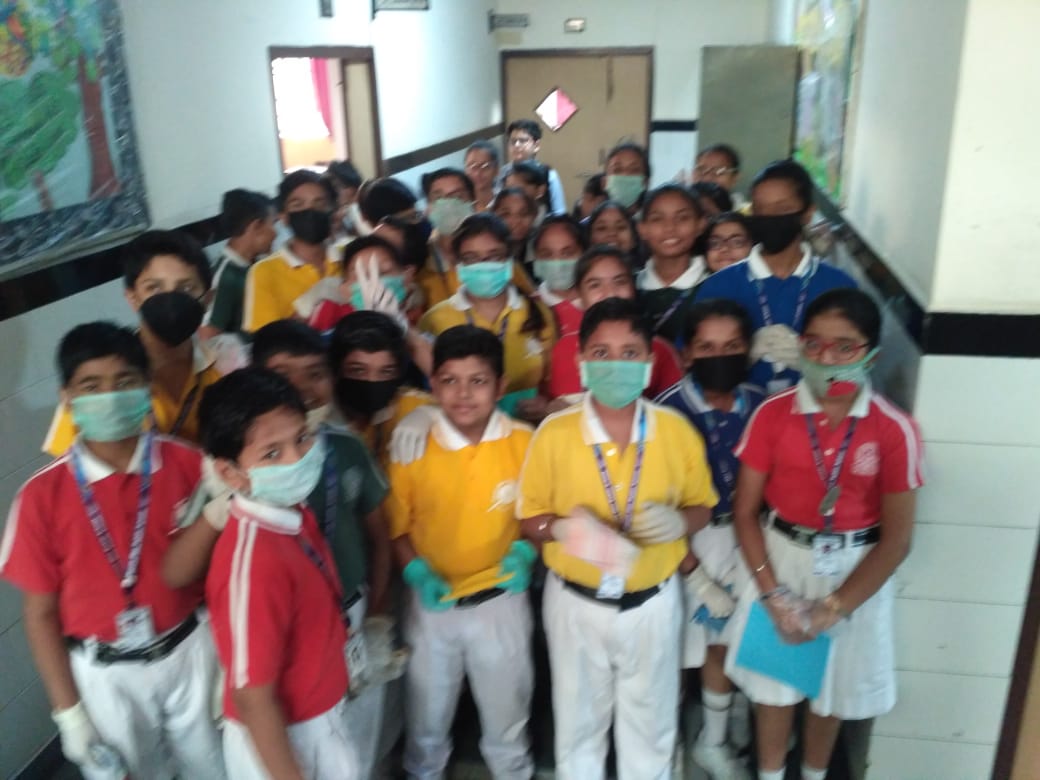 ---
BEST OUT OF WASTE
An Inter Class event was organised on 10.5.2019 on the topic BEST OUT OF WASTE for Class VI as one of the events for the celebration of Social Science week.Students were asked to prepare useful articles out of the waste products such as old newspapers,unused card boards, ice-cream sticks, plastic bags, straws, etc. Students came up with beautiful pieces of art including flower bucket, wall clock, pen holder, decorative items and many other useful products.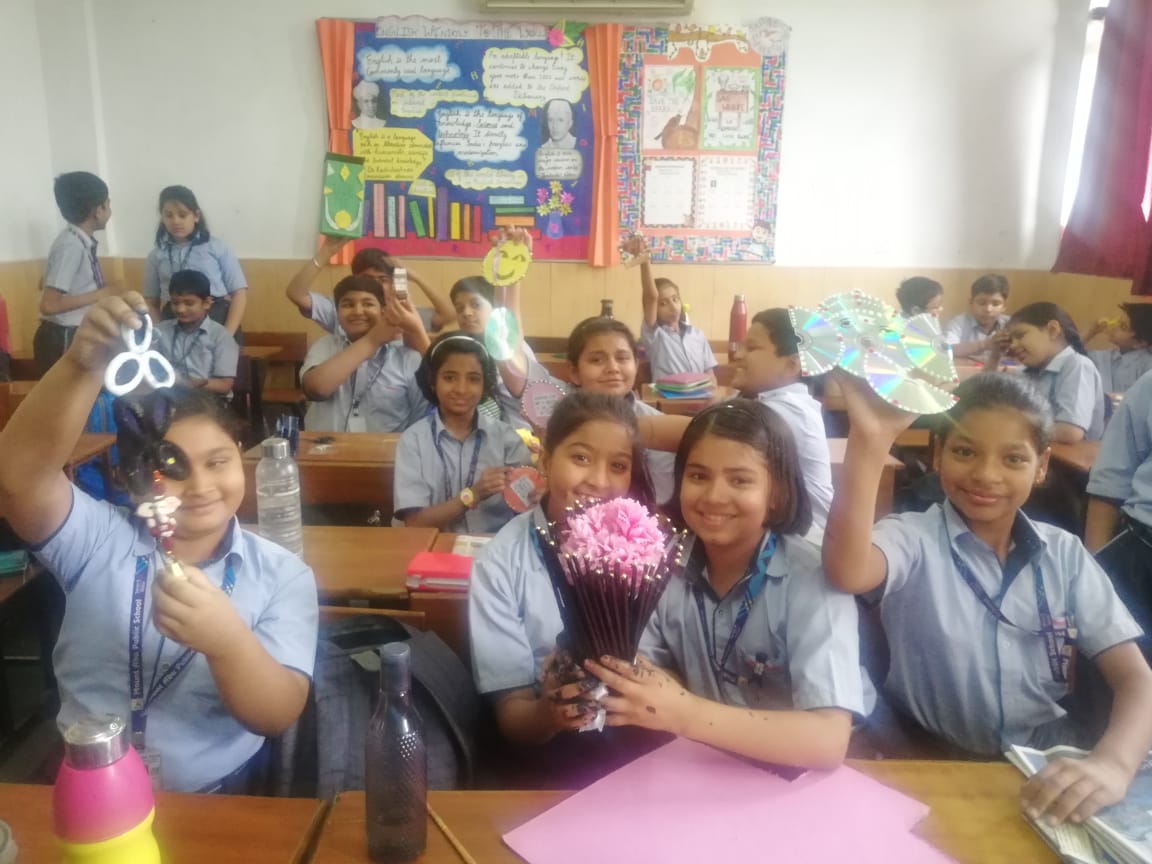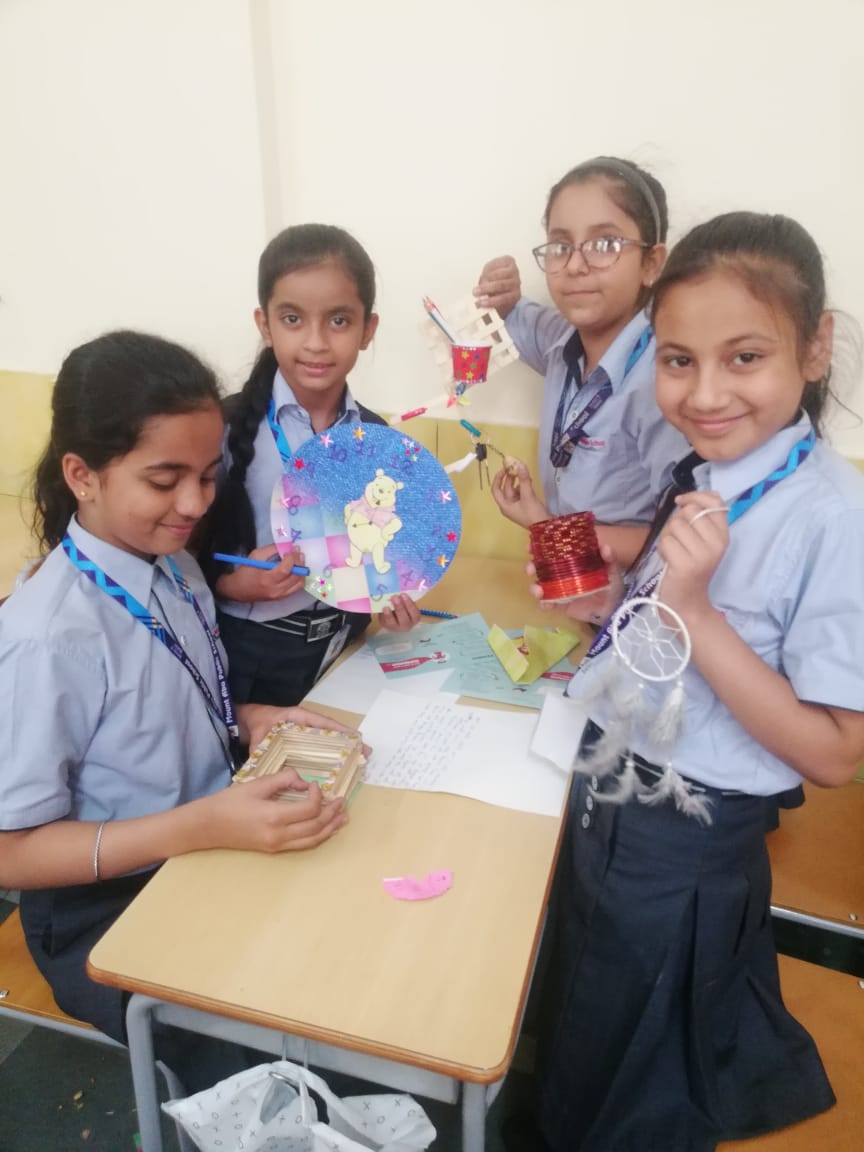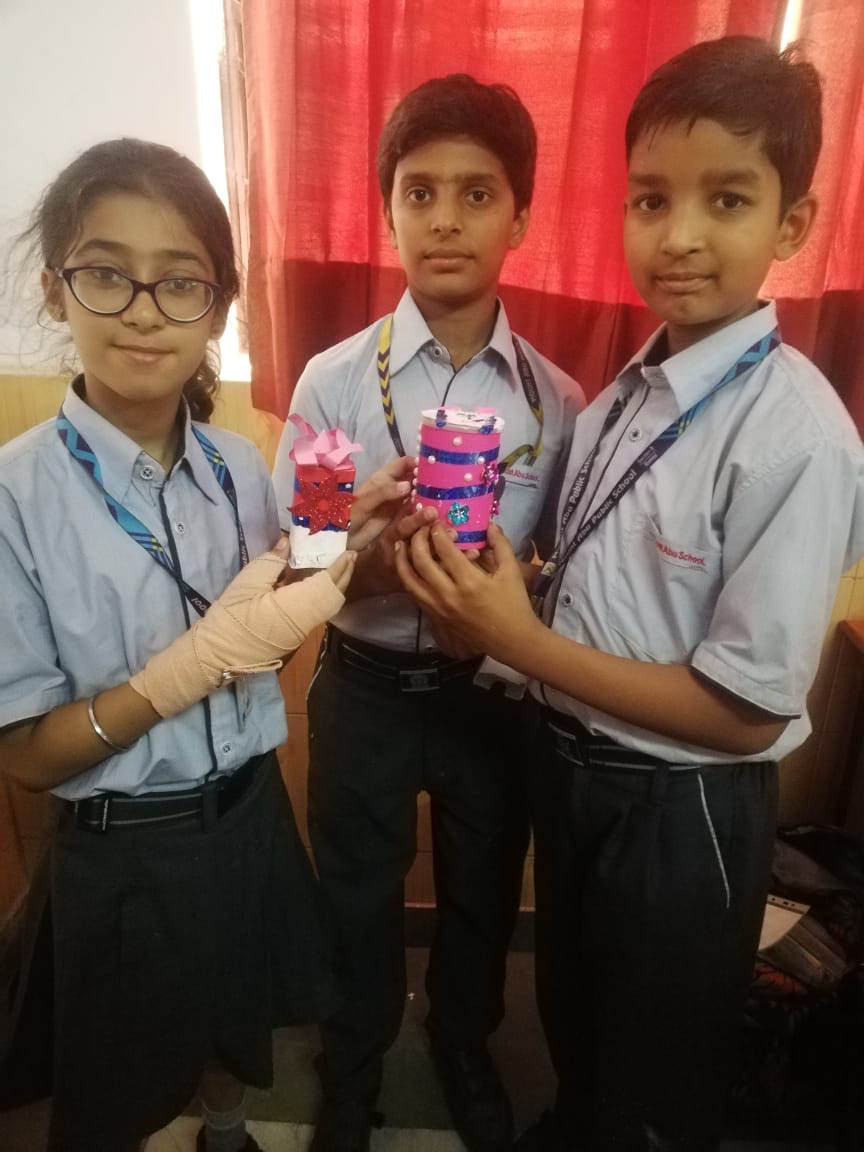 ---
SOCIAL SCIENCE WEEK CELEBRATION
Mount Abu family celebrated the SST week from 6th May - 10th May 2019 with great enthusiasm and zeal. The Social Science Department planned various activities at all levels. Students from class V - X were involved in activities such as painting competition, best out of waste, Be my Reporter, Inter house quiz and Talent hunt for Media experts.
The theme of Social Science week was Industry Infrastructure and Innovation.
The competitions were a great success with the students. The excitement built up with every upcoming event.
Judges and Jury for each competition appreciated and awarded the participants with certificates of appreciation.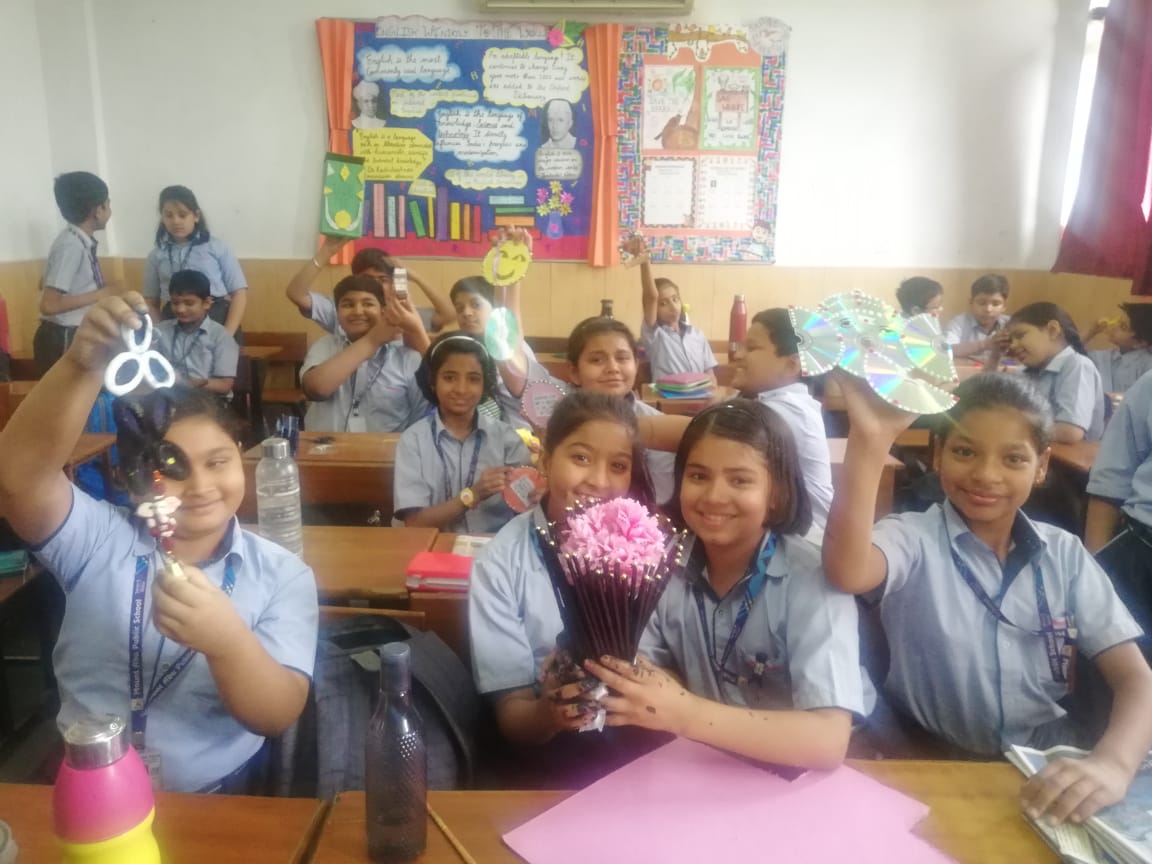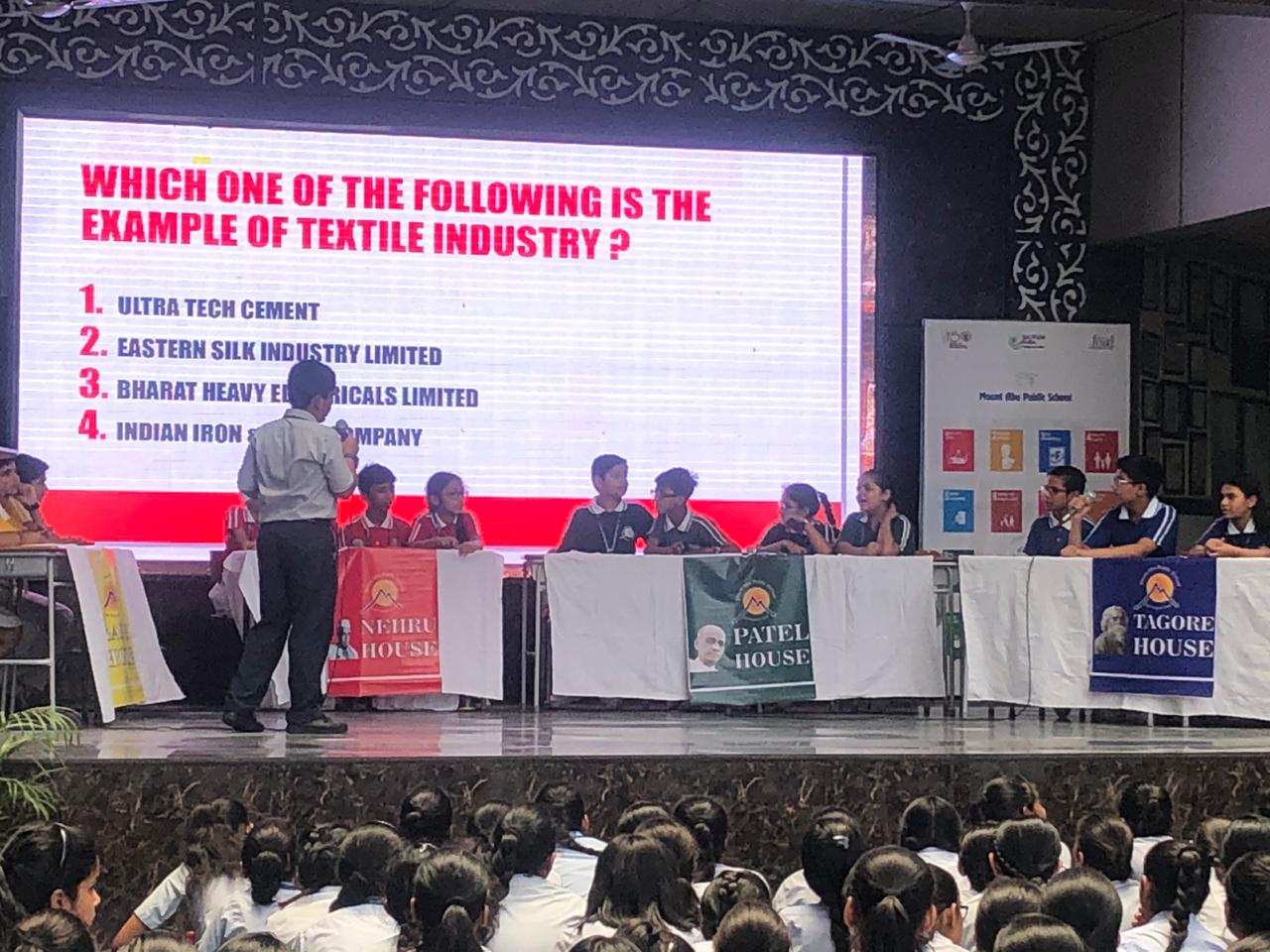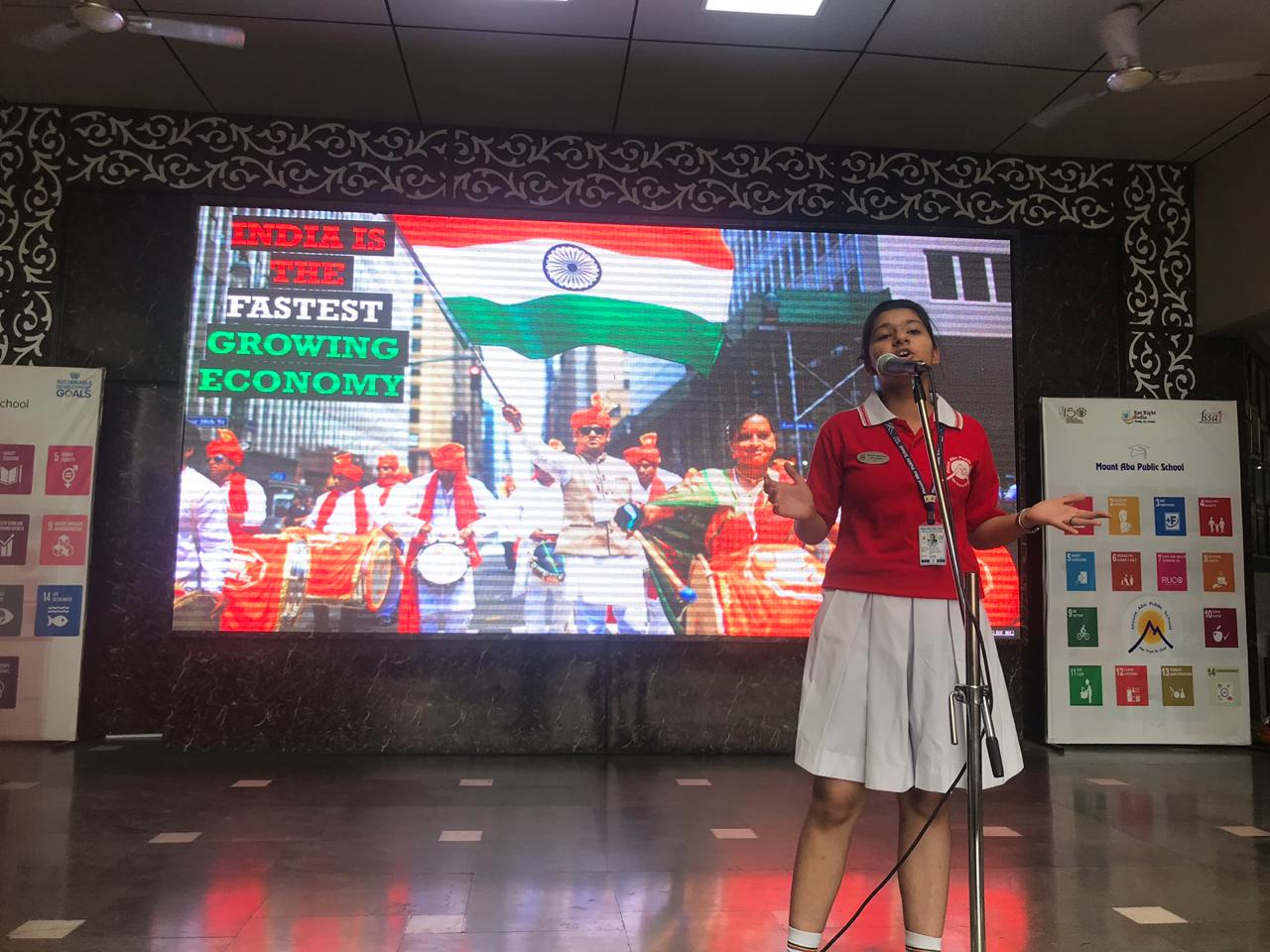 ---
ENGLISH WEEK CELEBRATION
"Language is to the mind more than light is to the eye"
English week was conducted from 22 April to 30th April, 2019 in Mount Abu Public School. An array of events like Creating Grammar bags , War of Words , Extempore , Designing Children's Book , Declamation , T.V. Show , Poem Recitation etc were conducted with the motive to enhance the vocabulary, language skills and make learning more enjoyable. Through these appealing activities the teachers could kindle the fire of reading among the students and could develop their interest and inquisitiveness to be the reading rockets. The achievers of the various activities were felicitated for their exceptional linguistic and creative skills. The event provided the students literary exposure in myriad ways. Thus, the week gave a joyful experience of a linguistic voyage in which students' love for the language was fostered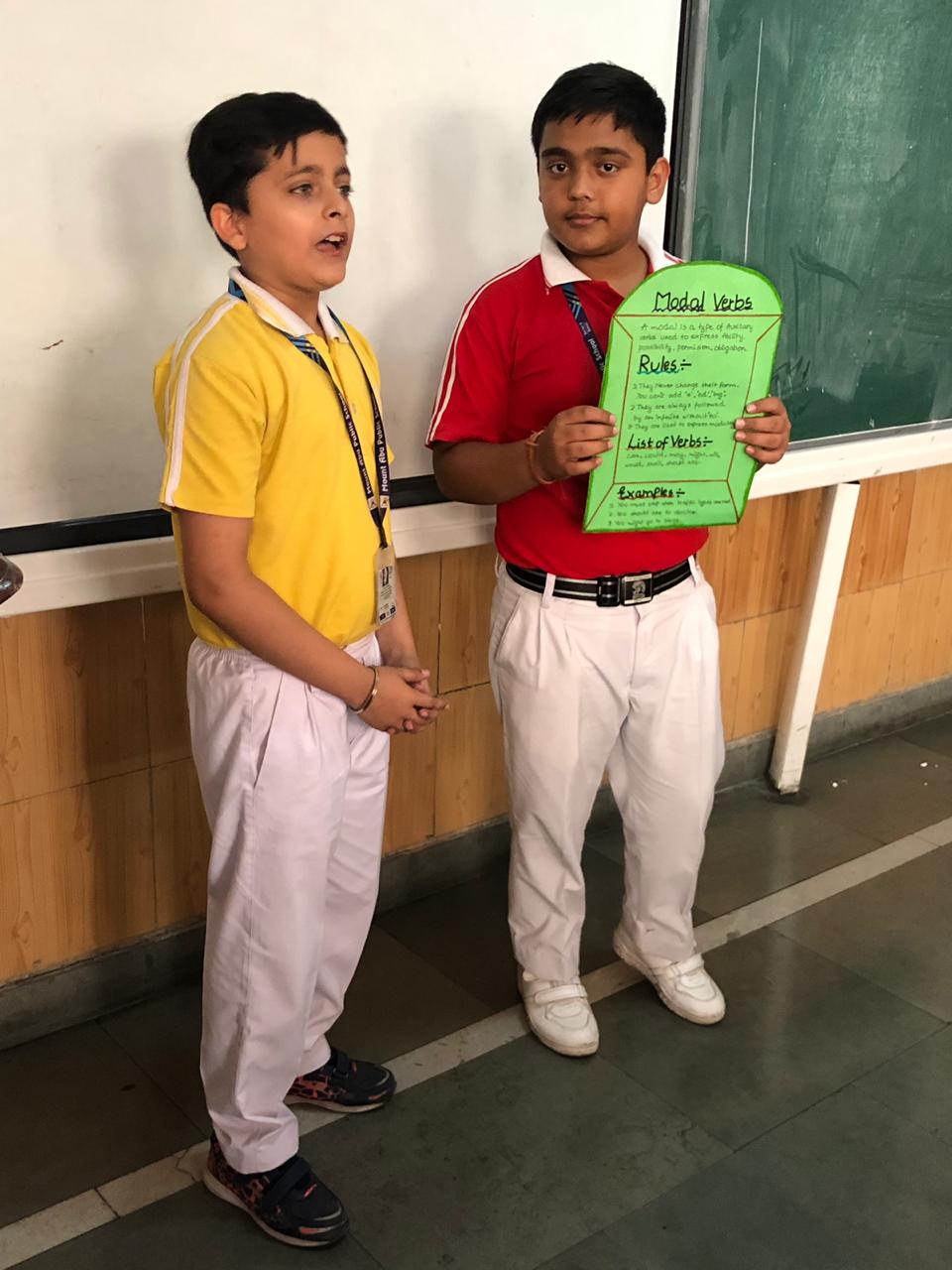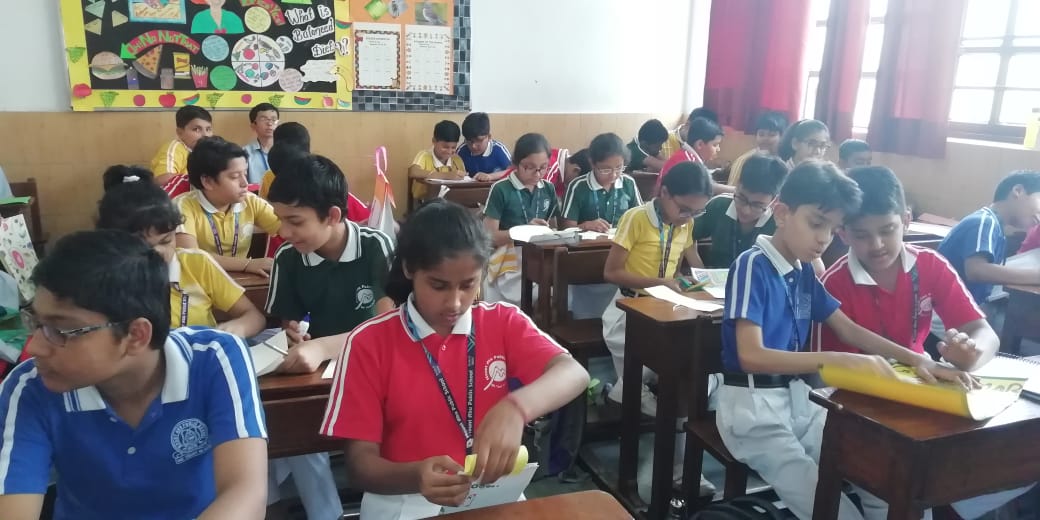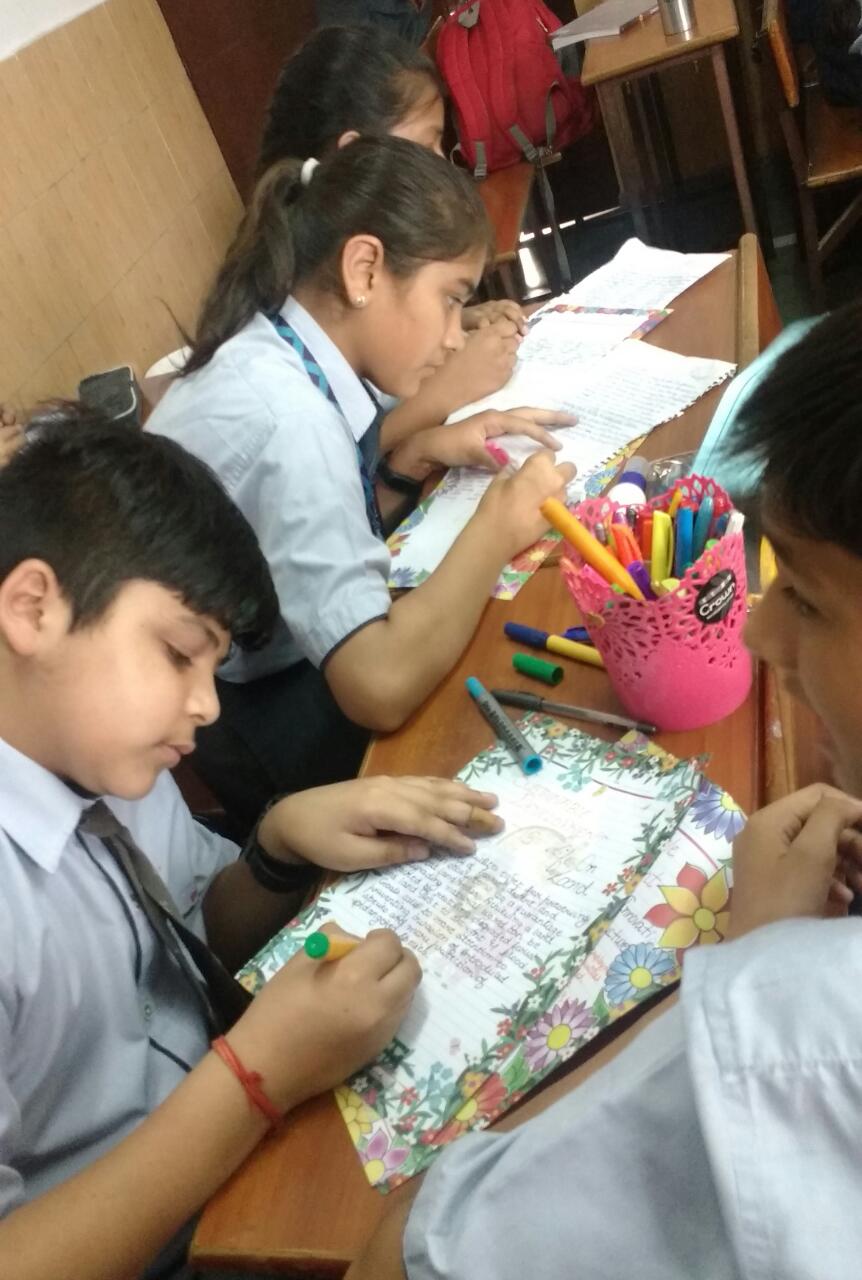 ---
Ras Manjari
Poem recitation was organised for standard 7th in which all the students participated section wise. The poems were recited with immense emotions and essence. Yashika of class 7- C was awarded the First Position and Tanish of class 7- C was awarded the Second Position.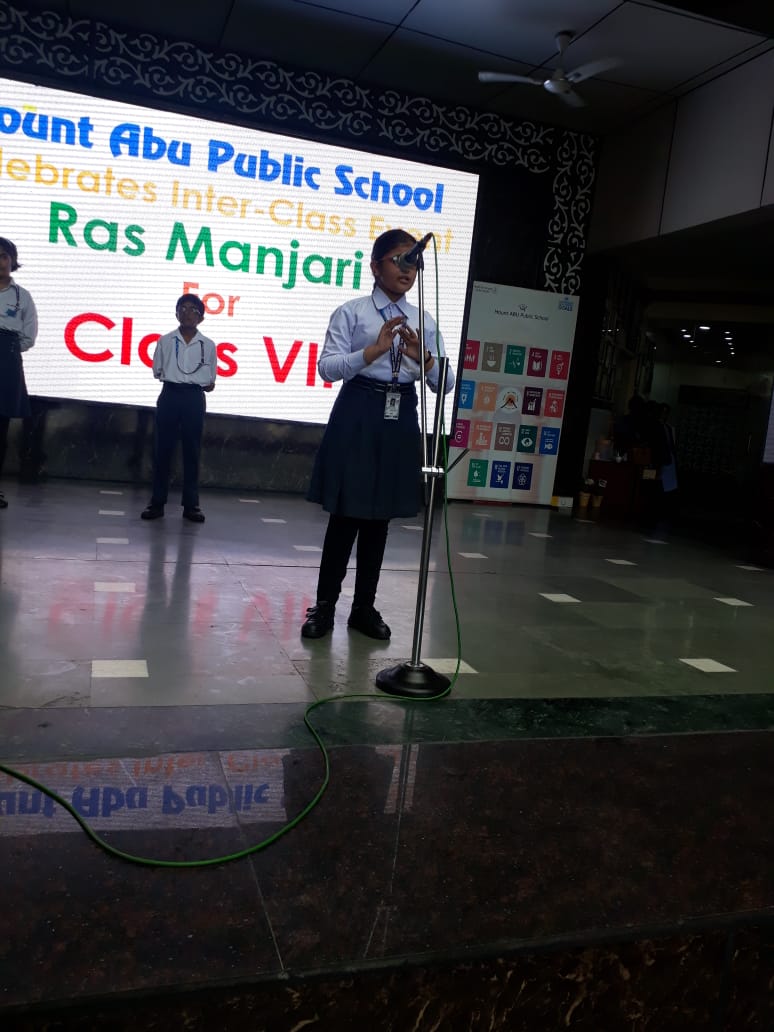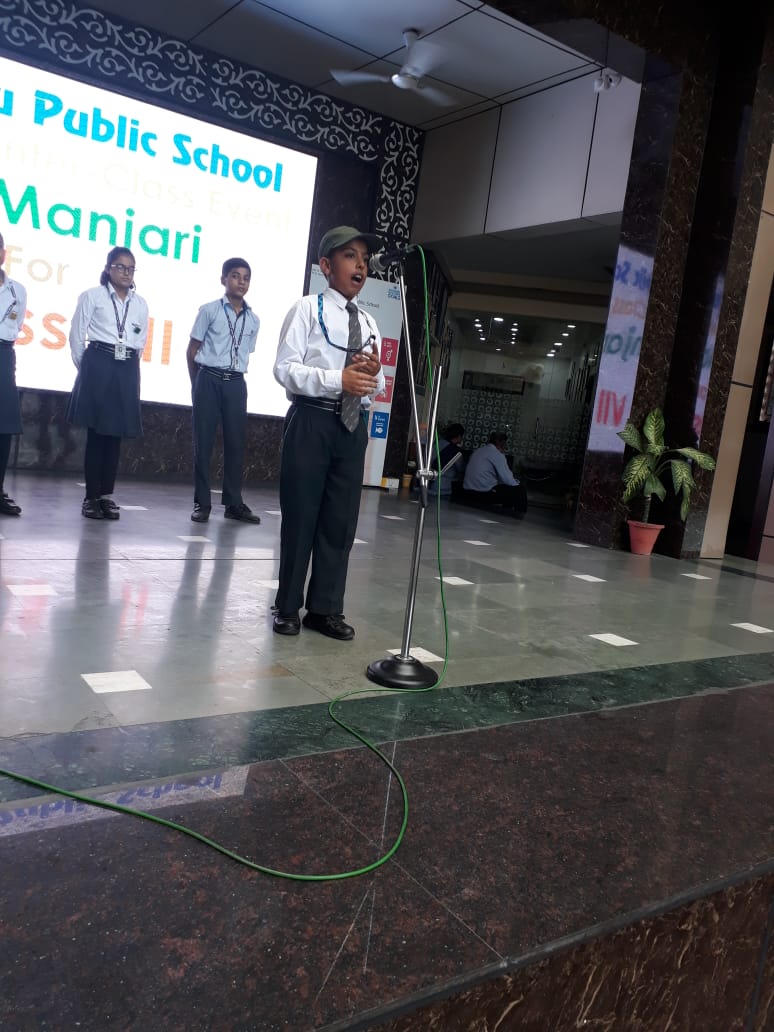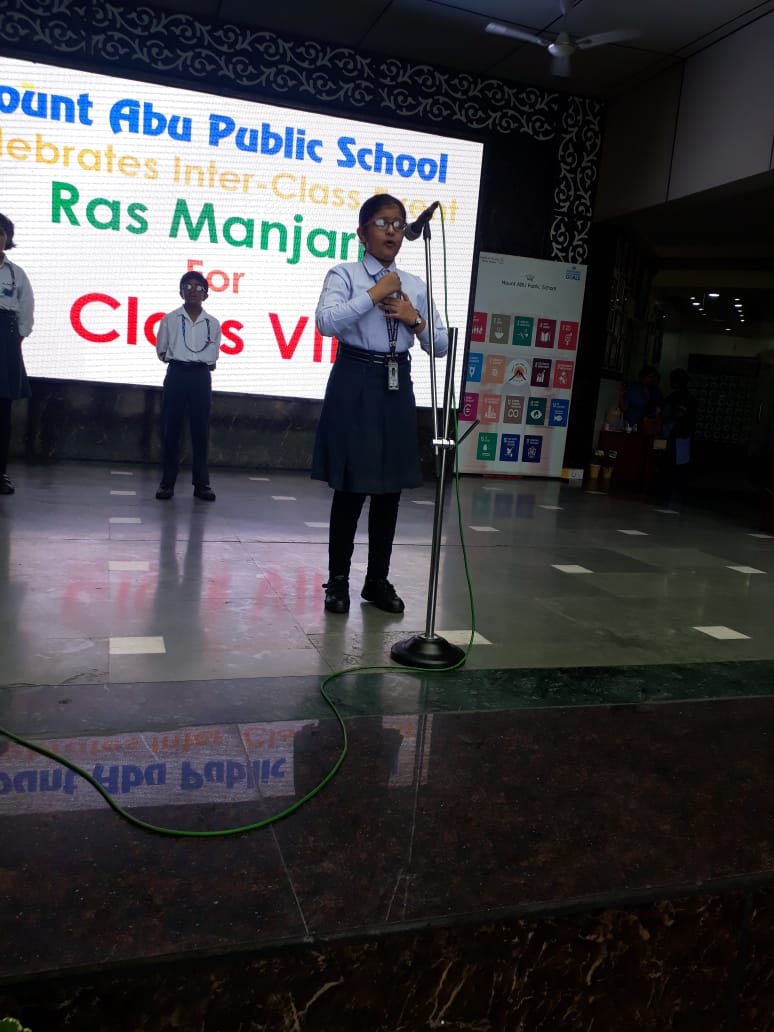 ---
TWIST THE TALE
Twist the Tale Activity was conducted as a part of English Activity in Class VI on 4th May 2018. The students were provided with a story The Owl and The Crow on Smart Board and were asked to twist its end and write it. The students enthusiastically participated in the activity and came up with many creative ideas. The students showcased their extremely imaginative side through the activity and their ability to be a good story writer.
---
Inter Class Sports Fiesta
The school conducted Sports Fiesta for the students of Class VI wherein the children participated in different sports like, cricket, basketball, badminton and spirit Tae Kwando. The children showed their excellent sportsman spirit in the fiesta an played well to compete. The best team and players were given prizes for their wonderful achievement
The following Students Perform best in their sports activity during Sports Fiesta of Class VI held on 28th April 2018.
1. CHESS
a) Sahej Savethlana VI A
b) Kesar Arora VI A
c) Aastha Jha VI D
2. CARROM
a) Bhoomika Aggarwal VI B
b) Akshat Mantri VI B
c) Prerit Arora VI B
3. CRICKET
a) Yash Rajora VI C
b) Shyamlal VI B
c) Anshul SHARMA VI C
4. BASKET BALL
a) Atharv Rohilla VI B
b) Bhavya Tripathi VI B
c) Pari Saxena VI A
5. BADMINTON (BOYS)
a) Yug Dabas VI C
b) Pranjil Choudhary VI D
c) Akshat Tyagi VI B
6. BADMINTON (GIRLS)
a) Netra Bisht VI B
b) Jasmine Kaur VI D
c) Yashika Jain VI B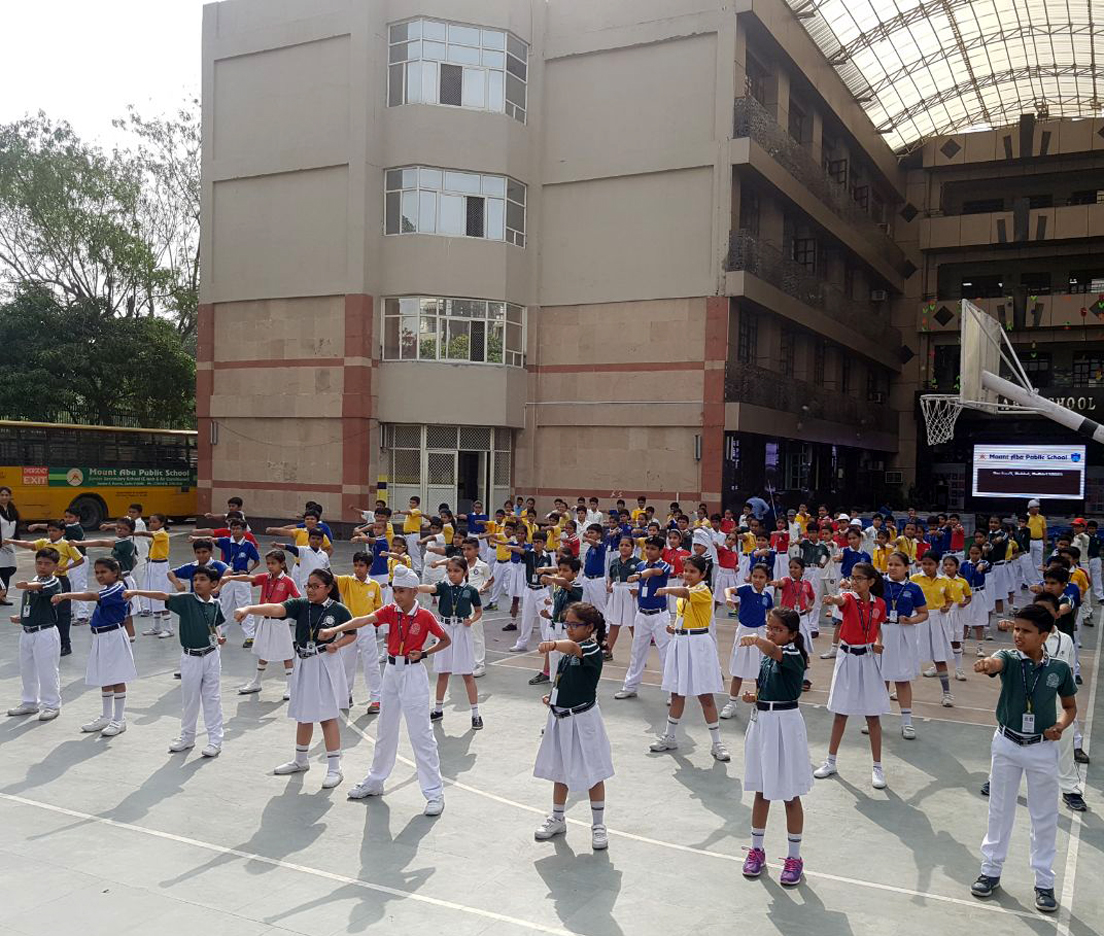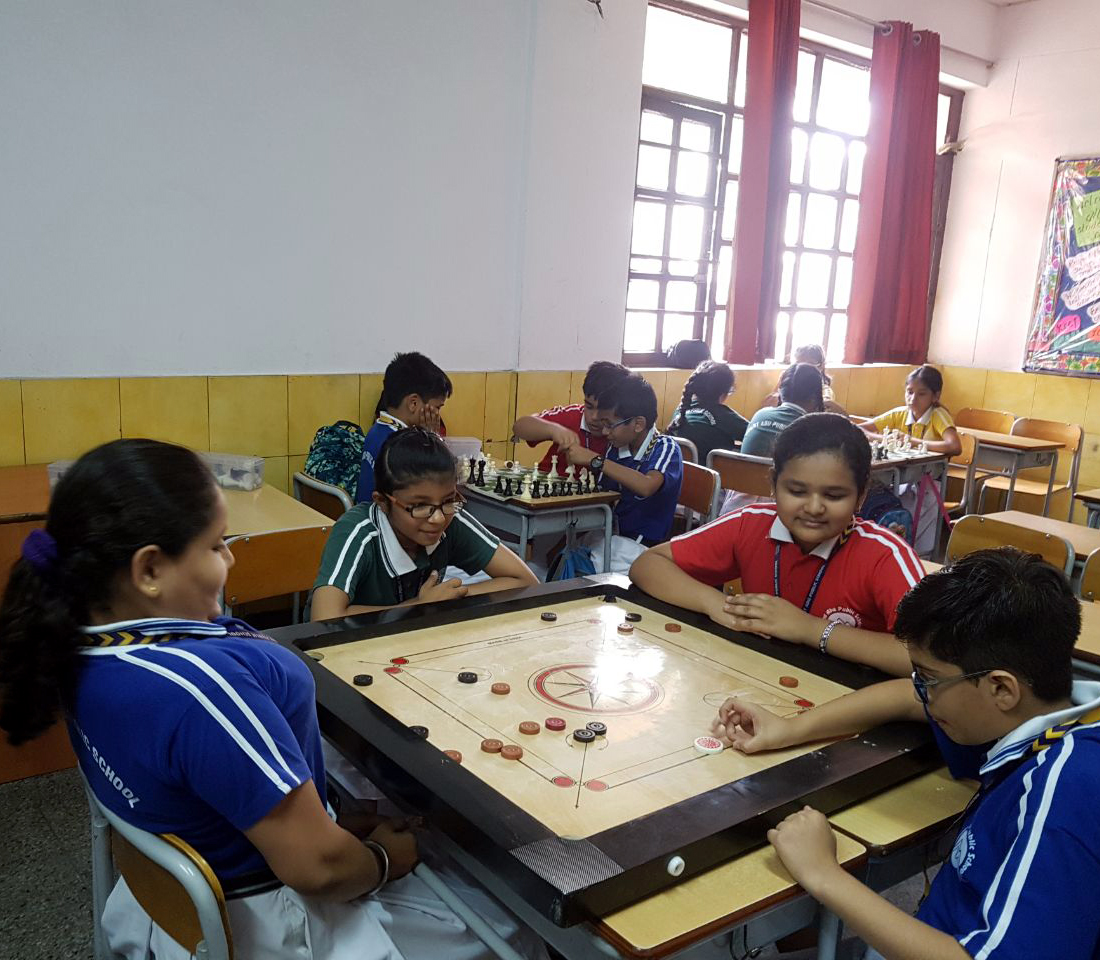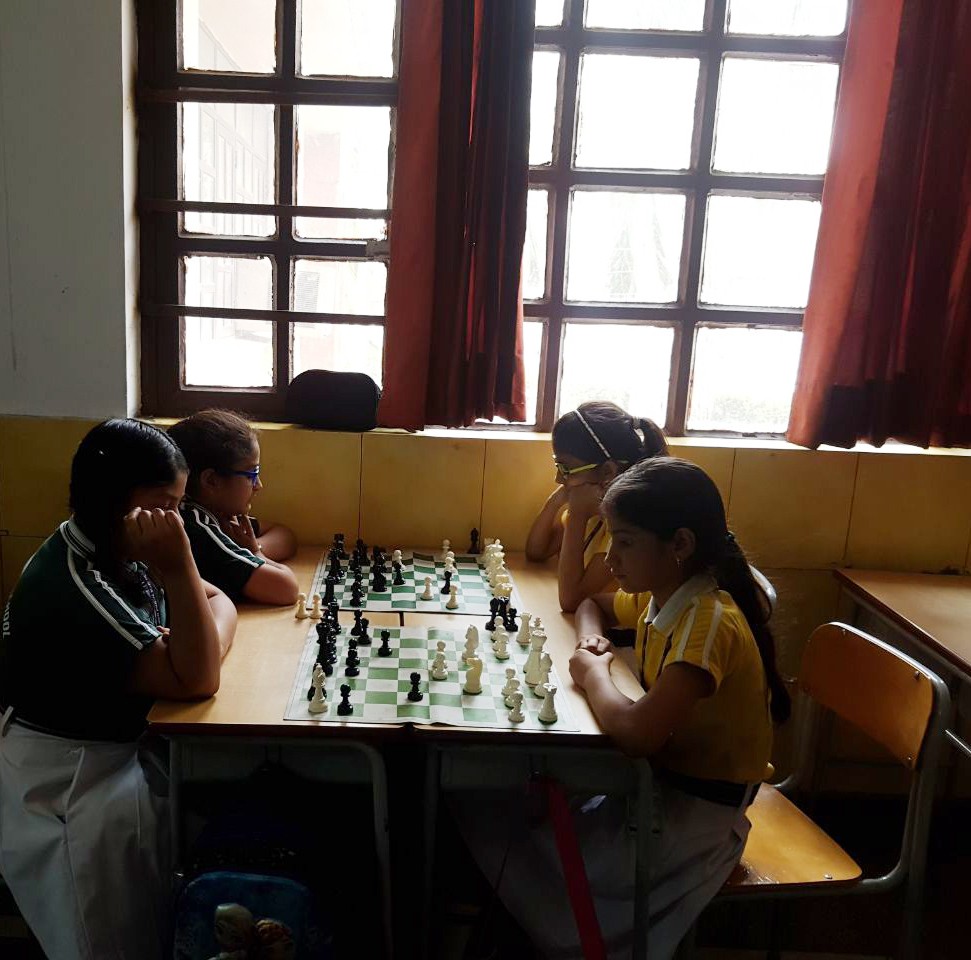 ---
Newsletter Activity
Newsletter Activity was conducted for class VIII. Students were asked to prepare the newsletters for the School highlighting the objective of the School, its initiatives and student's achievement.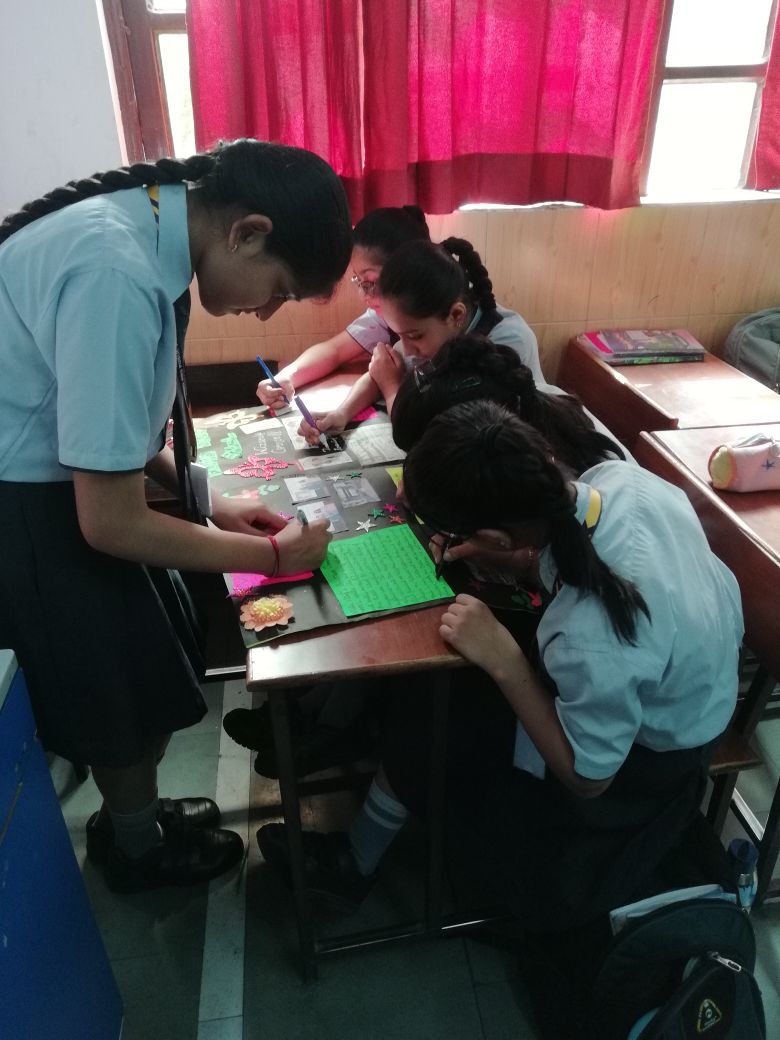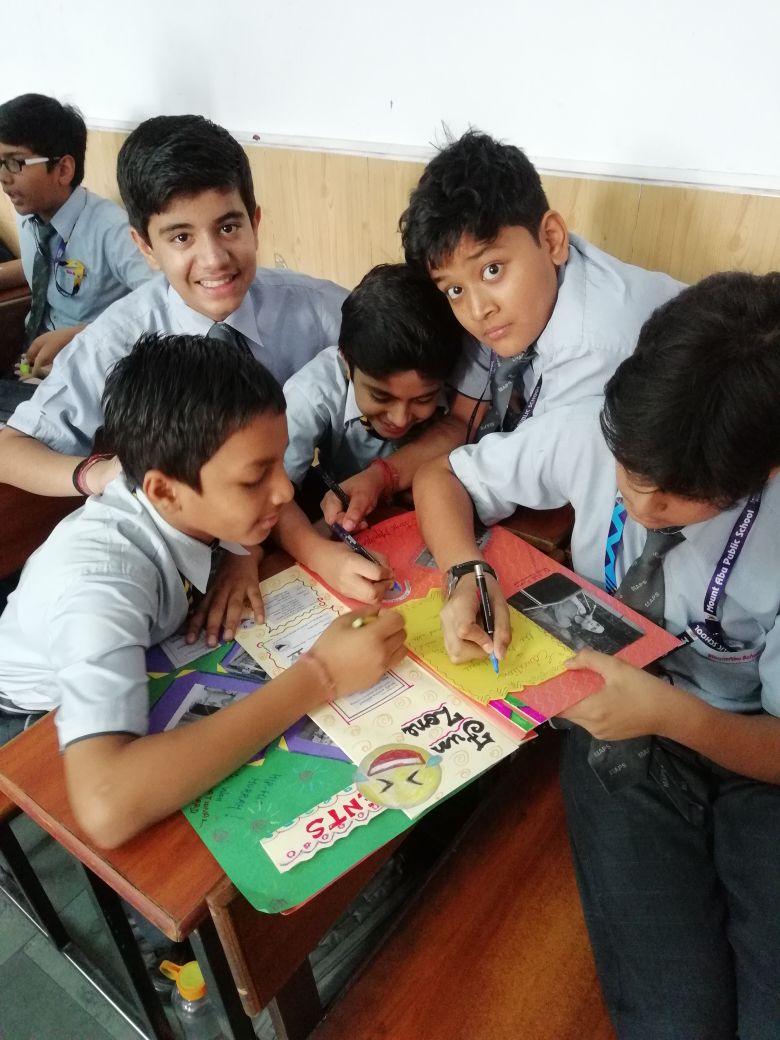 ---
POSTER MAKING
Poster Making activity on the topic "Save Wild Life" was conducted on 17th April 2018. The students were guided well in hand about poster making. The students put forth their ideas and creativity added with imagination.
---
INTER CLASS DISPOSABLE SPOON ACTIVITY
To explore disposable plastic spoon craft an Inter class activity of "Repurpose and Reuse Disposable Plastic Spoons" was conducted on 28 August 2017. The students from various sections of class VII students enthusiastically participated and came up with innovative and creative ideas. Through art they presented that plastic spoons are more than utensils - they can be part of unique decorative object after use! Best creations from each section were selected.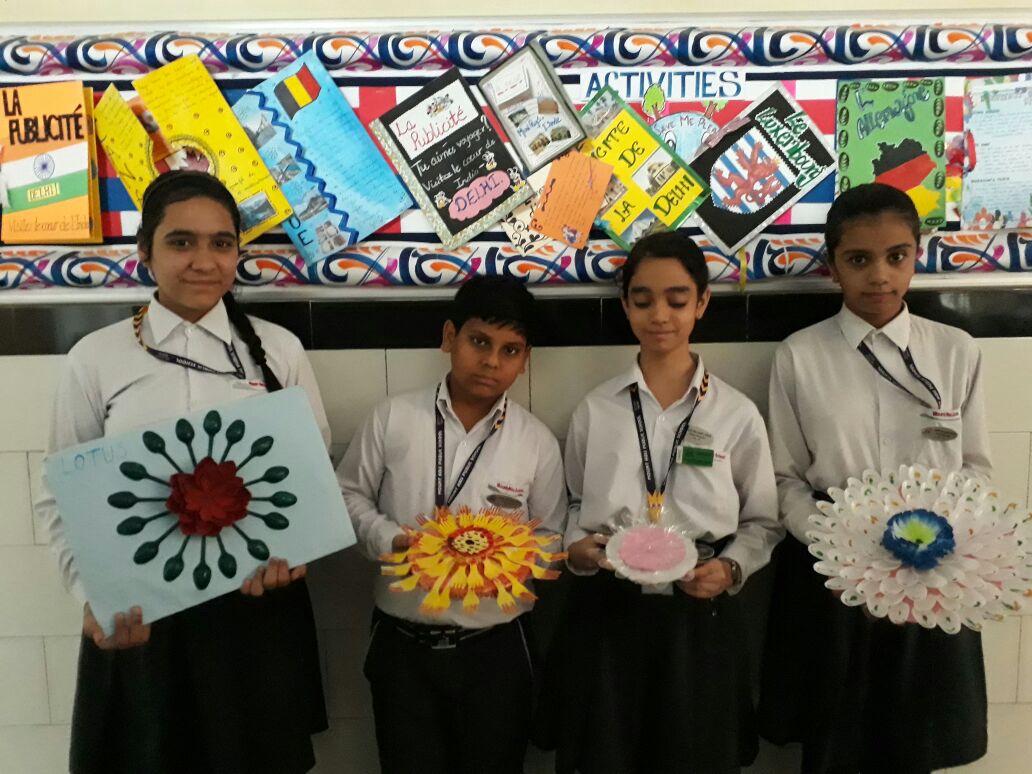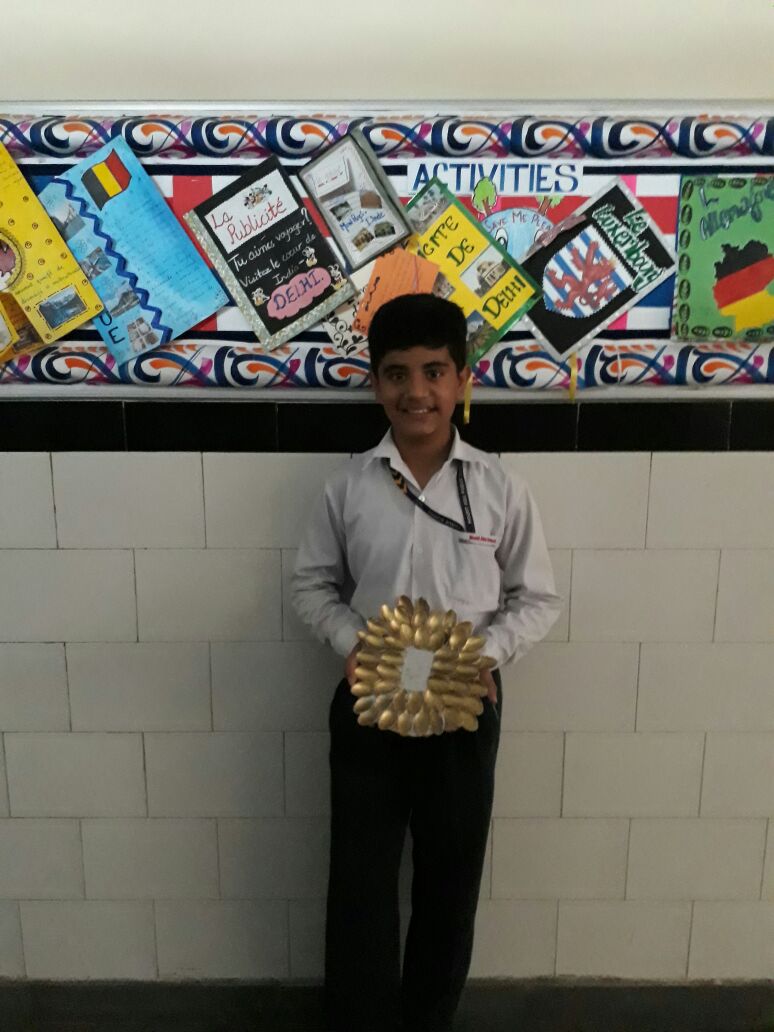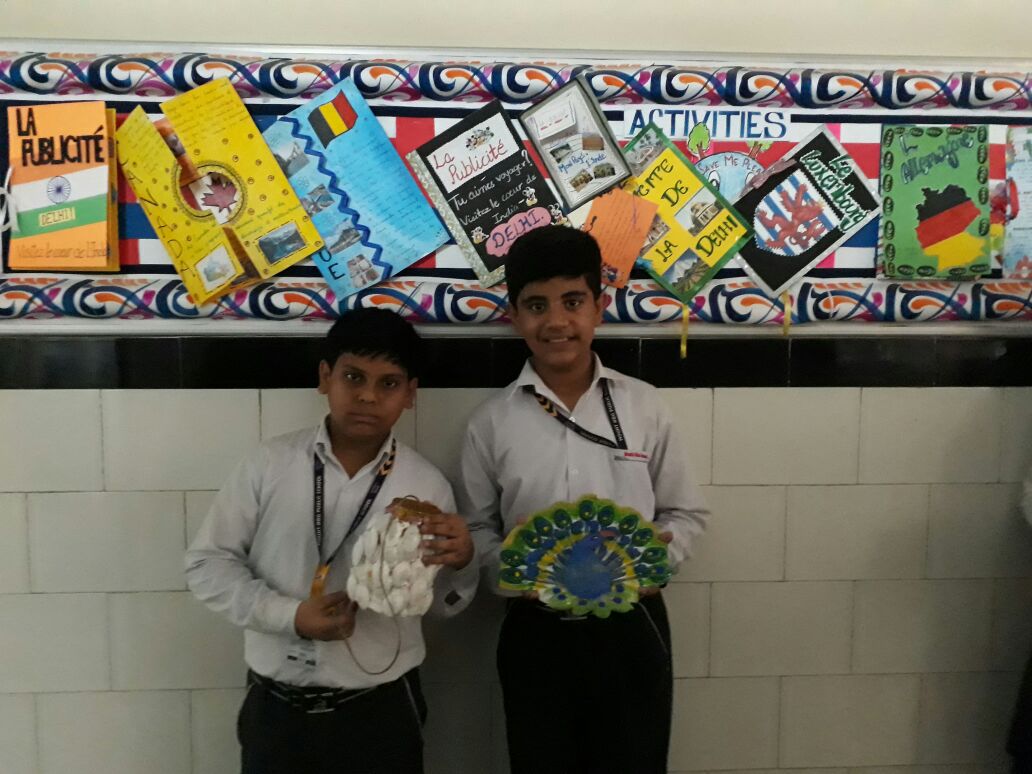 ---
POSTER DESIGNING
Its monsoon time and Environment needs our love and affection. To nurture such values in our kids, an Inter Class Poster Designing activity was organised for Classes VII and VIII during Social Science Week from 10th July to 17th July 2017. The activity took place on 13th July 2017 in the respective classrooms. The students designed A3 sized posters based on the theme : ENVIRONMENT AND ITS VARIOUS ASPECTS. Various classes were given topics such as : Water, Wildlife, Natural Vegetation, Pollution etc.
Beautifully designed posters with meaningful slogans came up by all classes and the best ones were selected as follows:
VIIA- AKSHAT JAIN, SAUHARDH RAWAT, HARSHIT BAREJA
VIIB- ANSHITA, MANASVI KARAN, DIKSHA
VIIC- KASHISH CHHATWAL, VIDHI , MONIKA ROY
VIID- YASHIKA RATHORE, HIMANSHI, KHUSHI SHARMA-2
VIIIA - MANU, JATIN KUMAR, HARDIK RANA
VIIIB -KOMYA, SARTHAK BANSAL, PRATIKSHA
VIIIC -YASHVI GOEL, CHARVI SAKHUJA, MUSKAN KALRA
VIIID- MISHIKA GUPTA, SALONI CHIKKARA, DEEPTI SINGH
VIIIE- MUSKAN TRIPATHI, SAATVIKI, ARYAN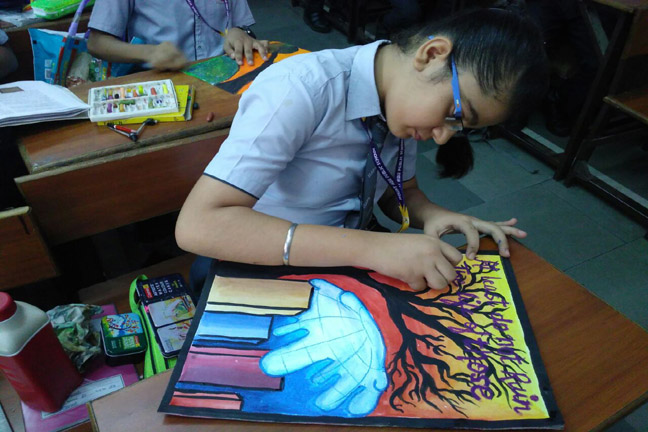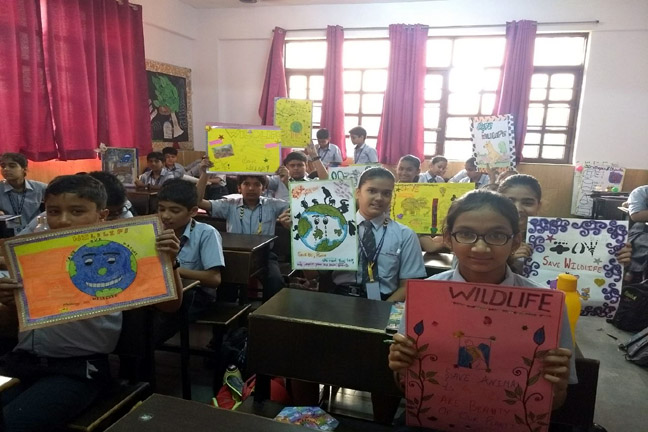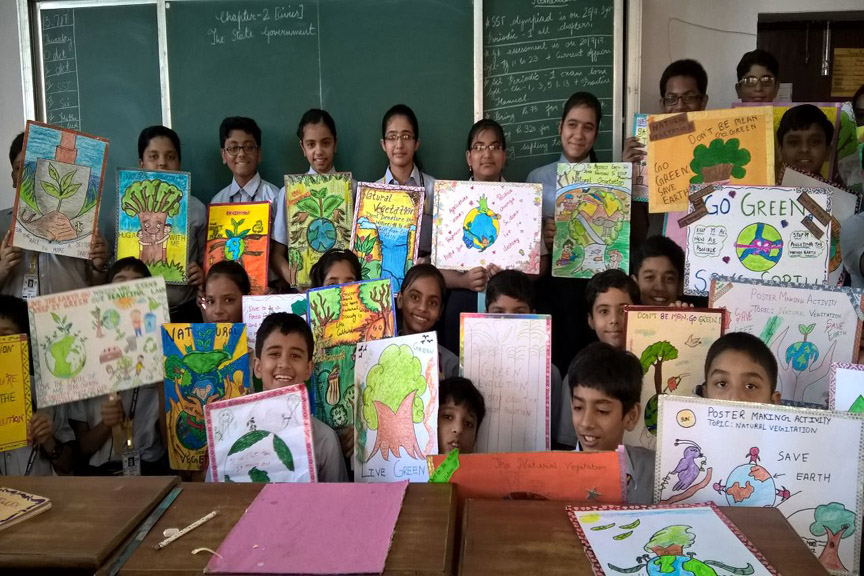 ---
French Quiz
An Inter Class French Quiz was conducted in Class VI to generate awareness about French Culture, Civilization. The quiz was conducted in 2 rounds where by every student was encouraged to participate. The event helped the students to learn more about France and its culture.
Best Performers:
VIA- NITIKA DHAWAN, ARYAN JINDAL
VIB- DIYA ARORA,SAMRIDHI MEHTA
---
Special Assembly on World Health Day
" It is the health which is the real wealth and not the pieces of gold and silver ".To throw light on this important issue IX-A conducted morning assembly on the theme "BODY -ABODE OF OUR SOUL" on 11th April 2017. Thought of the day was wonderfully presented highlighting the importance of going early to bed and early to rise. Valuable tips on importance of good health were given by the class teacher quoting "Take a diet rather than going on a diet " because the one who has health has hope and the one who has hope has everything.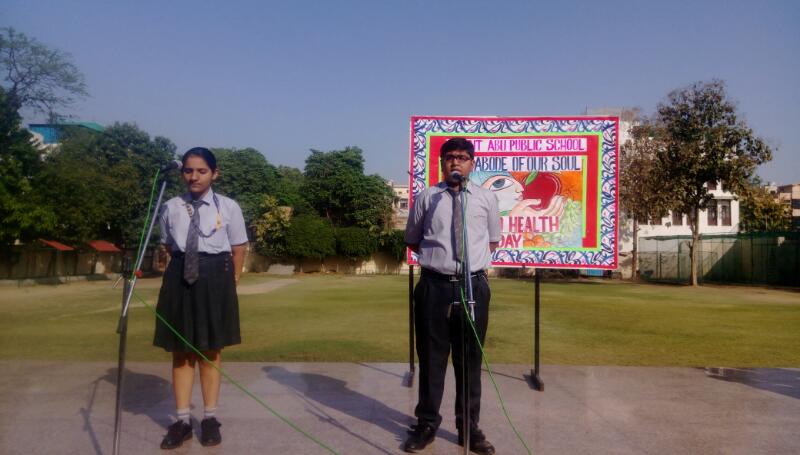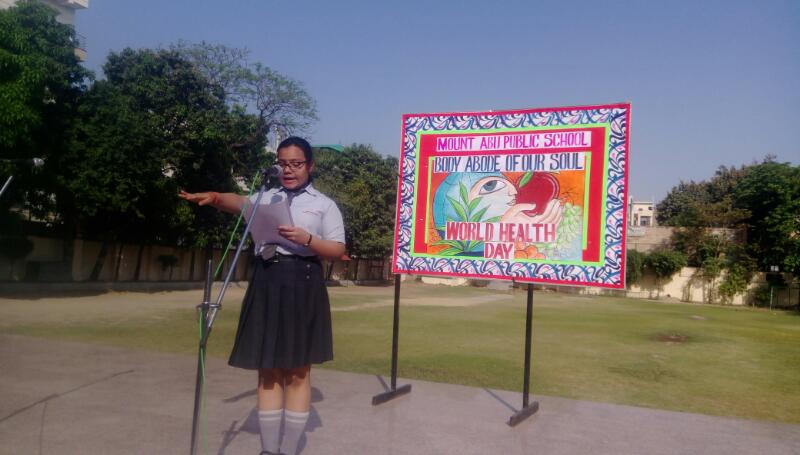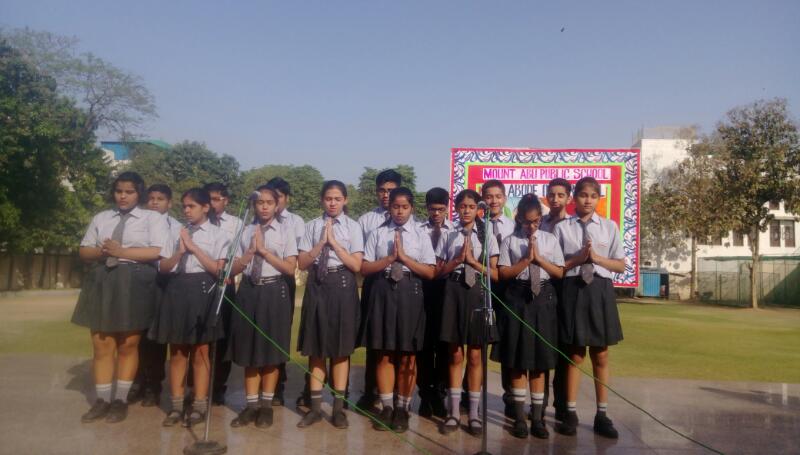 ---
Inter Class Editor Hunt
The students were given prior information about the contest and guided well to practice editing passages. Worksheets having different editing passages were prepared by the teachers and the students were made to do the sheet on the given date. Enthusiasm was visible among the students to participate as everyone wished to be called the best. Two participants were selected from each section of Class IX.
---
BOLTI IMARATEIN
Students of class VI were given an opportunity to bridge the gap between their historical monuments and their present status in our country through an interactive activity named BOLTI IMARATEIN on 14th July. The students addressed themselves as monuments of India such as Taj Mahal, CHAR MINAR etc and presented themselves among the class mates with the help of beautifully designed properties. This activity helped them understand their heritage better and did raise their confidence to level to speak publically.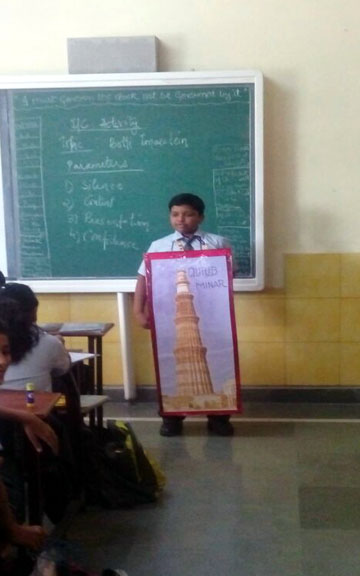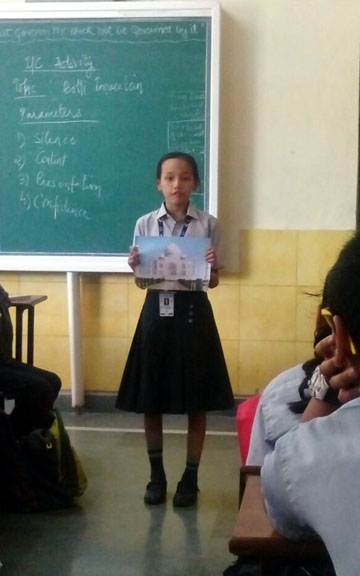 ---
Inter Class Poster Making
Environment is what surrounds us and protecting it from depletion is our foremost duty. To inculcate the values in students of class VIII, an activity to design posters with a valuable slogan was conducted wherein students showcased their creativity by highlighting the idea to save resources and promote sustainable development. Various resources such as land, soil , water , natural vegetation and wildlife were highlighted. The activity proved successful when students came up with excellent posters conveying a life long message for everyone to protect nature and stop human interference and let natural nourish its own self.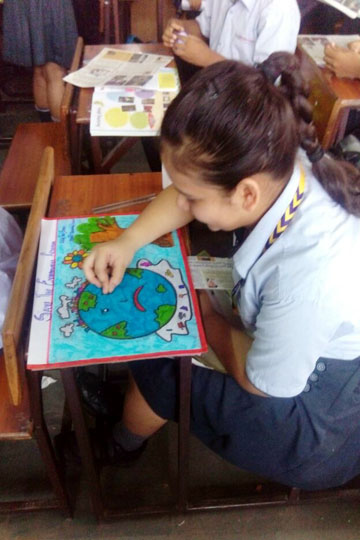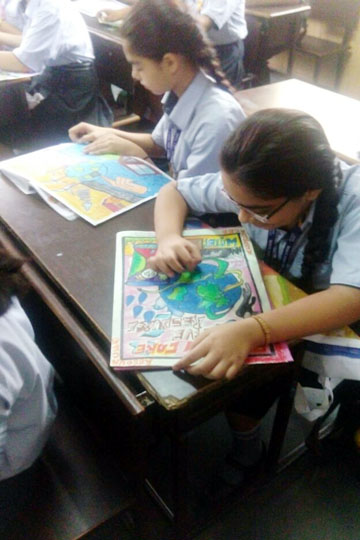 ---
T –Shirt Designing
he environment and the economy are really both two sides of the same coin. If we cannot sustain the environment we cannot sustain ourselves. T- shirt designing was conducted by the students of class VII with full enthusiasm. This was done to initiate the idea of saving environment in the minds of young generation as this is the perfect time to inculcate the value of conservation-That is the need of a hour. This activity included fun, creativity and learning.
BEST PEFORMERS
VII A- KAVYA, MEET VII B –VISHU, KOMYA VII D- BHAVYA, DEEPTI VII E – KUSHAAGRA, YOGESH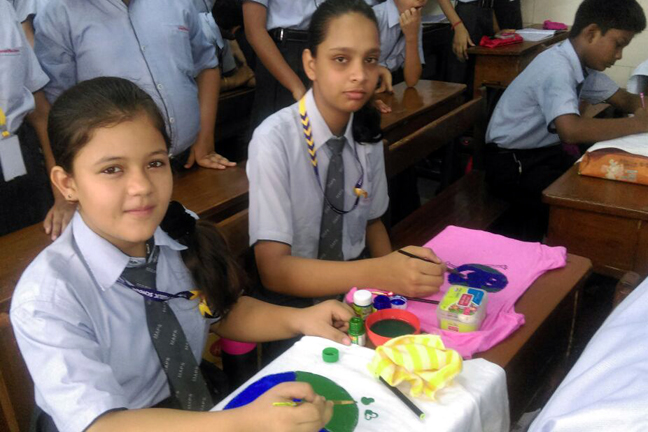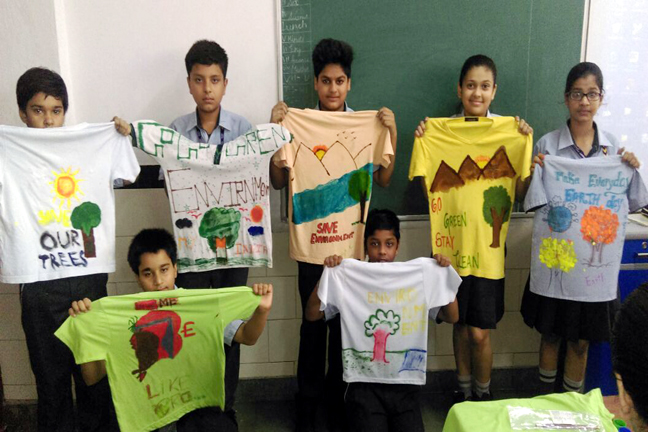 ---
Diwali Activities
To celebrate the auspicious occasion of Diwali and togetherness, School had conducted Inter- Class competition on October 28, 2016. Active participate of student and teachers was there to beautify the event. Many competition like Diya Decoration, Candle decoration, Thali decoration. Co decoration and Rangoli making took place. Student of all classes decorated their respective classrooms with great zeal and enthusiasm. After the competition, all material was exhibited at the reception for the parents.
List of Winners
| | |
| --- | --- |
| CLASS VI | SECTION |
| Aditya Singh | A |
| Lavisha | A |
| Manasvi | B |
| Divyansh | B |
| Pushkar | B |
| Harsh Goyal | C |
| Parth Khandelwal | C |
| Monika Roy | C |
| V.Gyanshwar | D |
| Krishka | D |
| | | |
| --- | --- | --- |
| CLASS VII | SECTION | POSITION |
| Richa | A | 1 |
| Chehak | A | 1 |
| Bhumika | A | 1 |
| Jenna | A | 2 |
| Jatin kumar | A | 2 |
| Upen | A | 3 |
| Shivam Kapoor | B | 1 |
| Akshat | B | 1 |
| Rahul Gupta | B | 1 |
| Rishab Jain | B | 1 |
| Jhanvi Jain | B | 2 |
| Vansh Singhal | B | 3 |
| Vishu Garg | B | 3 |
| Pratham Rajpoot | B | 3 |
| Priyanshu | B | 3 |
| Ridhi | C | 1 |
| Purvi | C | 1 |
| Khushi | C | 2 |
| Somya | C | 2 |
| Parul | C | 3 |
| Riya | D | 1 |
| Bhavya | D | 1 |
| Deepti | D | 1 |
| Misihka | D | 1 |
| Saloni | D | 1 |
| Shatakshi | D | 2 |
| Tamanna | D | 2 |
| Kusha | D | 2 |
| Shine | D | 2 |
| S. Viswa | E | 1 |
| Lakshay Verma | E | 1 |
| Ambarish | E | 2 |
| Vibhu | E | 3 |
| | |
| --- | --- |
| CLASS VIII | SECTION |
| Saumya Kararia | A |
| Ojasvi Jain | A |
| Shitij S. Vinu | B |
| Yatharth Arora | B |
| Sherya Bansal | C |
| Nandini Madhukar | C |
| Ritika Gillani | D |
| Aditi Pathak | D |
| | | |
| --- | --- | --- |
| CLASS IX | SECTION | POSITION |
| Parul Goel | A | 1 |
| Yukta Pandey | A | 2 |
| Nishay Rana | A | 3 |
| Pranjal | C | 1 |
| Kalash | C | 1 |
| Kirti | C | 1 |
| Tanishka | C | 1 |
| Charvi | C | 1 |
| Masidque | C | 2 |
| Ridhi Garg | C | 2 |
| Palak | C | 2 |
| Ishika Jindal | C | 3 |
| Prinshu Bansal | D | 1 |
| Sanjeevani Sharma | D | 2 |
| Ansh Mahajan | B | 1 |
| Ishan | B | 1 |
| Kartik | B | 1 |
| Ishika | B | 2 |
| Parth | B | 2 |
| Shruti | B | 2 |
| Muskan Dhingra | B | 2 |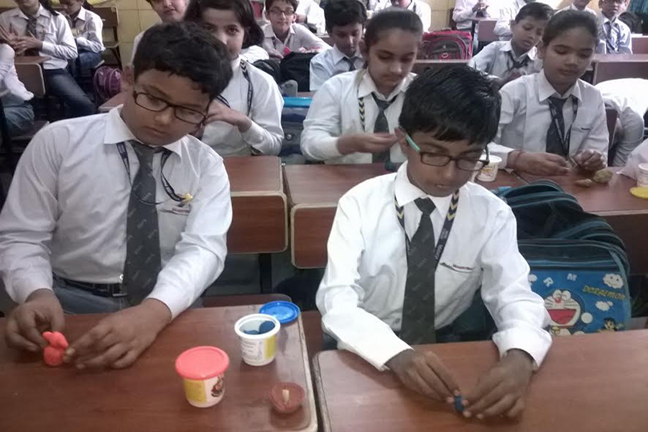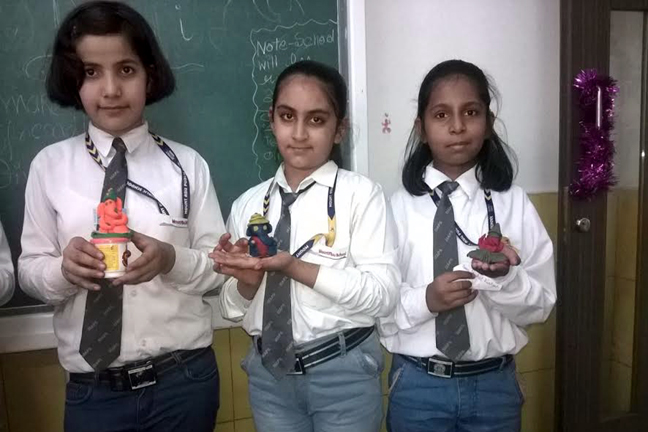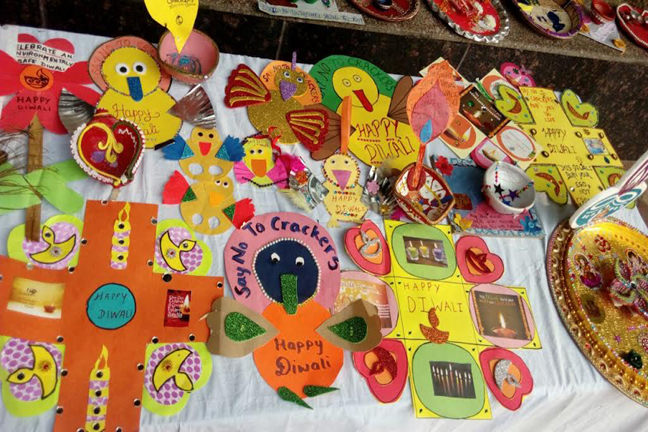 ---
Inter Class Science Toon Competition
Science and technology have become inseparable part of our daily life. To make it more interesting an event was organized in which students were told to think some scientific concept or scientific and present it in the form of cartoon. Students came up with wonderful ideas like their dream to become scientist, Einstein, APJ Kalam, Science in our school etc. Students participated in the event enthusiastically. Needless to say that it was combination of Science, Fun and creativity.
Best Performers
VI B- Manasvi , Parul Sharma, Vedika Rehlan
VI C- Palak Rehlan,Hiyaa Bhardwaj,Vidhi Singhal
VI D - V. Gyaneshwar, Mayesha Verma,Paras Jain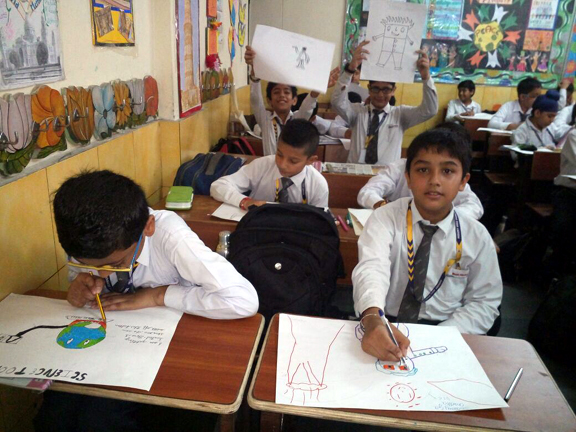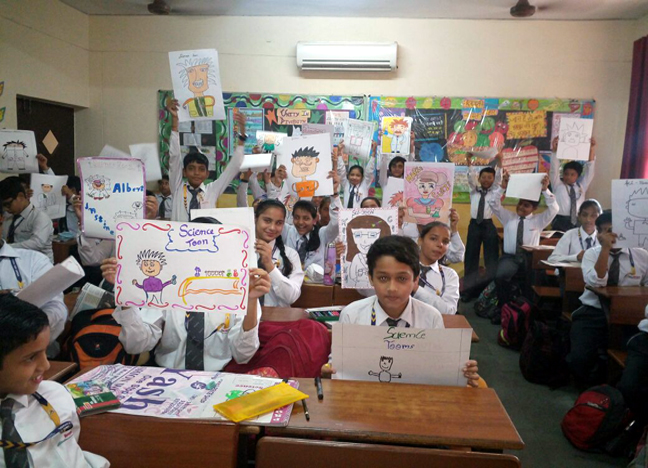 ---