STUDENTS WORKSHOPS
MOUNT ABU VIRTUAL DEMOCRATIC MUN
The School organized first edition of Mount Abu Virtual Democratic MUN, MUN4HUMANITY on 13 and 14 June 2020 wherein about more than 450 delegates from across India and abroad participated to show their excellent oratory skills in debates and deliberations. The conference was inaugurated by Hon'ble Lok Sabha Speaker, Shri Om Birla who addressed the delegates and educators with inspiring words and highlighted as to how the valuable ideas of the Youth play a very significant role for the development of the nation. The event witnessed a series of debates and exchange of ideas on various global issues in ten different committees namely SDG, AIPPM, UN WOMEN, AIM TO INNOVATE, UNHRC, CCOS, MONEY HEIST, IP, UNOCD and WHO. All the delegates showed extensive research on their respective portfolios. The event finally concluded with a closing ceremony wherein the Chief Guest, Honorable Member of Parliament Shri Hans Raj Hans showed his benign presence and appreciated the zeal with which the delegates participated and blessed them for all such endeavours. He also appreciated the school for contributing to Humanity which is the most noble task. After two days of continuous debating, the result was finally declared by the Organizing Committee members. The Principal, Mrs. Jyoti Arora congratulated all the winners and showed her highest form of gratitude to all the participants for showing excellent skills. She also thanked them for coming forward on virtual platform and facing the challenging times with all their strength and optimism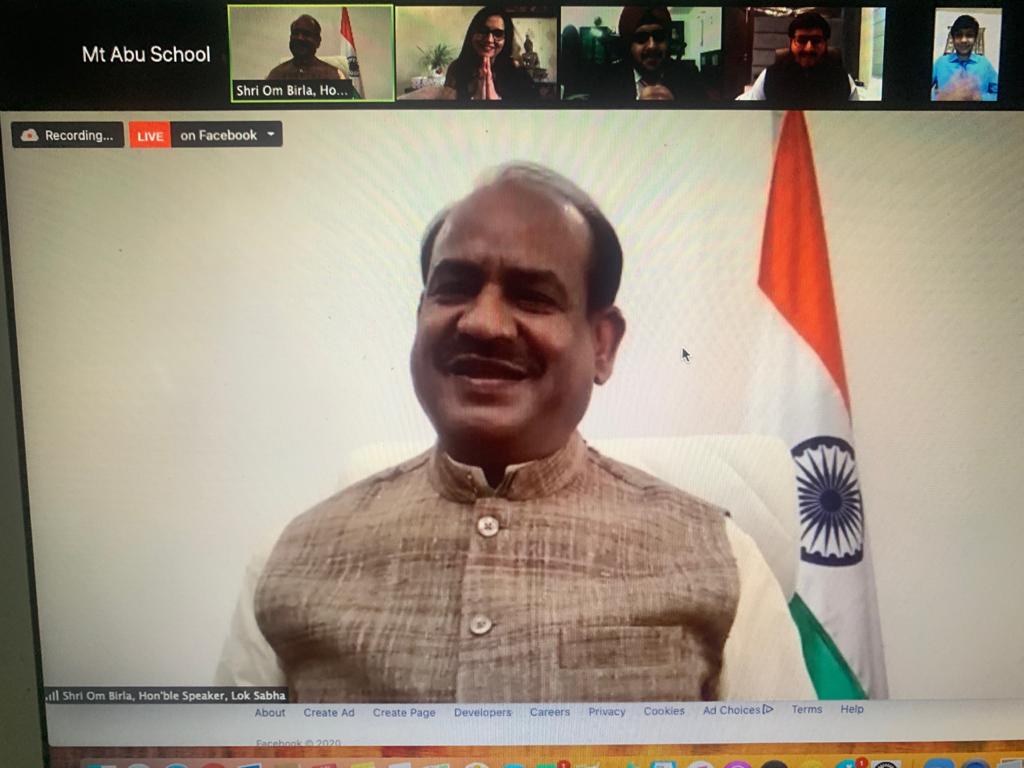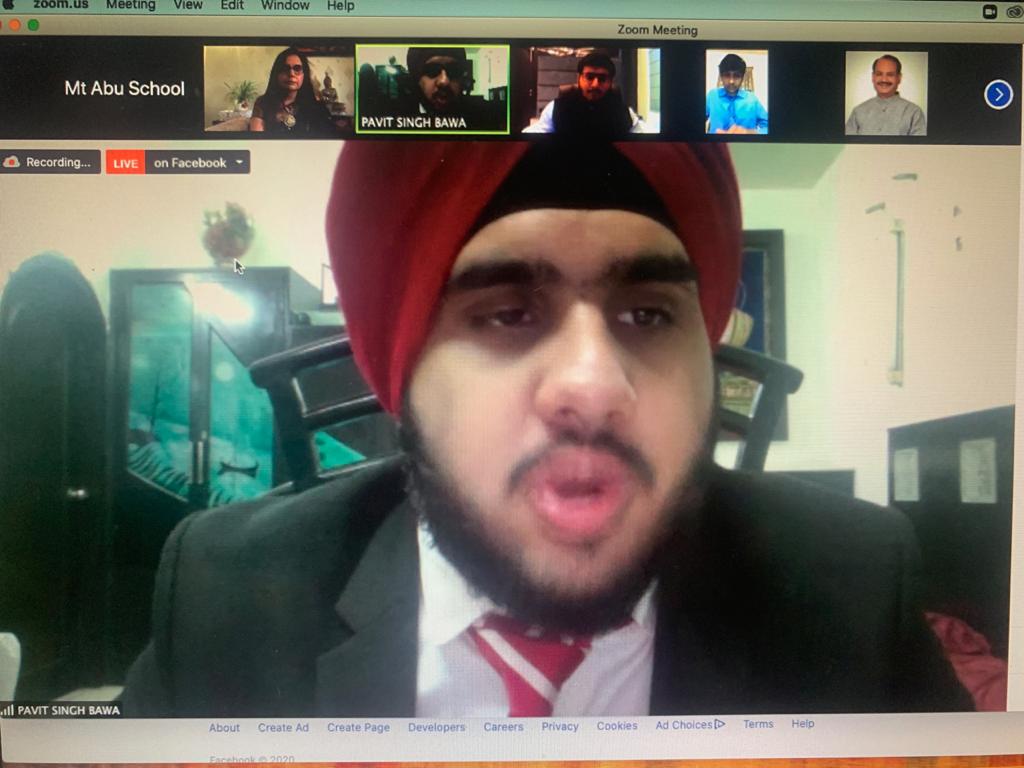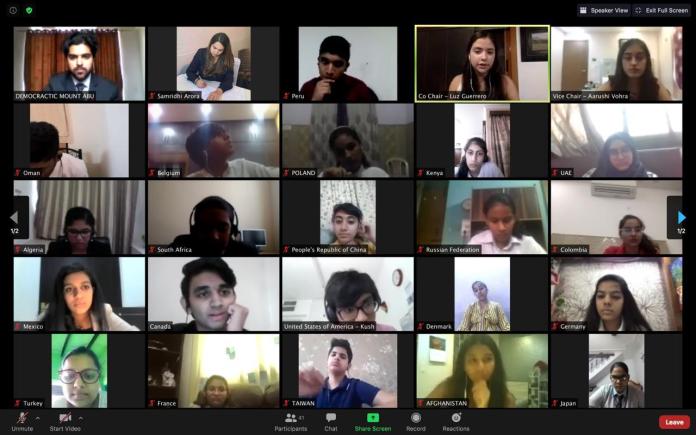 ---
WEBINAR BY INDIA TV ANCHOR
Mount Abu School organized a webinar with Surbhi Sharma, Anchor, Sr. Executive Producer, India TV where in she advised every child to know his worth and potential. She addressed the students about the need to have a passion in life that drives everyone to proceed with zeal. She also interacted with the students to know their outlook in life and how they work hard to achieve what they want. She also emphasized that, to be satisfied in life, one needs to be directed towards the goal with complete dedication.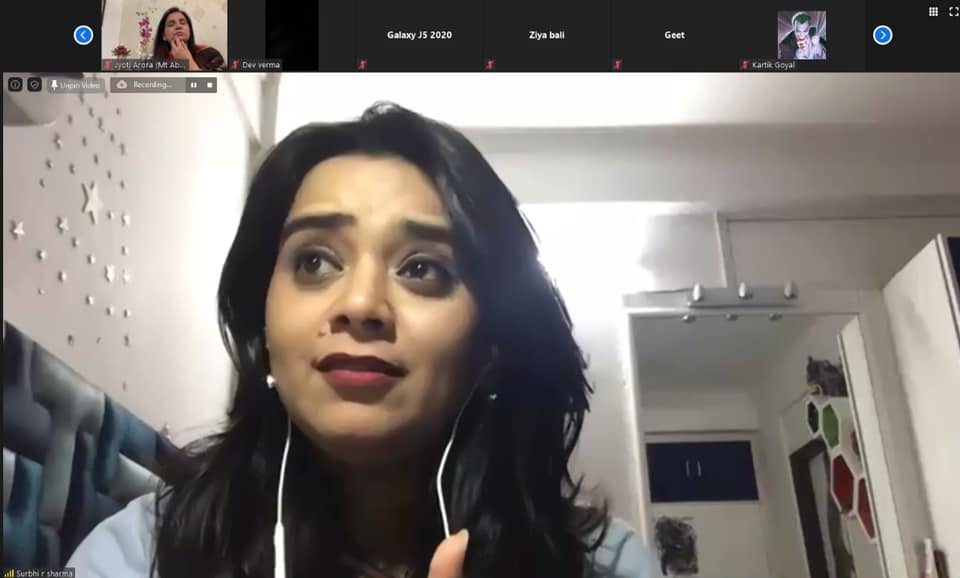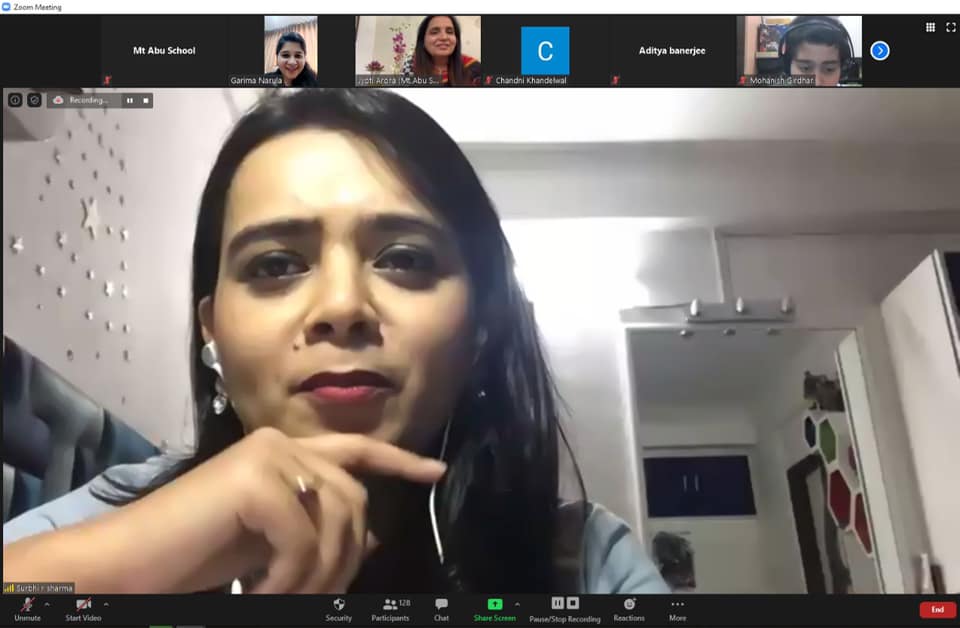 ---
WEBINAR WITH DR. SHAWNA PANDYA
One more breakthrough for Mount Abians- A Talk with Dr. Shawna Pandya. On Friday, 8th May, 2020, students of Mount Abu School got a golden opportunity to talk to Dr Shawna Pandya who is a Citizen Scientist Astronaut, Aquanaut, Physician, Martial Artist, Sky Diver, Motivational Speaker and was also an intern in NASA. Dr. Shawna Pandya shared her experience and lessons which she has learnt in her career . She explained that there is no limit for dreams and dreams will become reality only when they are chased. She emphasized that aptitude, passion, discipline and solid work ethics are critical for success. Each and every line which she spoke was very motivational and she built an understanding of the collaborative nature of doing science in the mind of students. She is real inspiring figure for the youth and students got inspired of her vibrant personality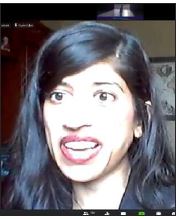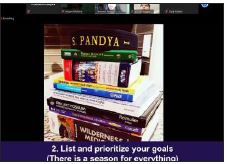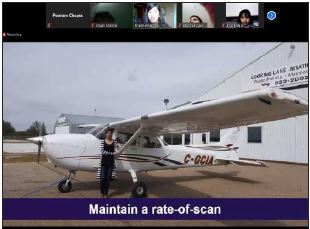 ---
WEBINAR WITH DR. JANI RADEBAUGH
The school organized a webinar with Dr. Jani Radebaugh on 7th May 2020 wherein students from class 3rd to 12th along with all the teachers attended the session and got the opportunity to talk to one of the prominent planetary scientist in the world. She is also a professor at Brigham Young University and an expert contributor to the Science/Discovery program "How the Universe Works". She discovered Vid Flumina, a liquid methane river on Saturn's moon Titan over 320 km (200 mi) long and resembling the Nile river. She shared her photographs and memories when she had been to Antarctica. She provided opportunities to clarify thoughts, generate conclusions, develop theories, and ask new questions. It linked the students directly to space scientists and provided unique, authentic experiences to enhance student learning, performance, and interest in science, technology, engineering, and mathematics.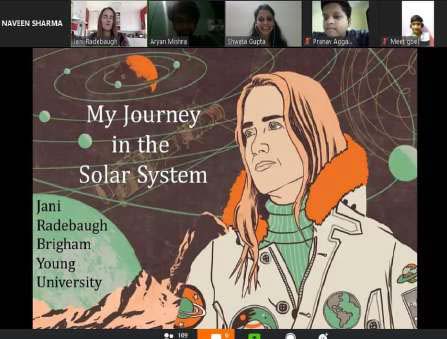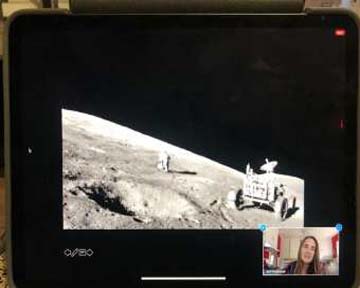 ---
WEBINAR ON MENTAL WELL BEING -OUR PRIORITY
The school organised a webinar on "Mental Well Being in Pandemic" by Dr. Jitendra Nagpal, renowned expert in Mental Well ness. He gave the community useful tips on utilizing the lockdown time with calm mind and positive attitude. His insights on leading active lifestyle were extremely useful to enjoy the time at home with family members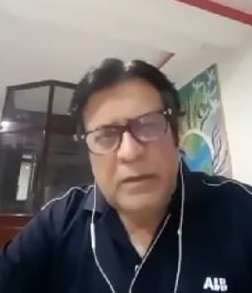 ---
SESSION ON STORY TELLING: AN INNOVATIVE METHODOLOGY TO LEARN AND EXCEL
"Good Stories surprise us. They make us think and feel. They stick in our minds and help us remember ideas and concepts" Mount Abu Public School , Sector -5 , Rohini hosted a session on Story Telling by RJ Vipul from Radio Mirchi, Lucknow on 18th February 2020. The exciting and enriching session guided the students on how to make challenging concepts easy through the art of storytelling. The young students of the school interacted enthusiastically and shared the stories that they have read and composed themselves. The young learners also participated actively in "Weave a Tale" activity and created interesting twists and turns. The session was fun filled with great learning of utilizing storytelling for better retention and enhancing the creative skills.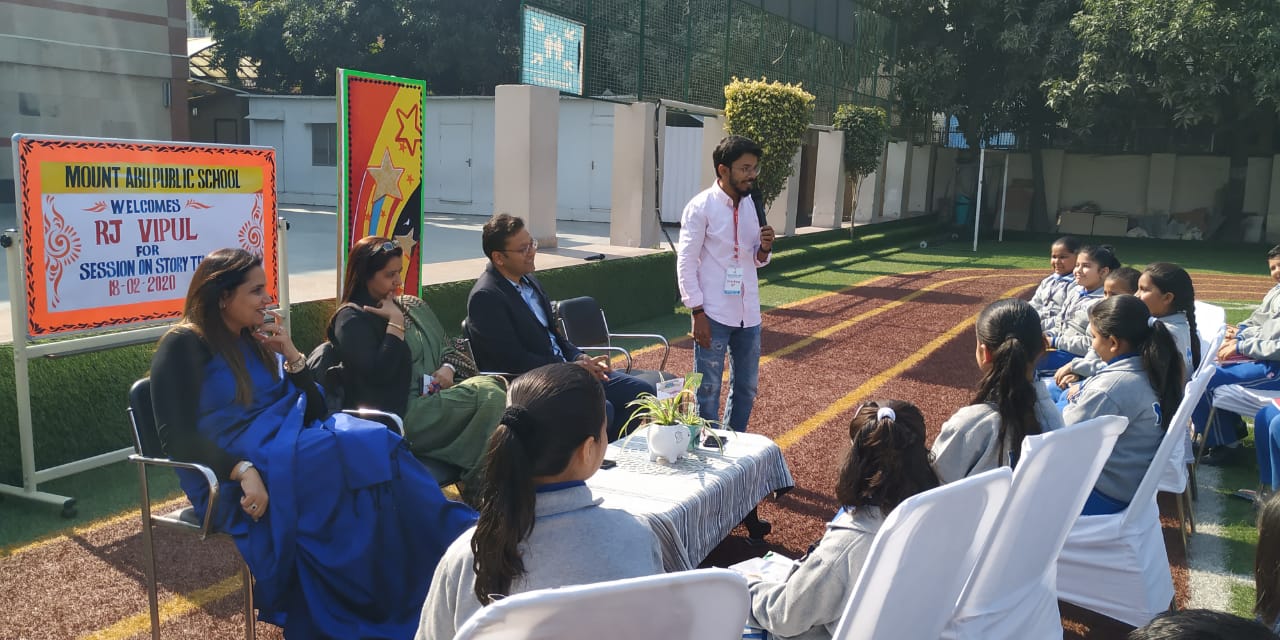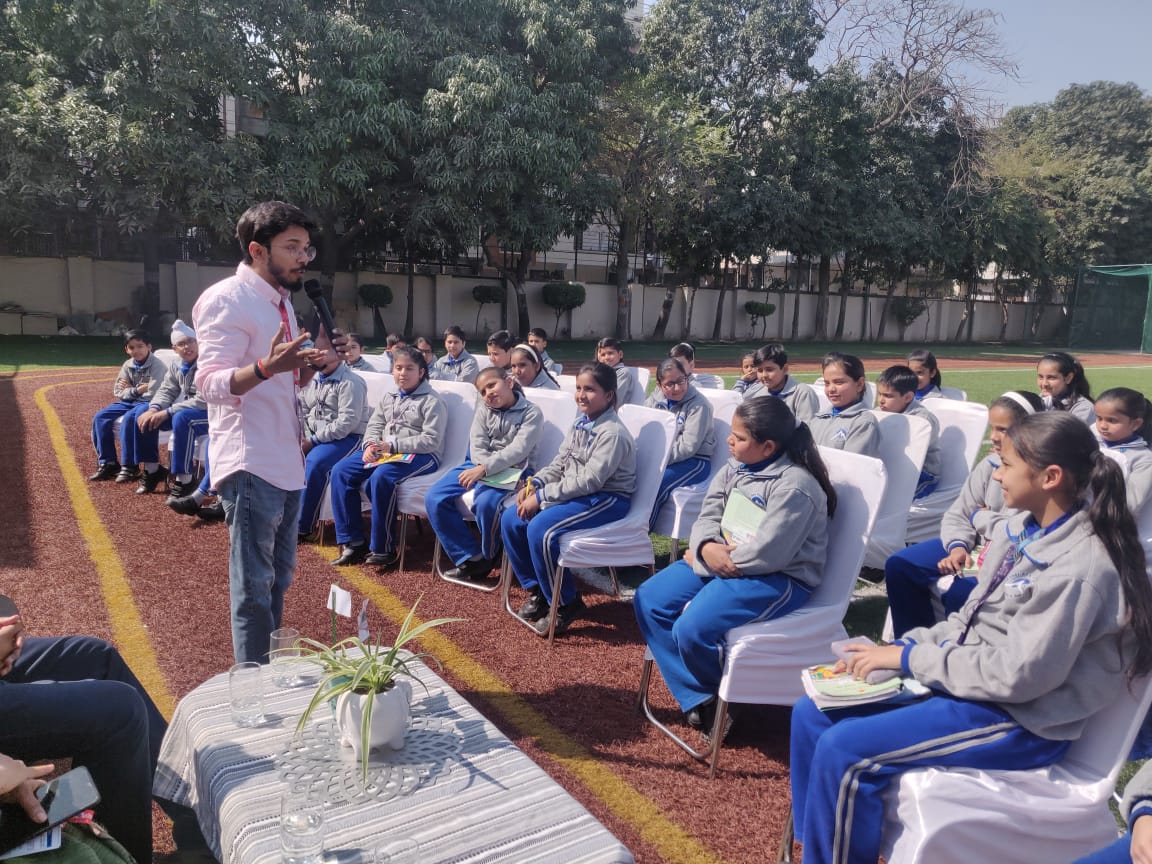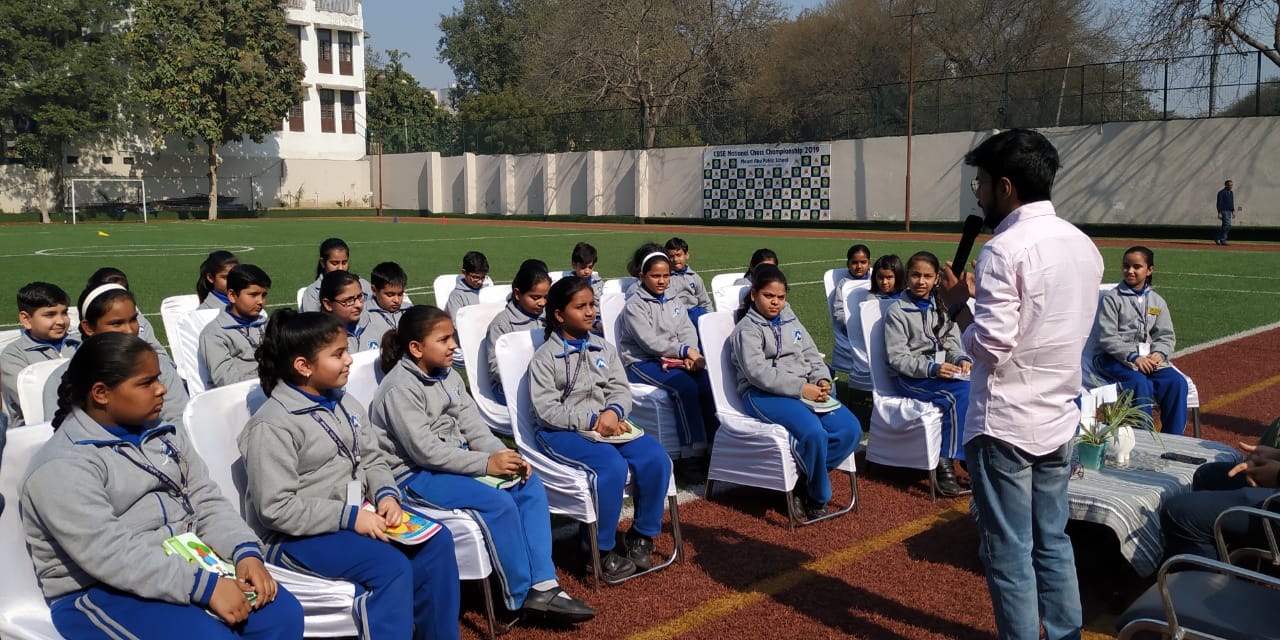 ---
WEBINAR ON HOW TO BEAT EXAMINATION STRESS
"Nothing causes anxiety as much as an exam"
Putting in tons of hours each week can be a daunting task and it can undeniably give students enough reasons to quit and stray from the track. To beat the examination stress , MAPS conducted a webinar on "HOW TO BEAT EXAMINATION STRESS" for IX class students by Mr. Alok Bansal, Head of the MAPS Career and Guidance Centre . As exams approach, most of students become nervous and develop cold feet . For most of the students examinations offer reasons to be frustrated and overwhelmed with different emotions. They are indeed inextricably intertwined with 'stress' that often leads to sweaty palms increased heart palpitations and the inability to sit and concentrate. A little stress around exam time can undoubtedly be a good thing as it acts like a motivational push but if anxiety seems to be strangulating students and getting in the way of progress rather than helping, then students certainly need to look for an escape. However, the students were also given the opportunity of interacting and asking the questions related to how to deal with the poignant emotions that wreck their academic performance. The session ended with the exchange of wide spectrum of techniques that aim at controlling chronic stress and improving the overall performance.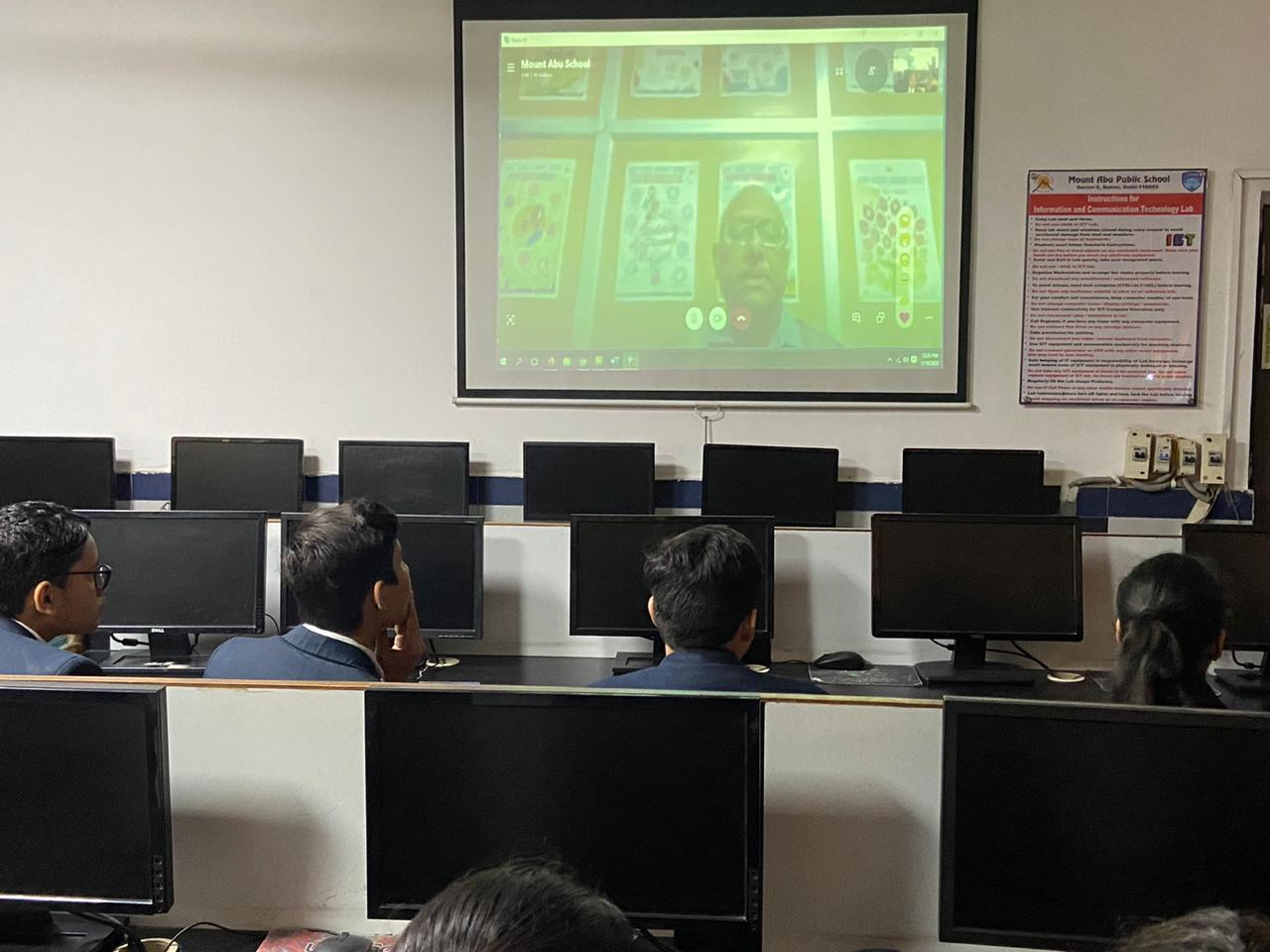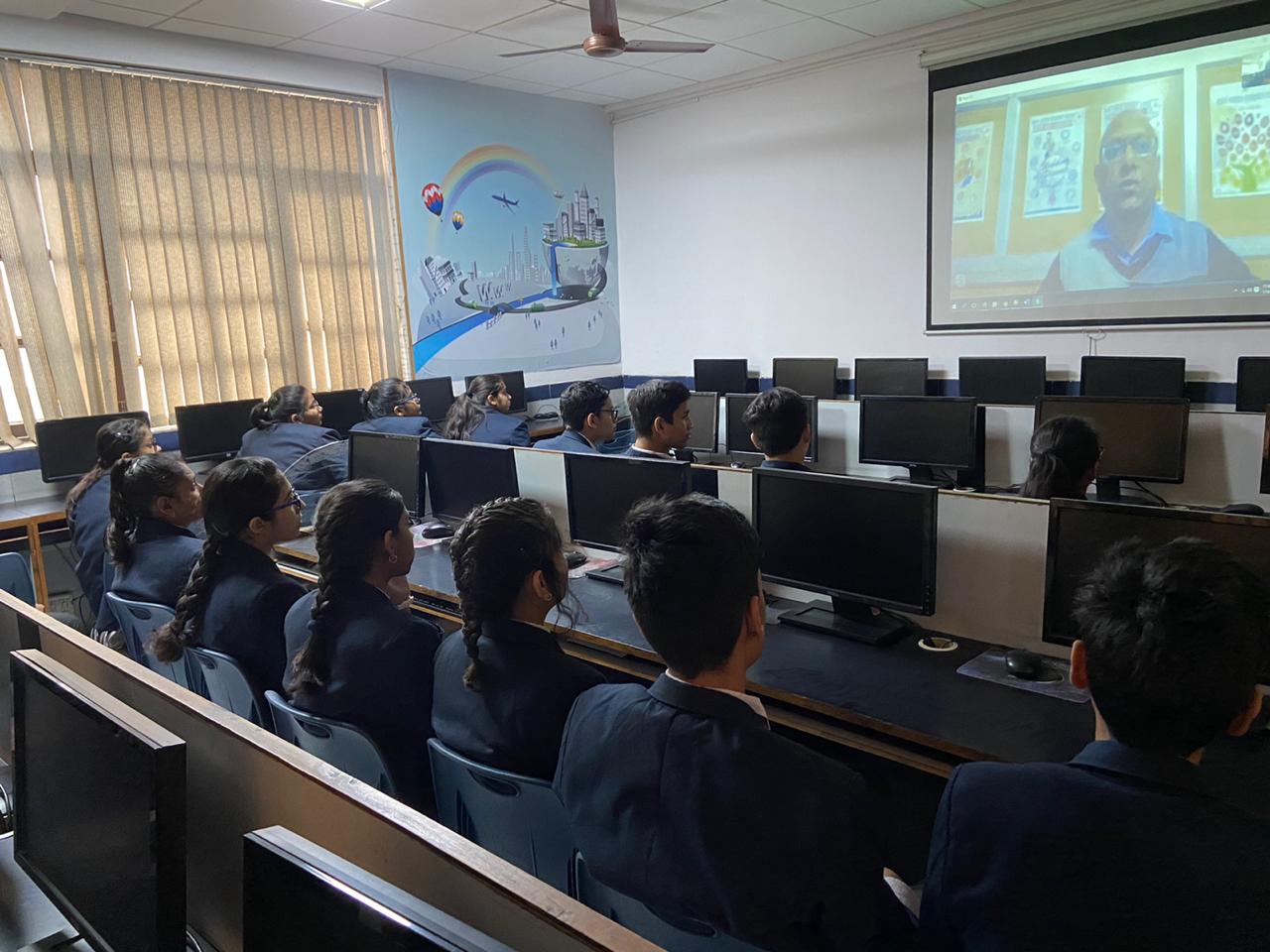 ---
SESSION BY 92.7 BIG FM ON CAR POOL
The students of Mount Abu Public School Sector-5, Rohini had a memorable time today as they interacted with the renowned Radio Jockey Nitin from 92.7 BIG FM. The children wrote letters for their favourite celebrity expressing concern about the increasing pollution and requested them to take action to safeguard the wonderful environment. The thoughts and ideas of young learners on curbing pollution were highly appreciated by RJ Nitin who was amazed and delighted to know about students' understanding on such a vital topic. Everyone agreed that it is the cumulative responsibility of each individual to put efforts for safeguarding our bountiful nature. The session concluded with the slogan of 92.7 BIG FM that Car pool is really cool and we must not hide our face behind a mask instead we must plant more trees and take appropriate action to curb pollution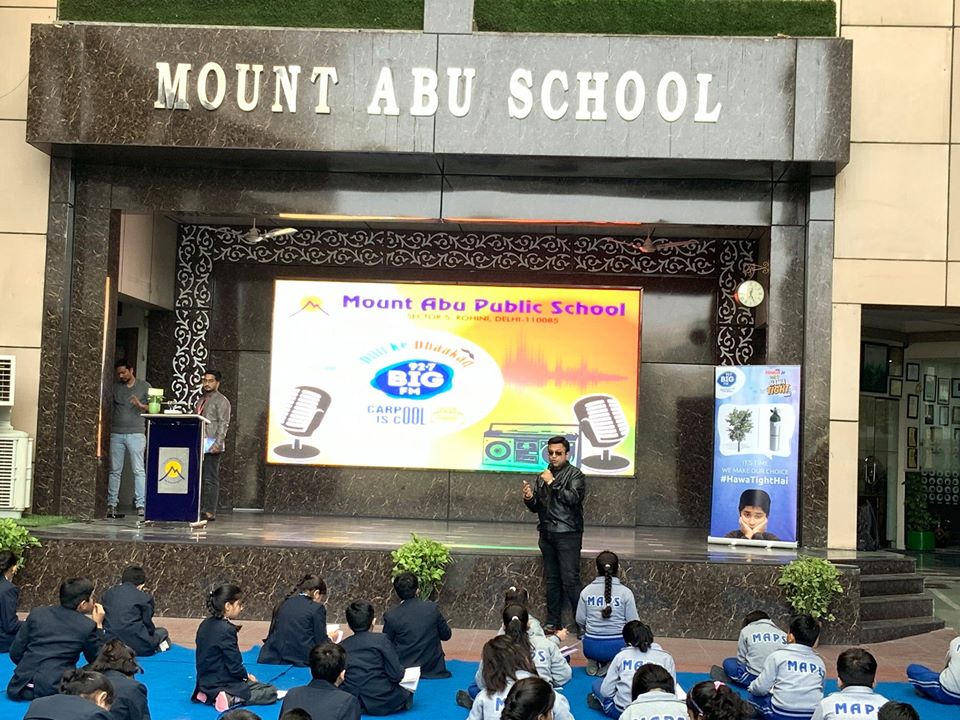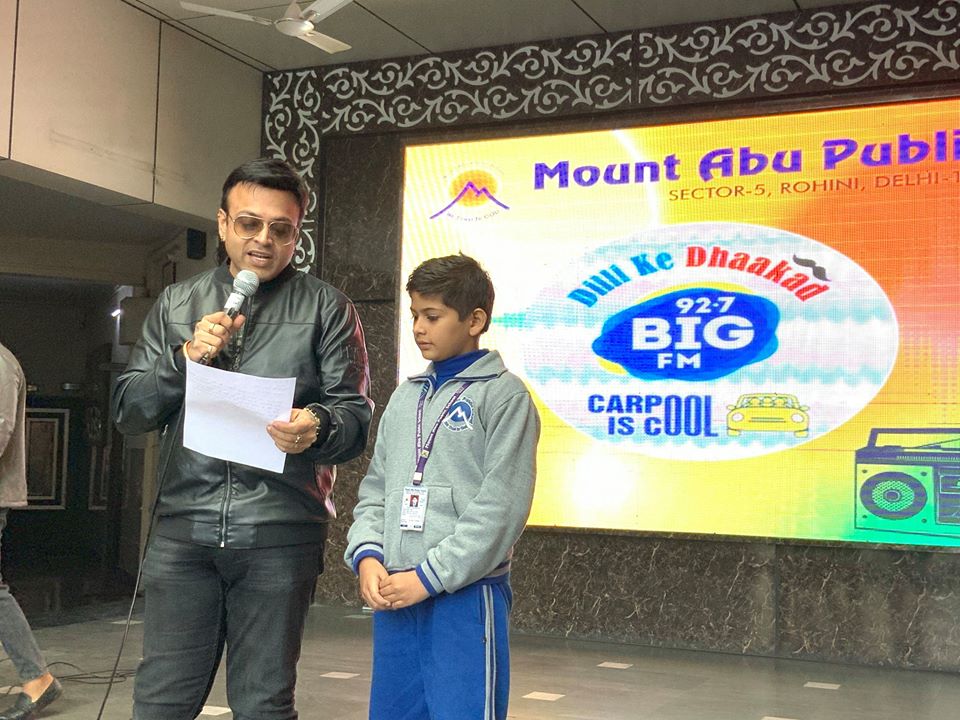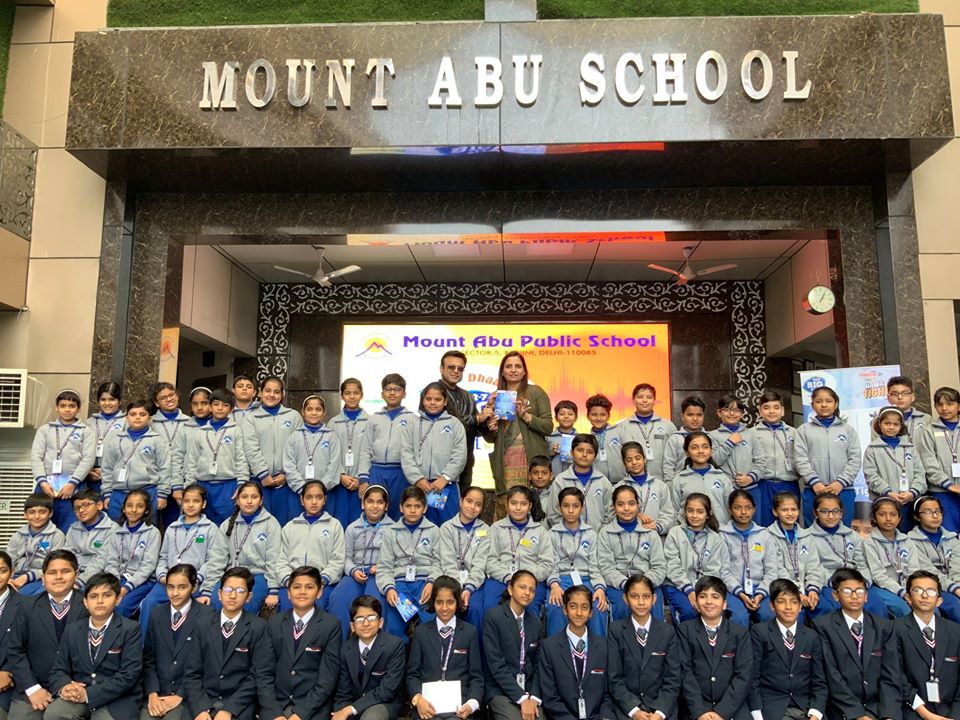 ---
SESSION ON ADOLESCENCE RELATED ISSUES OF GIRLS
To make the girls more informed, Active and Stronger to face the changes that constantly occur in life, UNICHARM INDIA PRIVATE LIMITED conducted a session for the teen age girls from class VI to VIII on 27 November 2019 wherein the resource person, Gummaluri Anuradha gave valuable tips to confront the physiological and emotional changes that occur during the process of Menstruation. She advised the girls to be strong enough to handle this important phase of life and take it happily as it comes .She briefed the children about what all symptoms indicate the commencement of the cycle and how it effects the body ,both physically and emotionally and what precautions one must take during those days .She also talked about the major issue of maintaining hygiene during those days which is very important to pay attention to as any careless move can lead to serious problems later on. She gave an eye opener talk on how various myths are related to this stage of life and how one must get rid of such myths .She interacted with the girls well wherein girls got their queries solved and felt happy to gain knowledge about everything associated with their life. In all, the session was very fruitful as the girls could get the chance to come out of their self made shells of hesitation and talked freely about their feelings and attached fears.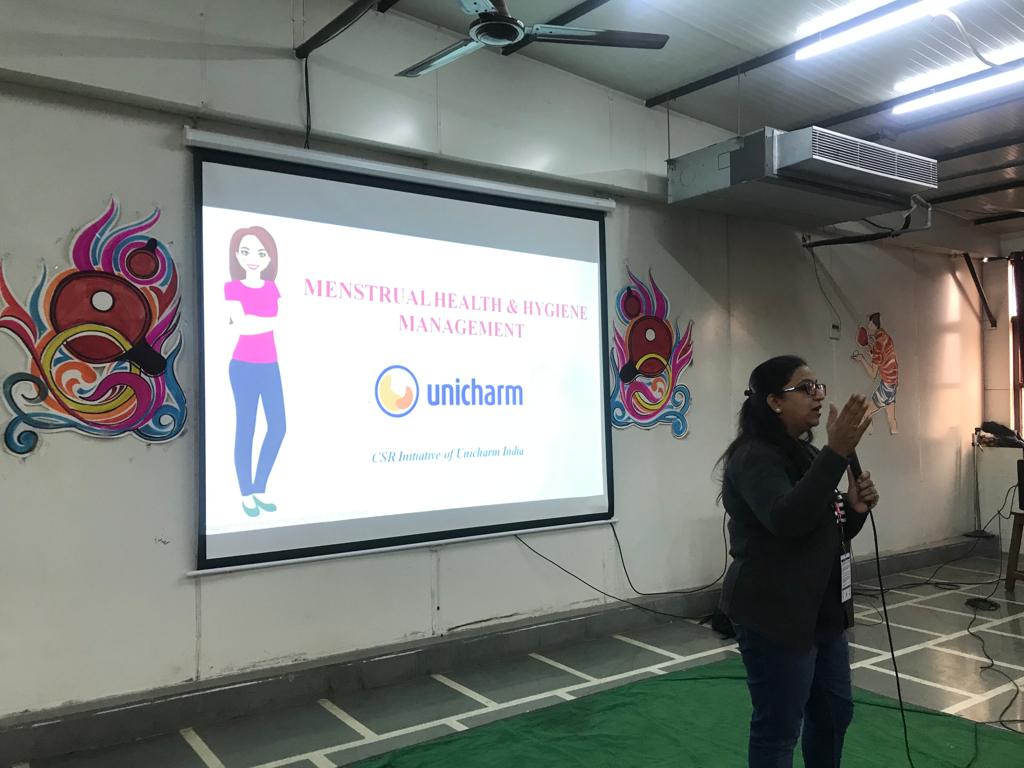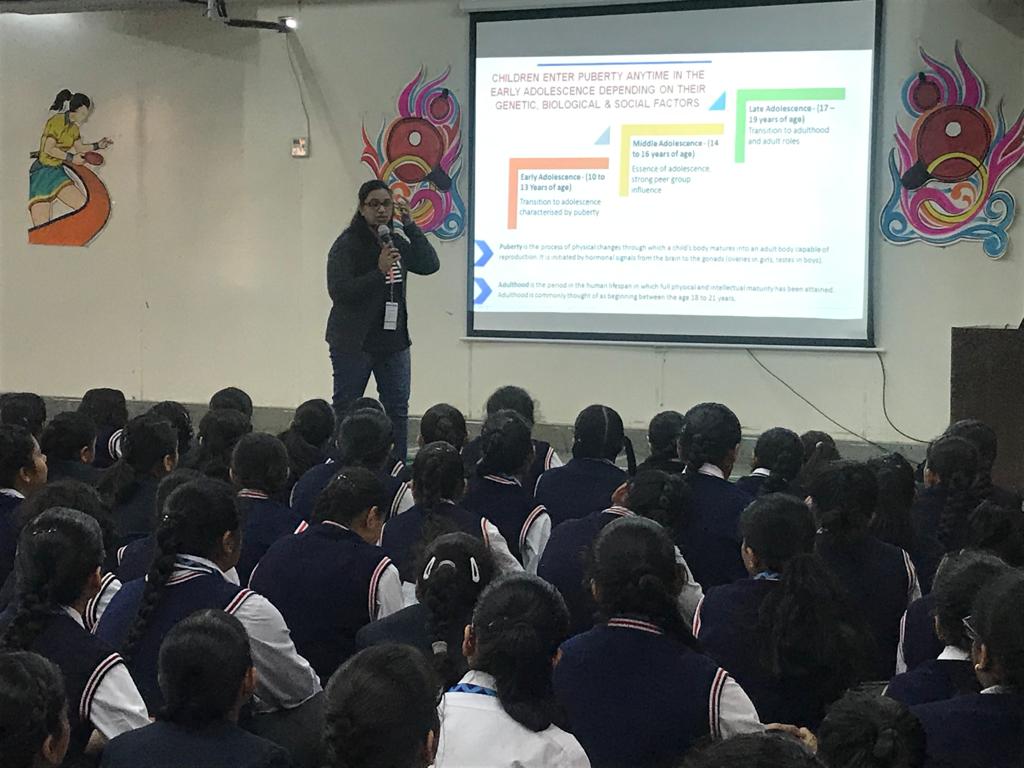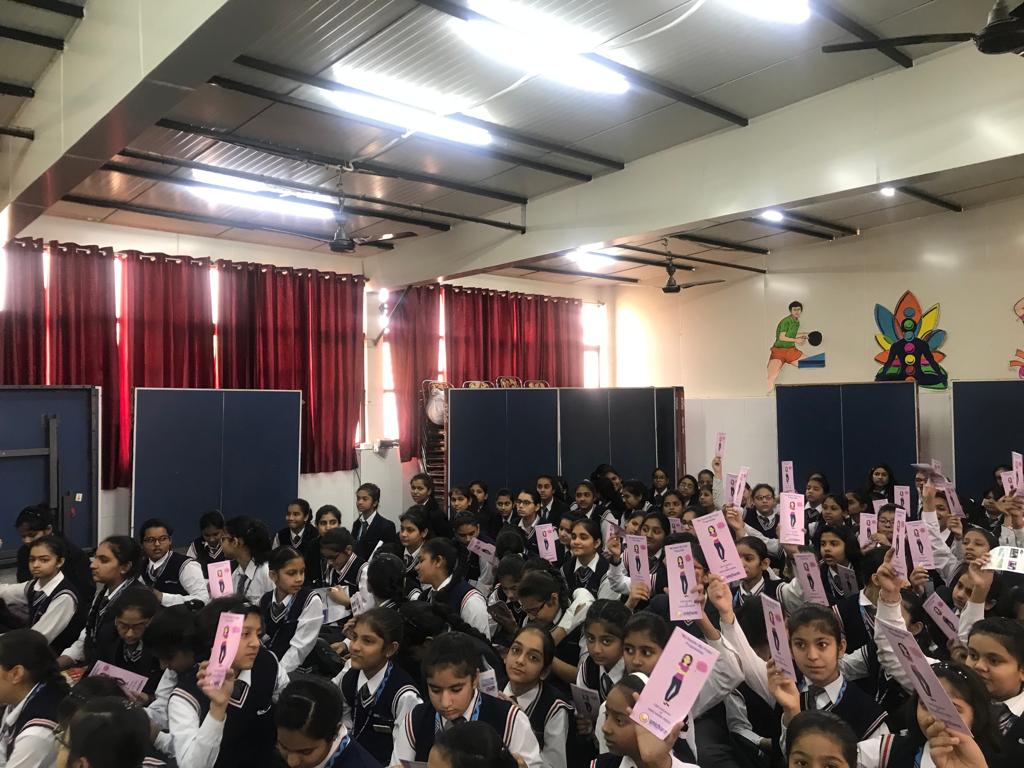 ---
GO ECO FRIENDLY
To sensitise the students about the after effects of Global Warming a workshop was conducted at Mount Abu Public School, Sector 5, Rohini on 23rd November for classes V to VIII by Sharp NGO wherein the resource person, Smriti Jagran urged the students to go digital and save trees to promote sustainability. The students participated in quiz , slogan writing and poster making. The winners were awarded with portronic pads and certificates. The students promised to practically be a part of solution rather than debate or discussion for saving paper and safeguarding environment.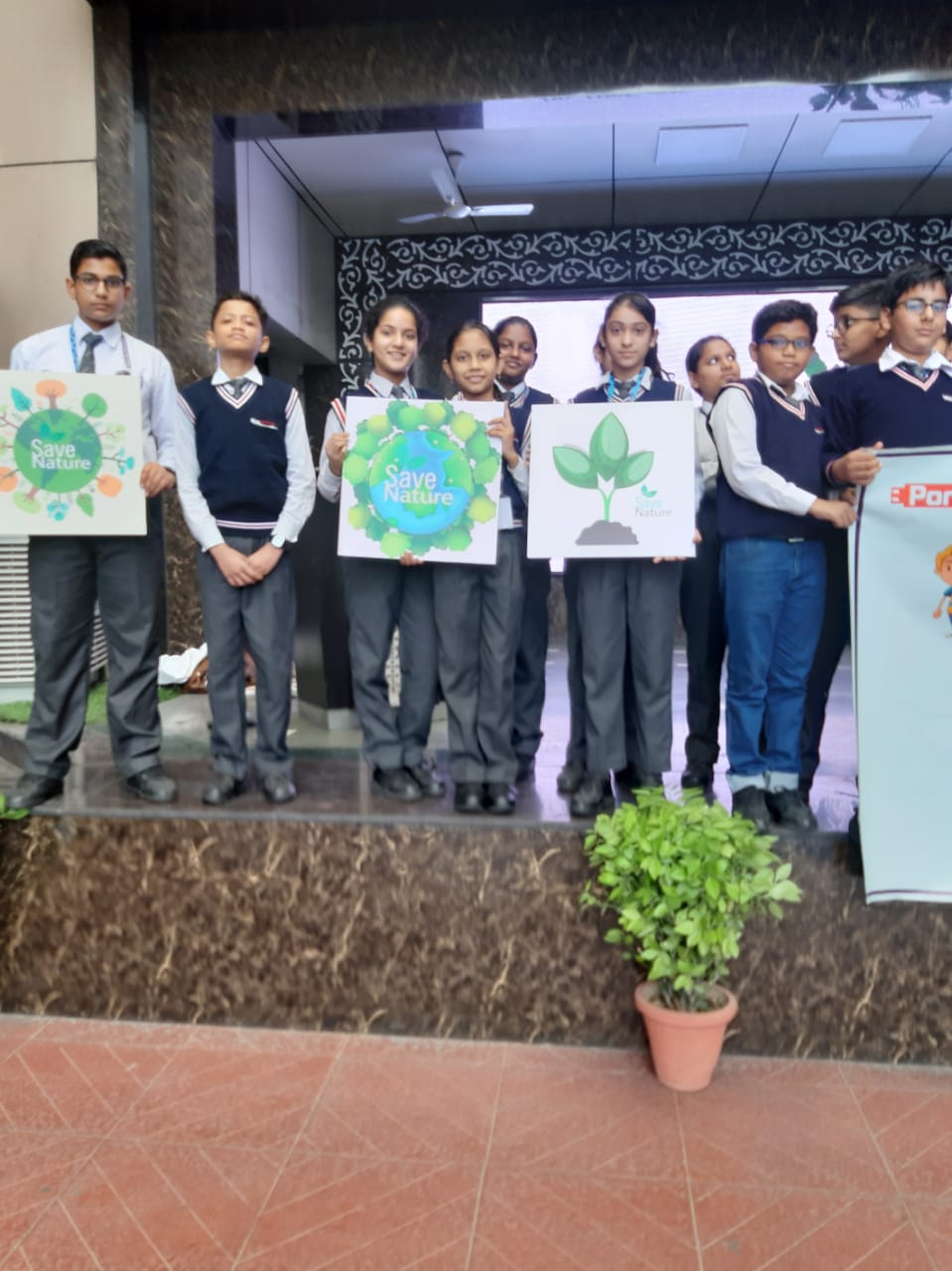 ---
SESSION ON ZERO PLASTIC TOLERANCE
Mount Abu school organized a session on zero plastic tolerance wherein the speaker Dr Judi Lowe Renowned marine conservationist from Australia, made the students aware about the UNDP PLASTIC WASTE MANAGEMENT CAMPAIGN .She showed a presentation on how plastic waste is being consumed by animals on land as well as oceans and causing a great threat to the lives and spoiling the environment .She guided children to preserve the sanctity of rivers and oceans by not littering them with plastic and stop using the items made out of single use plastic as they are not biodegradable and release toxic gases in the environment and makes it unfit for survival .Even the air that we breathe is polluted due to the careless attitude of we humans ,who ideally should be the protectors of nature .She along with her colleague , Mr. Nimish , a representative of UNDP ,encouraged the children to adopt the ways to segregate the waste into dry and wet at home so that the waste could be easily decomposed without any danger of toxins being released and each student to feel concerned for the cause as little effort by each will produce drastic change in the mindset of many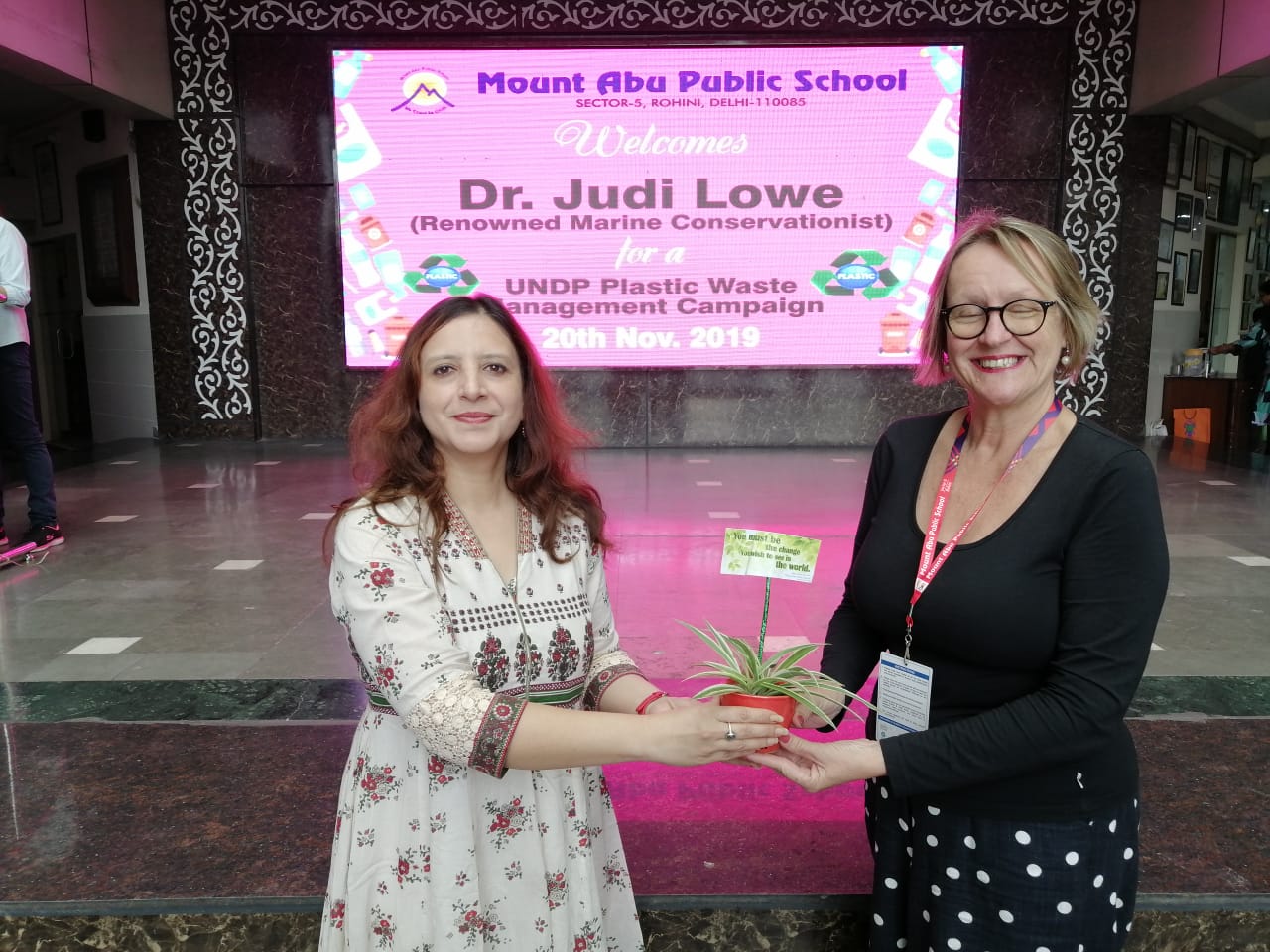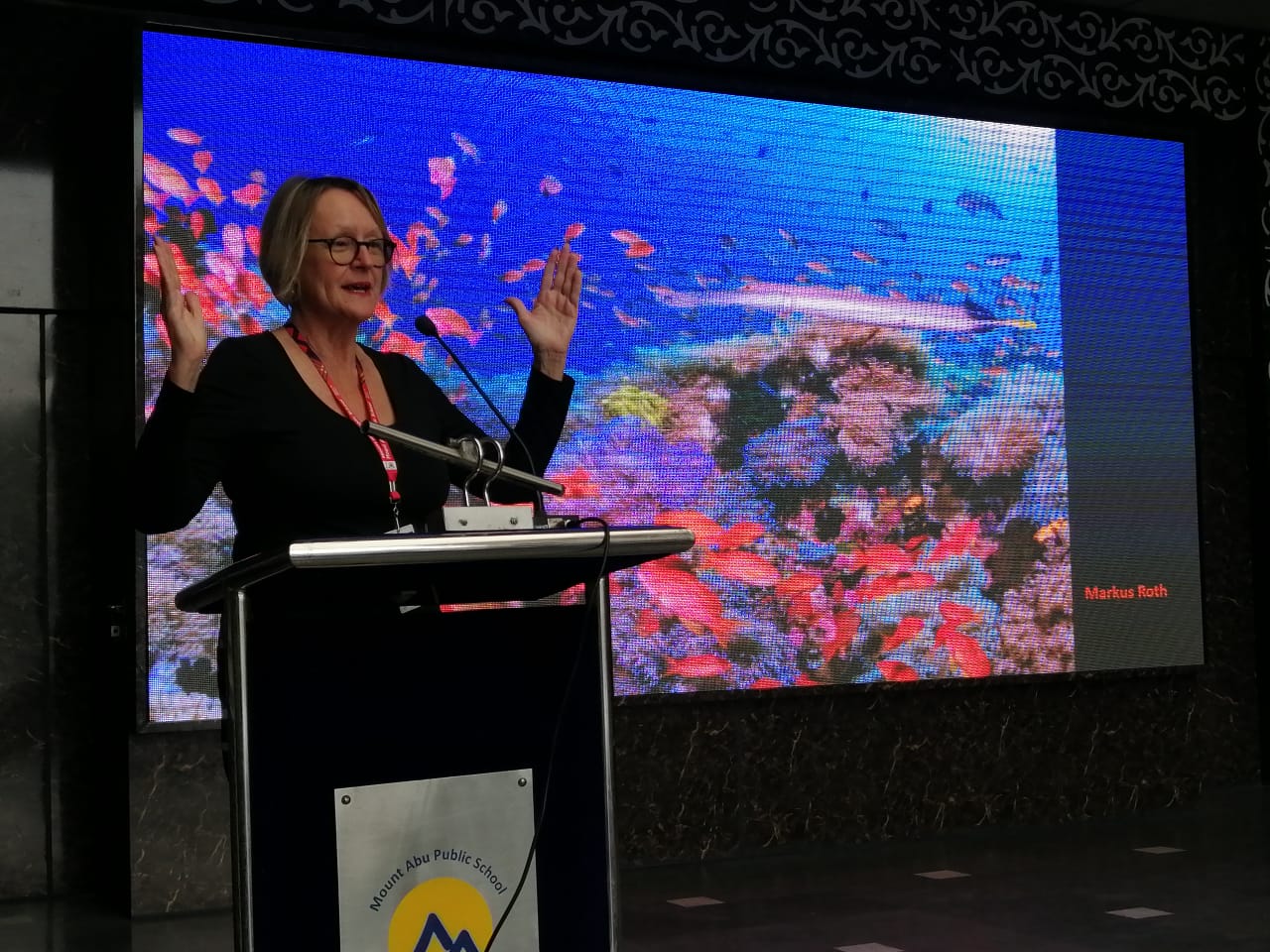 ---
SESSION ON CONSERVE MY PLANET
The third session of CONSERVE MY PLANET by SHARP NGO was conducted in Mount Abu Public School on 20th of November 2019. The Green ambassadors were made to participate in the poster making competition on the topic 'Human Energy and Environment ' and came out with many creative and innovative ideas. They were made to take round of the school to conserve @ campus in order to see whether any electrical instrument is wasting the electricity and paste the sticker with a message ' Power Detectives are watching you' on the equipment in the room and give everybody a warning . The participants loved to become the power detectives and promised to get maximum signature on green passport spreading awareness on energy conservation in their community.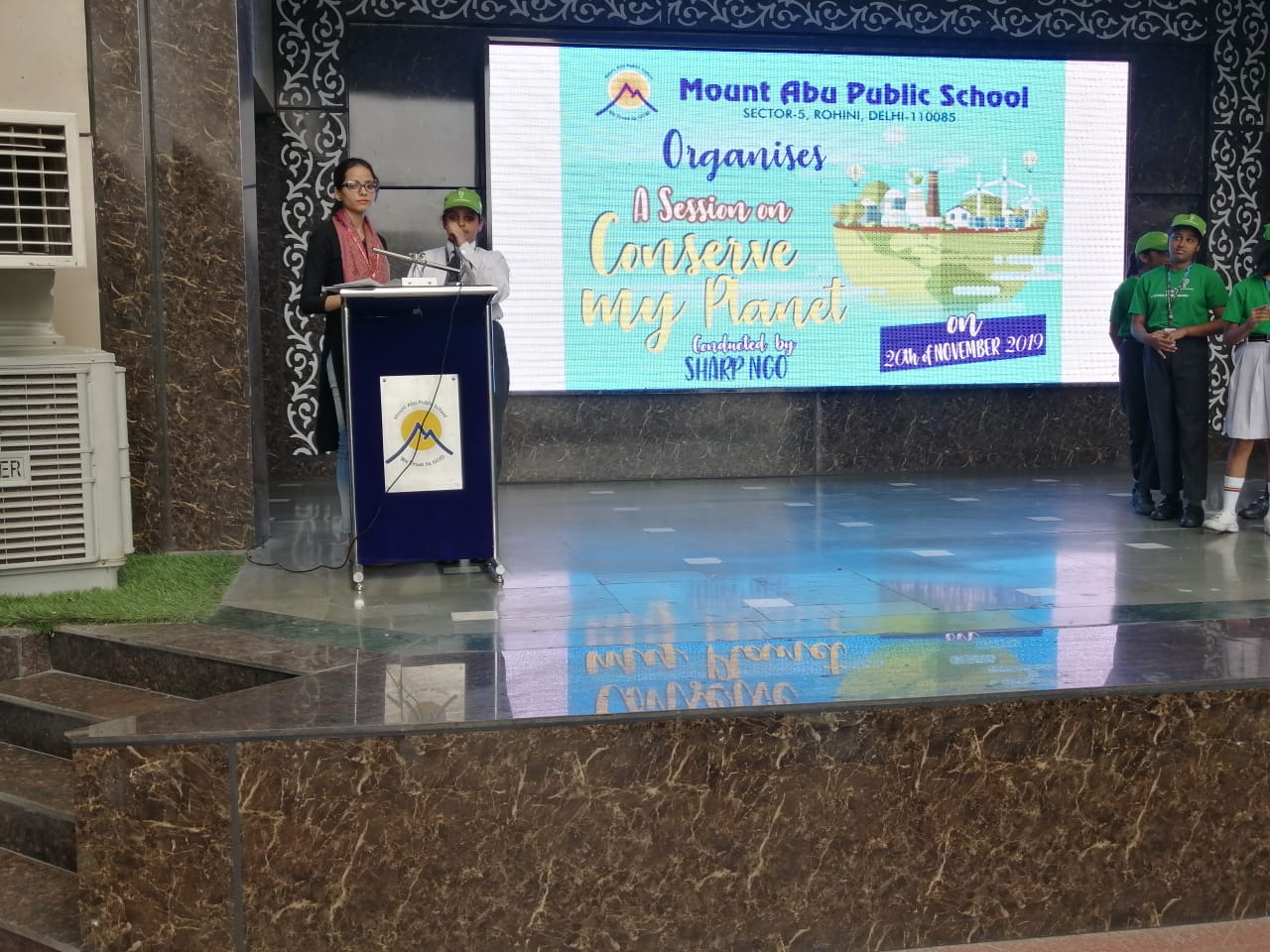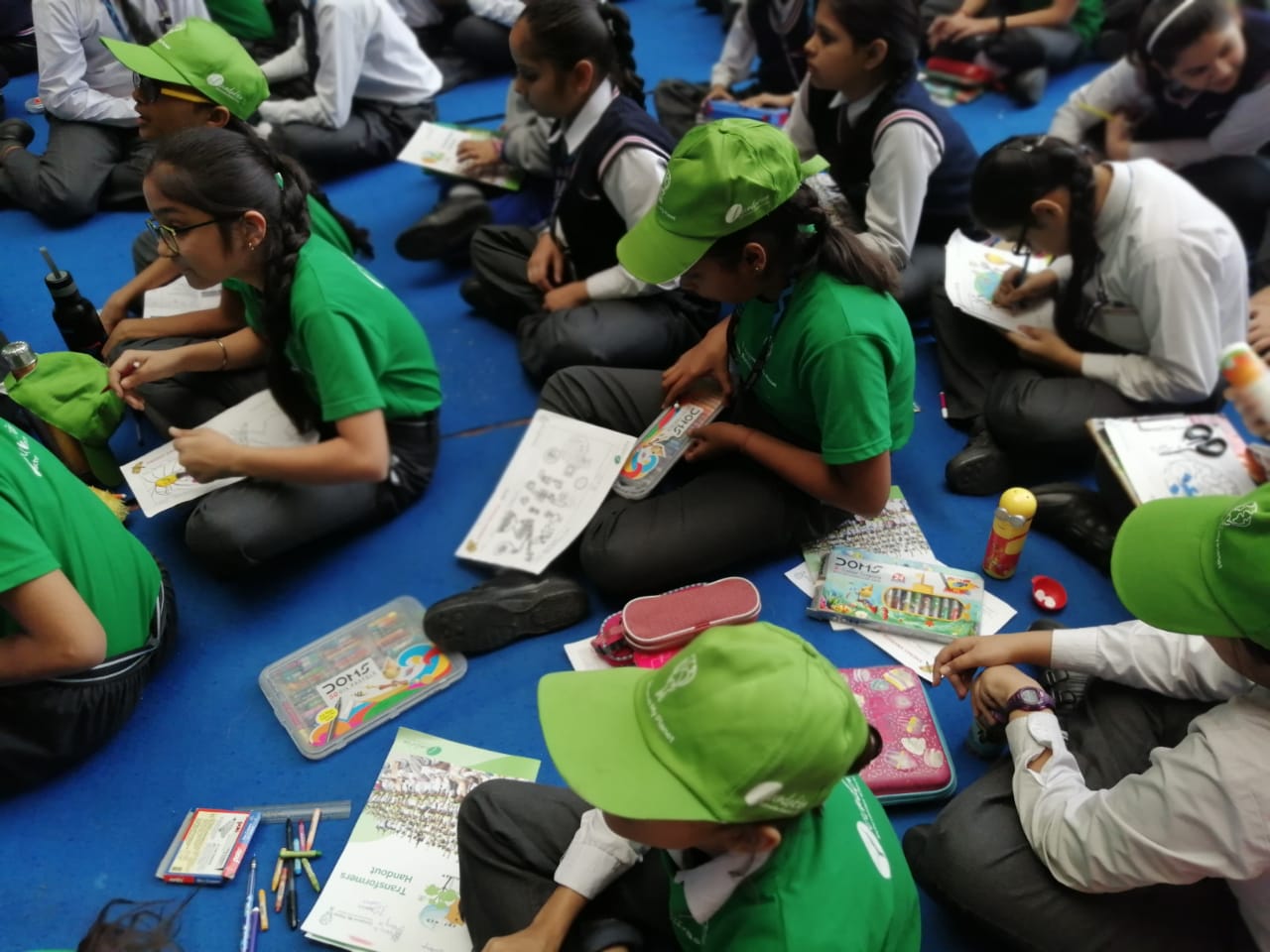 ---
PSYCHOMETRIC ASSESSMENT FOR CLASS XII
MAPS Career and Guidance Center conducted Psychometric Assessment for class XII to aid the students to choose a suitable career path. The assessment took place online for 45 minutes on five dimensions: Style, Interest, personality, aptitude and emotional quotient. Students were provided with personalized report. Resource Person Ms. Gurpreet from UPES Dehradun helped them understand their strengths and areas of interest for higher education.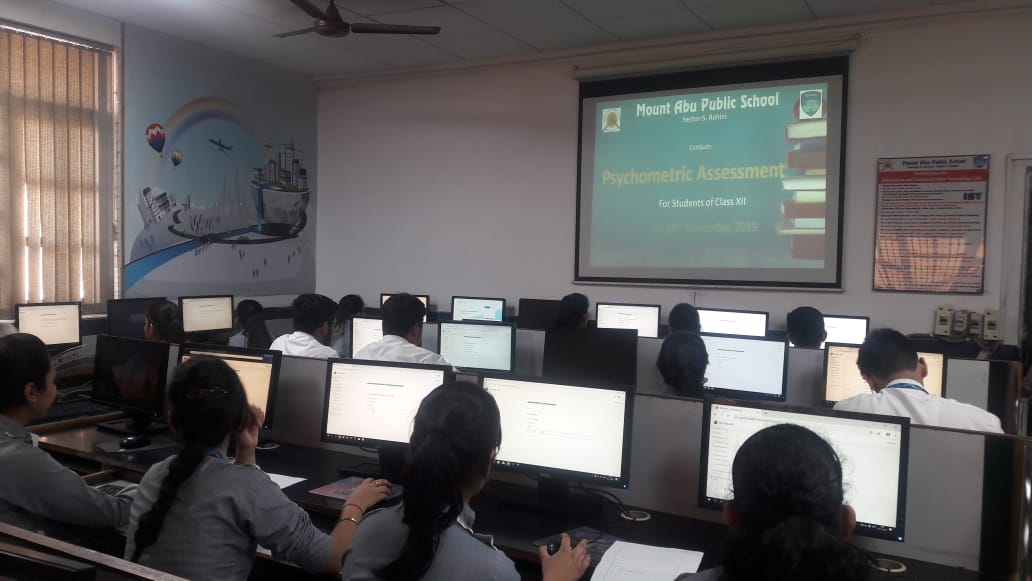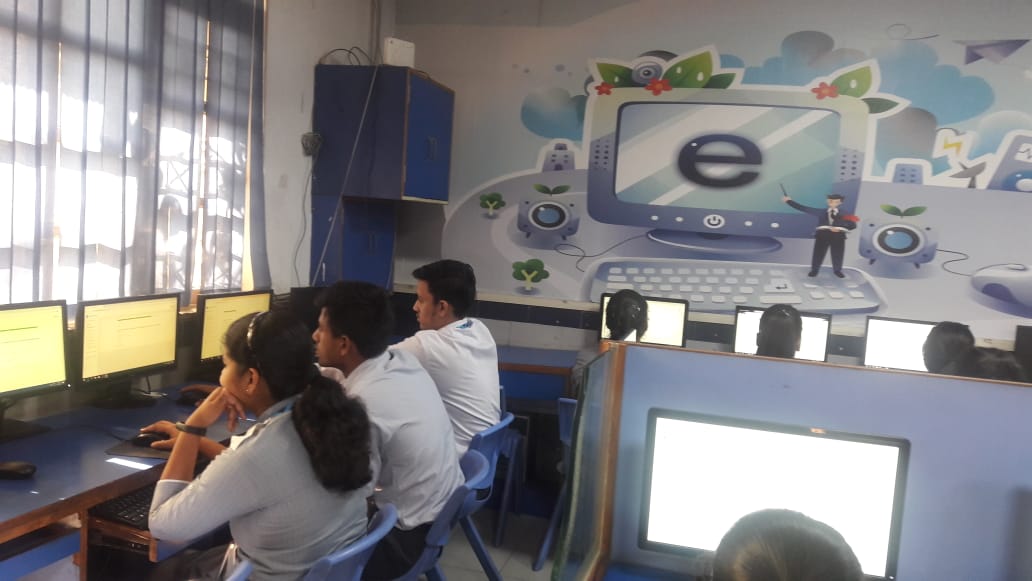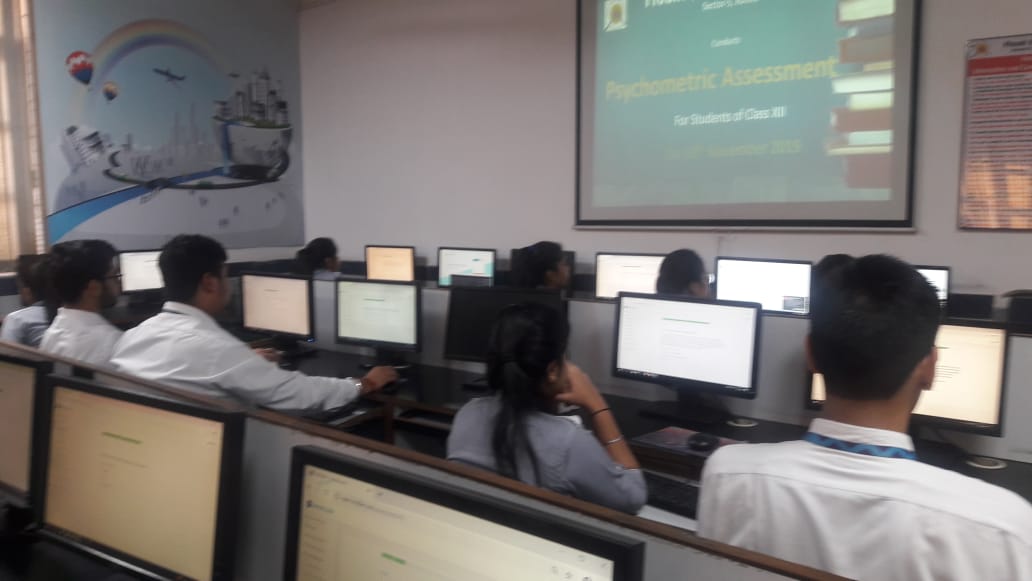 ---
WORKSHOP ON BIRD NEST MAKING
An interactive workshop on 'Bird Nest Making' was organised in Mount Abu Public School on 16th of December 2019. The resource person, Mr. Rakesh Khatri, the founder and director of Eco Roots Foundation- an organisation which works for the conservation of environment, taught the students how to build nest for the birds using eco friendly materials. The session was really an informative one as it provided the students an opportunity to connect with nature and being more sensitive to animals and birds around them. They also felt proud to meet the 'Sparrow Man of India' and felt inspired to be on his footprints by creating more nests and thus attracting and providing shelter to a number of birds.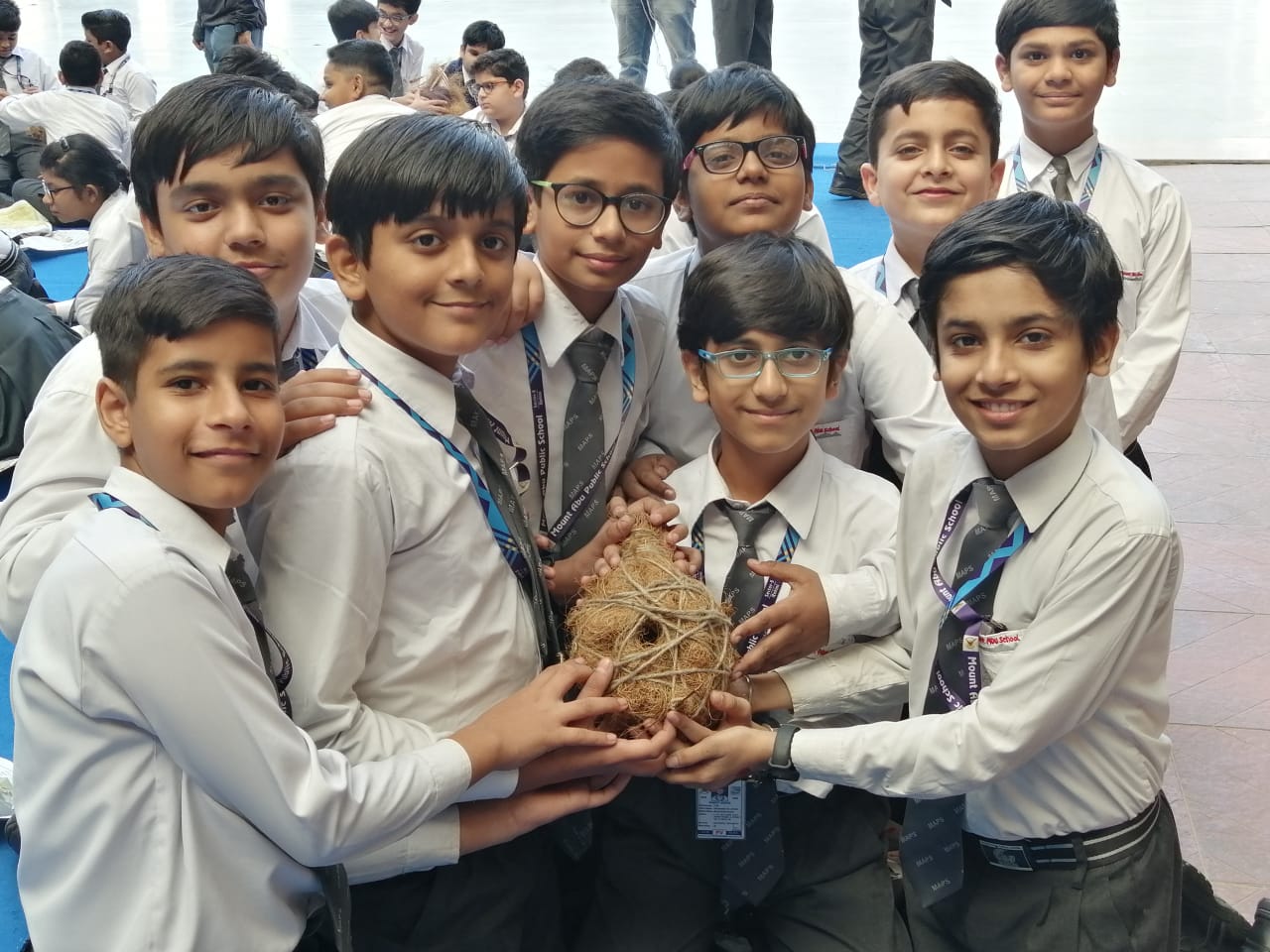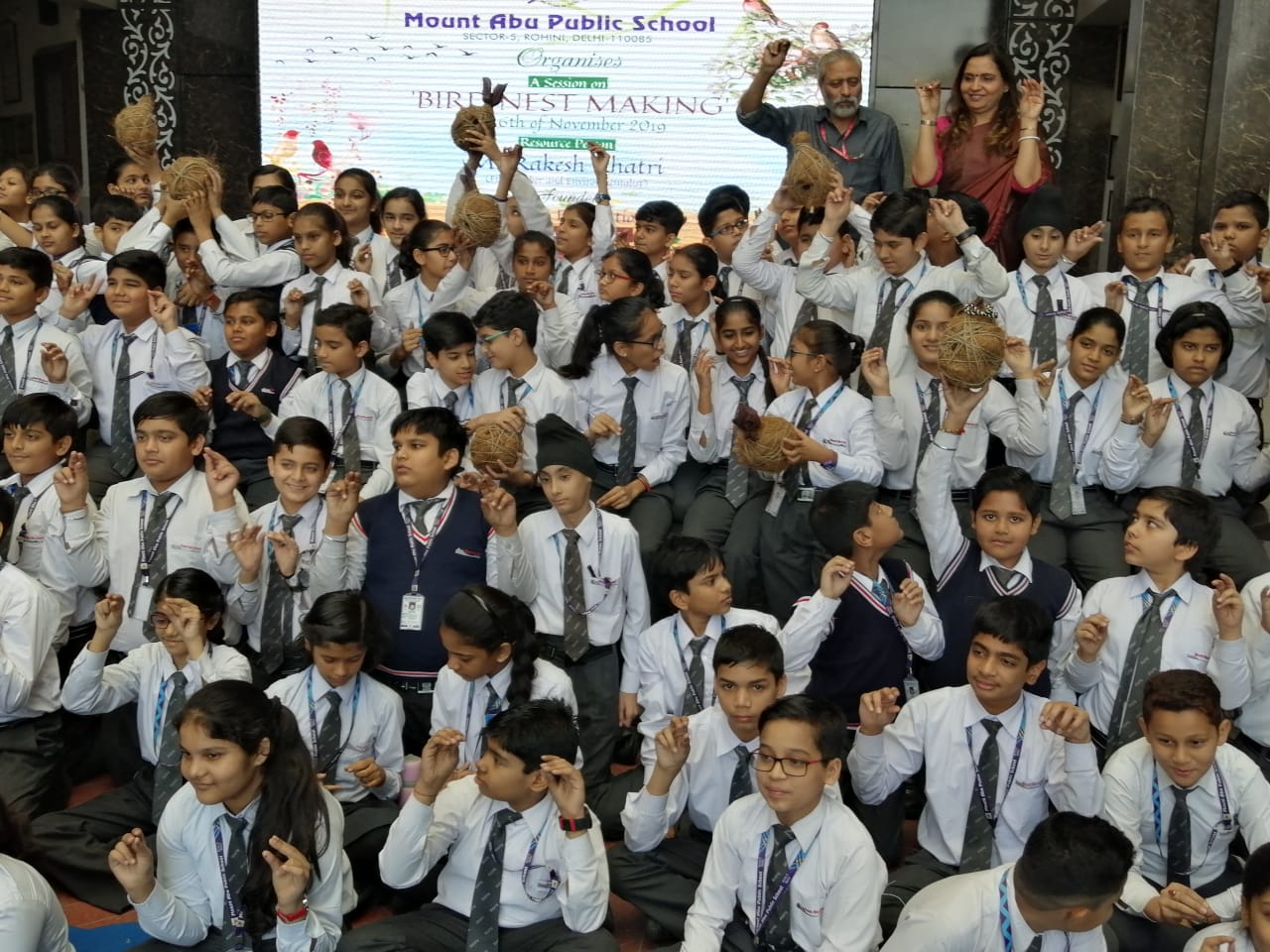 ---
WORKSHOP ON DRAMA AND THEATRE
A workshop on Drama and Theatre was organized in Mount Abu School on 1st November 2019. For students of Classes VII And VIII. The resource person Mr. Rohan Sharma, the acting coach and film maker made students aware of different skills needed to be a good performer. It covered different aspects of acting, movement, voice, improvisation, stage knowledge and listening. Students were called on stage to have first hand experience of working in a team with new people. Workshop was really a great learning for students. They were given creative freedom to improvise and come up with their own stories in their own style.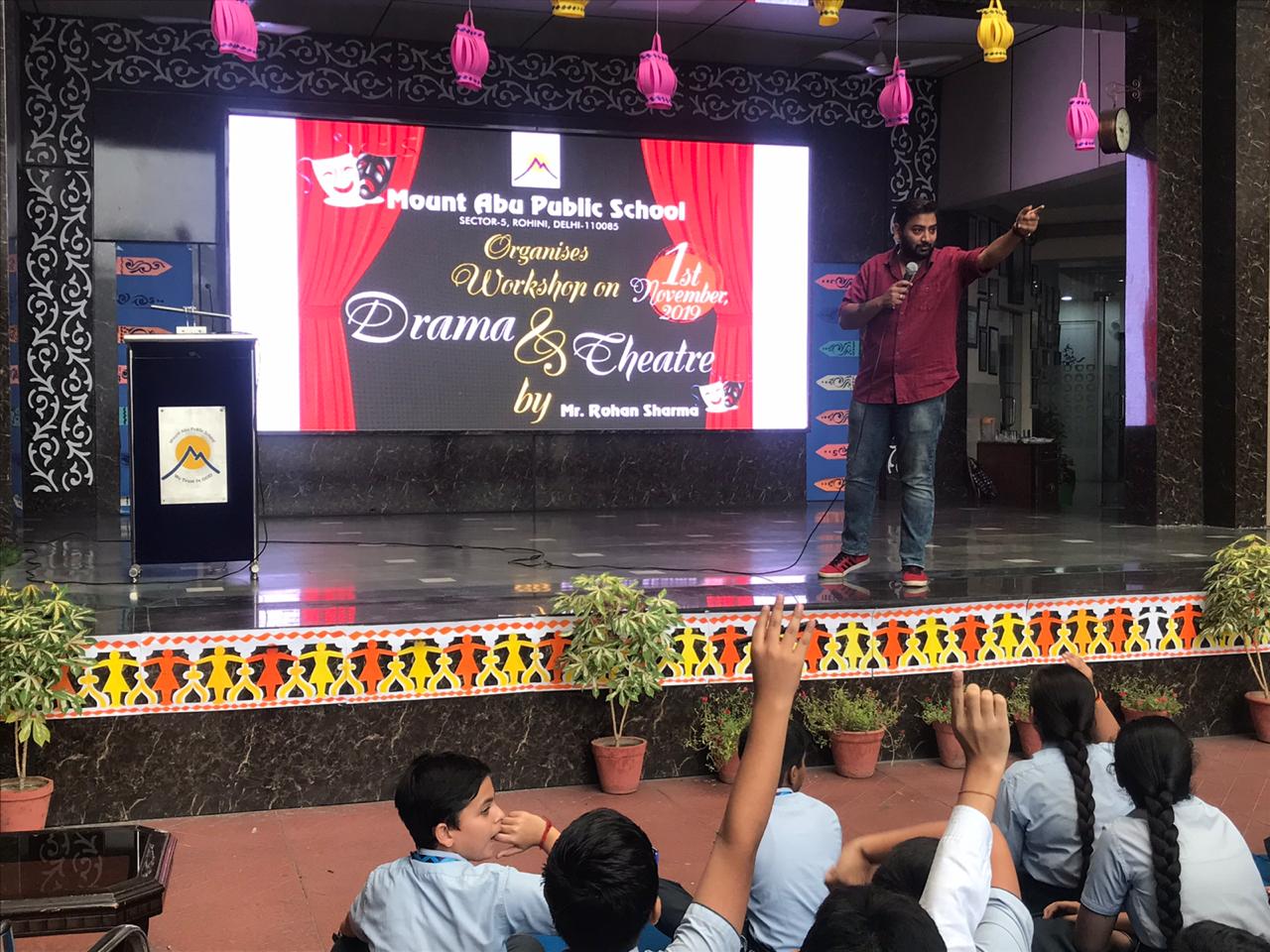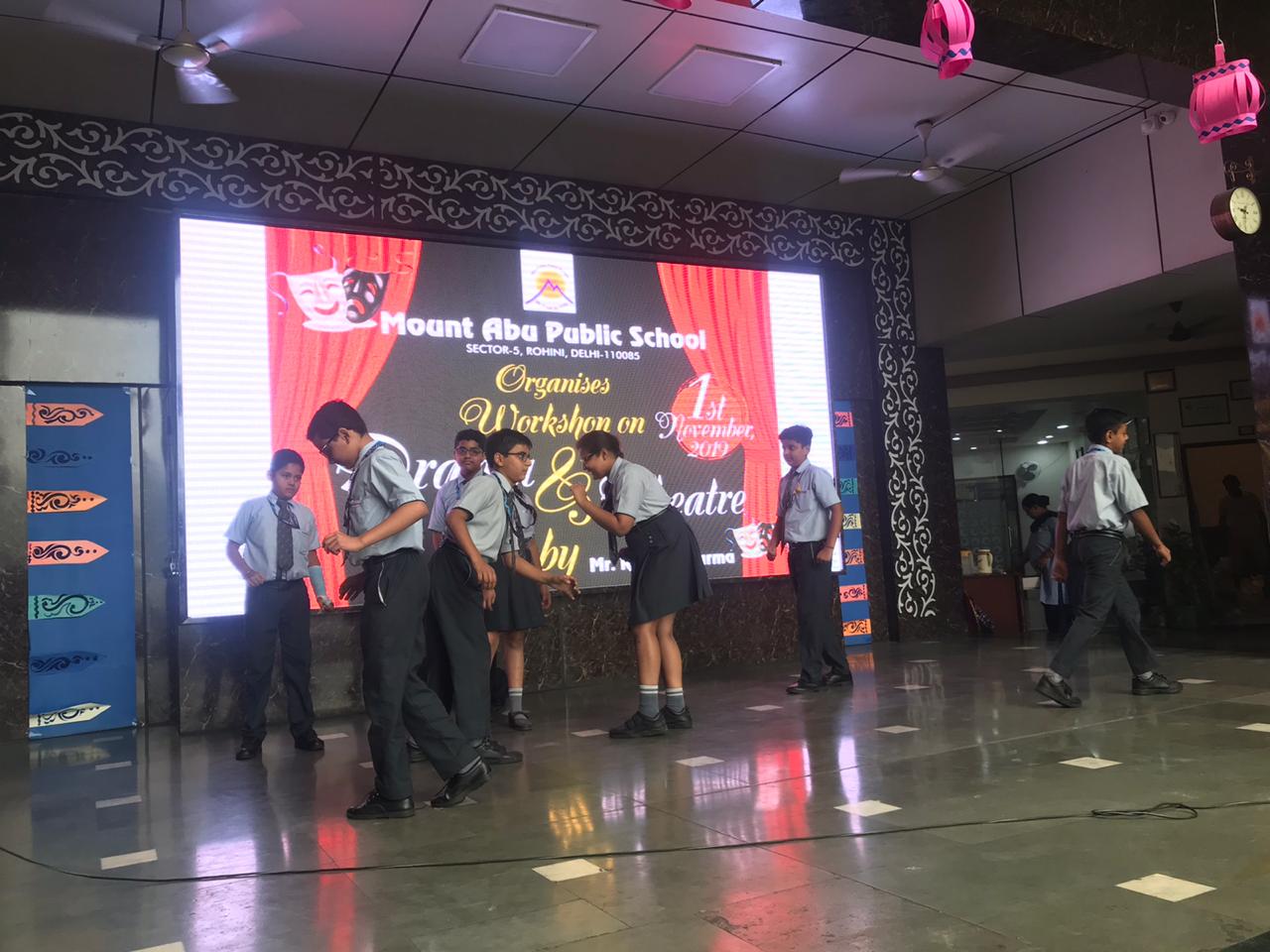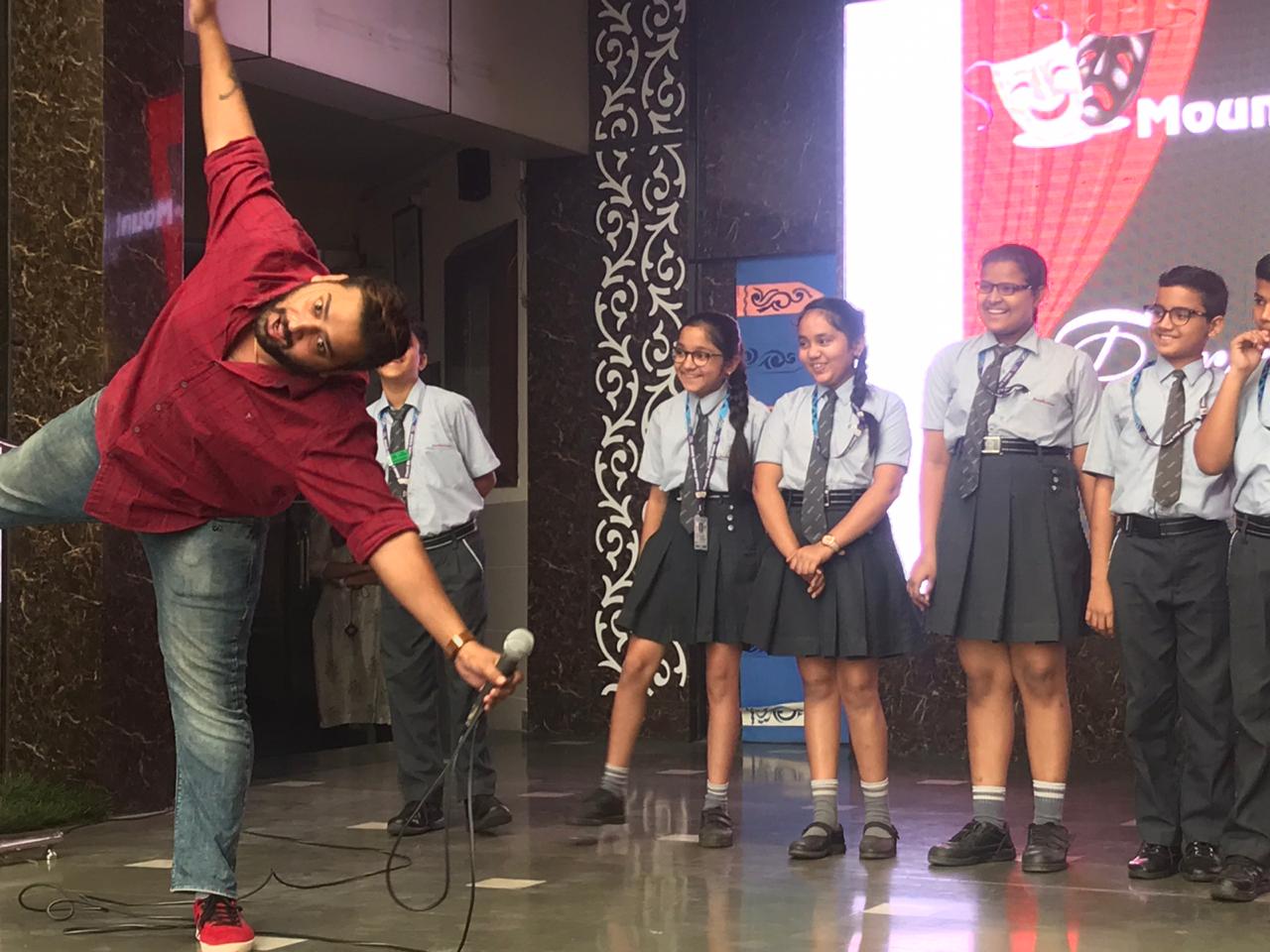 ---
MICROCHEMISTRY SESSION
The School had organized the session on Microscale Chemistry conducted by a renowned personality Mr. Hari Om Gupta, developer and innovator of micro labs. Such labs minimize the wastage of chemicals thereby reducing its cost and environmental pollution through run off chemicals. The students of class X had hands on learning experience about all the experiments including types of reactions such as displacement, decomposition reactions, and precipitation reactions. Importance of using microscale apparatus and precautions needed to be taken care were discussed with the students. Students appreciated the use of such innovative techniques and had great learning experience.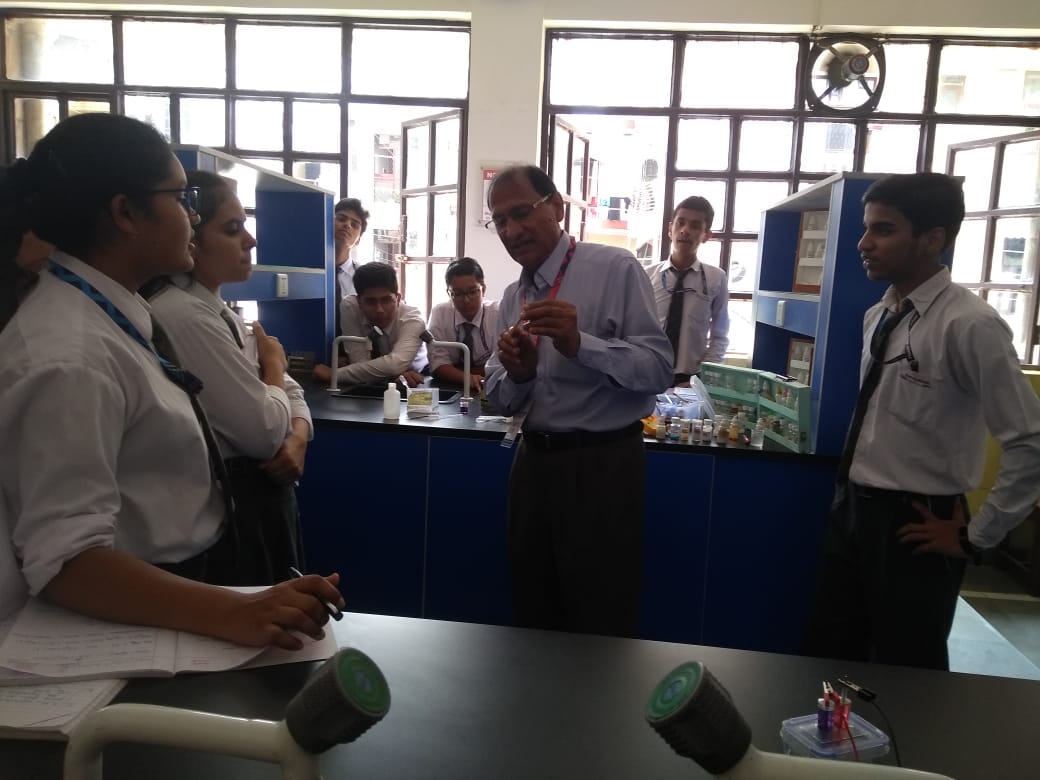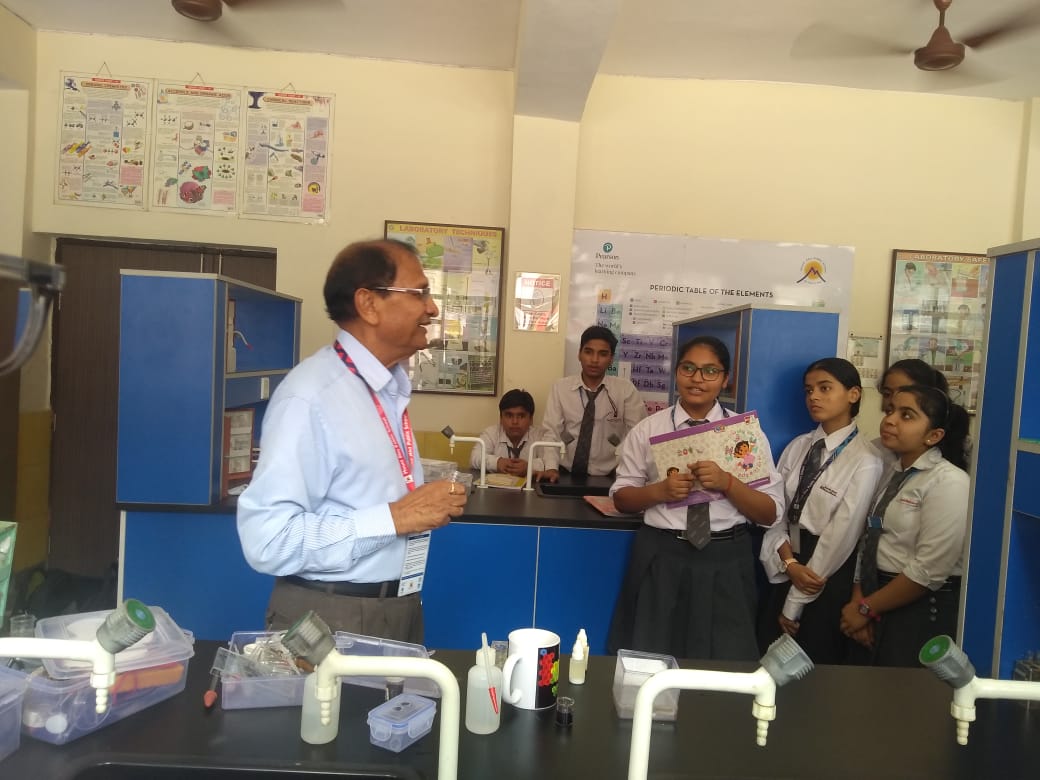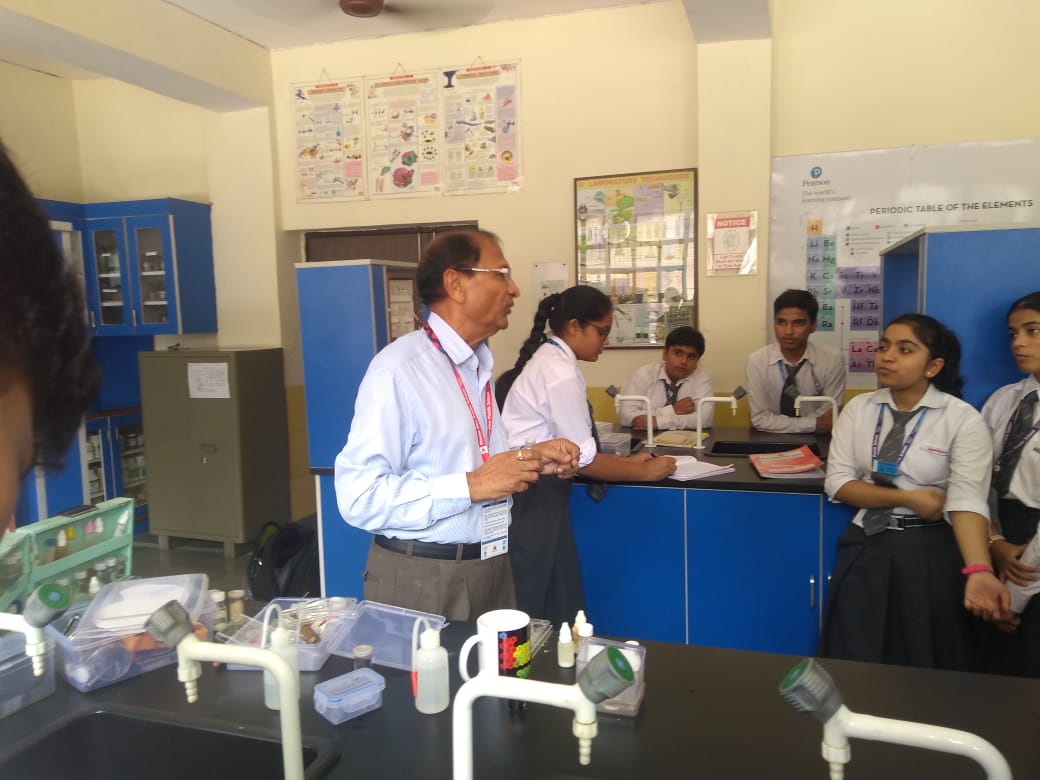 ---
WORKSHOP ON CREATING FIRST IMPRESSION
A workshop on Creating First Impression was conducted for the students of class XII in association with Hindustan Times on 14th October 2019.The session emphasized the importance of communication skills, body language, personal hygiene, self confidence,enhancing inter personal skills to create lasting impression. The session was overall interactive and enriching .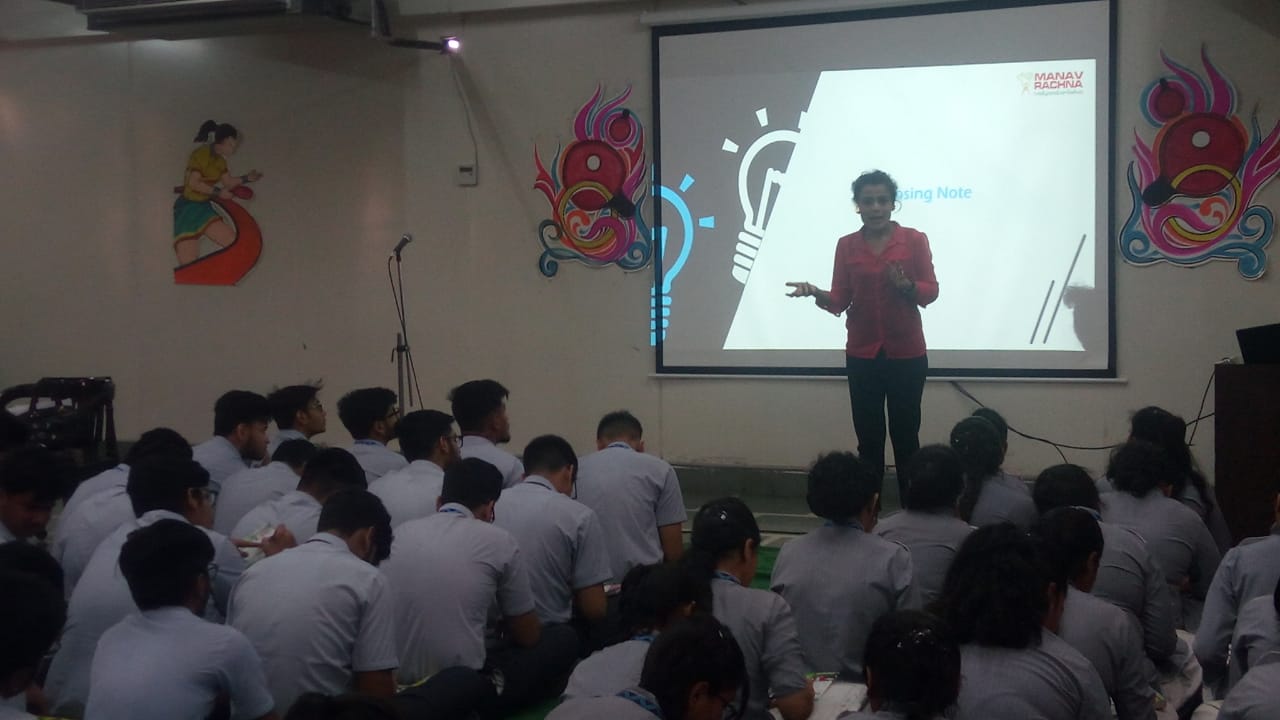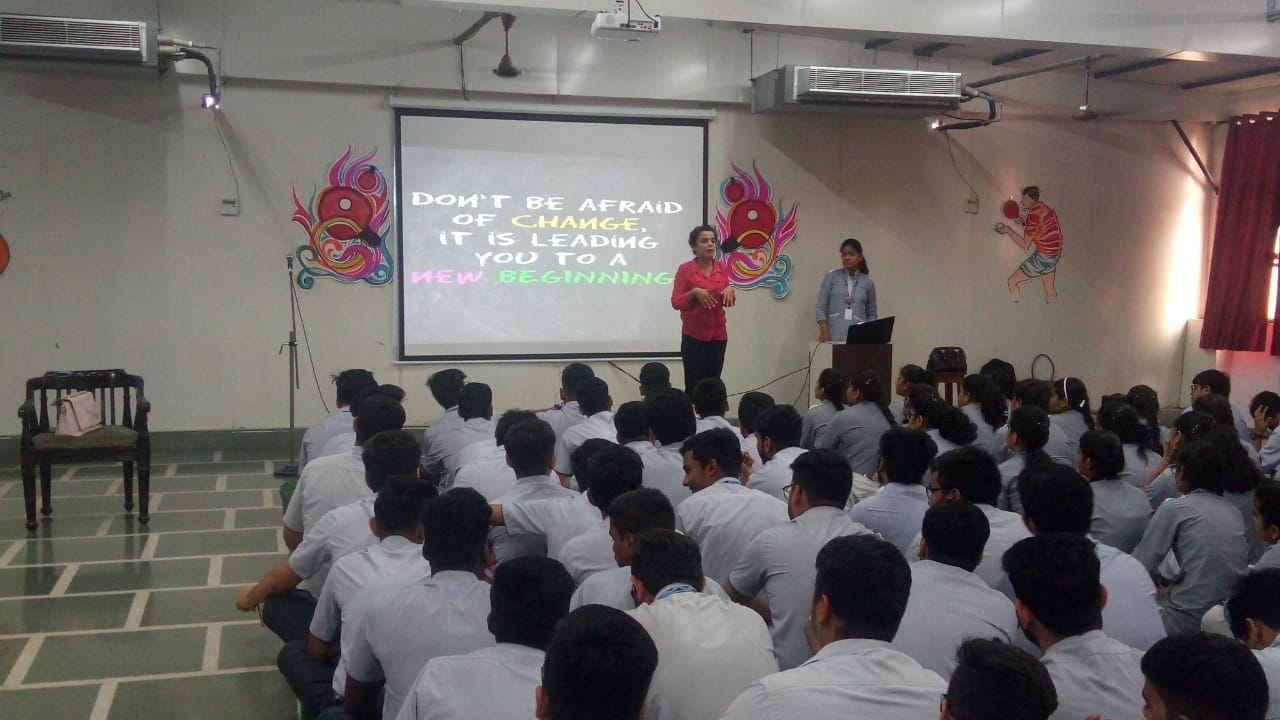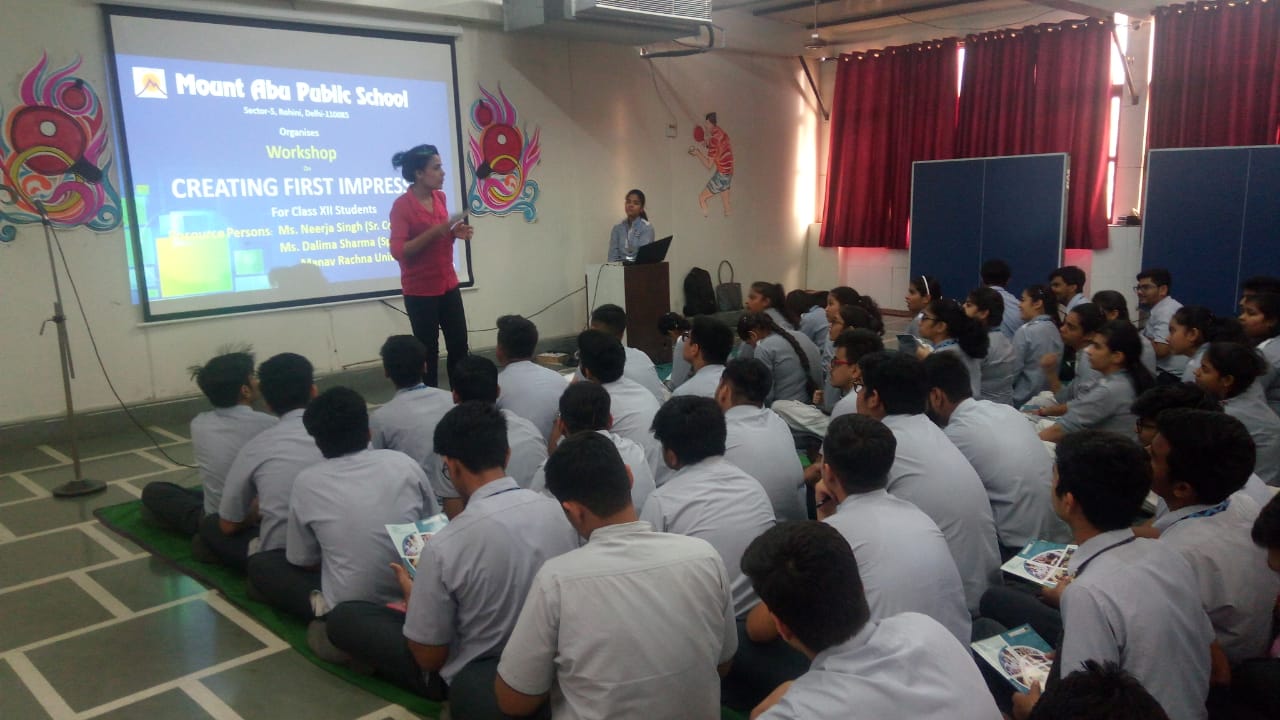 ---
WORKSHOP ON CAREERS IN HOSPITALITY
On 11th October a workshop on Careers in Hospitality was organised in association with EDUTV for the students of class XI ,XII which saw the participation of 13 schools and 126 students from various reputed schools. The session aimed at clarifying various doubts and myths related to the profession. The students were also briefed about the nuances of plating a dish. They got a chance to interact with the national awardee for cooking Mr. Priyanshu Malik and took tips for healthy and tasty cooking. The session was a wonderful experience for all including the teachers.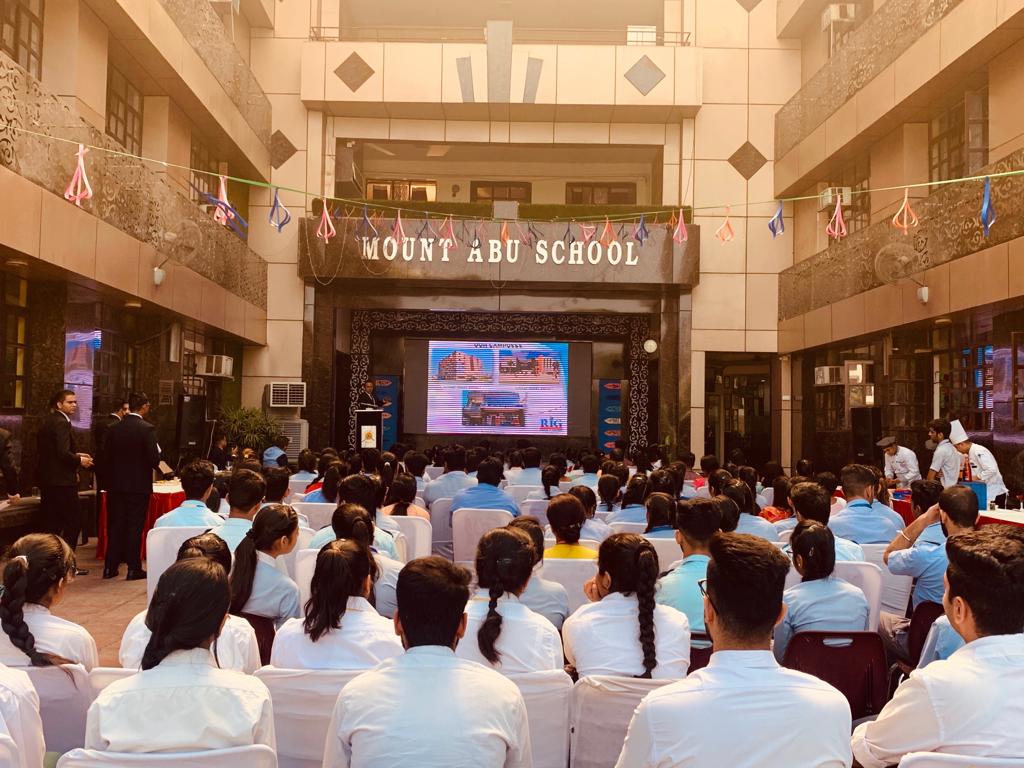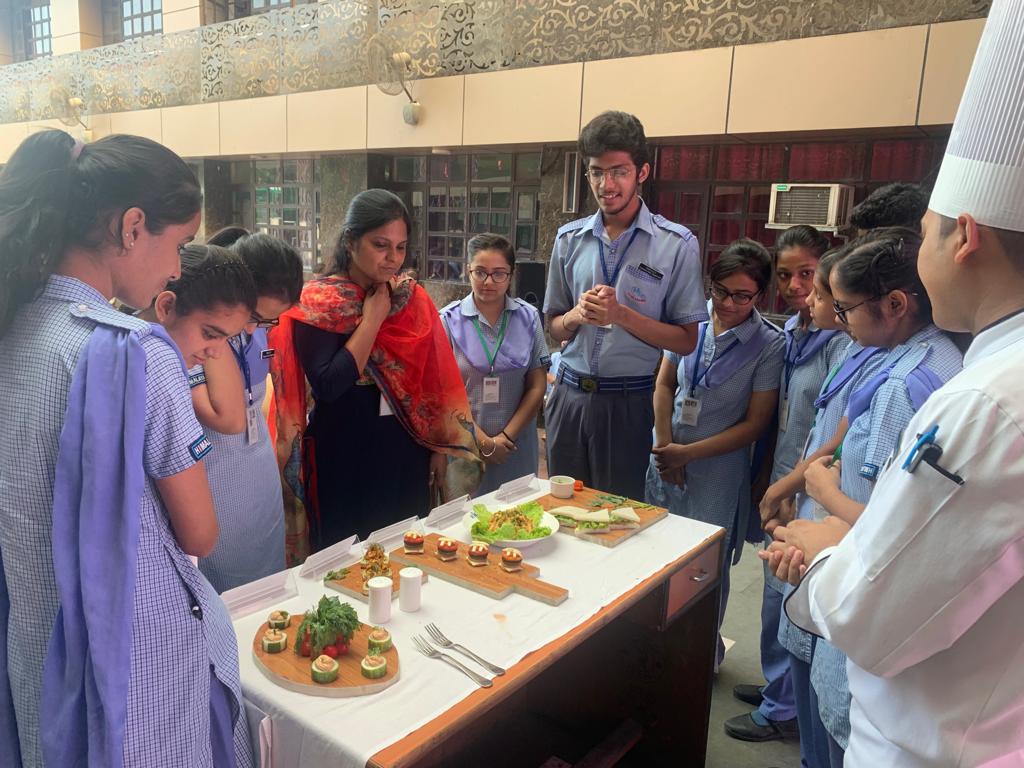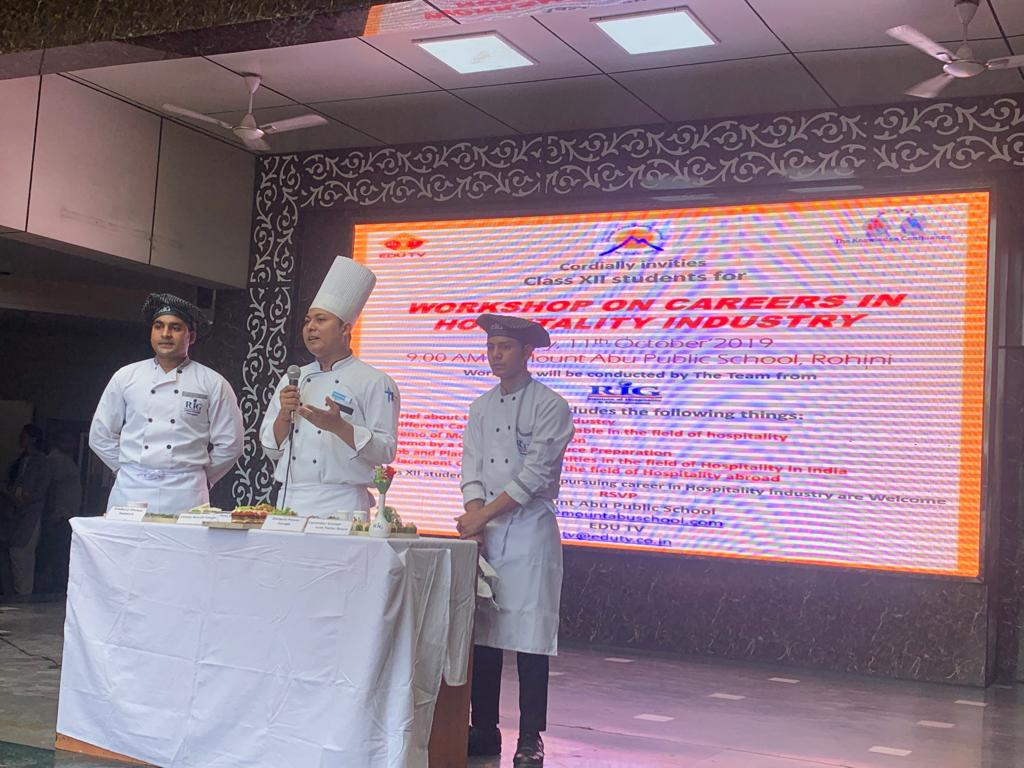 ---
WORKSHOP ON E-WASTE, CLEAN TO GREEN
"Put it off before it puts you off"
A workshop on e-waste "Clean to Green" was conducted in Mount Abu Public School on behalf of MIETY - Ministry of Electronics and Information Technology, on 10th of October 2019. The workshop aimed at highlighting the global and national concerns, associated with strategies to address the problem and provide an overview of proper management of e-waste . The objective was to enhance awareness amongst students on the issues related to improper disposal of e-waste and the measures that can be adopted for collection and proper disposal of such wastes . The workshop also included activities like poster making and extempore and winners were provided with the certificates. The workshop was really an enriching one as it provided a learning opportunity to the students and made them understand how to respond responsibly to the rising challenge of e-waste and emerge as the champions of environmental protection.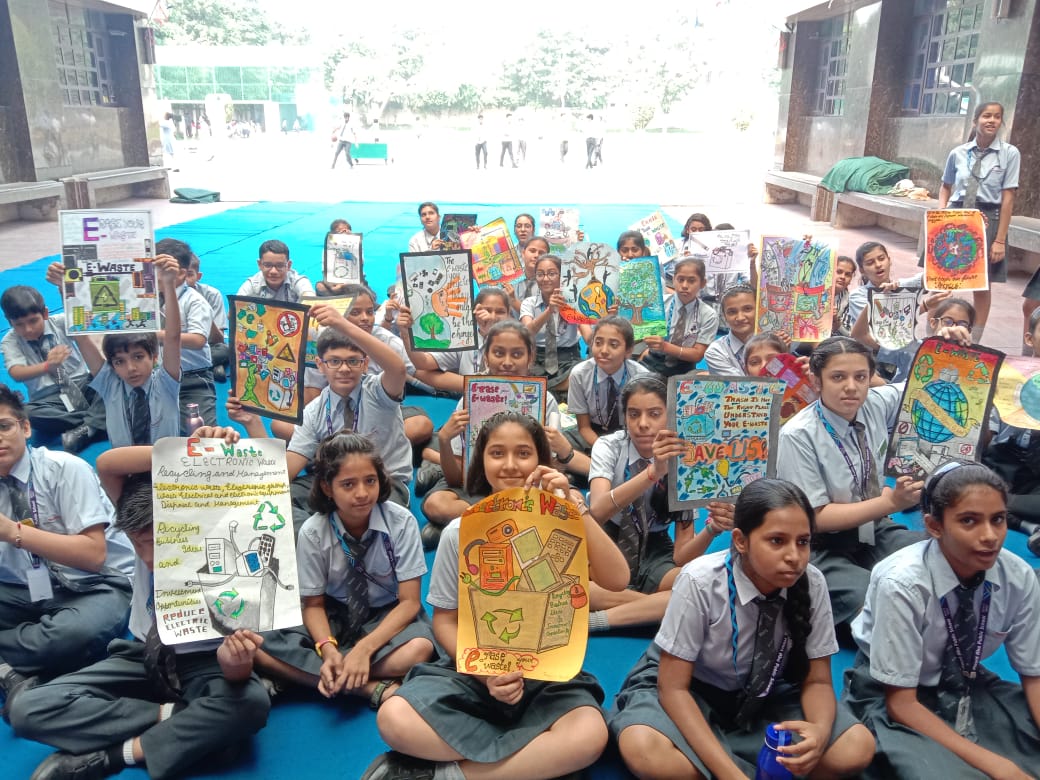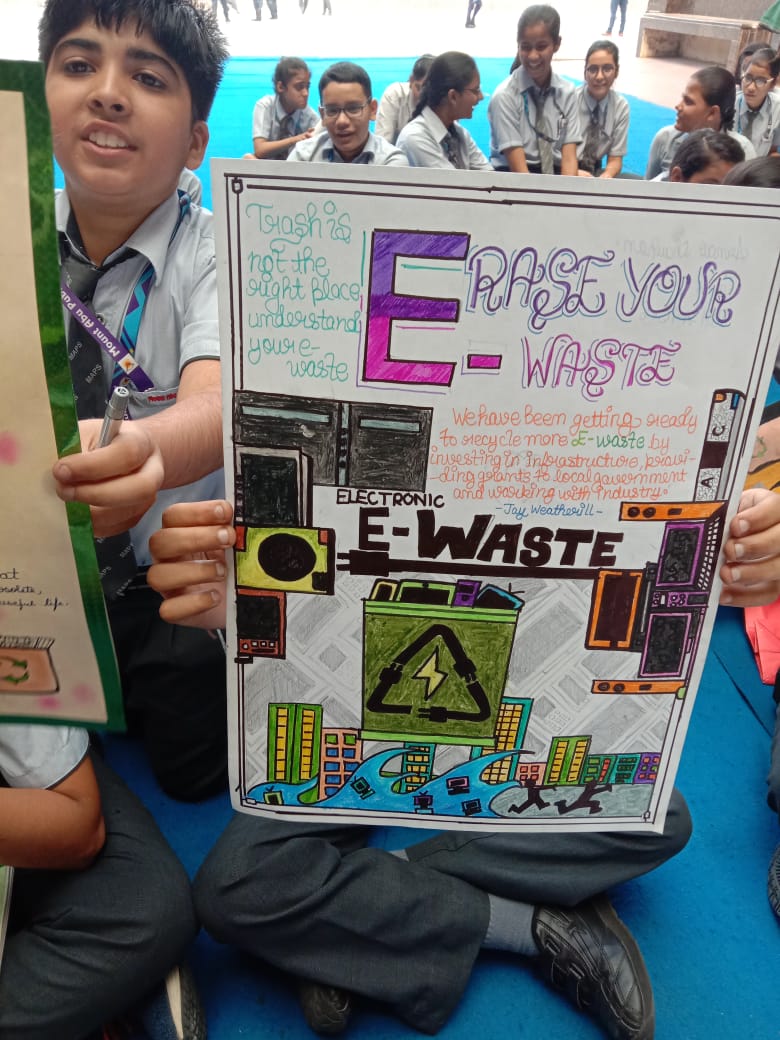 ---
UNIVERSITY FAIR
On 3rd October University Fair was organised for the students of class XII on the topic New age careers in association with EduTV. The resource person was Mr. Krishanu Singh from Atria University, Bangaluru. He emphasized the importance of keeping oneself updated on various new Career options emerging in the today's scenario. The students were apprised of various new careers like Digital Transformation, Interactive Technologies etc. The students interacted with great enthusiasm and found the session an eye opener.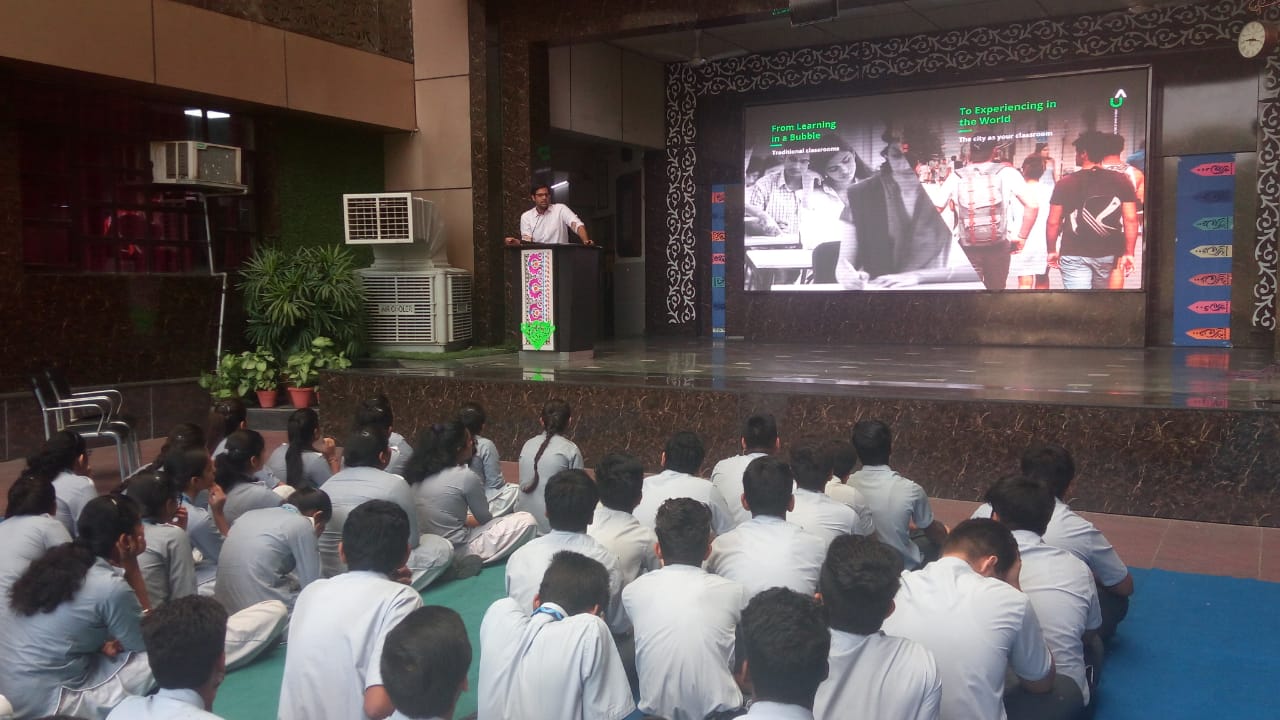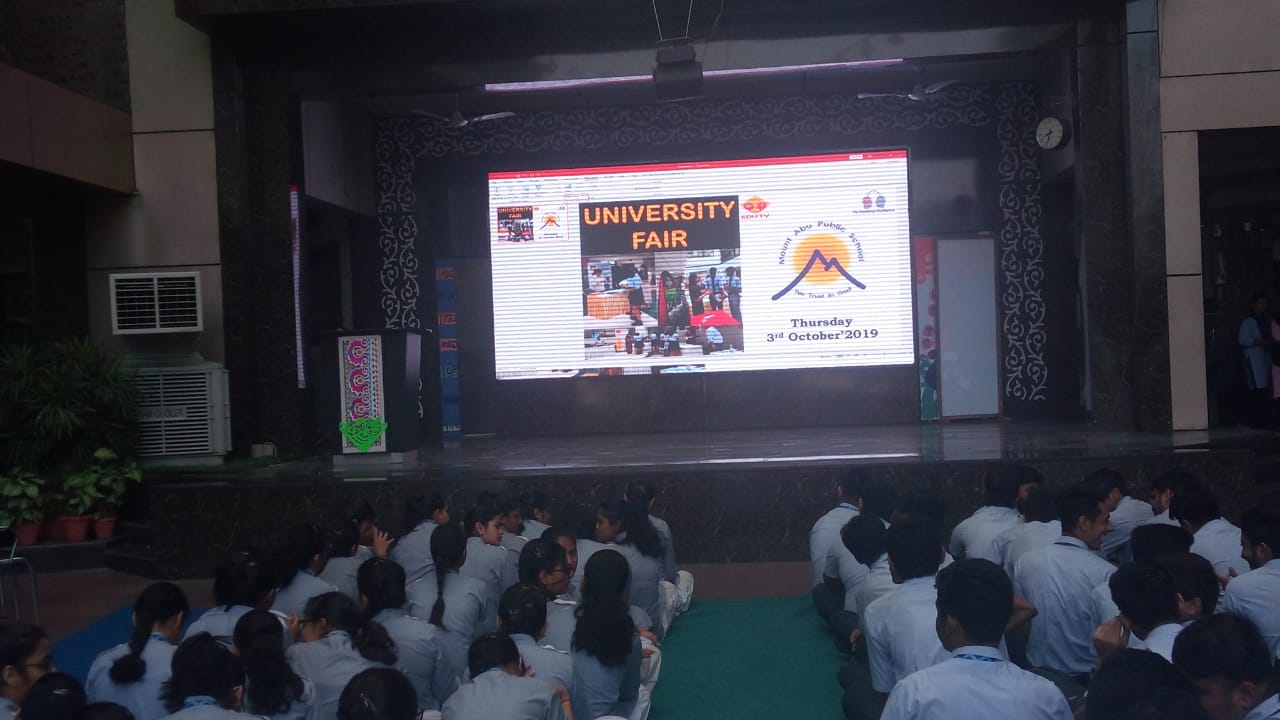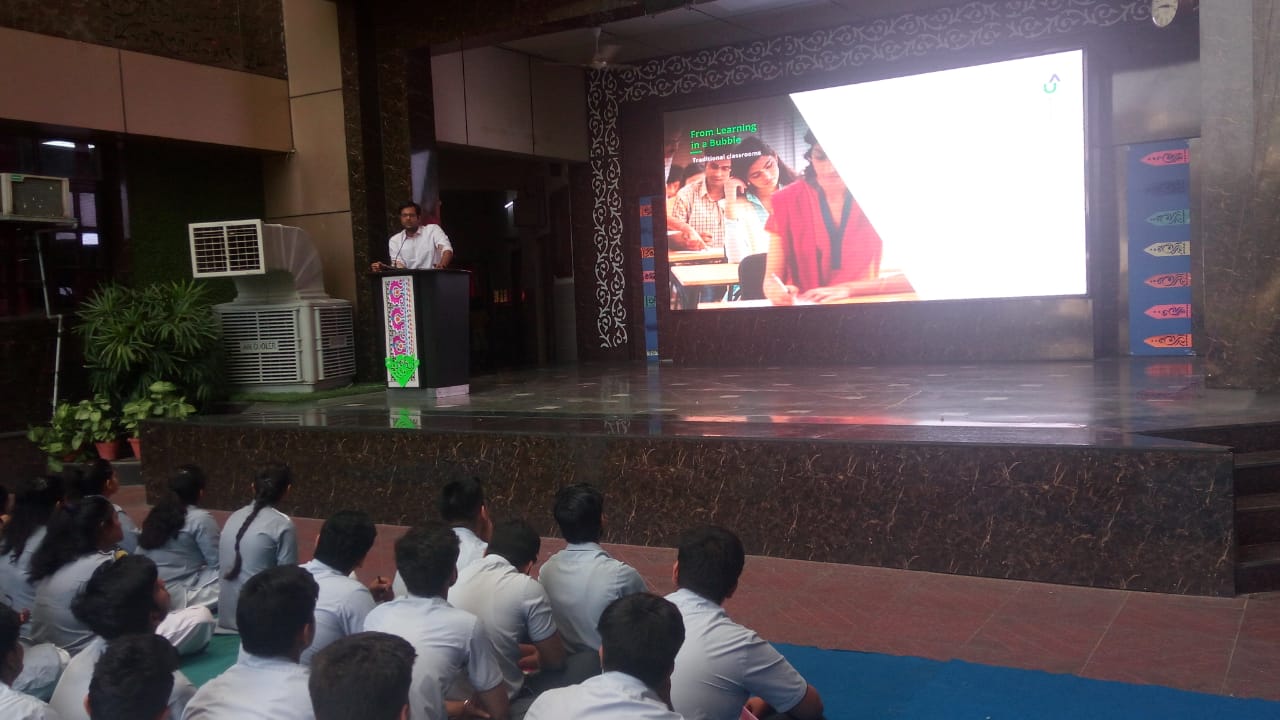 ---
SESSION ON MICROCHEMISTRY
To sensitize the students for the conservation of environment and inculcating principles of Green Chemistry through the use of microscale laboratory, our school had organized the session on Microscale Chemistry conducted by a renowned personality Mr. Hari Om Gupta, developer and innovator of micro labs. Students of class XII had hands on learning experience about all the experiments including qualitative analysis, quantitative analysis, electrochemical cell emphasizing on the importance of using microscale apparatus and precautions needed to be taken care of. Students had great learning experience.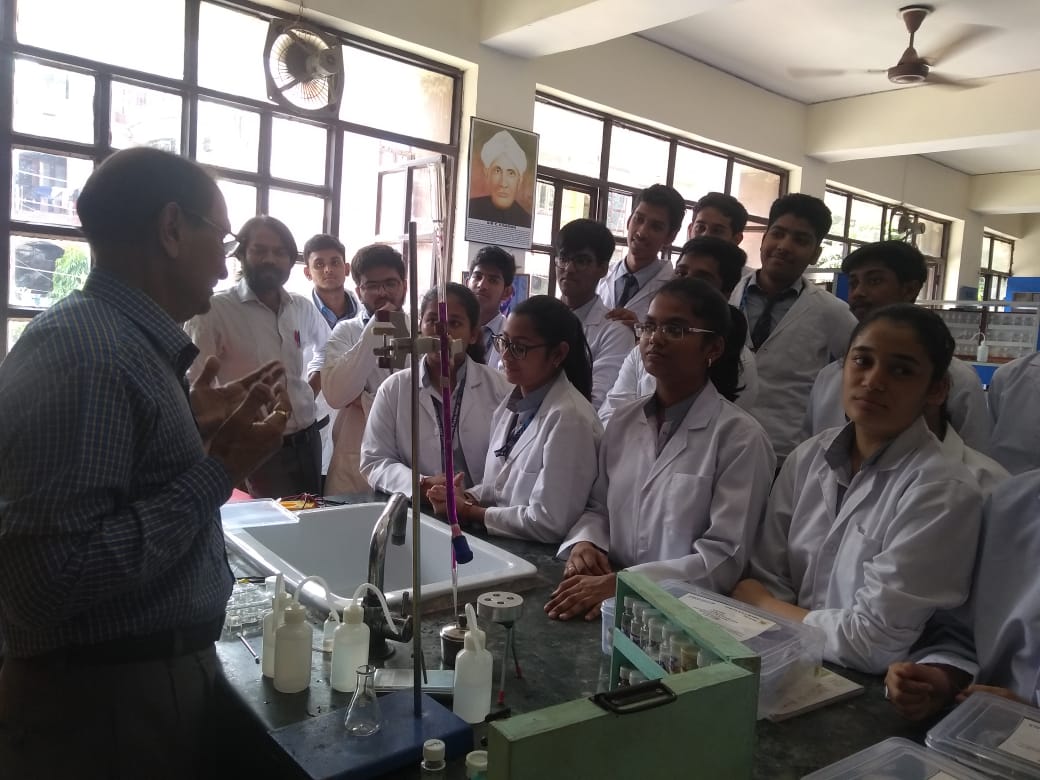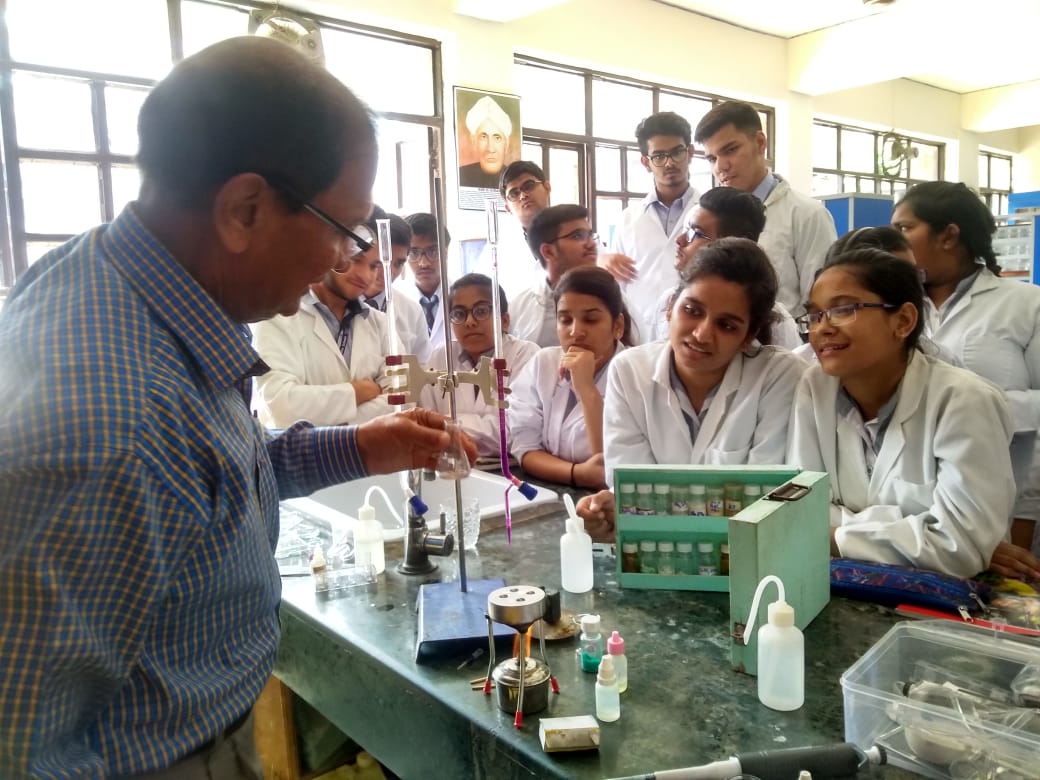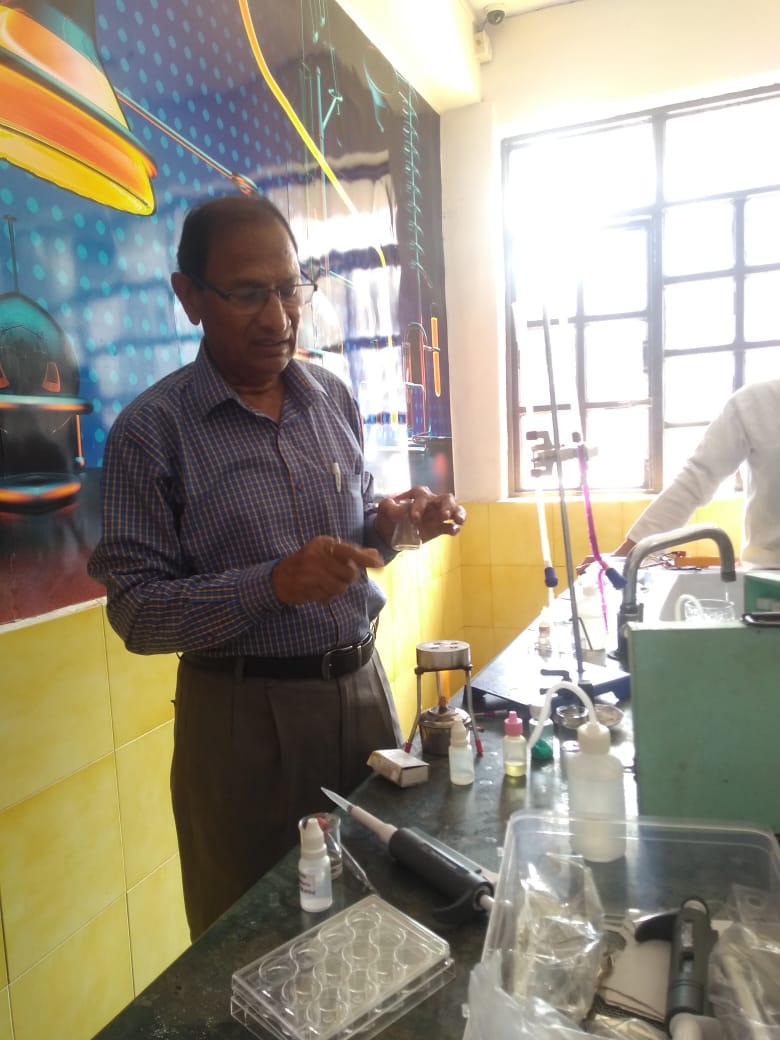 ---
SESSION ON ASTRONOMY
To create the awareness and to motivate the students in the field of astronomy, Mount Abu Public School conducted a session on astronomy on 27th August, 2019 for classes I – VIII. The session was conducted by Mr. Tarun Sharma, Training Incharge, SPACE Organisation primarily to attract the students for Astronomy and space research. Mr. Tarun started the session by quiz to reciprocate the facts of space science. The information about the workshops which are to be conducted in future were shared with the students. The session was interactive and found to be very interesting for the students and students are looking forward for more such sessions.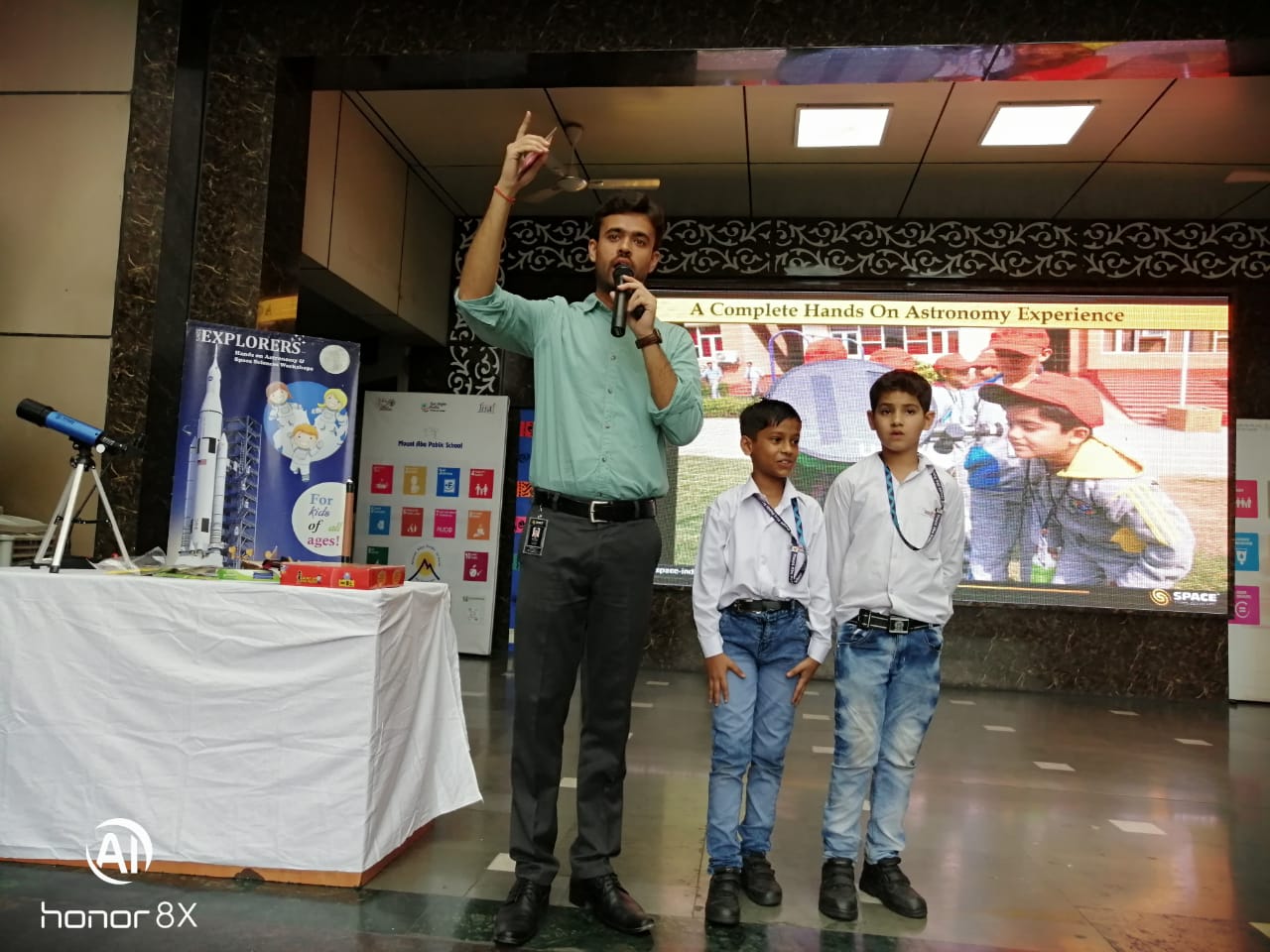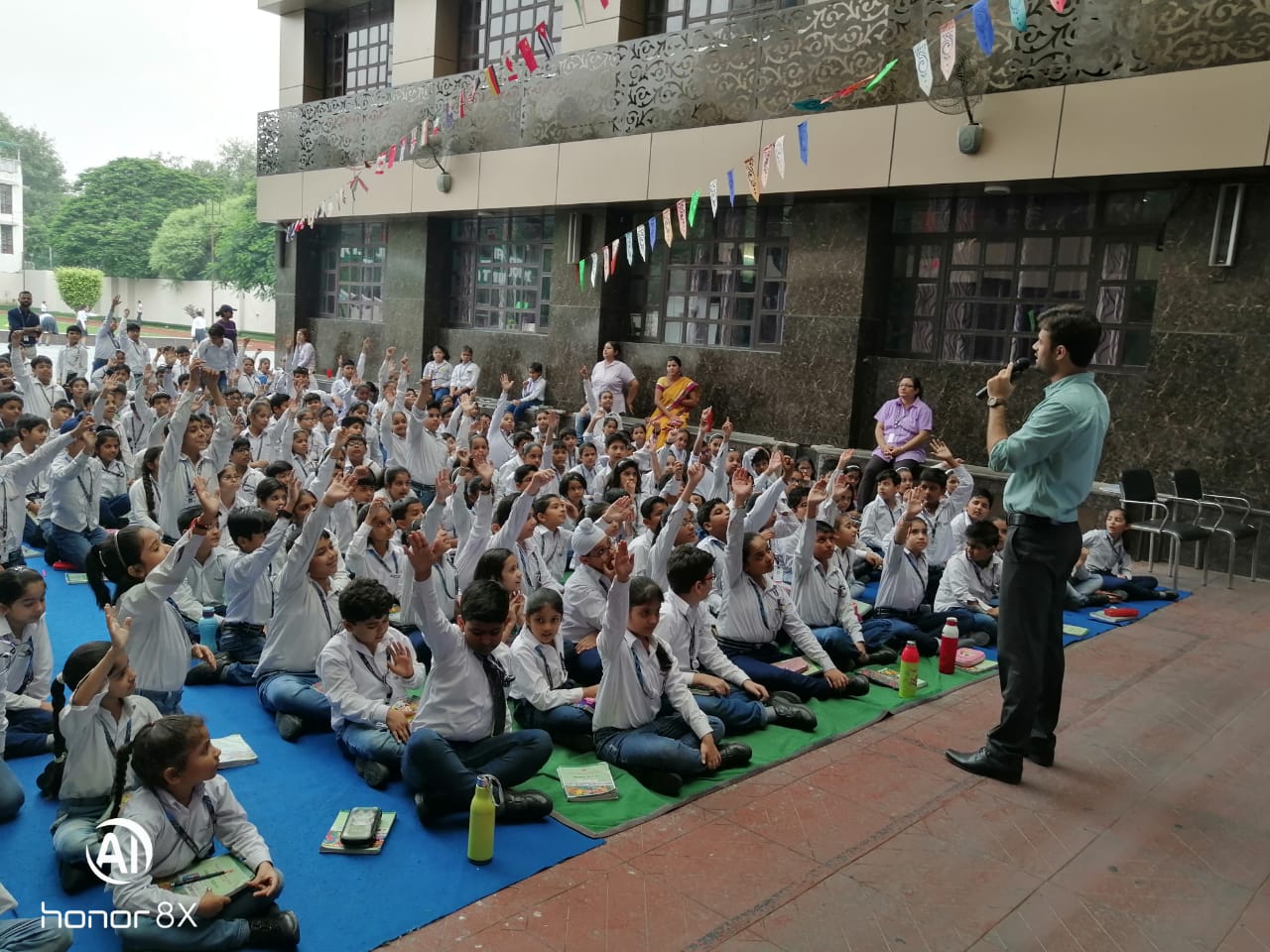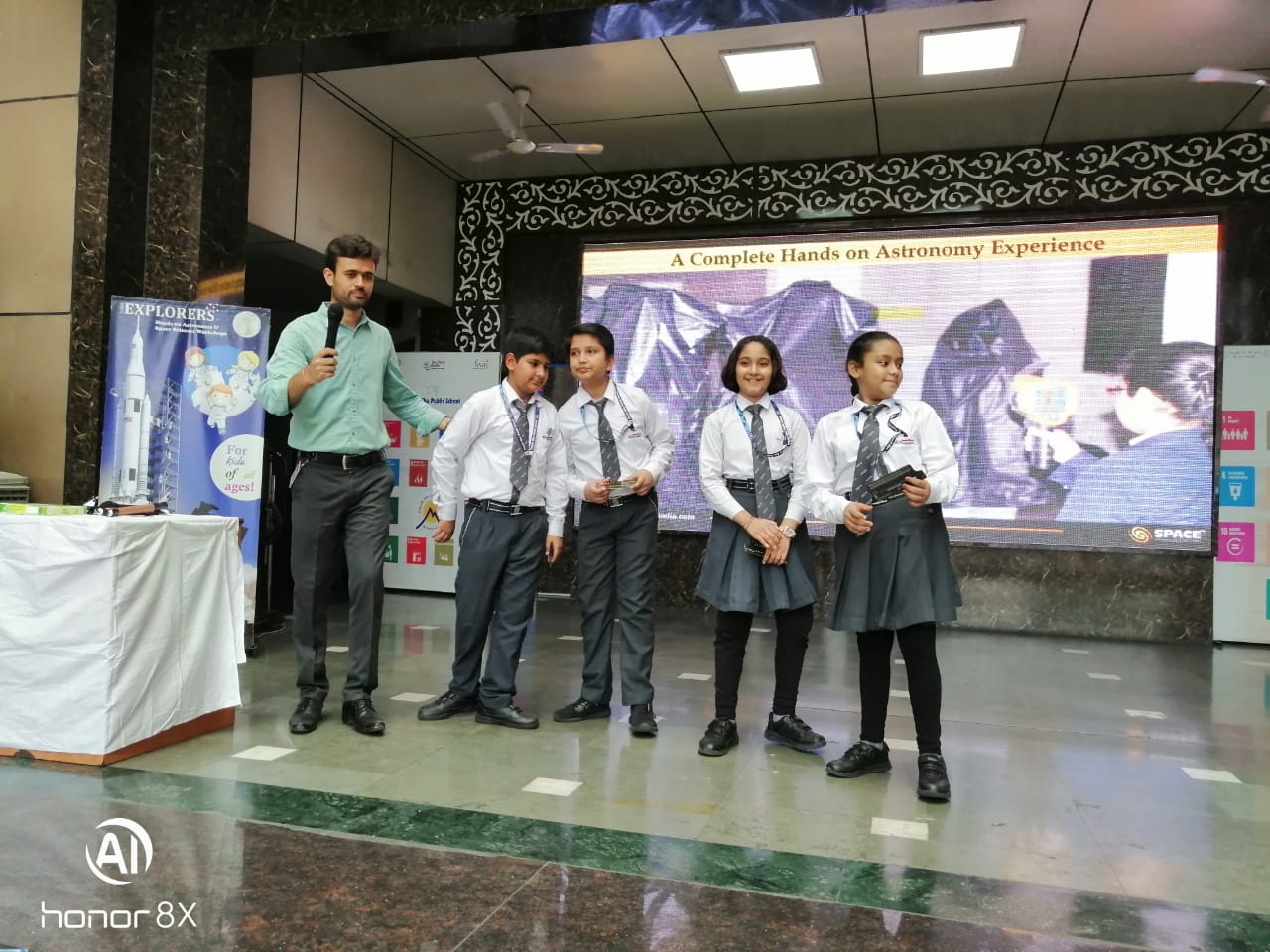 ---
SESSION ON CONSERVE MY PLANET
CONSERVE MY PLANET is a participative, Educational training programme to build the communities sensitive to energy conservation, a initiative by Schneider Electric India foundation for the students of classes 5th to 7th standard. A Green Assembly was organized by SHARP NGO on 26th of August 2019 in Mount Abu Public School under Conserve My Planet programme. The Project Coordinator, Ms. Ateeba Humaayun, along with her team members addressed the participants and made them aware of the different phases of the programme and it's aim to educate the young minds about energy saving, energy efficiency , green energy e recyclable sources and renewable sources of energy. The participants were also provided with caps, t-shirts and a brochure and were addressed as the Green Ambassadors .The programme concluded with the Power Pledge , a unity anthem which spread the message, that everyone has the power to save energy and environment.The students felt very proud of being the part of this programme and promised to change themselves and help others change their life through access to Energy.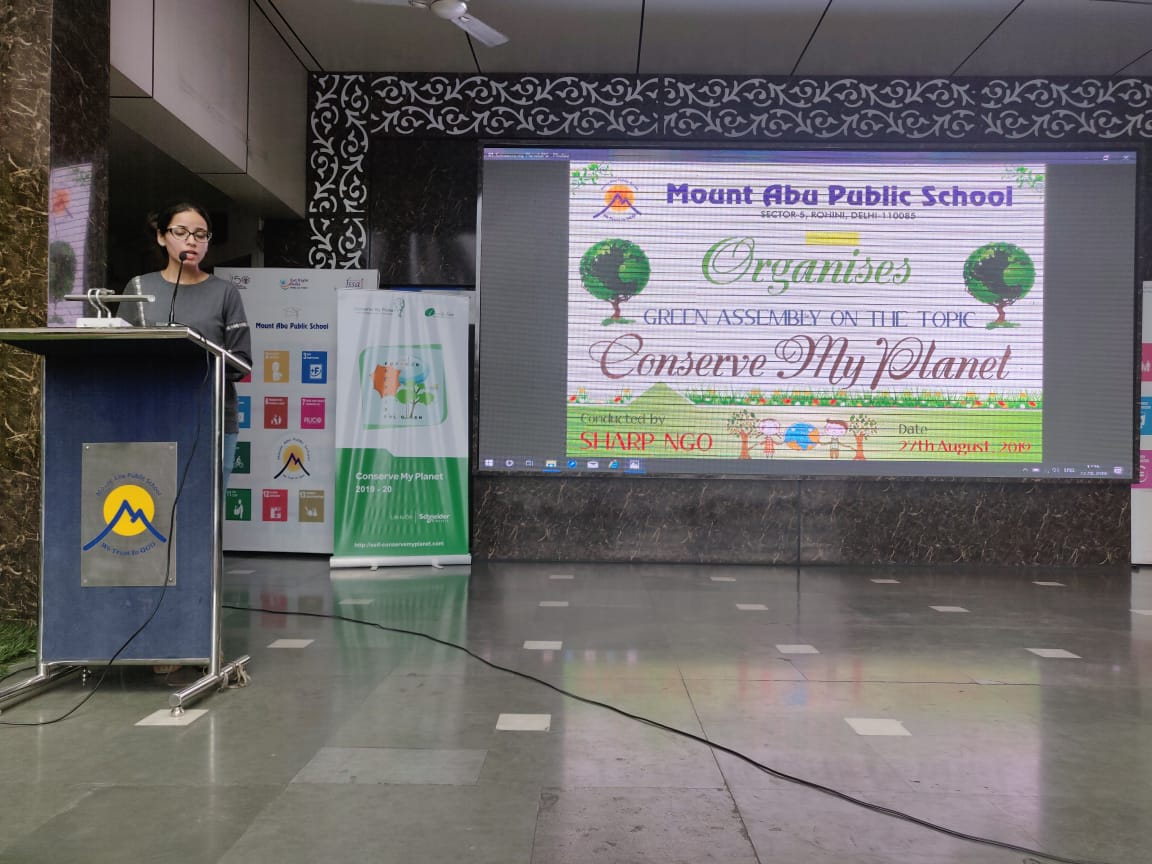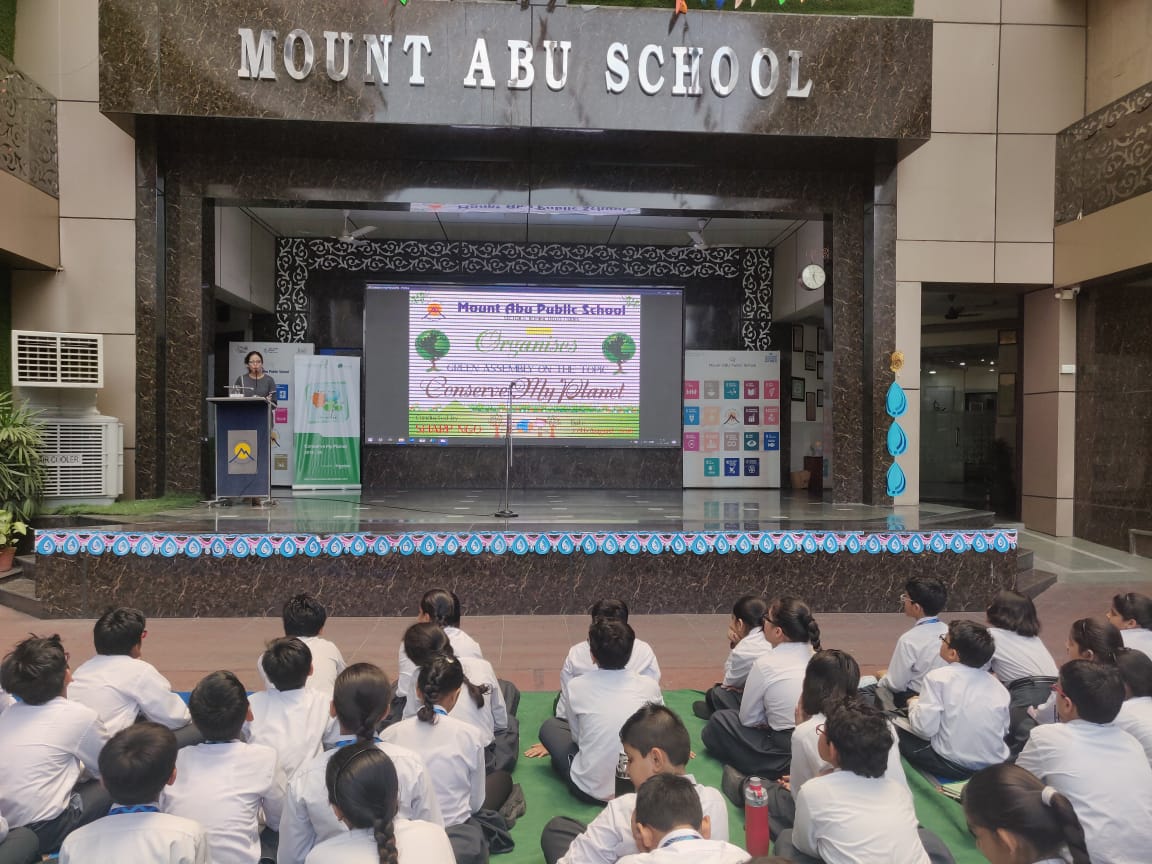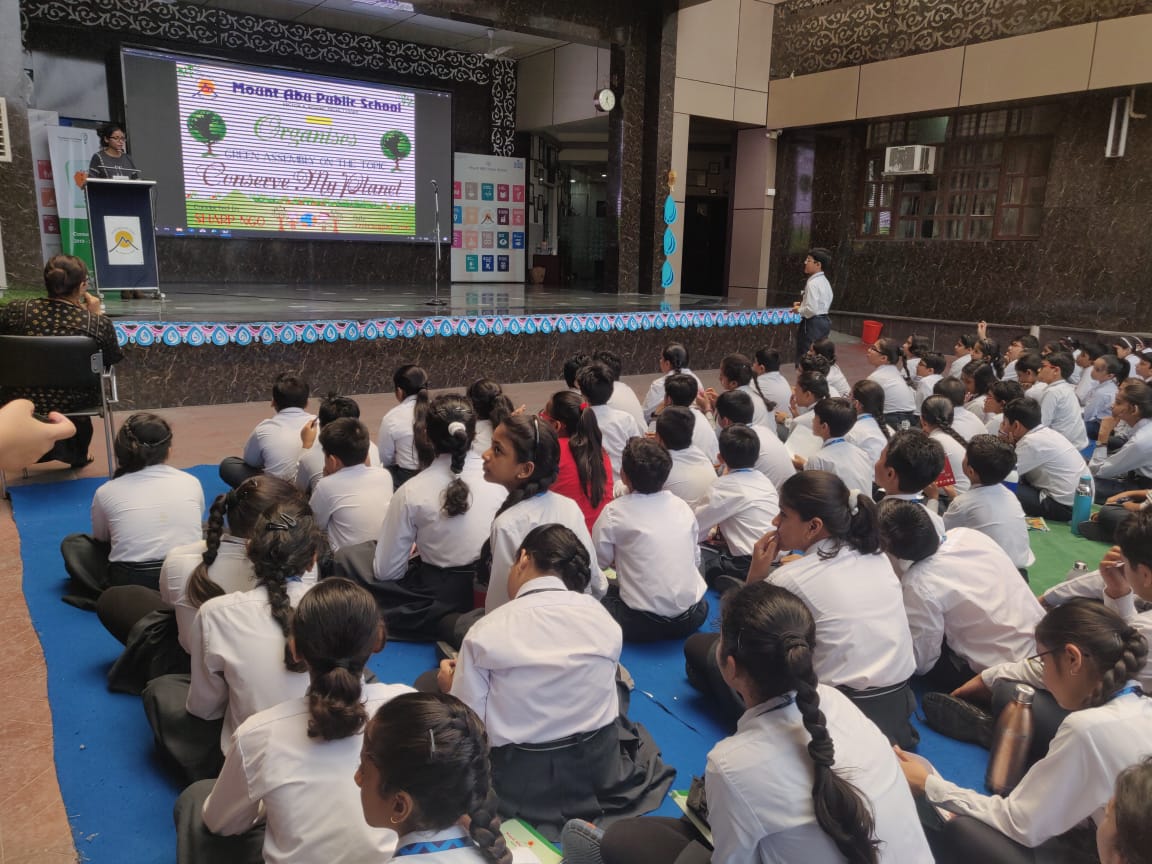 ---
WORKSHOP BY NATIONAL ACTIVITIES CHAMPIONSHIP
Team from National Activities Championship conducted session on indoor games on 8th August 2019. Students were guided well about indoor physical games. Different balancing activities were demonstrated to the students. They were guided how to become active participant by shooting their own videos & uploading on YouTube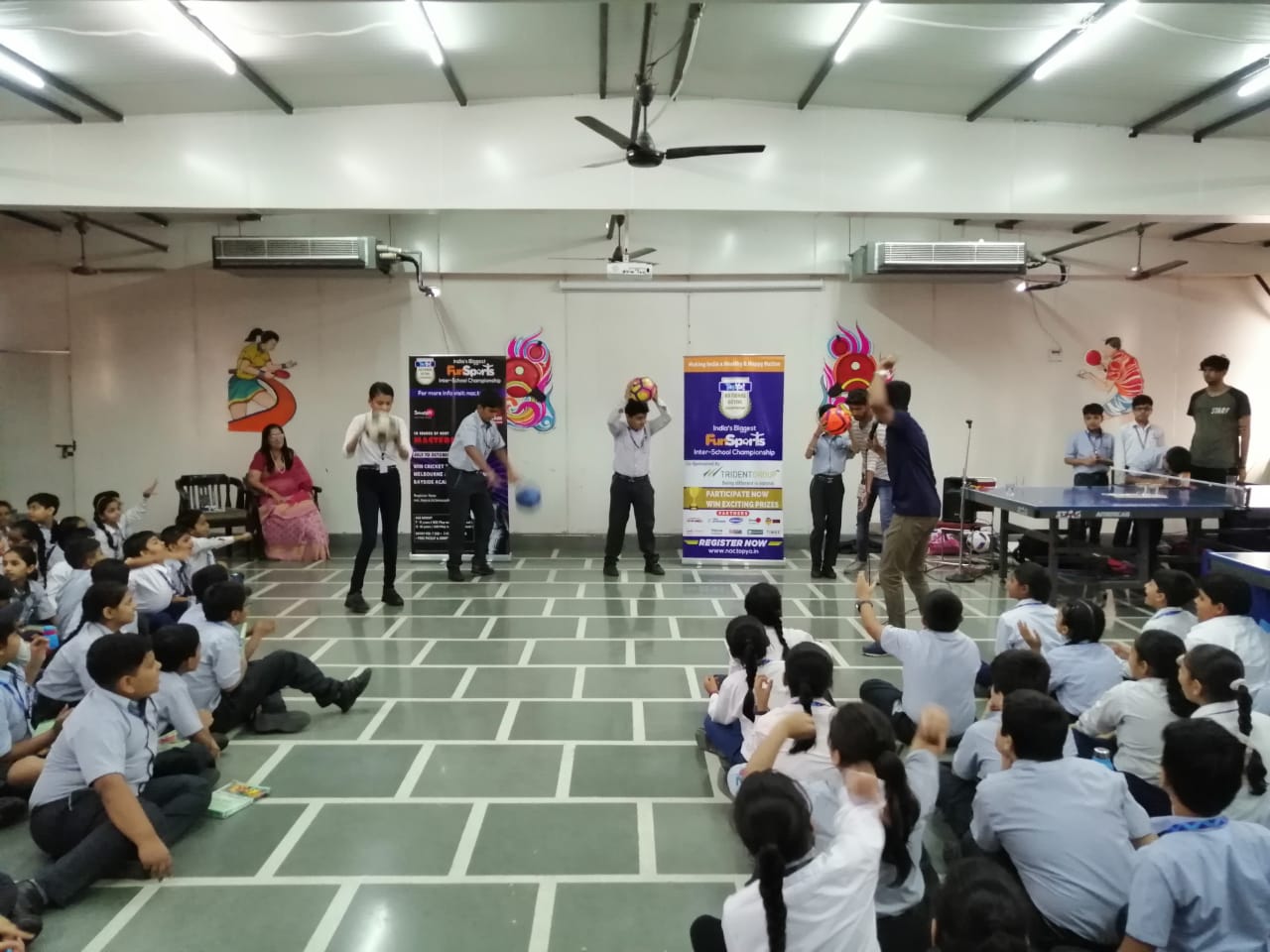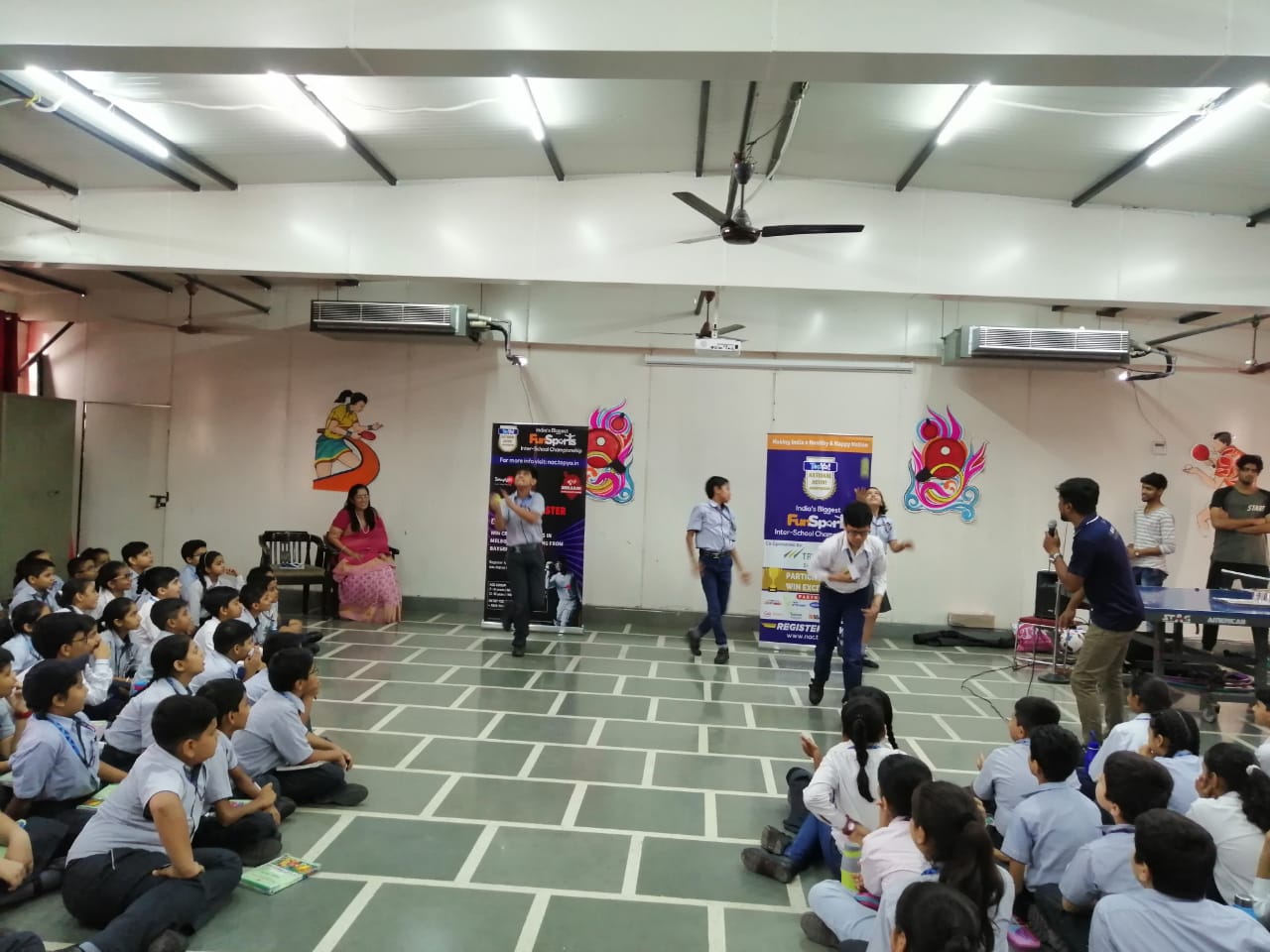 ---
SESSION ON EXAMINATION STRESS
Session on Examination Stress was conducted for classes VII -VIII on 7th July 2019. Resource person guided students about different methods to tackle stress during exam. She also guided about the importance of handwriting during examination. Students at the end were well equipped with information how to manage stress during examination.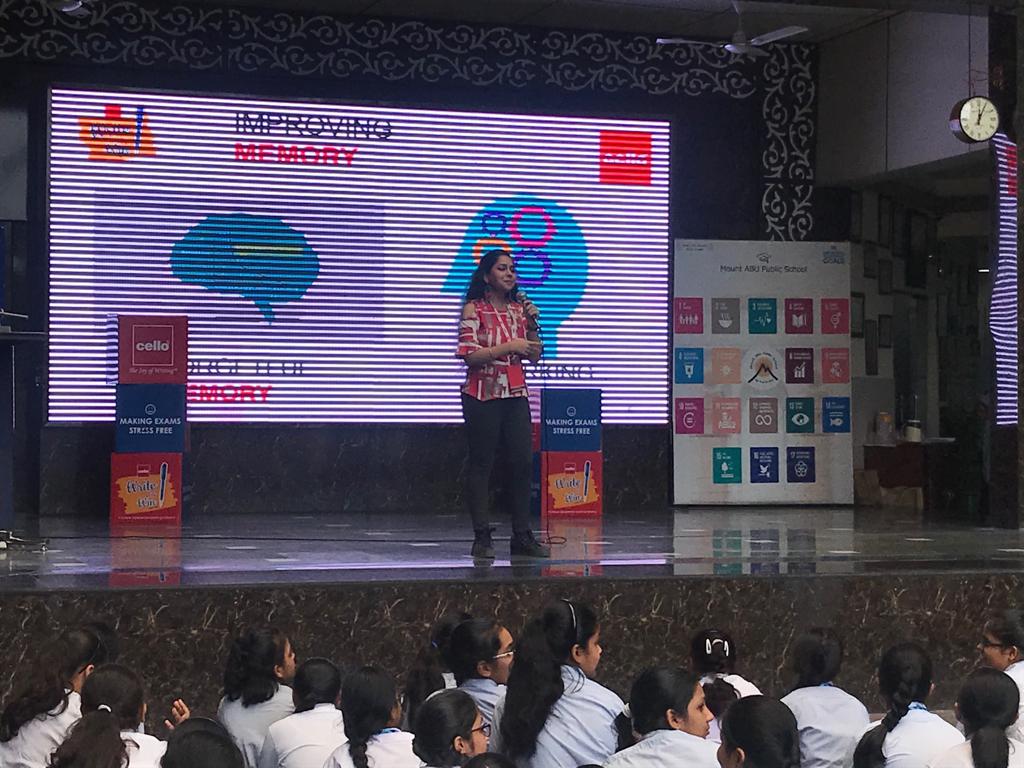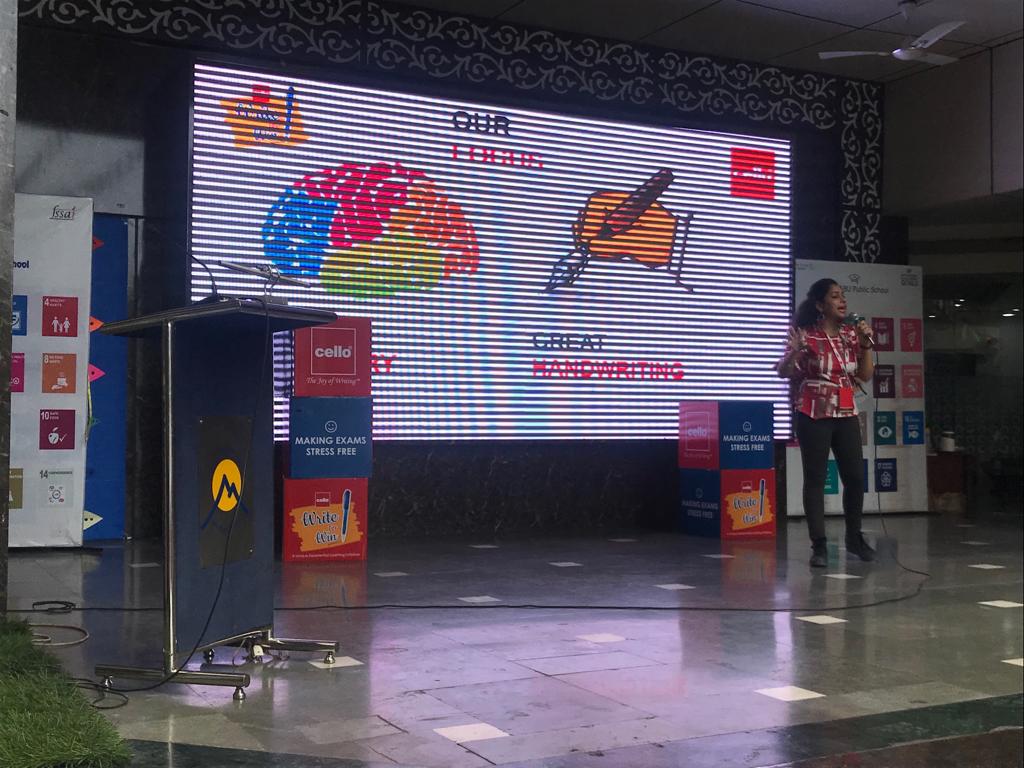 ---
WORKSHOP ON DOODLE ACTIVITY
"Life is the art of drawing sufficient conclusions from insufficient premises ."A creative workshop on Doodle Activity was organised by Pahal Design an NGO for the students of classes 8th and 9th in Mount Abu Public School on 30th July 2019. The students participated vigorously as they got an opportunity to express themselves about how they view the things around and got a platform to give new shapes to their ideas and imagination. The workshop was really an enriching one and gave wings to their creativity as it imparted knowledge on doodling with hands-on learning and converting alphabets into shapes and objects which we see and come across daily.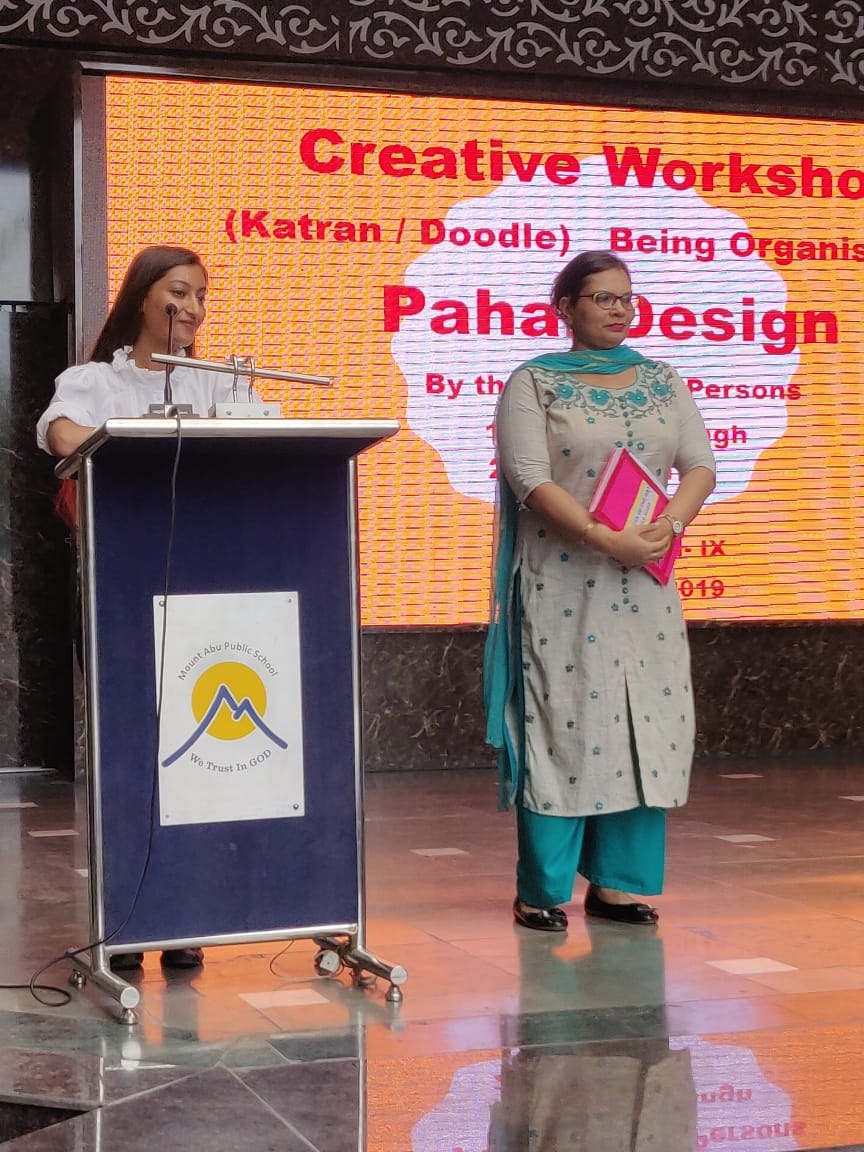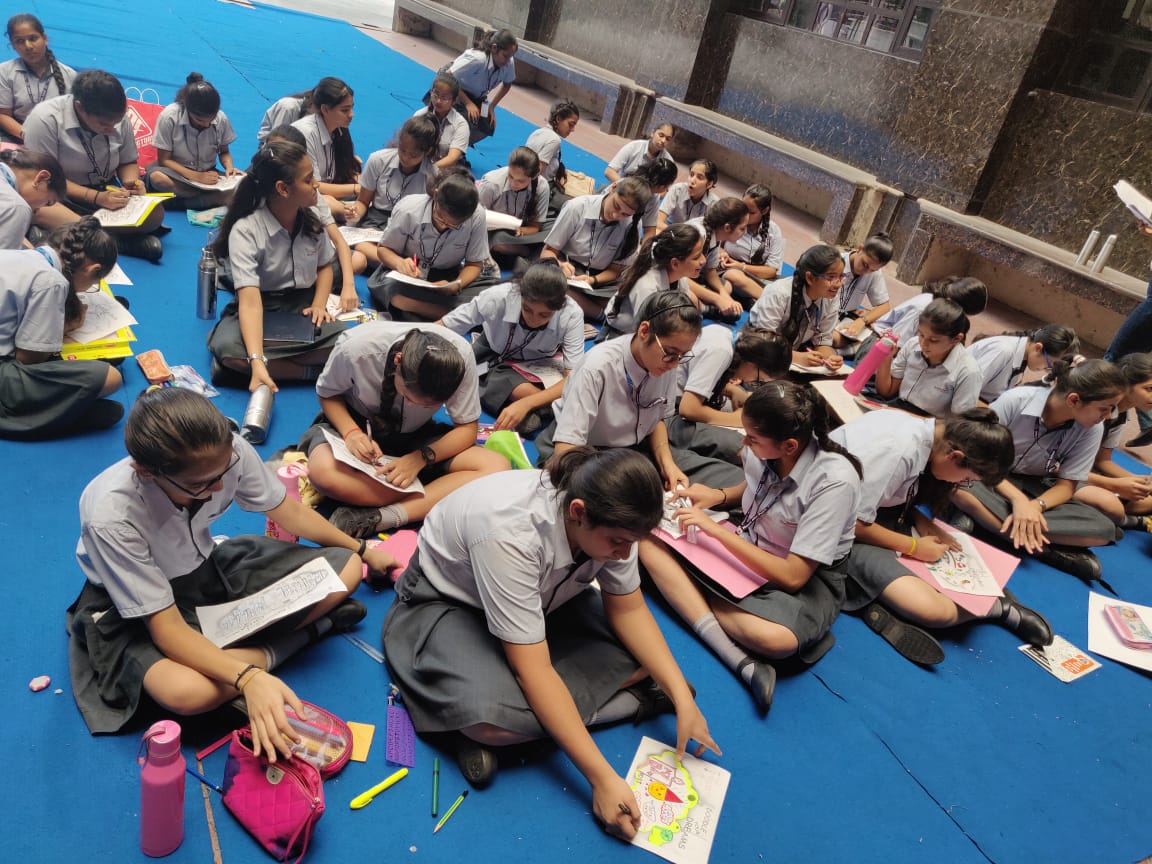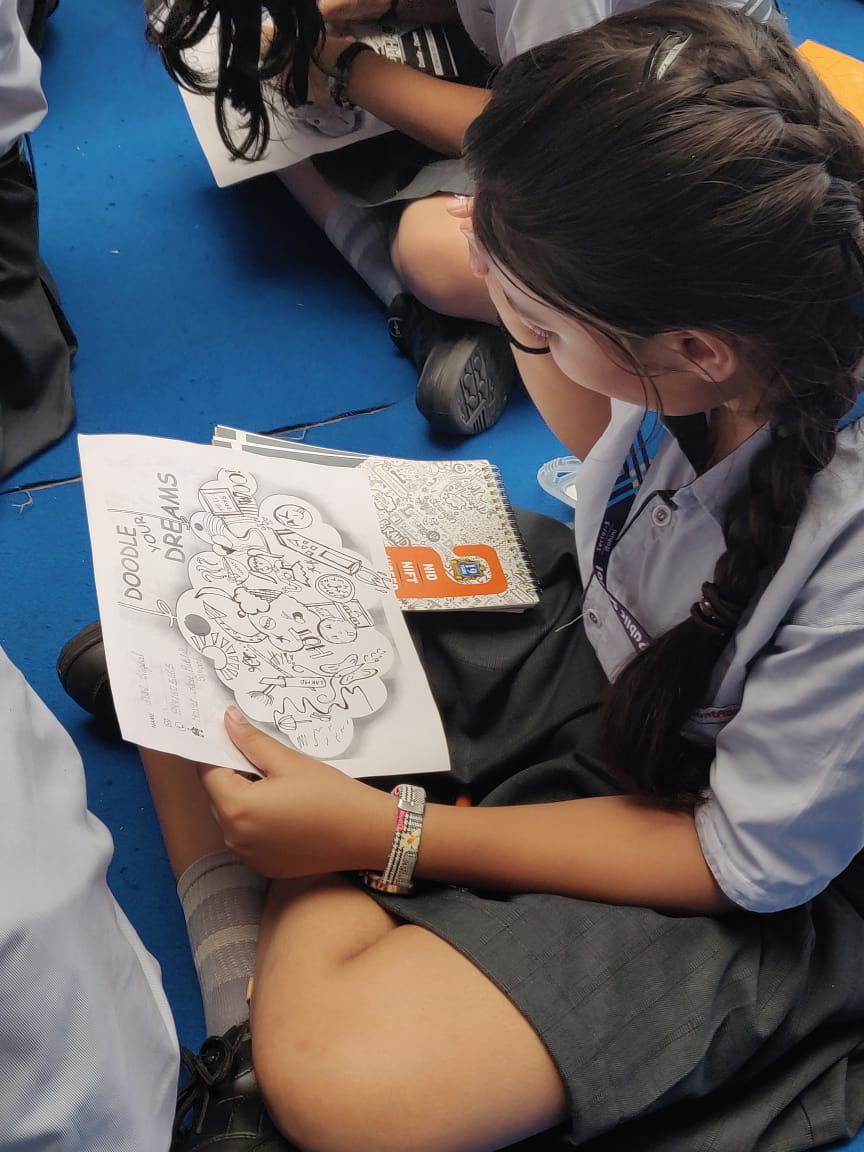 ---
AEROBICS SESSION BY TIMES OF INDIA
The students of class VI, VII and VIII attended a workshop that was conducted by team of The Times Of India. Mr. Gautam Kishan trained the students by performing a bunch of easy exercises that can be practiced at home as well. He emphasized on the importance of exercising on a regular basis and involved movement of each body part. Groovy music added the touch of fun and hence, the students enjoyed the session thoroughly.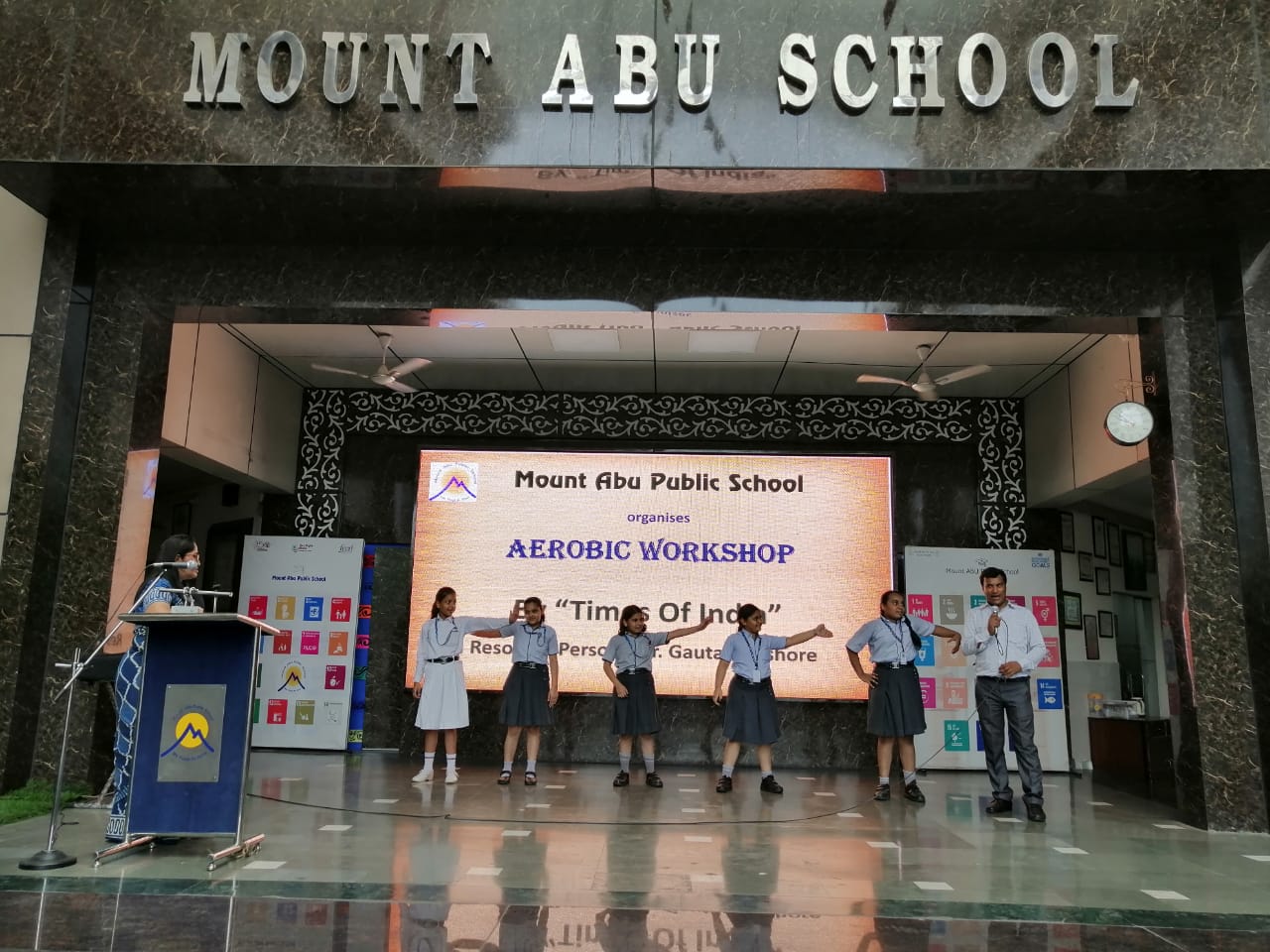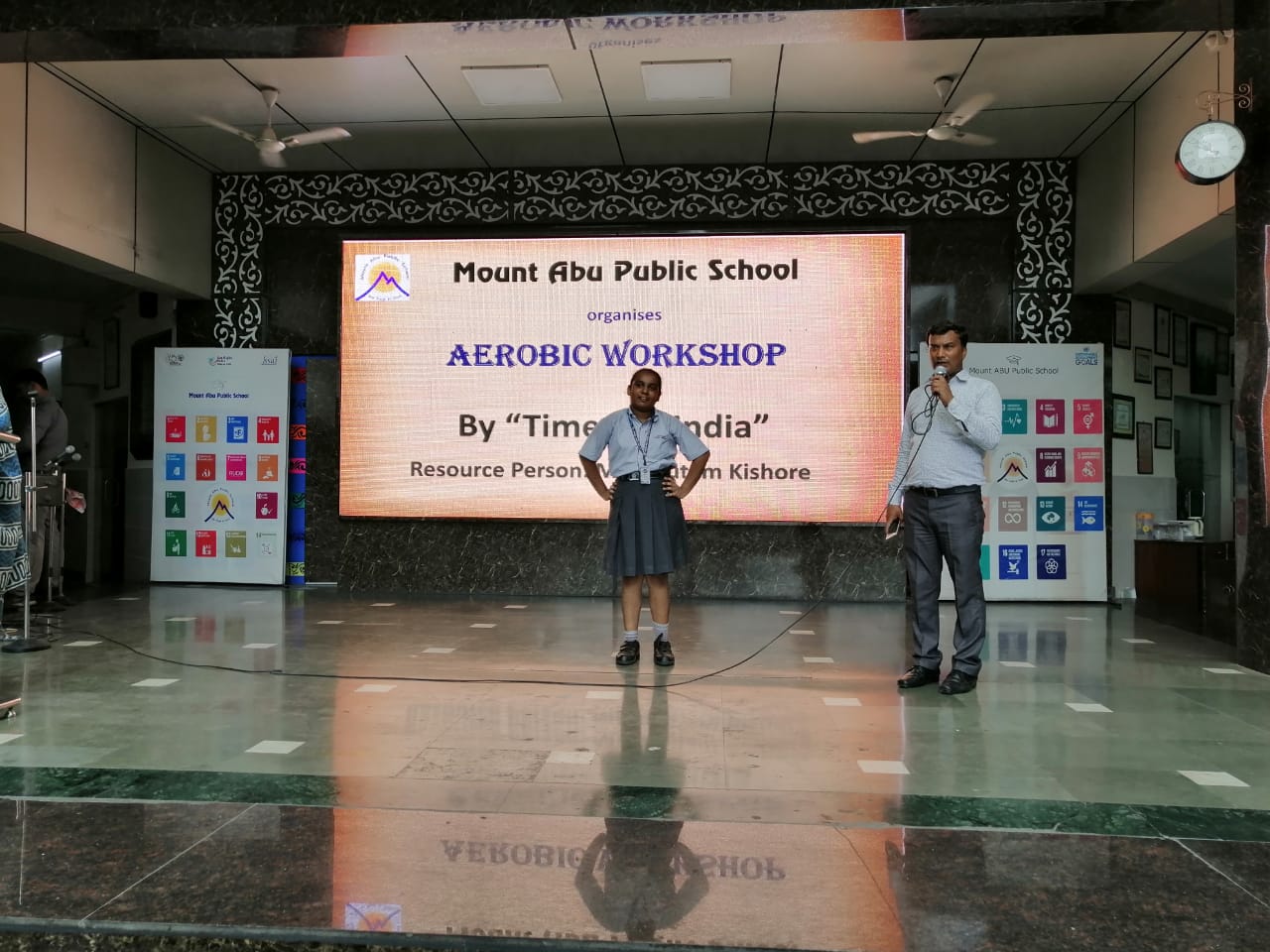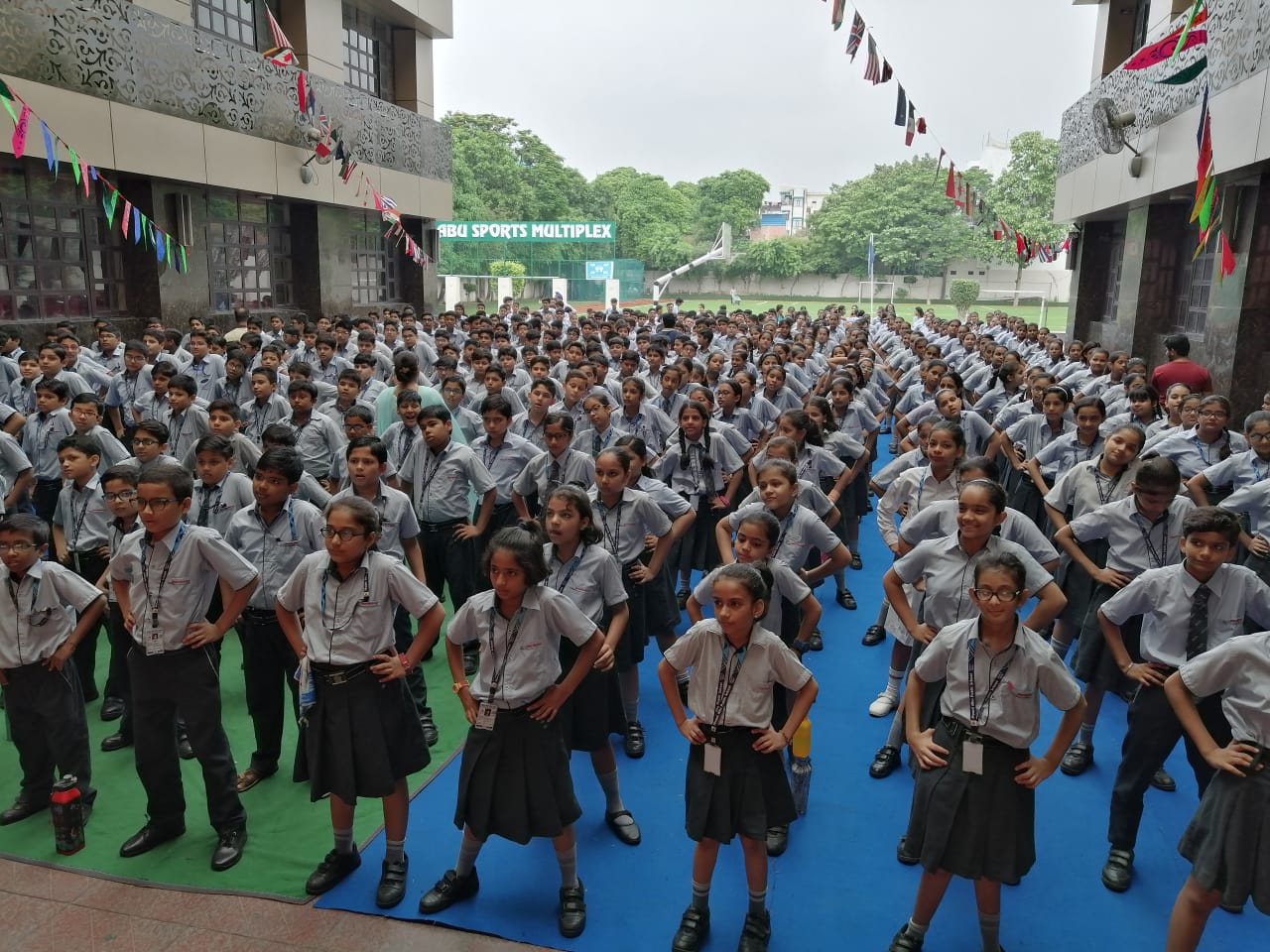 ---
SESSION ON SHARING
'You do not become poor by giving, you only get rich in happiness'
Ms. Gloria Paul from Smile foundation conducted a session with students of Class XI -XII on the importance of giving and sharing. She emphasized on cultivating of culture of giving among poor and less privileged to show our social commitments.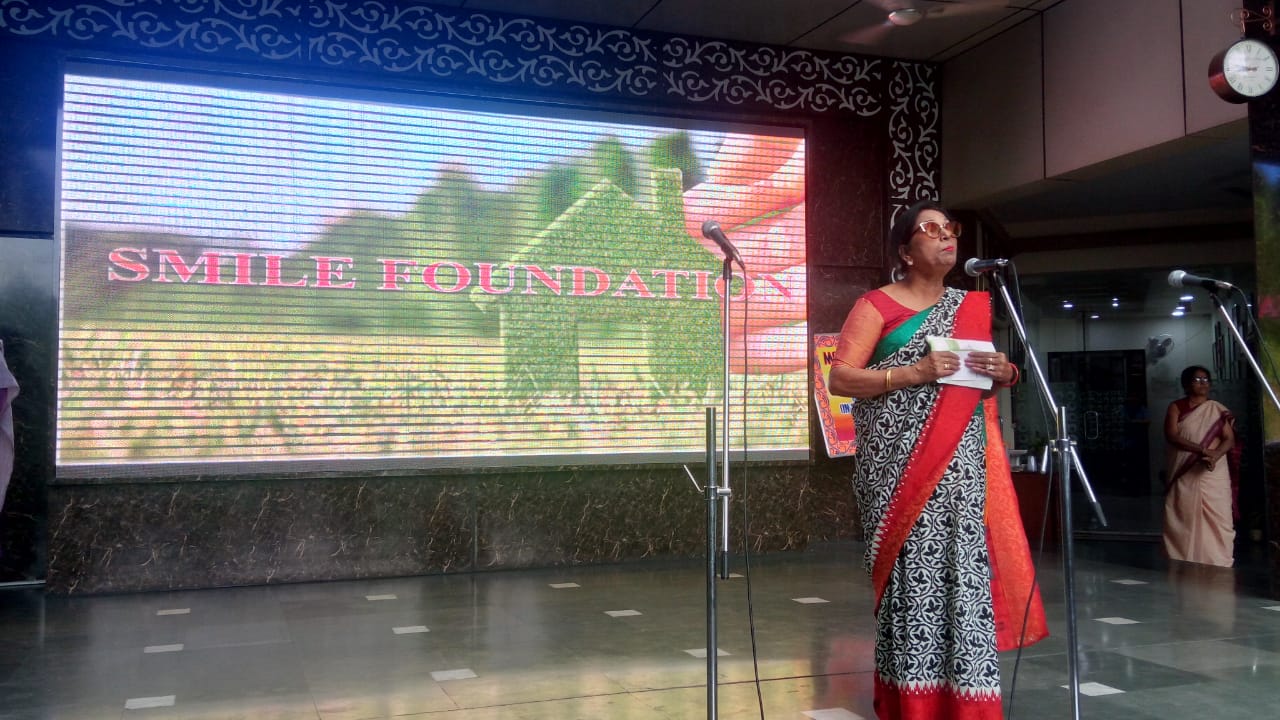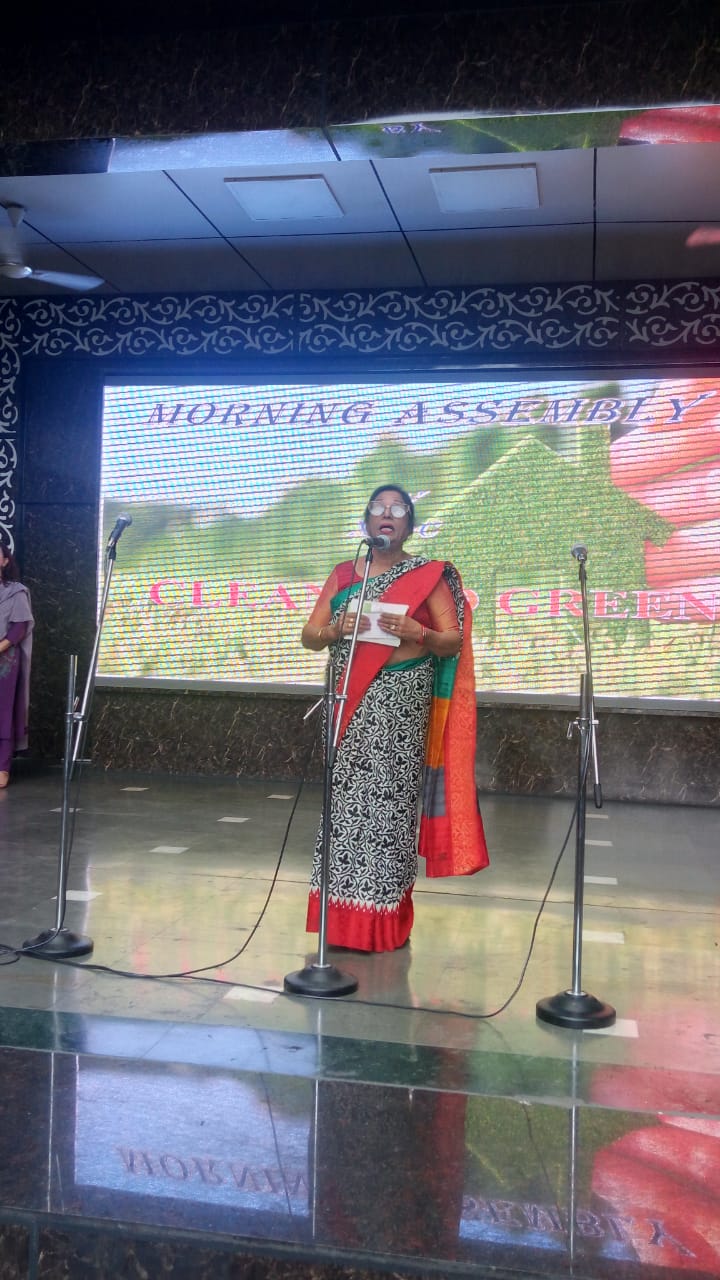 ---
SESSION ON ETHICAL VALUES
A Session on Ethical Value of Truthfulness was organized on 9th May 2019 for students of Classes VI to VIII. The resource person highlighted the consequences of telling a lie and also how one can be stressed and fearful by speaking lie. Through a moral story of " A Seed of Truth" the students wee made aware about how honesty and integrity is a virtue of a successful human being.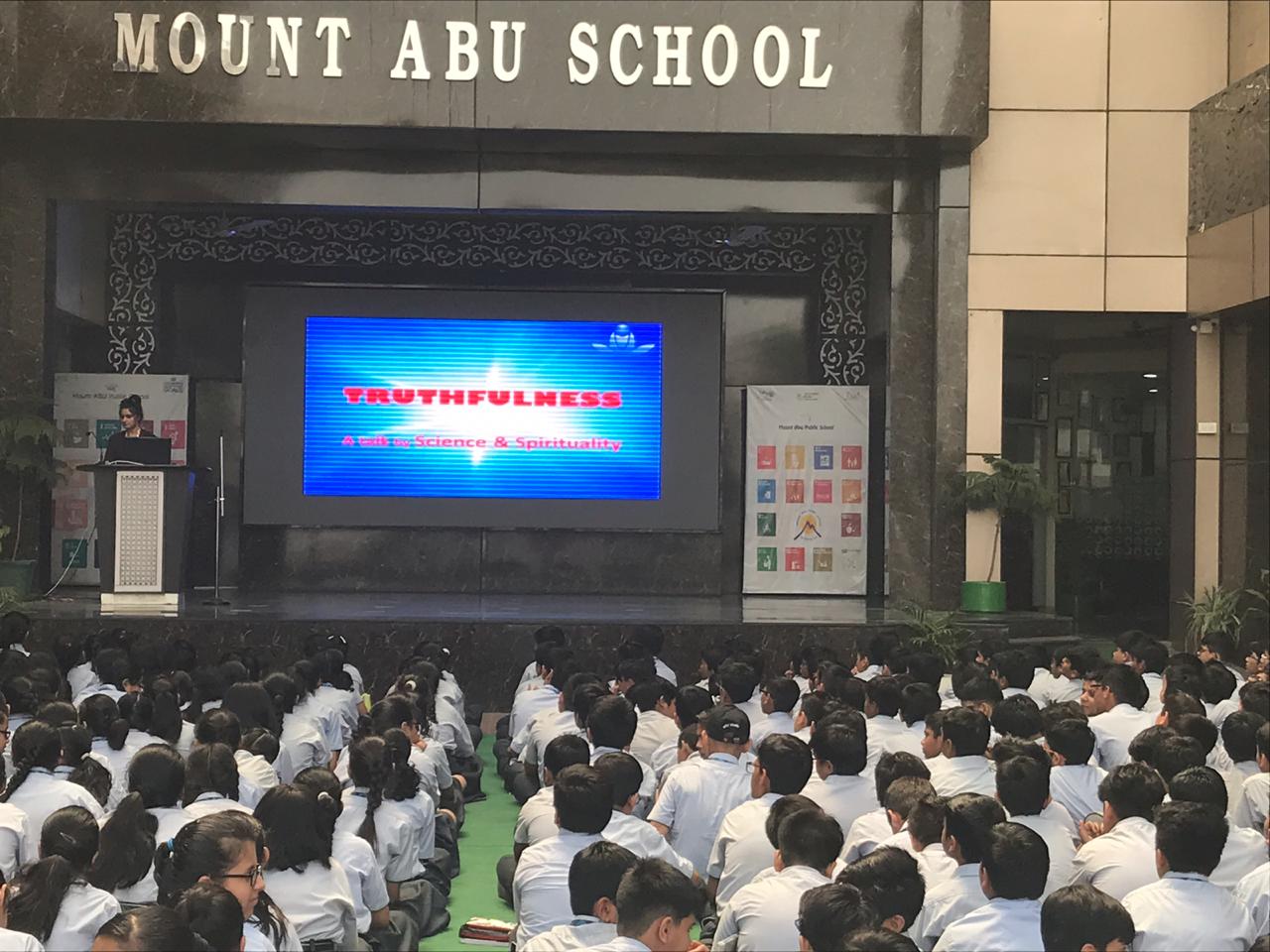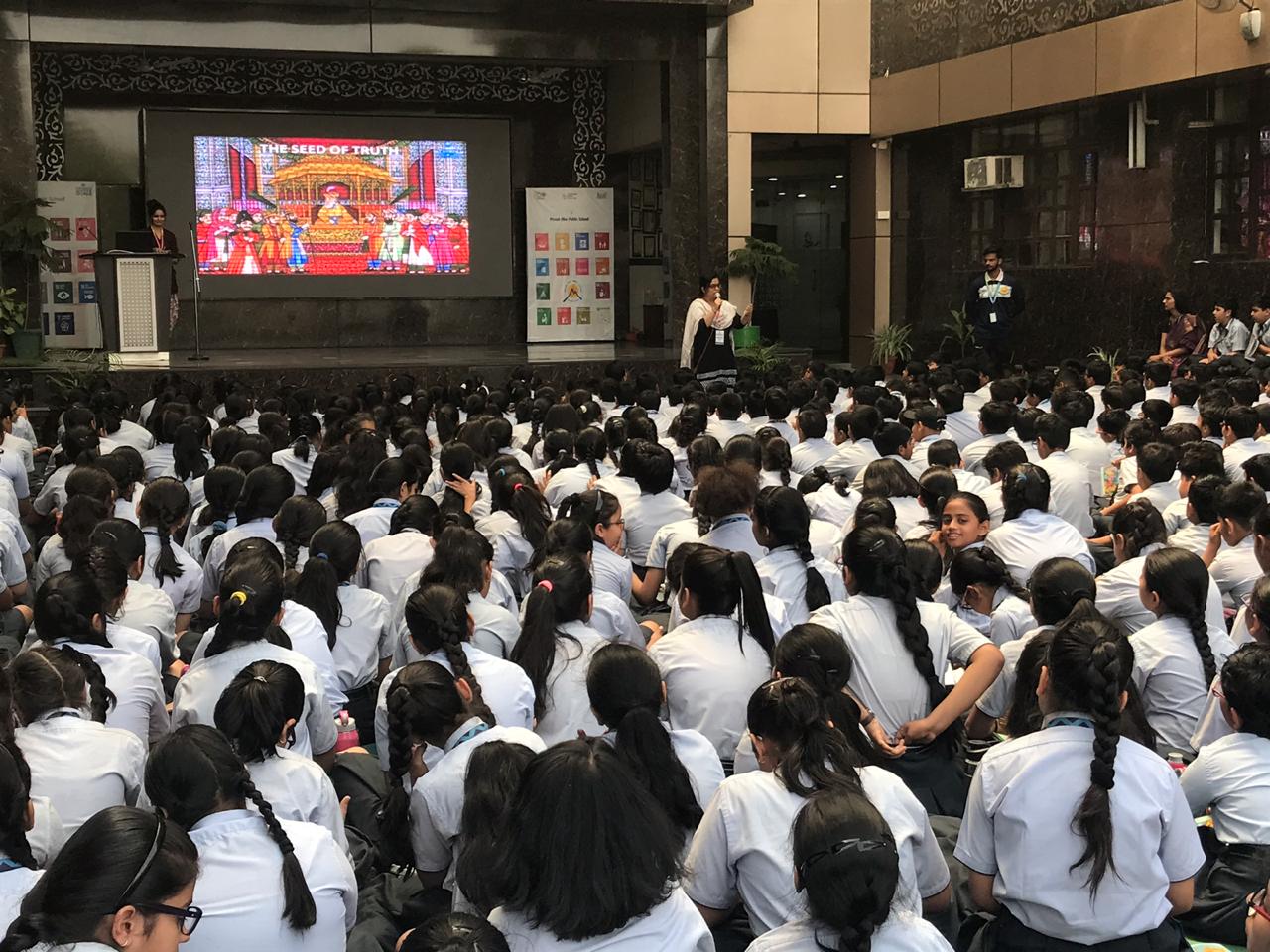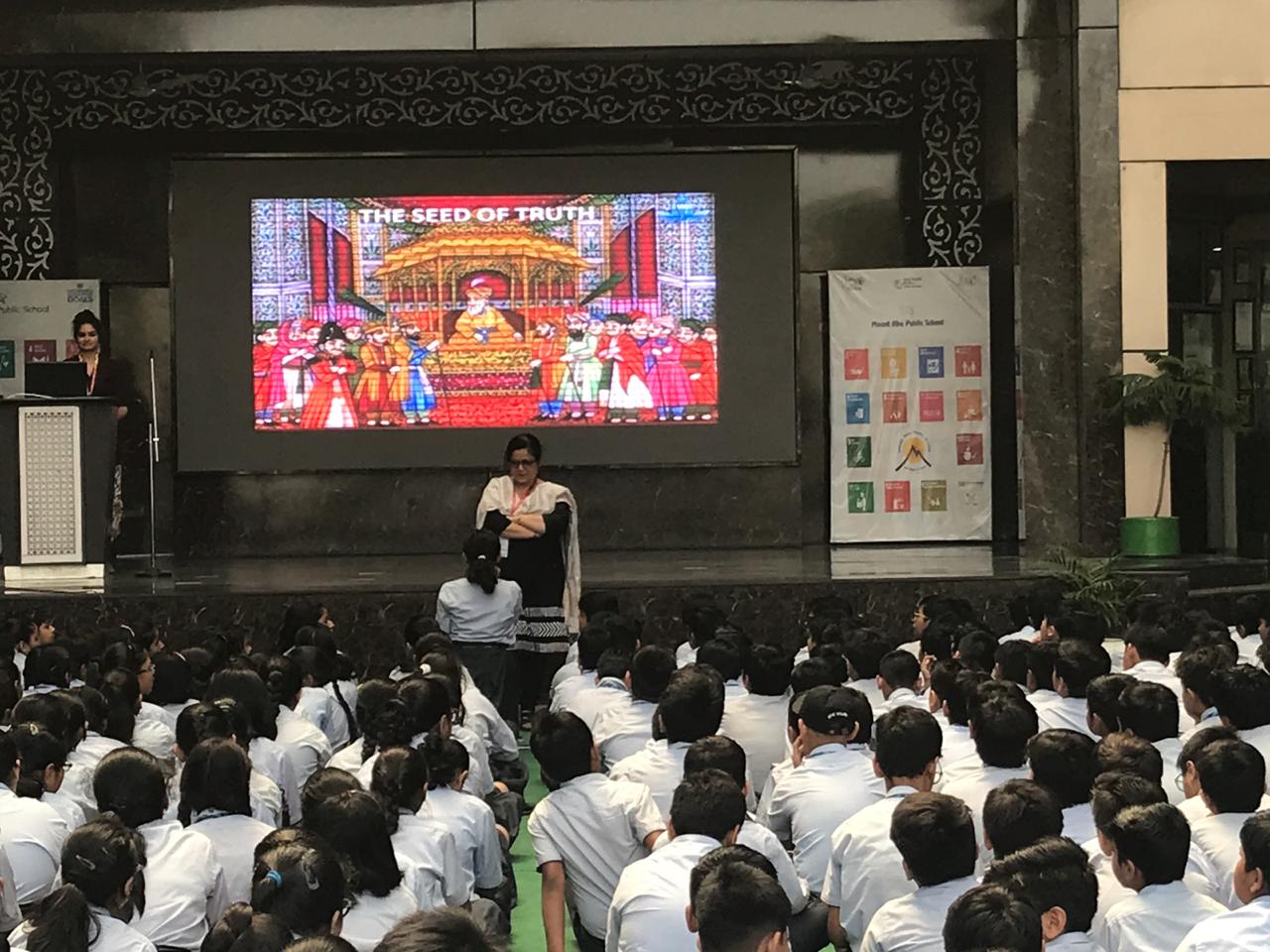 ---
SESSION ON FUN SPORTS
A session on Fun Sports was conducted on 30th April 2019 by Sara Hussain wherein she along with her team introduced various activities to the students of class VI -VIII. They learnt various games based on freestyle football. The games learnt would help them indulge themselves in their free time at an individual level. The session became a complete success when 100% participation in some form or the other was observed.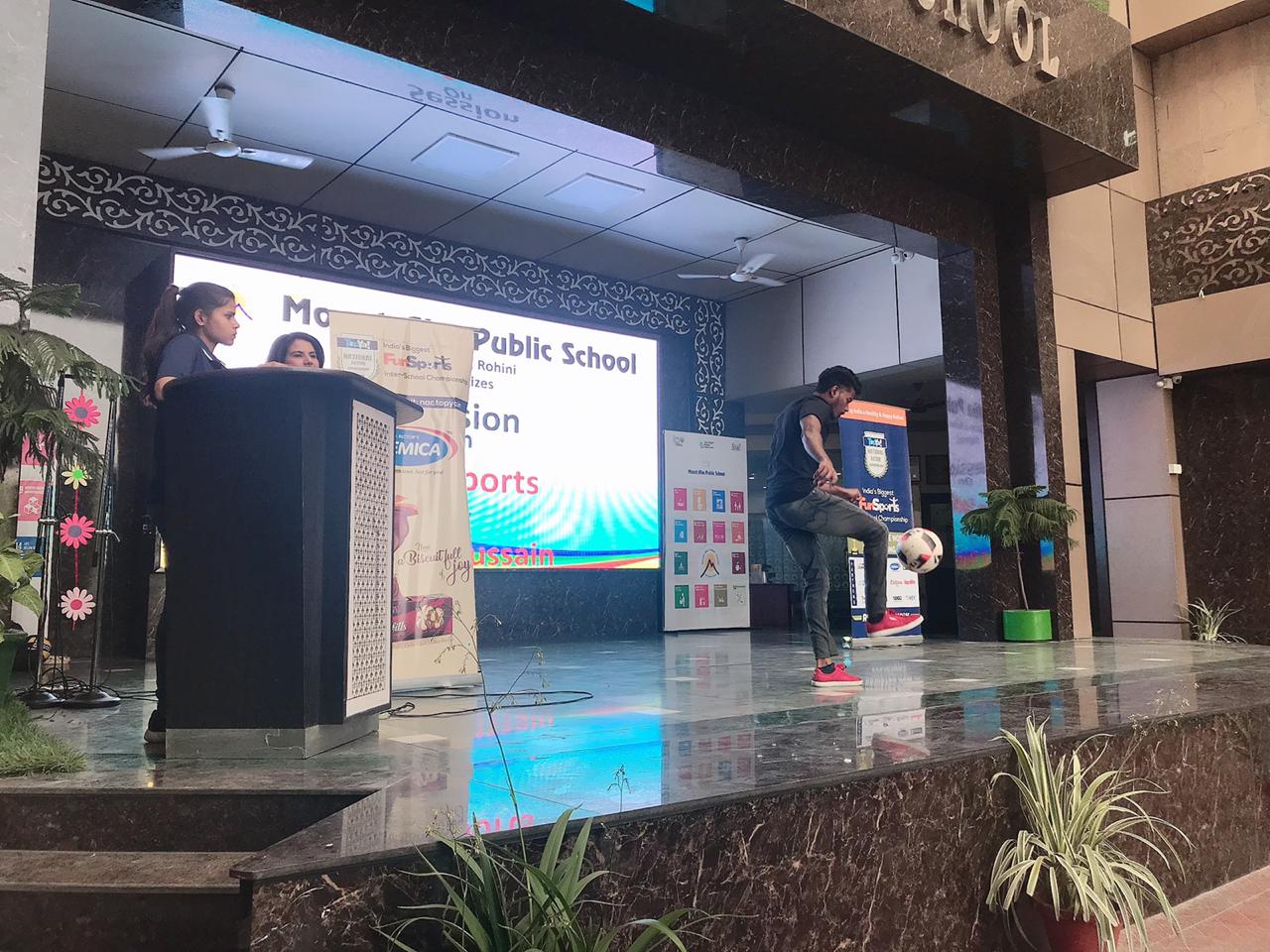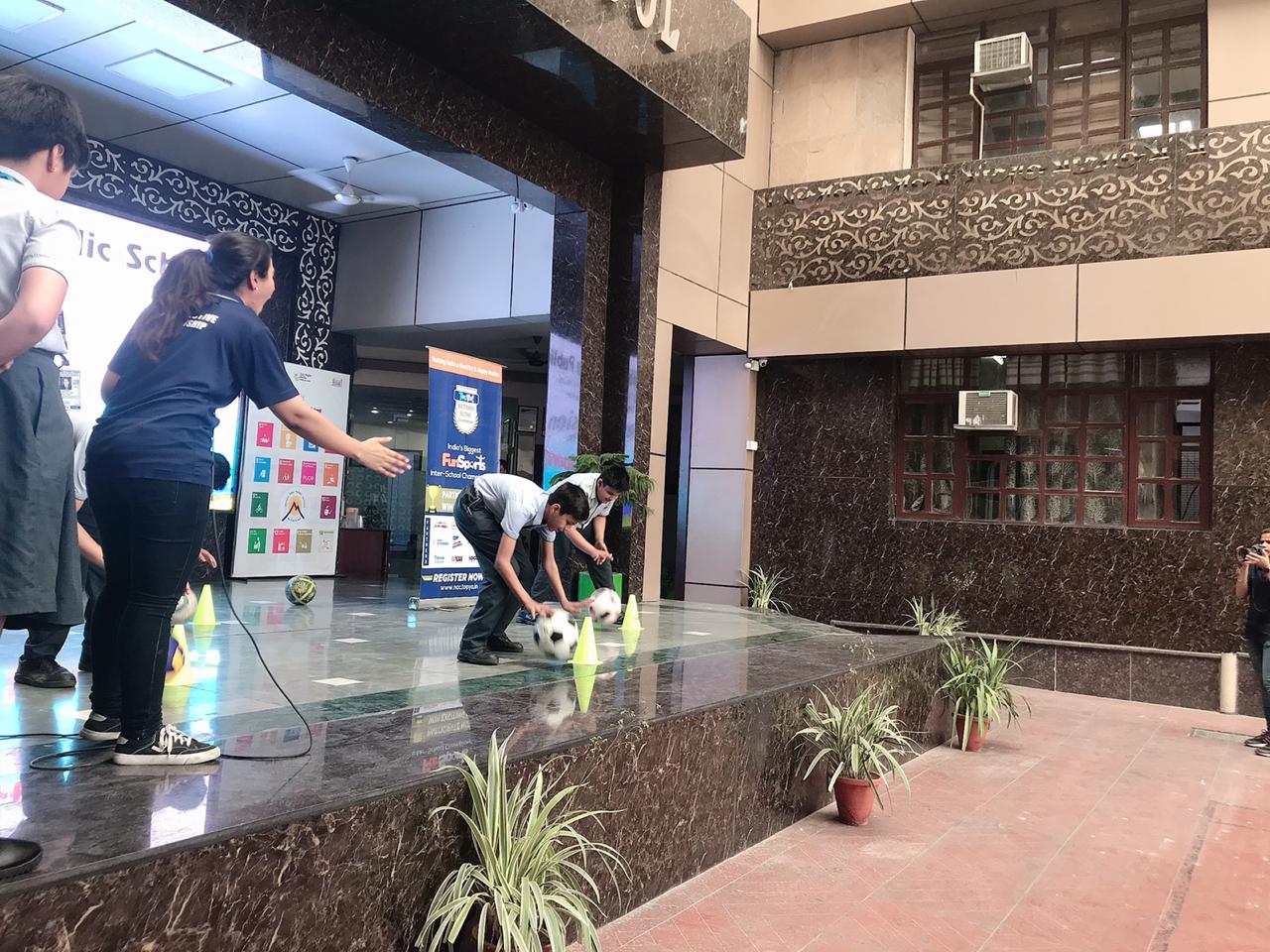 ---
WEBINAR ON ANTI BULLYING
As a part of 100 day BULLY TO BUDDY, the new anti bullying squad had a webinar session with Dr. Sameer Parikh on 26th April about bullying wherein they were brief about its types and components. An in-depth discussion was done about bullying's effect on the victims mental and physical health and the immense contribution of bystanders effect and negligence which empowers the strength of the bully was discussed. Students were made aware of the campaign curriculum along with relevant activities. It ended with a healthy question answer session wherein the school participated well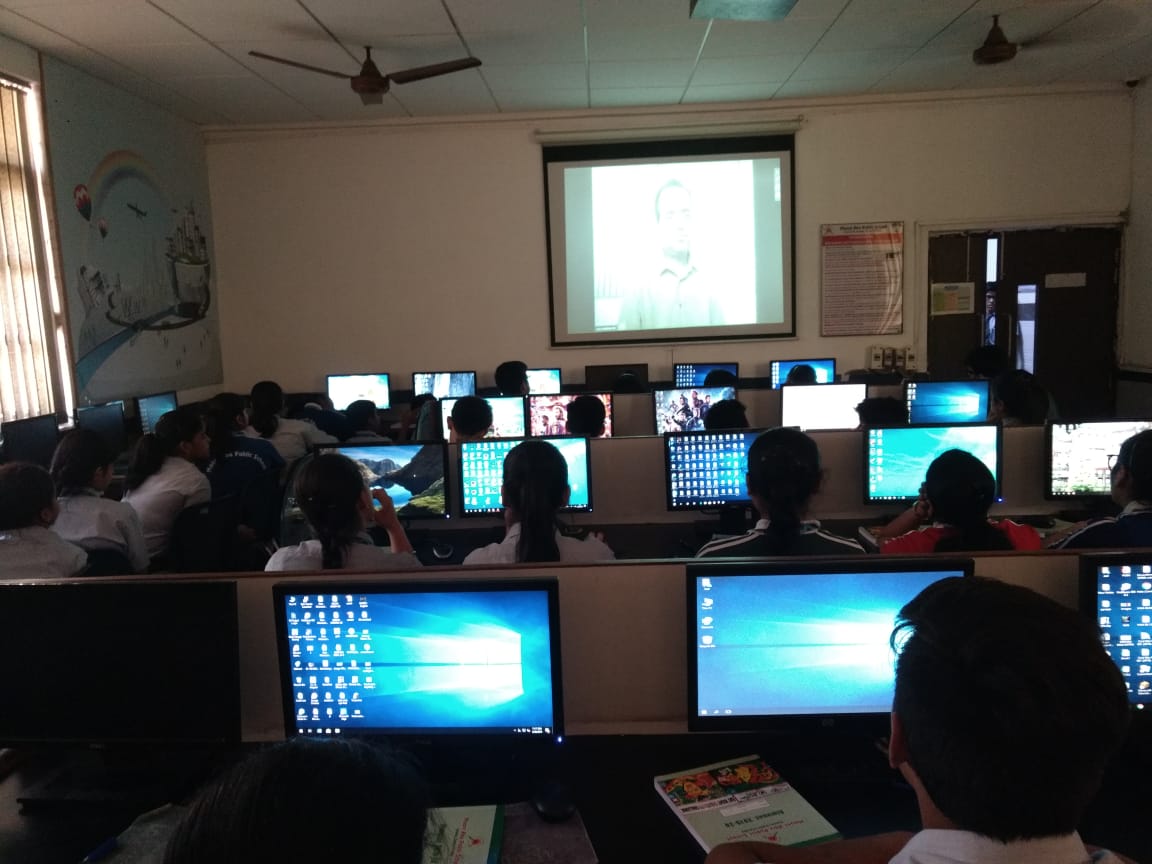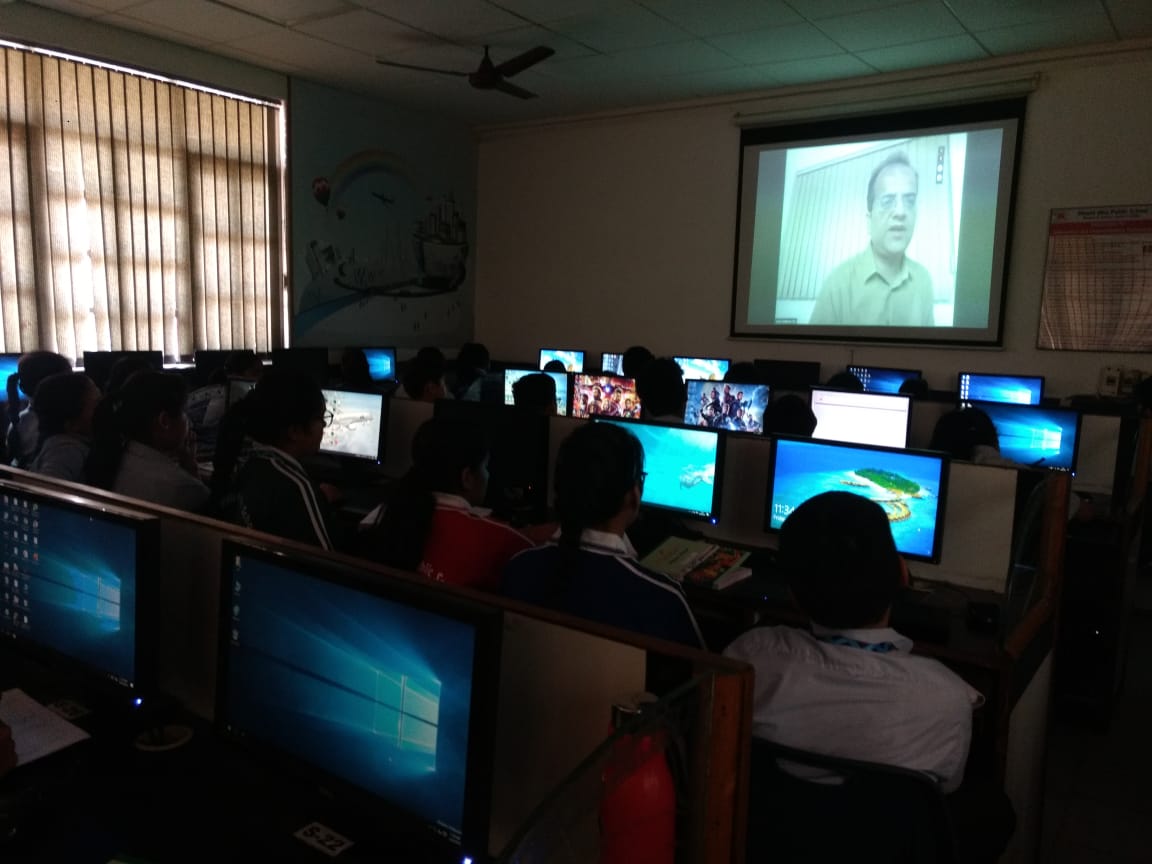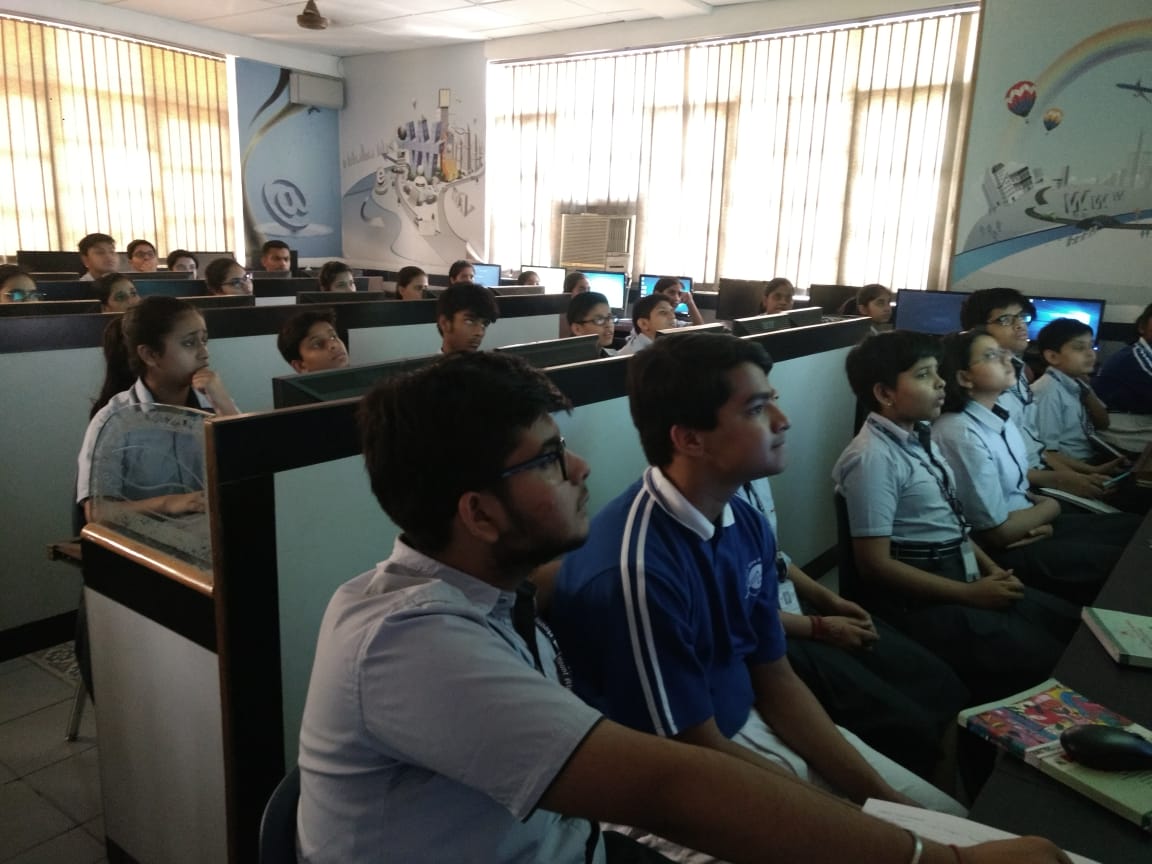 ---
WORKSHOP ON POCSO ACT
The School organized a workshop for students on "POCSO ACT", sponsored by Hindustan Times on 8 February 2019 wherein the resource person Mr. Lucky Puchhrat guided the children all about intricacies of the POCSO ACT and as to how they can protect themselves from abuses .He also spoke about good touch and bad touch and guided them the ways as to how to raise their voice against any kind of violence to maintain their self esteem and lead a better life.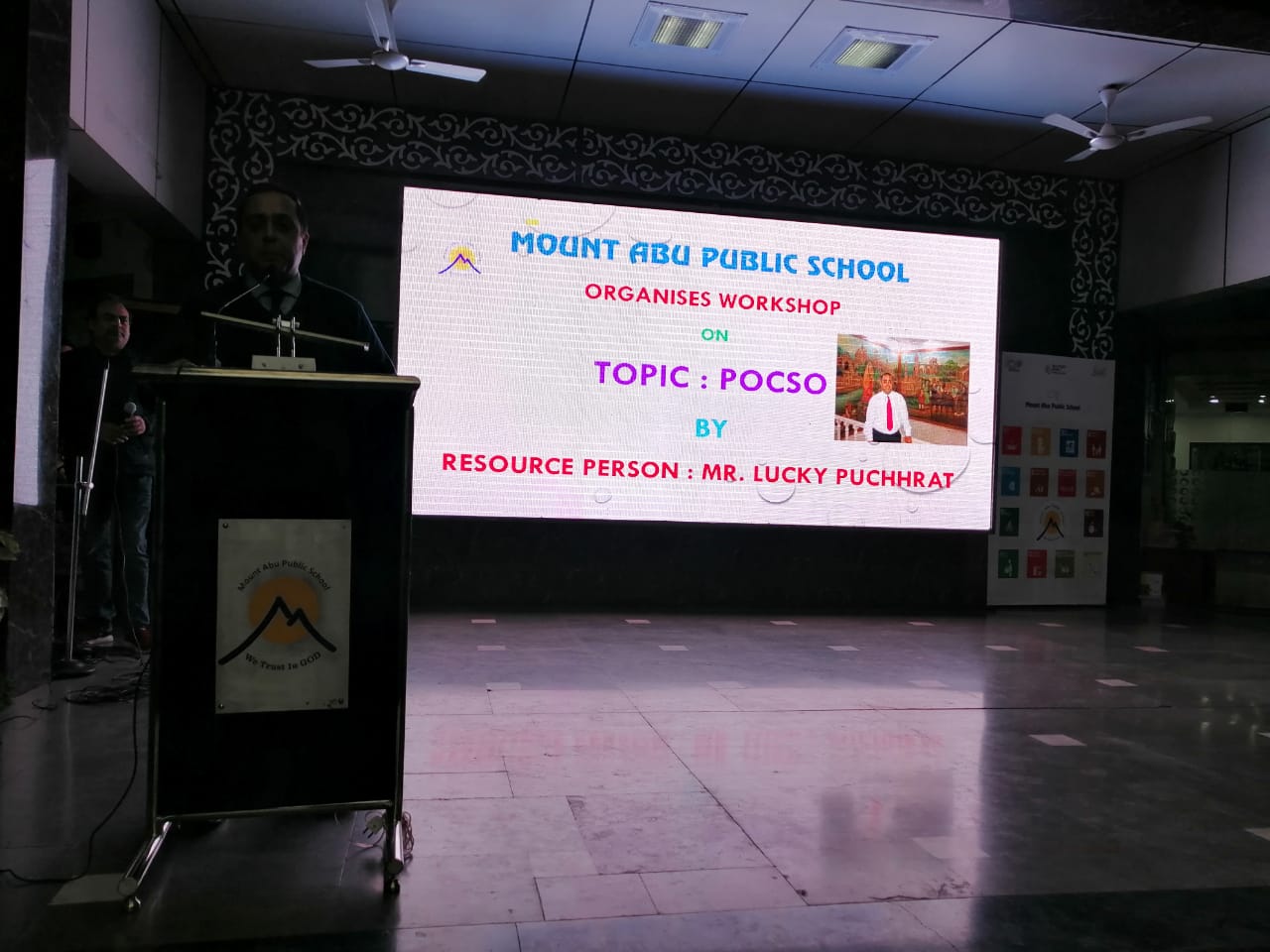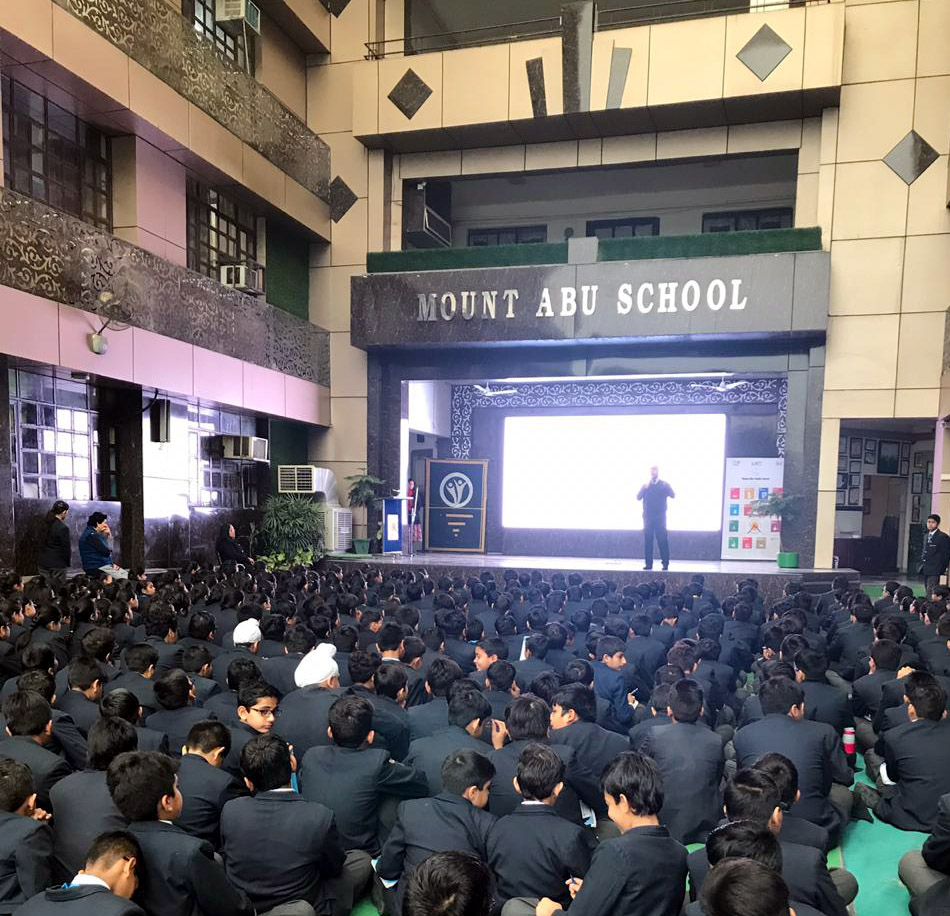 ---
INITIATIVE TO ERADICATE ILLITERACY
An awareness session on drawbacks of illiteracy and steps how to eradicate it was taken by Ms. Ritu Verma, Vice Coordinator, Delhi School Literacy Project on 16th January 2019. The resource person urged the youth to step forward and contribute in increasing the literacy rate to help the nation to prosper. The students were inspired to participate in 'Each One Teach One' project by guiding their helpers at school and home to become literate. They were also provided with the learners book to teach others.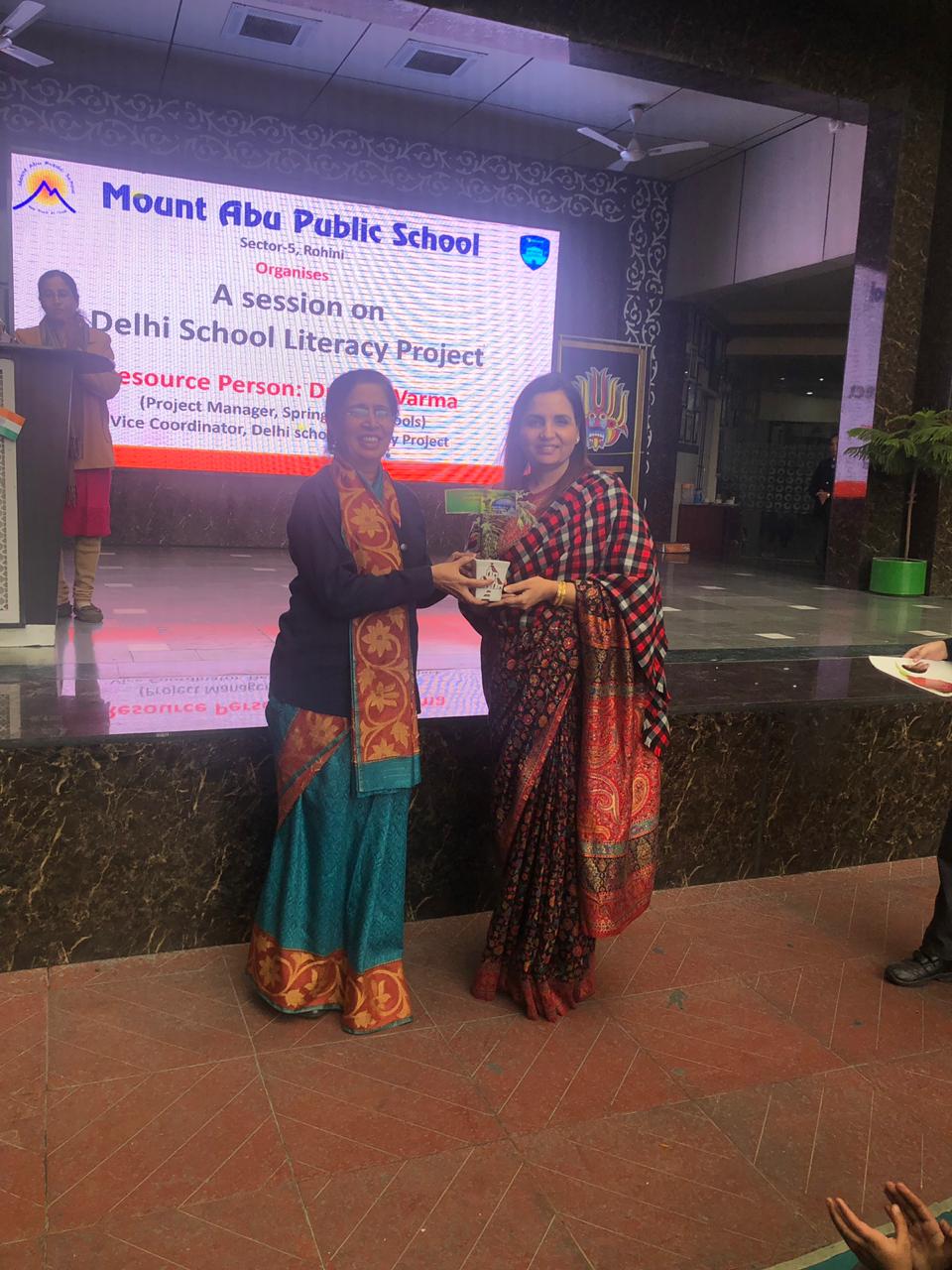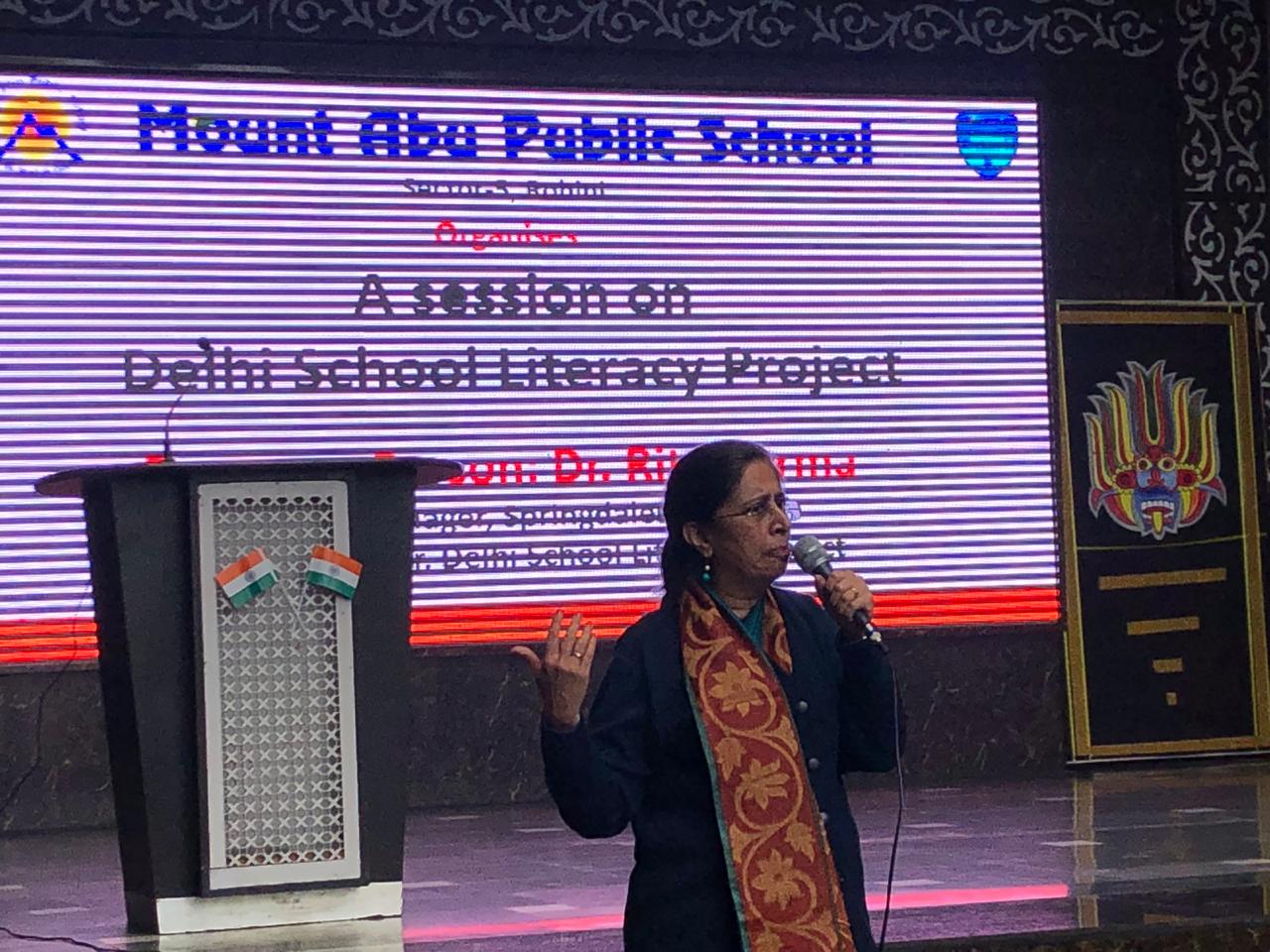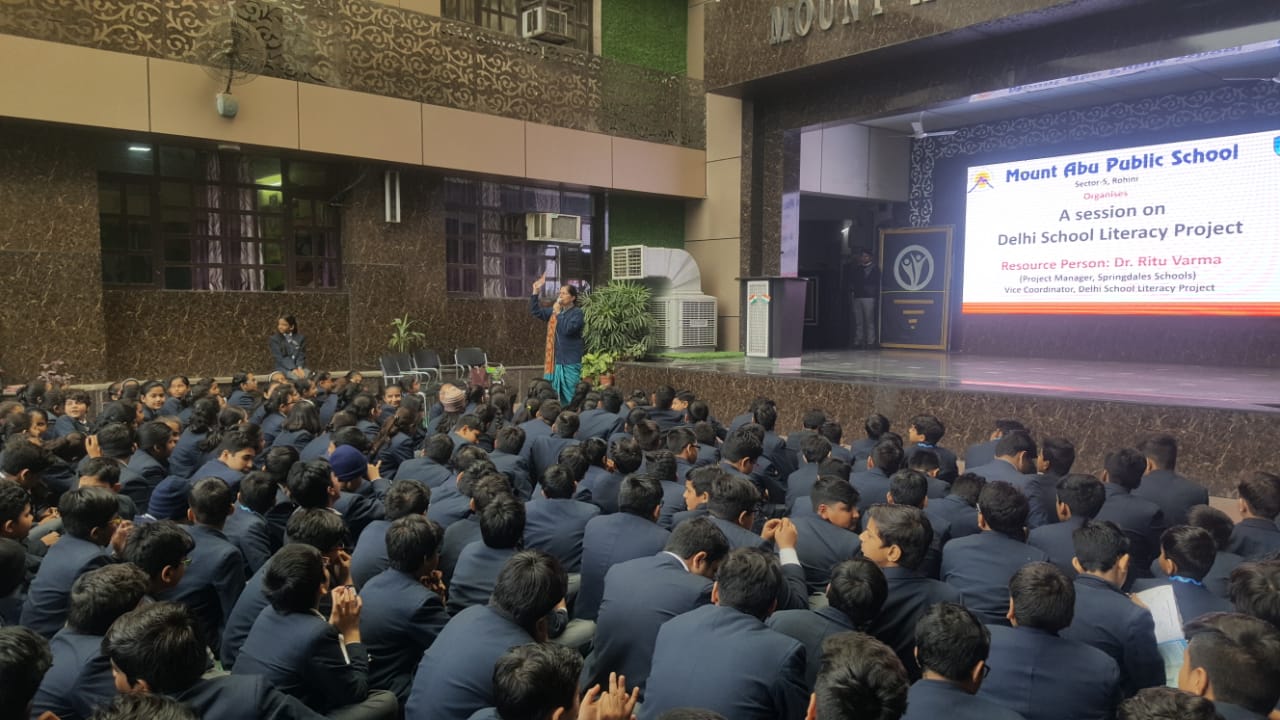 ---
WORKSHOP ON STORY TELLING
Story telling is a universal and traditional art form that has featured strongly in Indian culture as an effective communication tool. It is used as a medium to ingrain values improve reading and listening and imagination. A workshop on Story telling was organised for Class 2 by Ms Nidhi Kundra on 18.12.18. The session was indeed valuable and distinct. Students found it really interested and engrossed in the story as she told them with creative gestures and used facial expressions and also involved the students as the characters of the story. Overall the session helped the young souls to enhance creative thinking.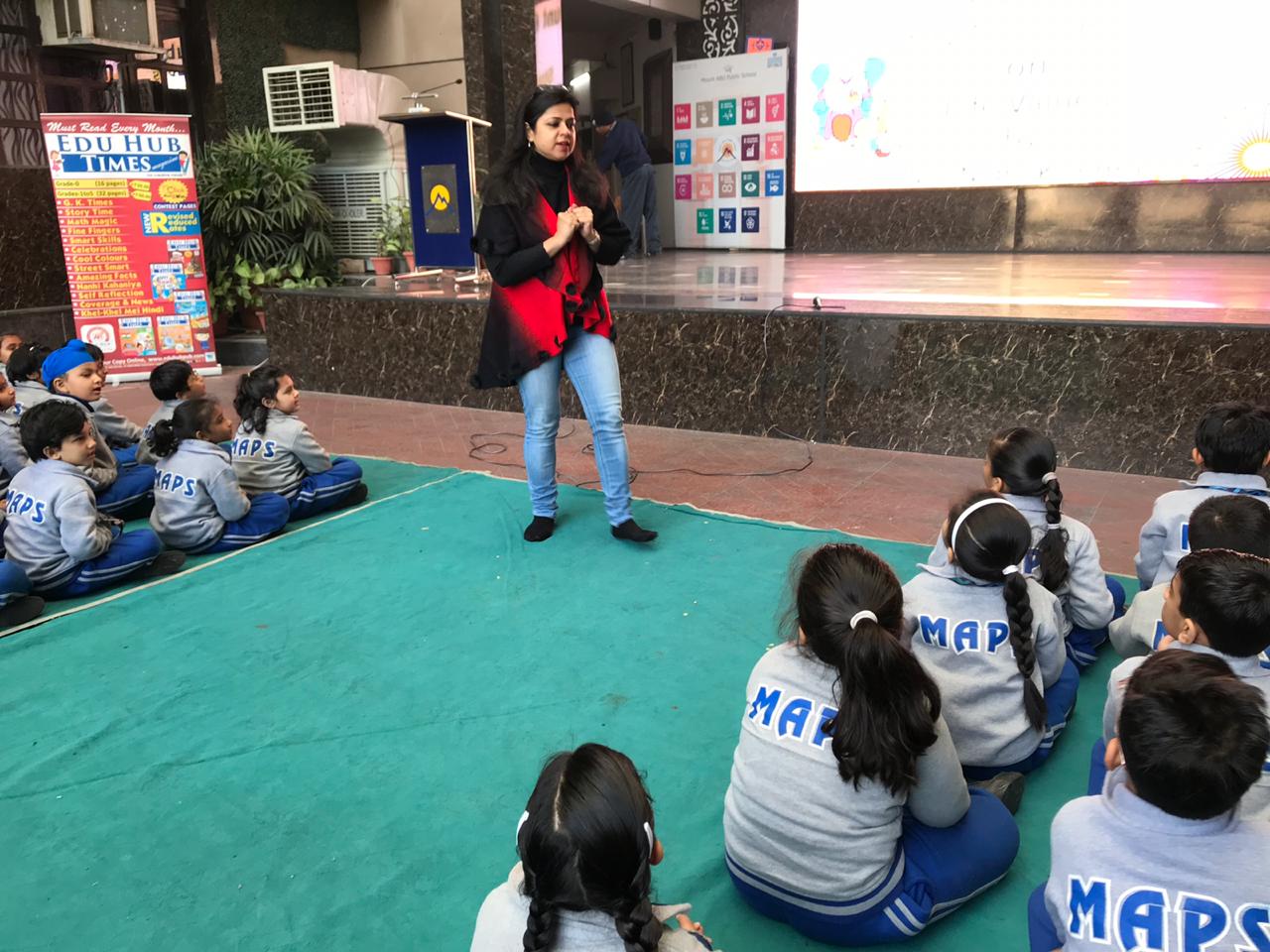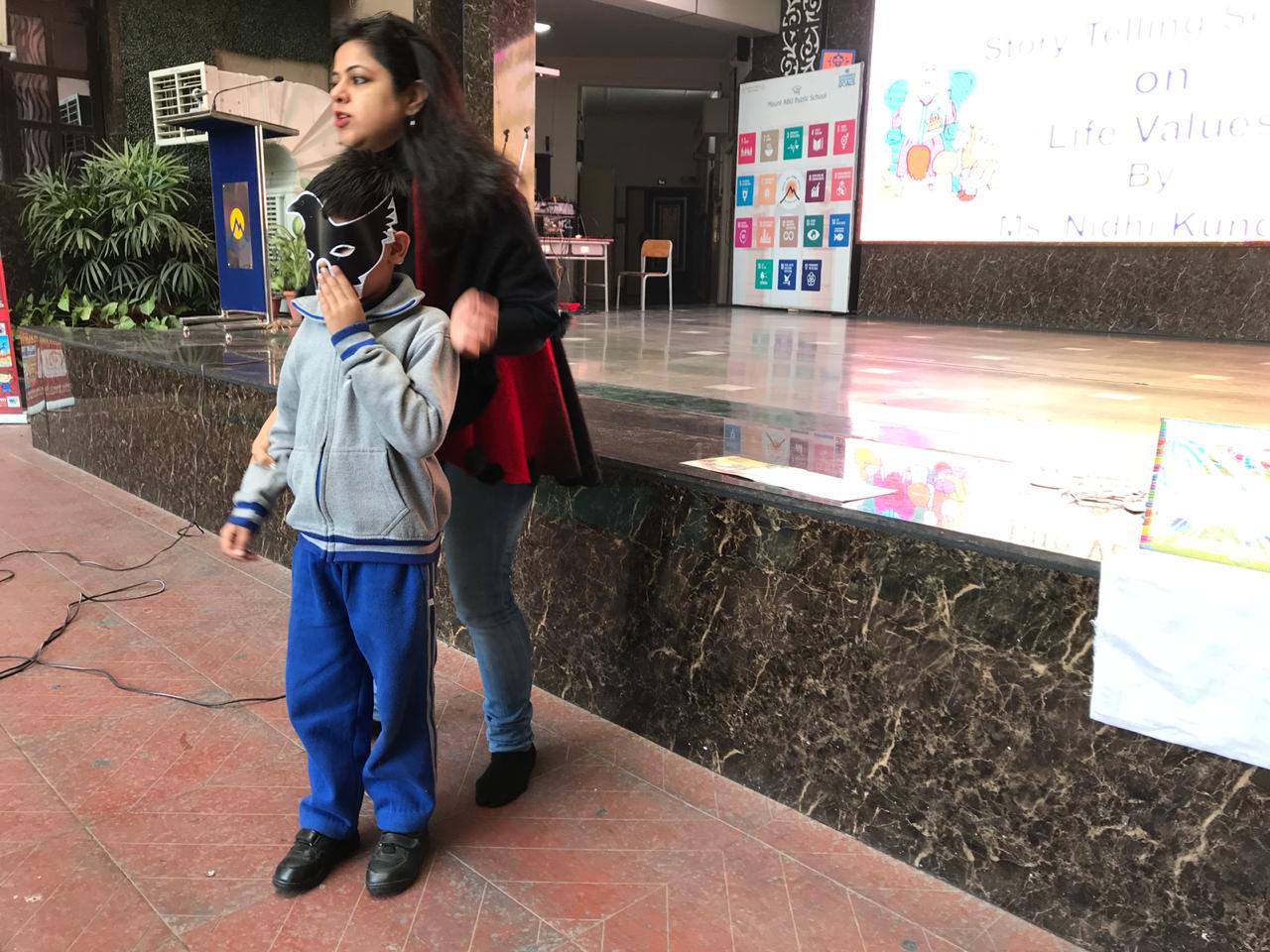 ---
IMPARTING GREEN VALUES TO STUDENTS
The workshop on Imparting Green Values to the students was organized by IIM Lucknow for the classes V & VI on 29th November 2018. It aimed at sensitizing students towards growing level of pollution and motivated the students to be the changemakers and discussed ways to curb pollution through discussions and enriching worksheets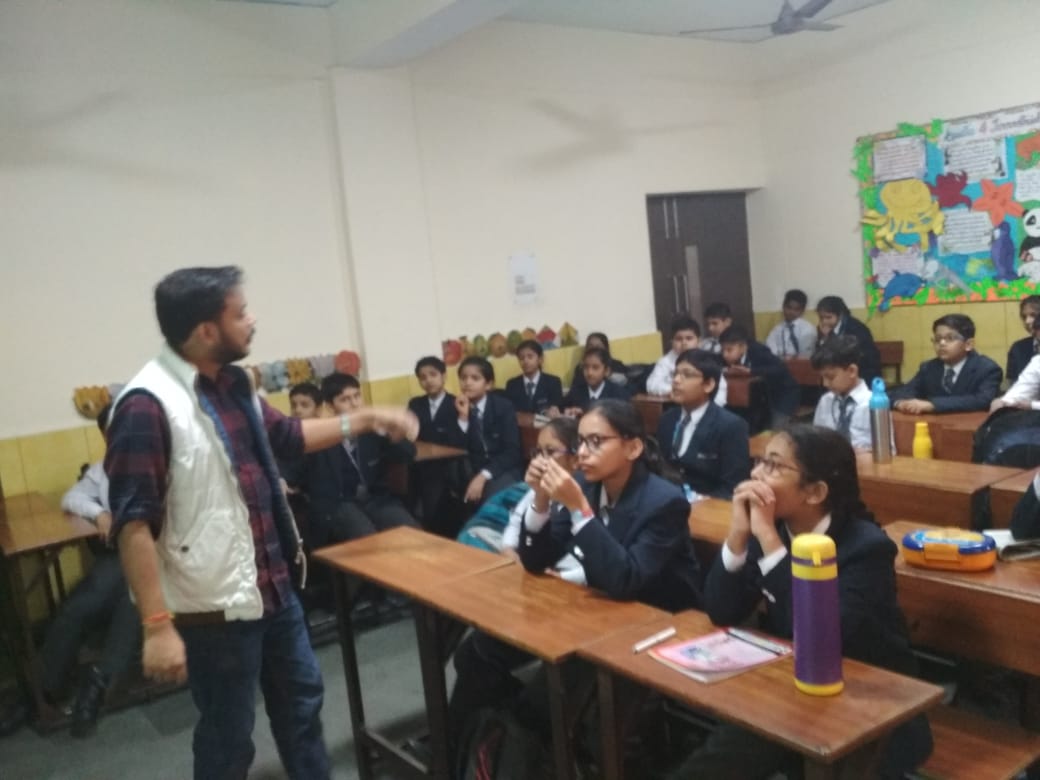 ---
Workshop on BE POLITE
Mount Abu Public School organised a workshop for students of Classes VI and VII on the Topic "Be Polite" on Friday 2nd November 2018. It was conducted by Ms. Neera Kohli, a senior educator with over 33 years of experience in teaching. Kids today are bombarded with information but are not taught values and ways to use it. They are taught to chase success, but not happiness. The main focus of the workshop was to inculcate and incorporate the importance of being polite. Children enjoyed the workshop very much.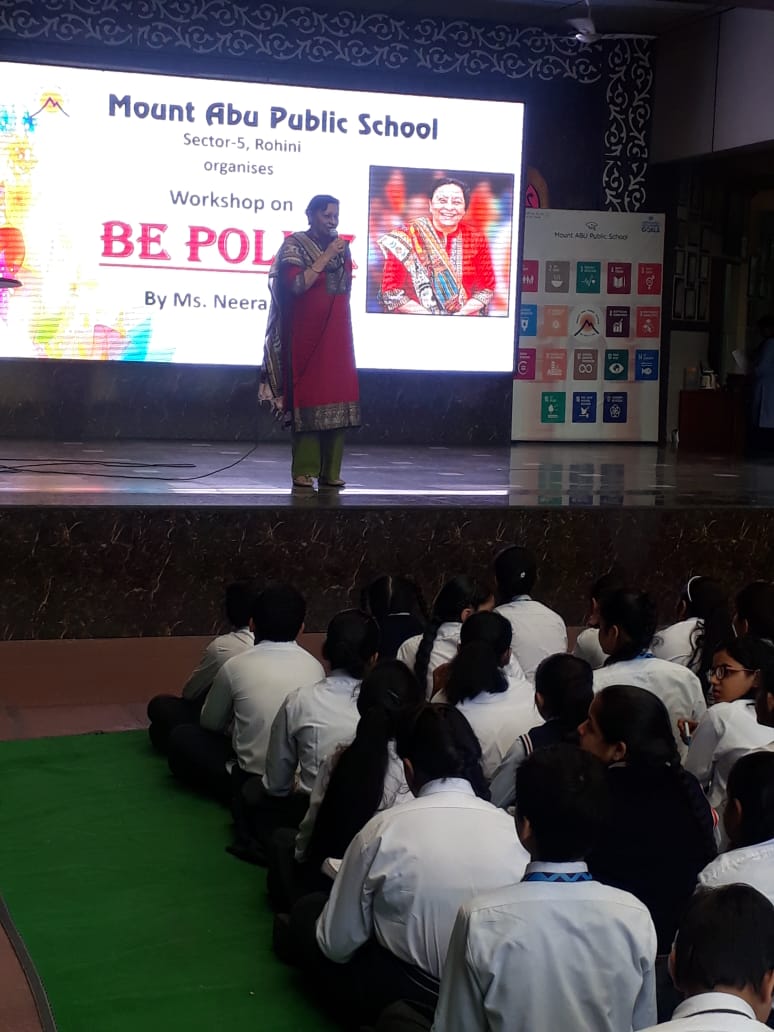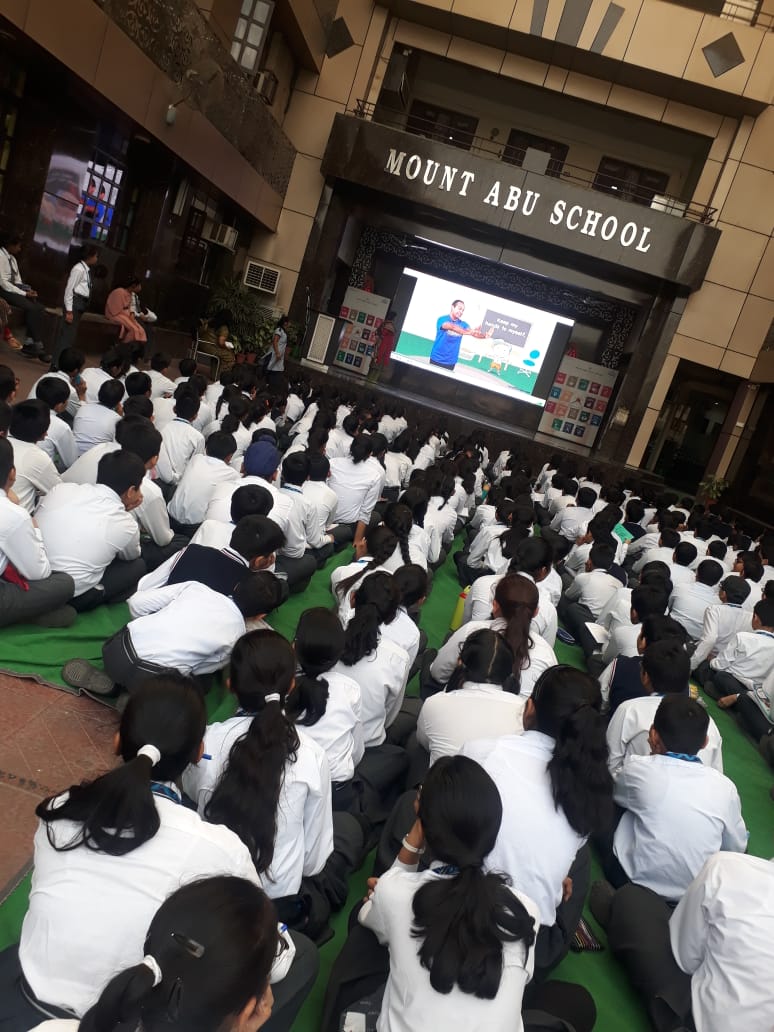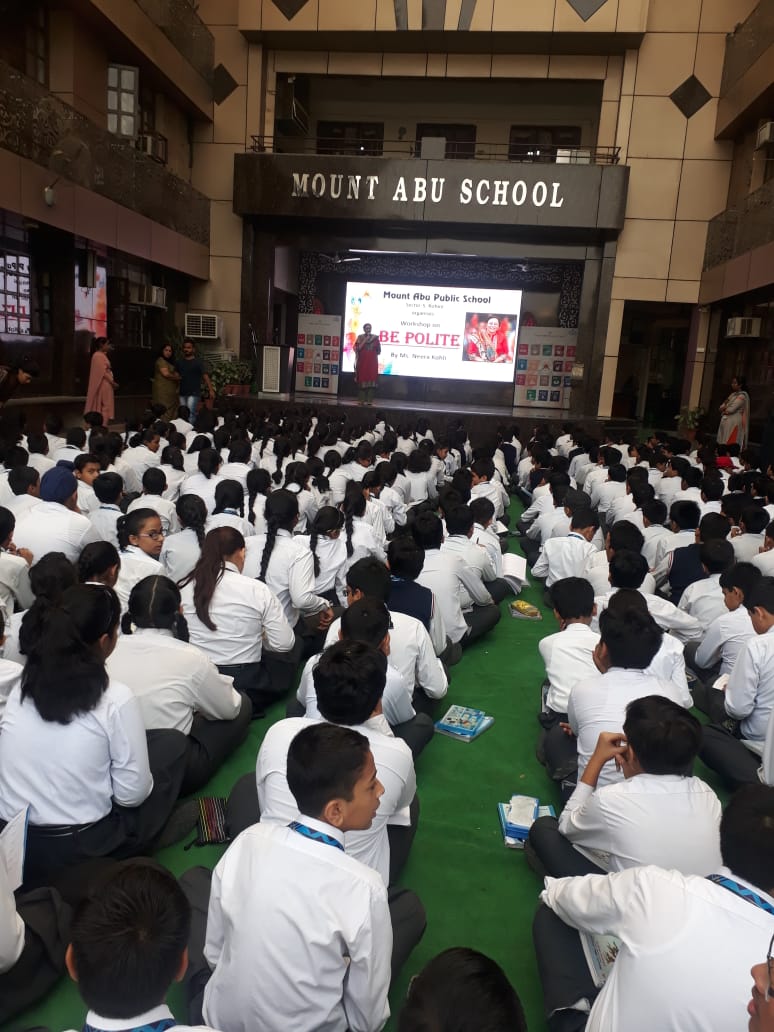 ---
Workshop on Etiquettes and Good Manners
Excellence Hindustan Times Pace conducted workshop on Etiquettes and Good Manners for class 1 and 2.Through interactive Goofy cartoon video he explained the importance of good habits in their life.He told 5 S of meeting people
S-Stand when you meet someone
S-Smile
S-Say your name loud and clear
S-Shake hands
S- Say nice to meet you.
Overall it was a very informative and interesting session for all little mapians.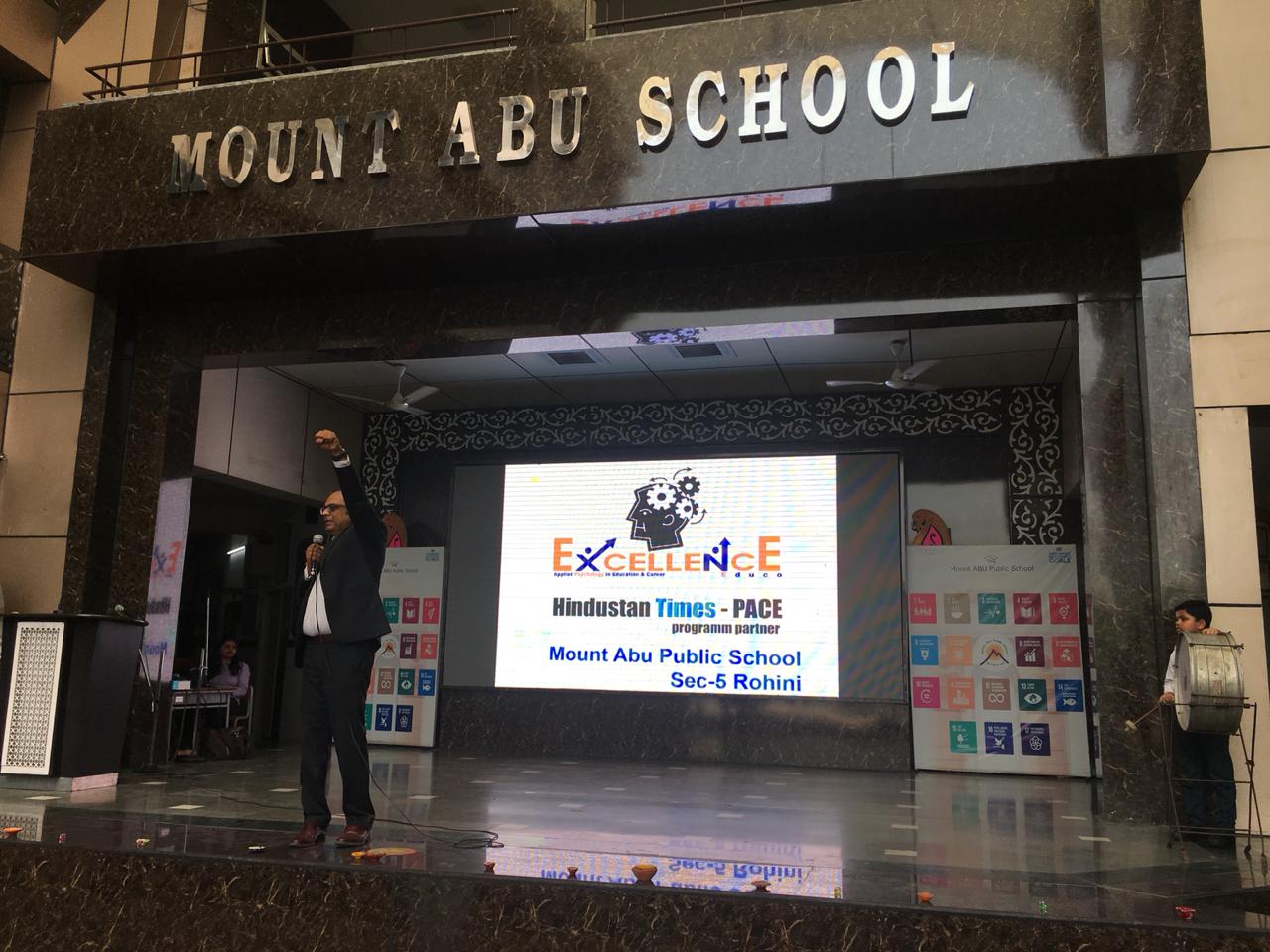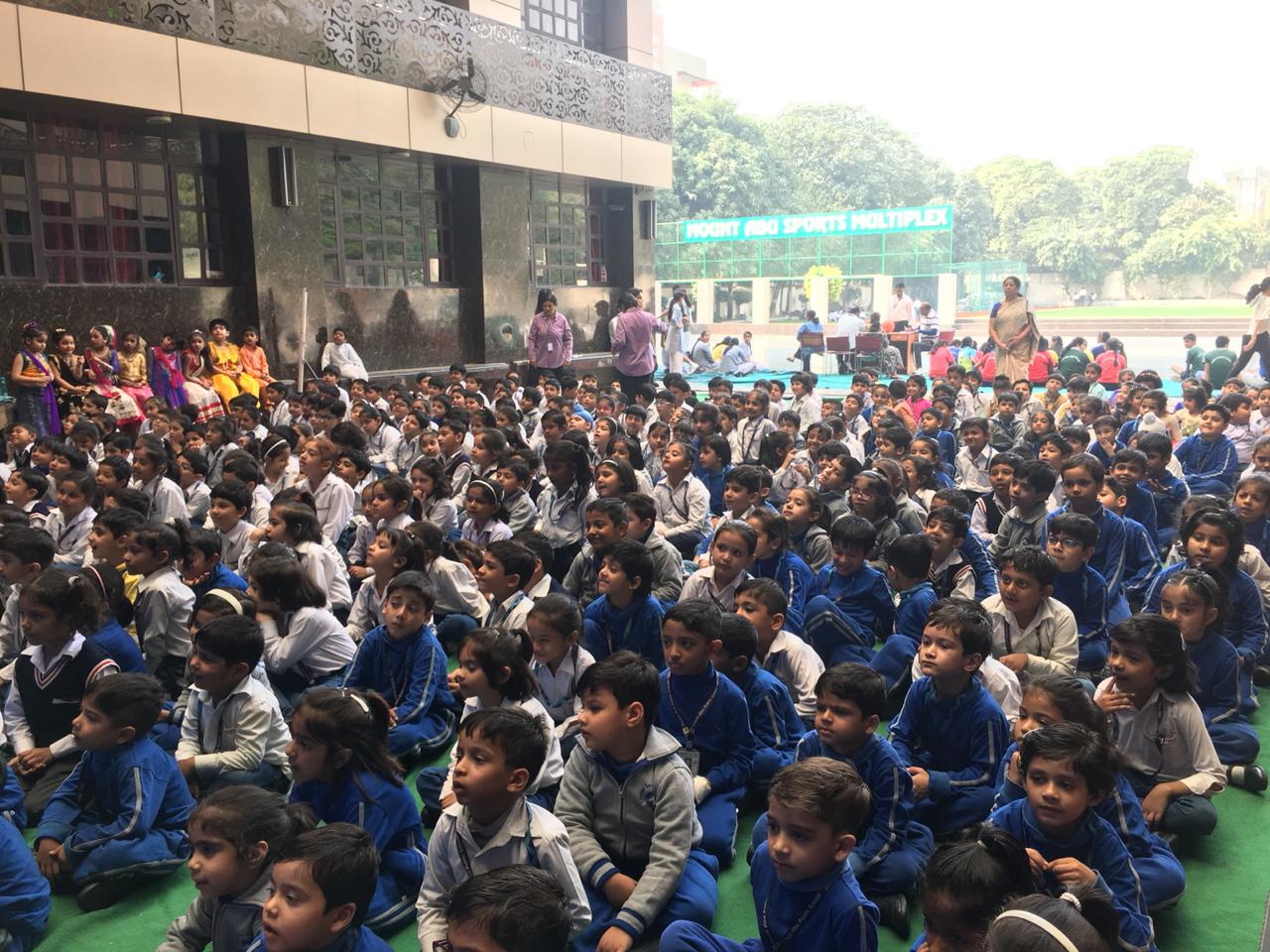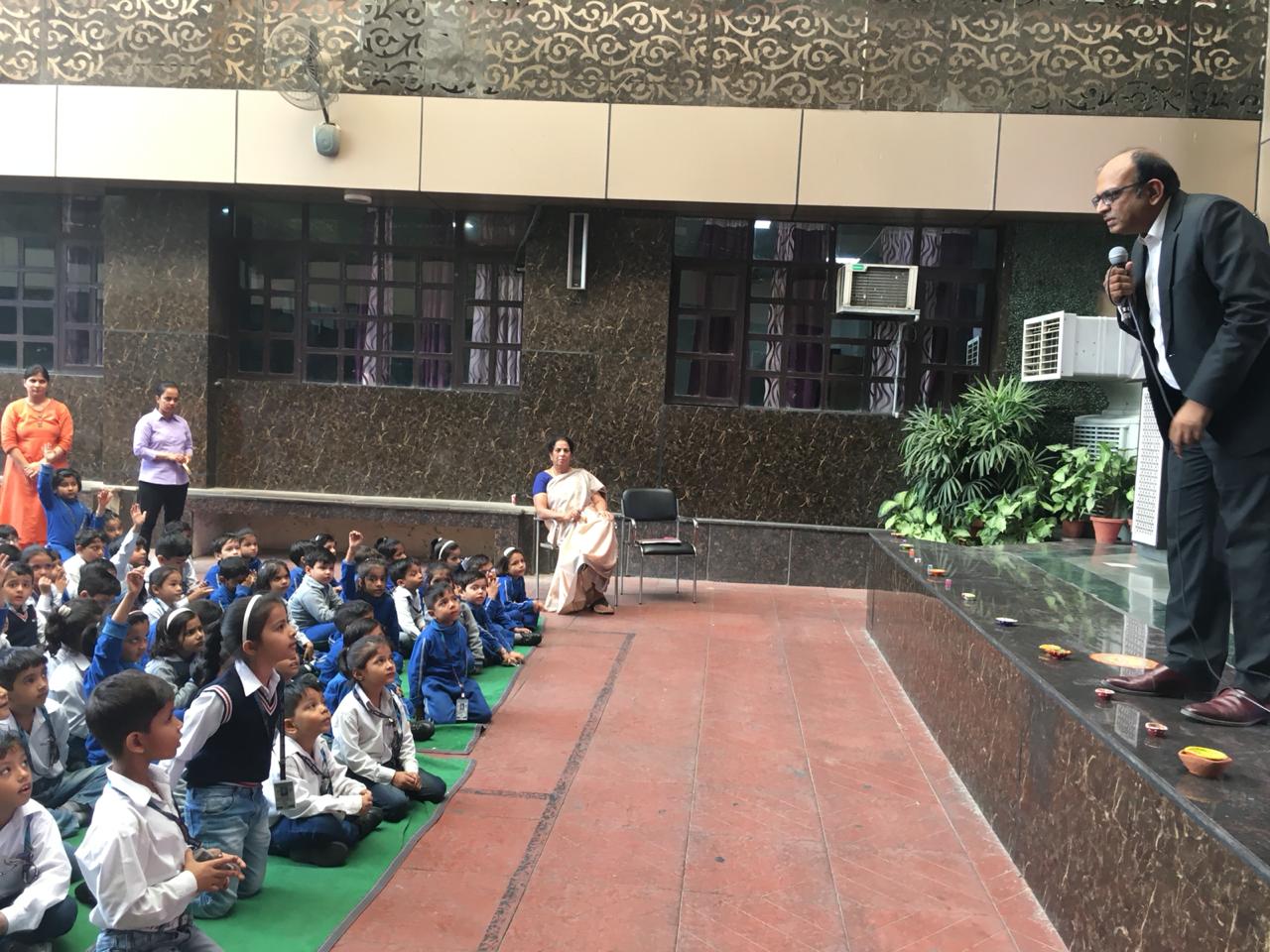 ---
Poster Making Competition on Anti Bullying
The Poster Making Competition was conducted for classes 6 to 11 on fight against bully under Bully-to-Buddy Campaign by Fortis Hospital. Mrs. Chitwan supervised it for successful completion. Winners were awarded with Certificates. It proved to be an energetic event with immense creativity levels of children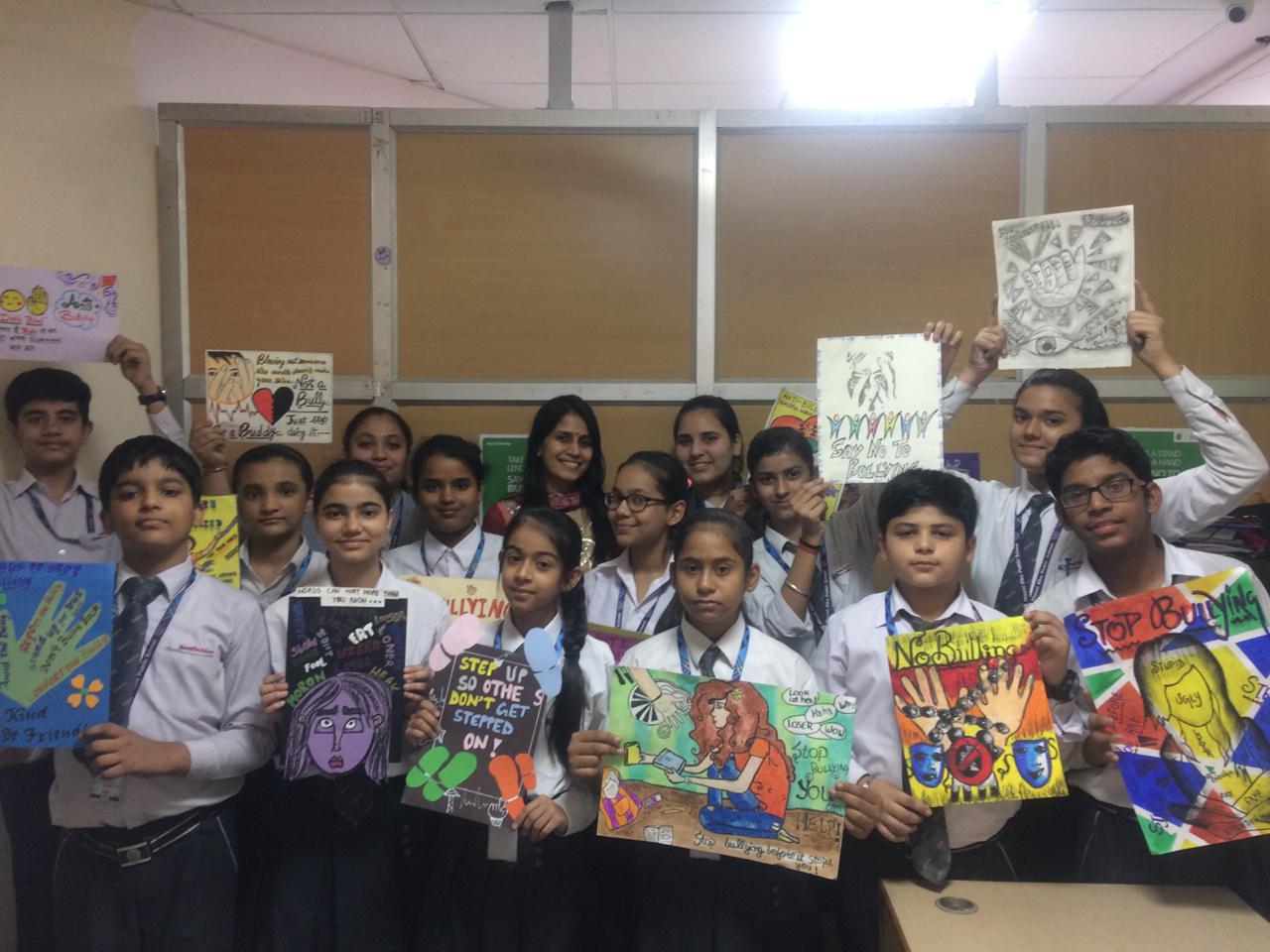 ---
Workshop on How to excel in Board Examinations
The school organized a session for the students of classes XI, XII on the topic How to excel in Board Examinations by HT Study Mate They were given tips to avoid the common mistakes by giving examples from various subjects. They were guided how to balance the Boards with the entrance examination which the students found very useful. The session ended with a positive note that meticulous and intelligent planning is the key for staying ahead in this highly competitive world.
---
WORKSHOP ON SOLAR URJA LAMP
Mount Abu Public school oraganised a workshop on solar lamps in collaboratrion with IIT Bombay on 2nd October. The event began with welcoming of the guest trainers. They introduced themselves to the students. The trainers then introduced students to the concept of solar energy and its usefulness. An interactive theory session was conducted where the students interacted with the mentors and clarified their doubts. The session proceeded with a detailed explanation of the various components involved in the solar lamp kit. Thereafter the students moved to their workstations and started assembling the solar lamps under the step by step guided instructions from the mentors. The mentors made sure that every student is successfully able to assemble the solar lamp. The hands on part was very interesting and engaging for the students which was reflected in their active participation. The event certainly proved to be a successful one and all the students were filled with a sense of achievement and satisfaction on having made a solar lamp of their own. Even the scorching sun could not stop the students from learning as they went out to keep their panels to charge their battery. The event ended with happy faces delighted to see their self made lamps glowing. The school extends a heartful thanks to SoULS and IIT Bombay for taking this initiative of raising sensitization towards solar energy and providing our students a platform to learn and get involved in assembling of their self made solar lamps. We look forward to have more such learning opportunities in future as well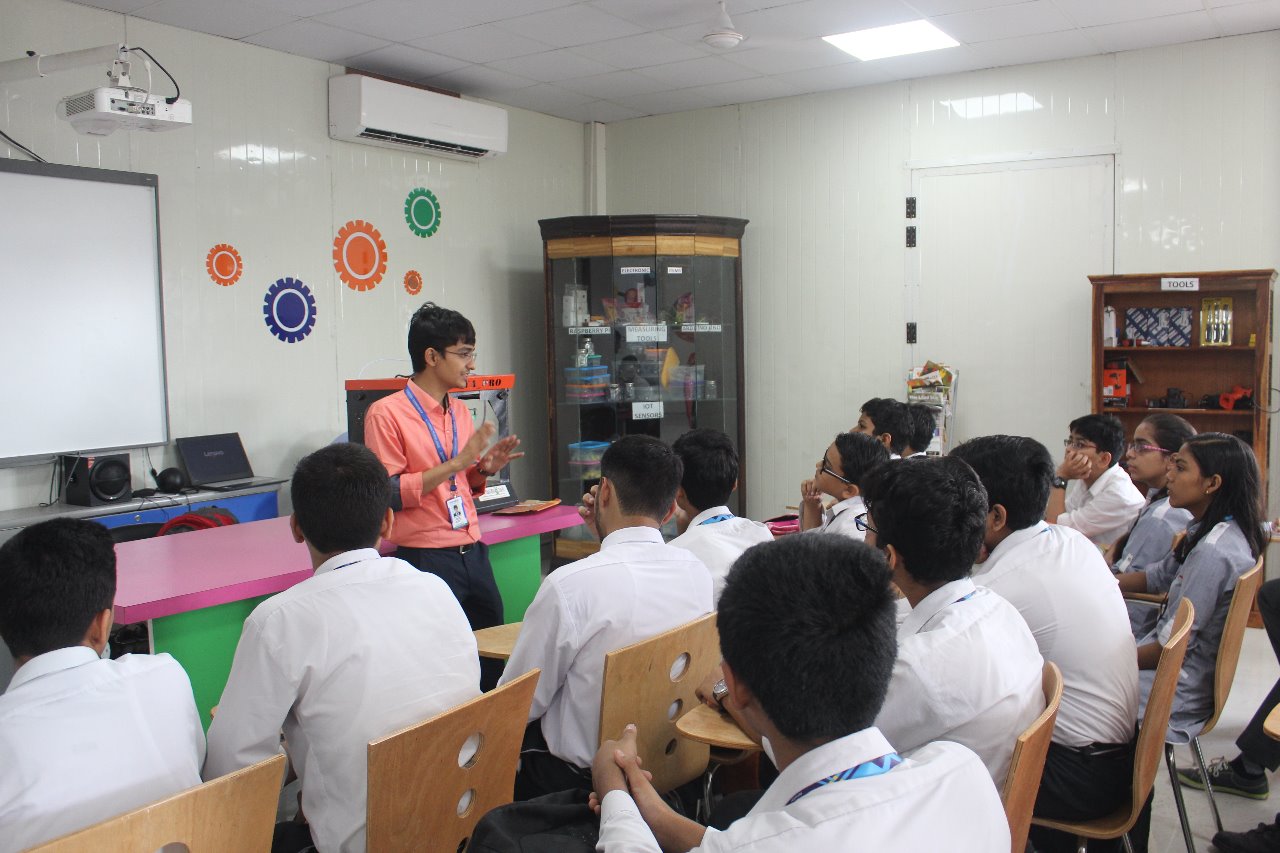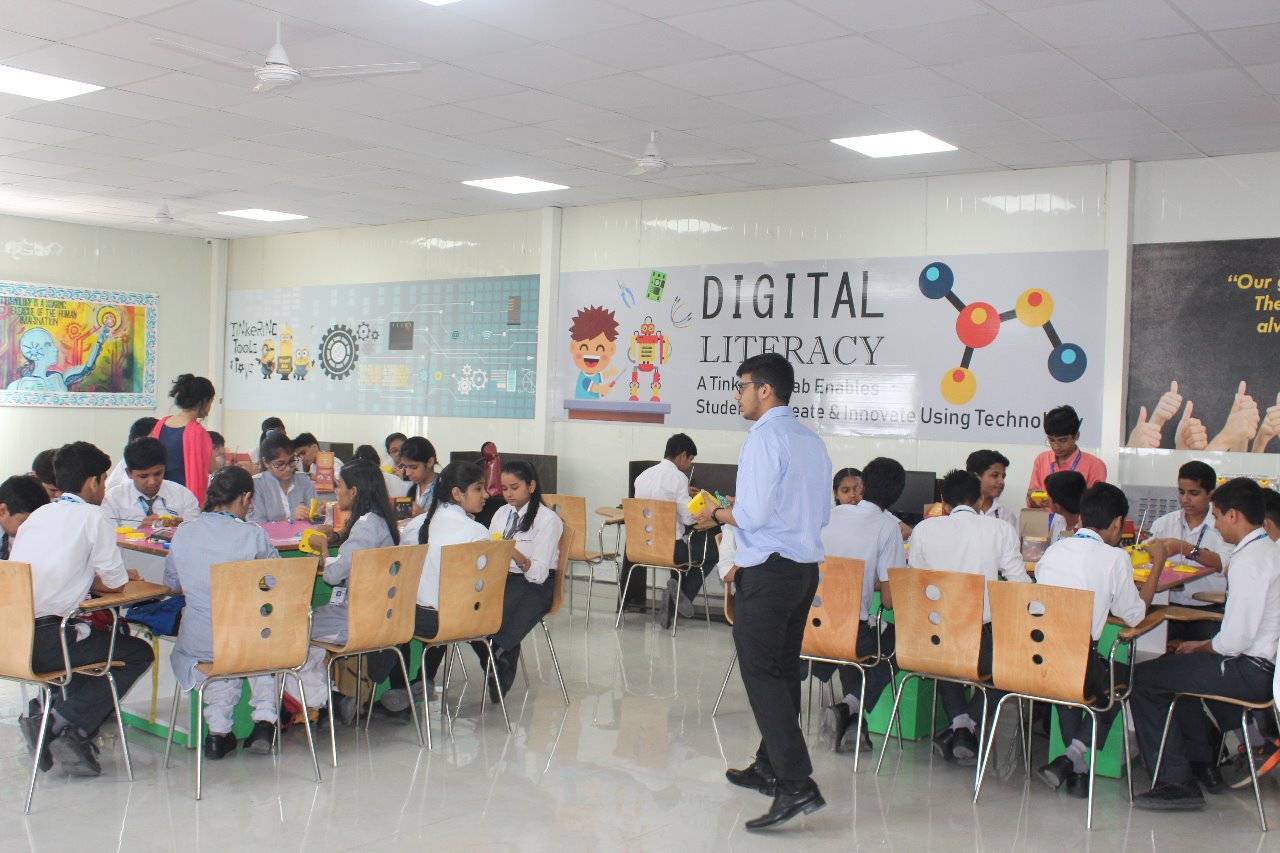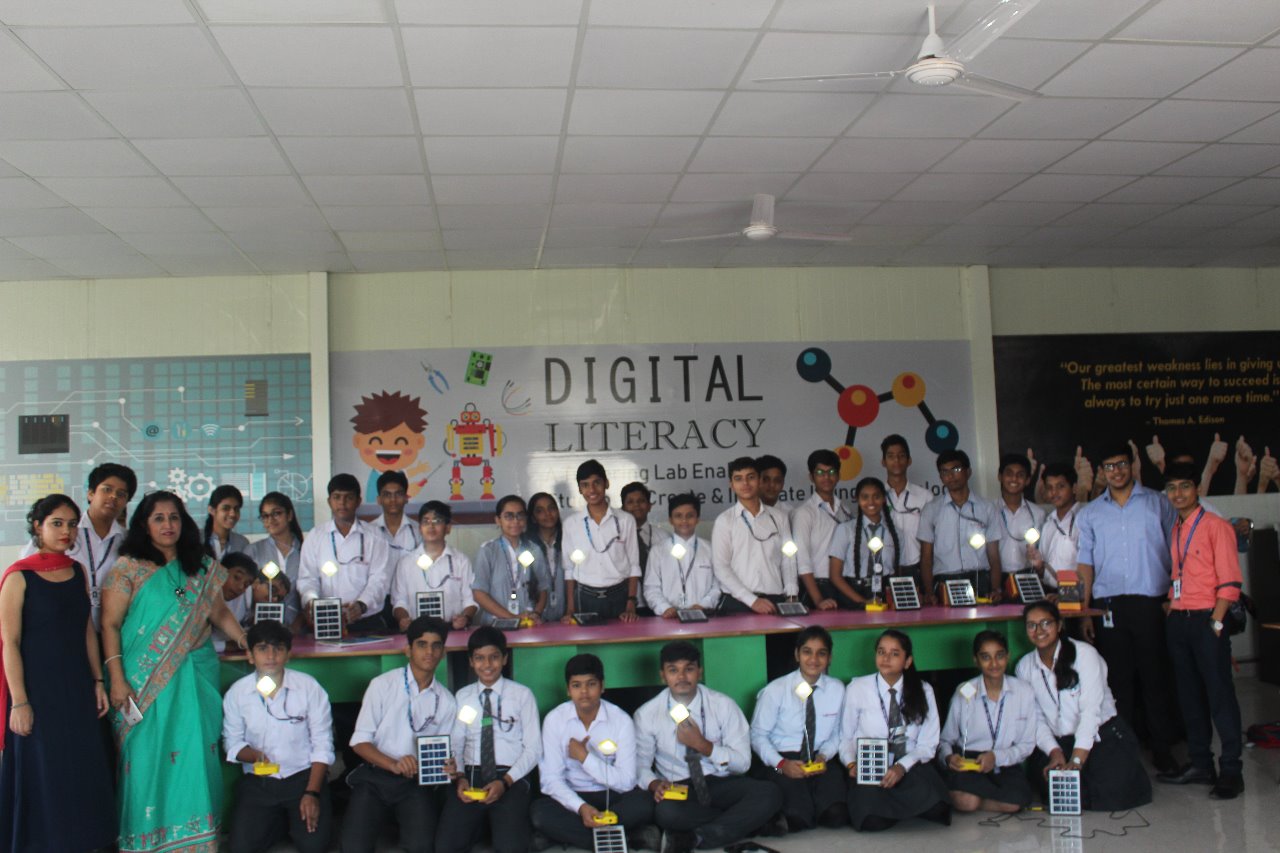 ---
WORKSHOP ON ASTRONOMY
The School organized a session on Astronomy on 20th September 2018 which aimed at sharing the knowledge and experience in the field of astronomy. The young astronomer Mr. Aryan Mishra shared his experiences of life which brought him to such a high profile level. He also talked about the challenges he faced and how he put his best to overcome those hurdles. He wanted to open the eyes of teens to the beautiful and amazing world of cosmos. He emphasized on the famous lines of Thomas Edison that "The greatest weakness lies in giving up.." He motivated the students to go for their passion as their career as that will give contentment. The workshop was highly motivating and instilled interest towards astronomy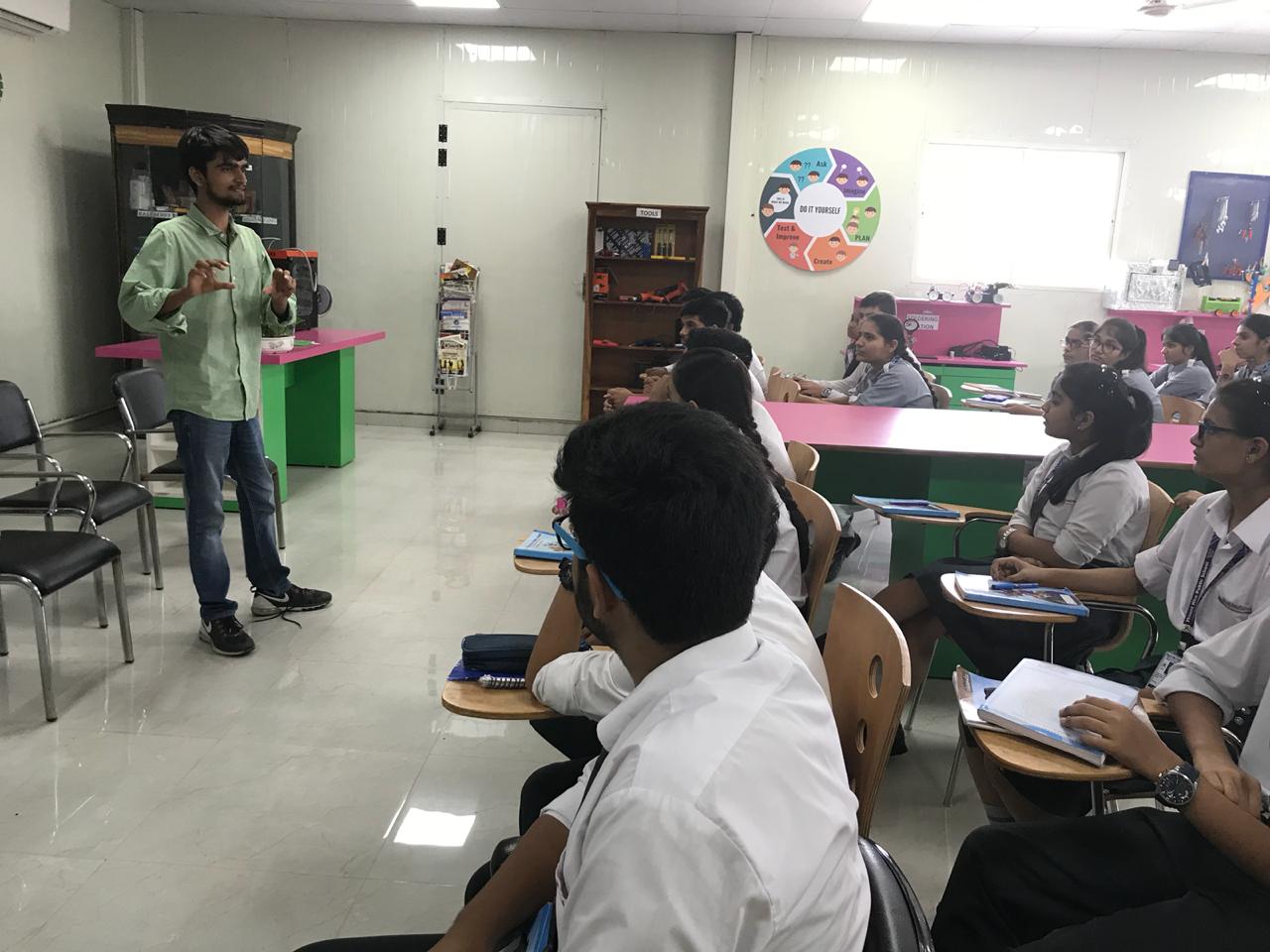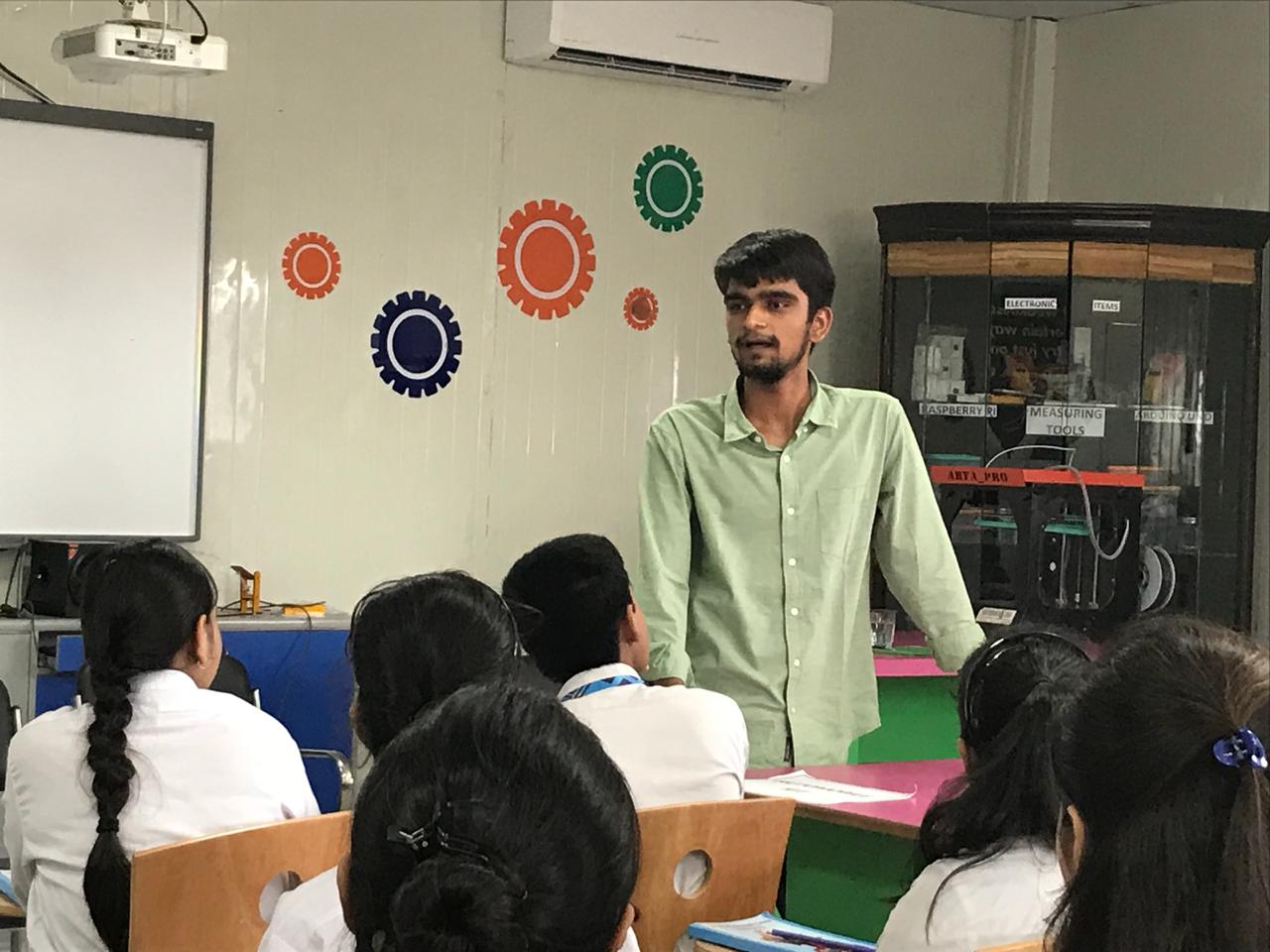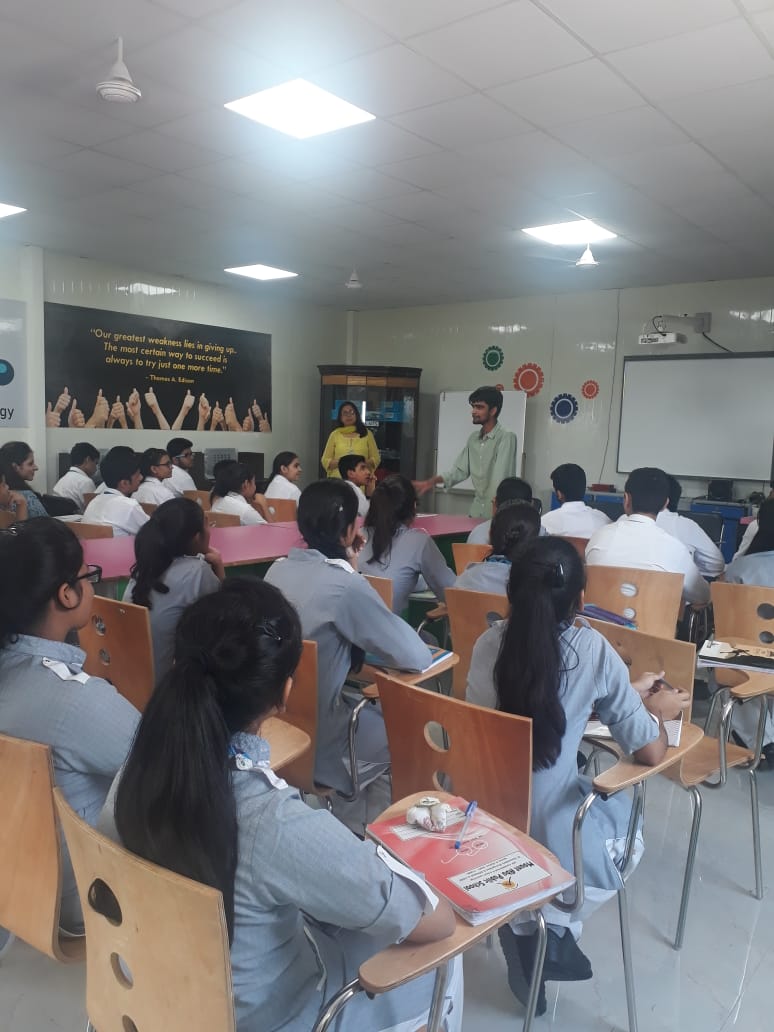 ---
How to Achieve Success
On 24th August 2018, Thursday, a workshop on "How to Achieve Success" was conducted by Ms. Anjali Sachdeva from 'Times of India' for classes VII and VIII. The workshop started with presentation of an anecdote of a young girl Lluchi Migushi who was very poor but had a great interest in writing poetry. She felt inferior due to the rich people but somehow managed and won first prize in poem writing. She told that students should be happy with the things they have and not to make their parents unhappy. She highlighted the need of making a timetable for managing time and being discipline which will lead to success. She laid stress on sacrificing as a major thing to be a successful person. The resource person had an interaction with students. The workshop ended on an optimistic note where, she asked the students to have faith in themselves and do their best.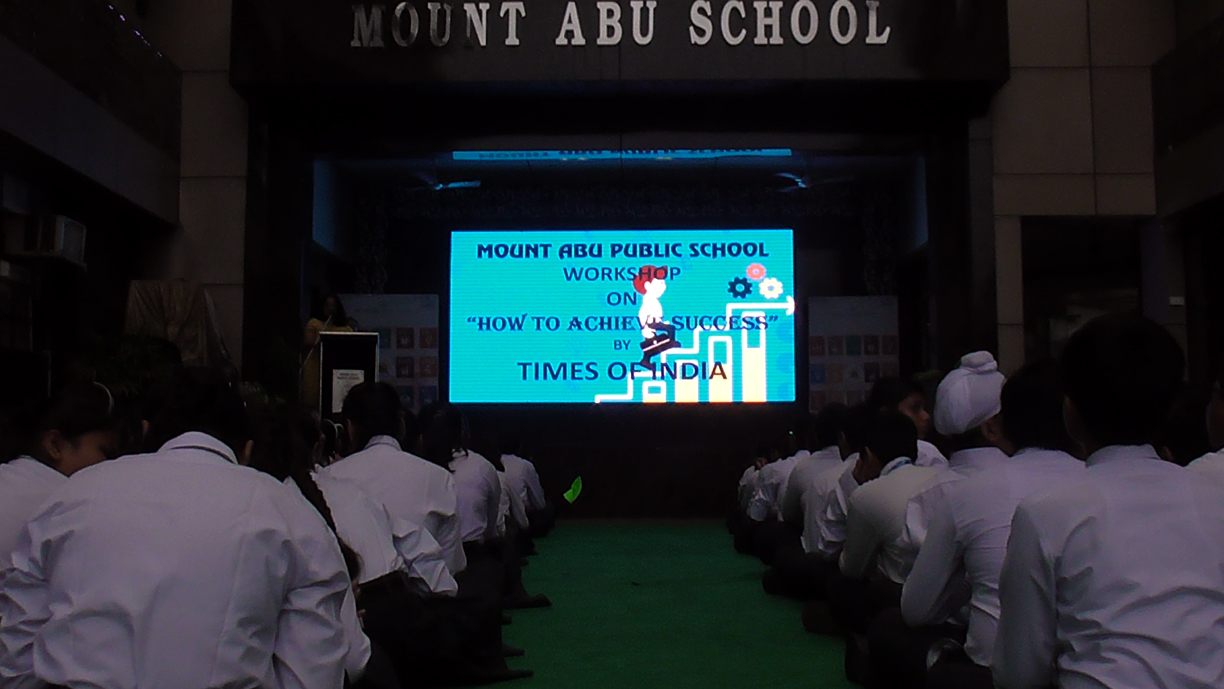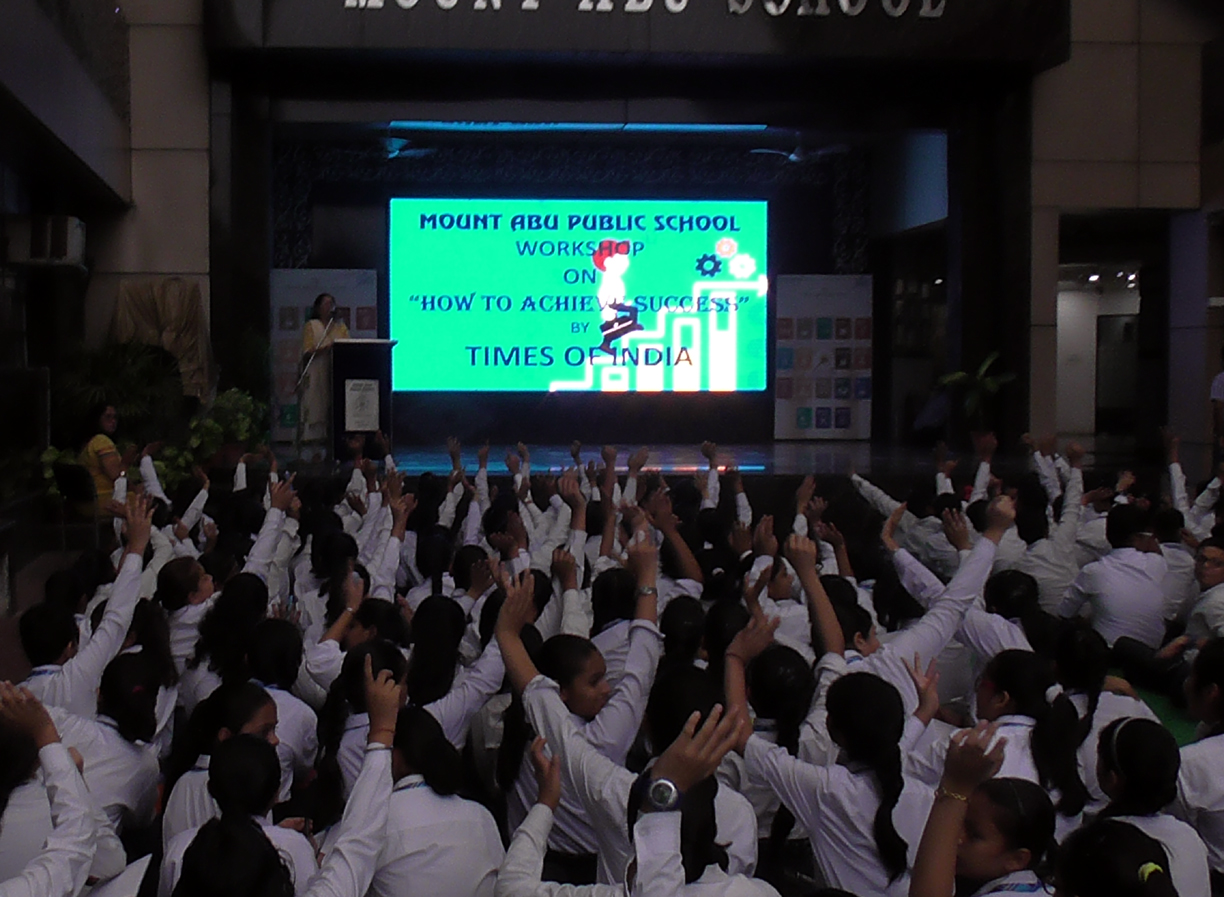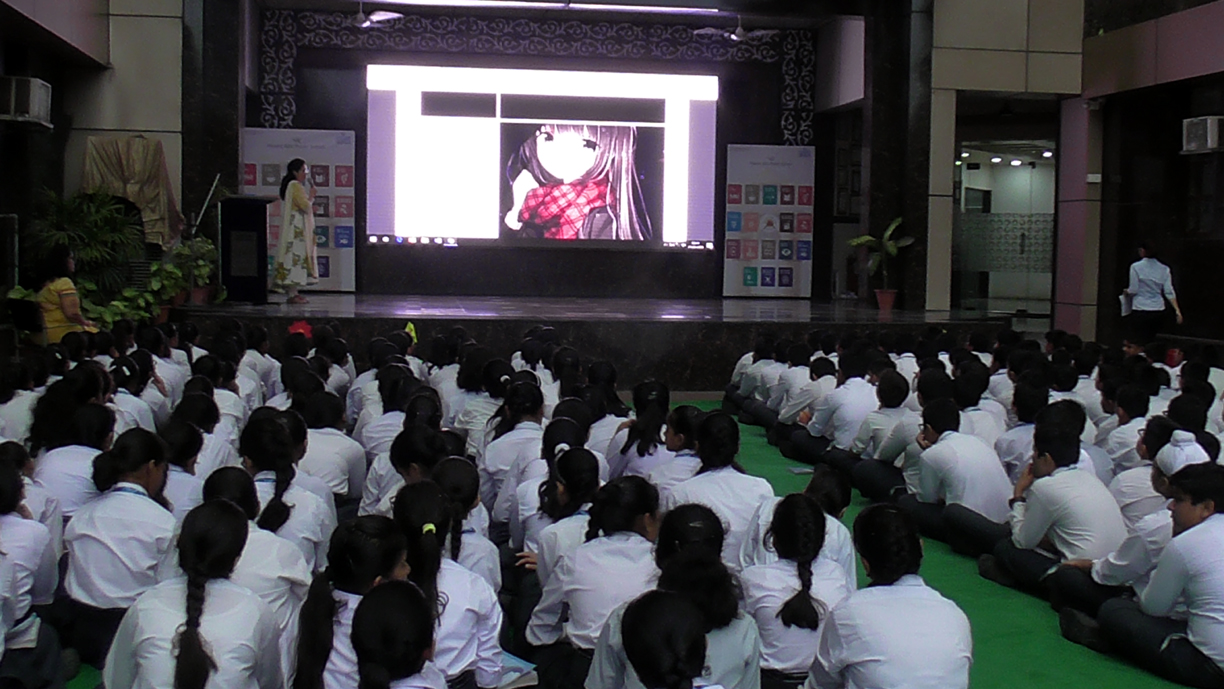 ---
Workshop on Menstrual Hygiene
The School organised a workshop for girls students of classes XI and XII on the topic "Menstrual Hygiene" on 21st August 2018. A renowned Gynecologist Dr. Ashima spoke in detail about the do's and don'ts of the personal hygiene to be maintained during this time. It was an interactive session where students enquired about certain myths related to menstruation which were taken satisfactorily by the doctor. The workshop ended with students discussing their personal personal problem with the doctor.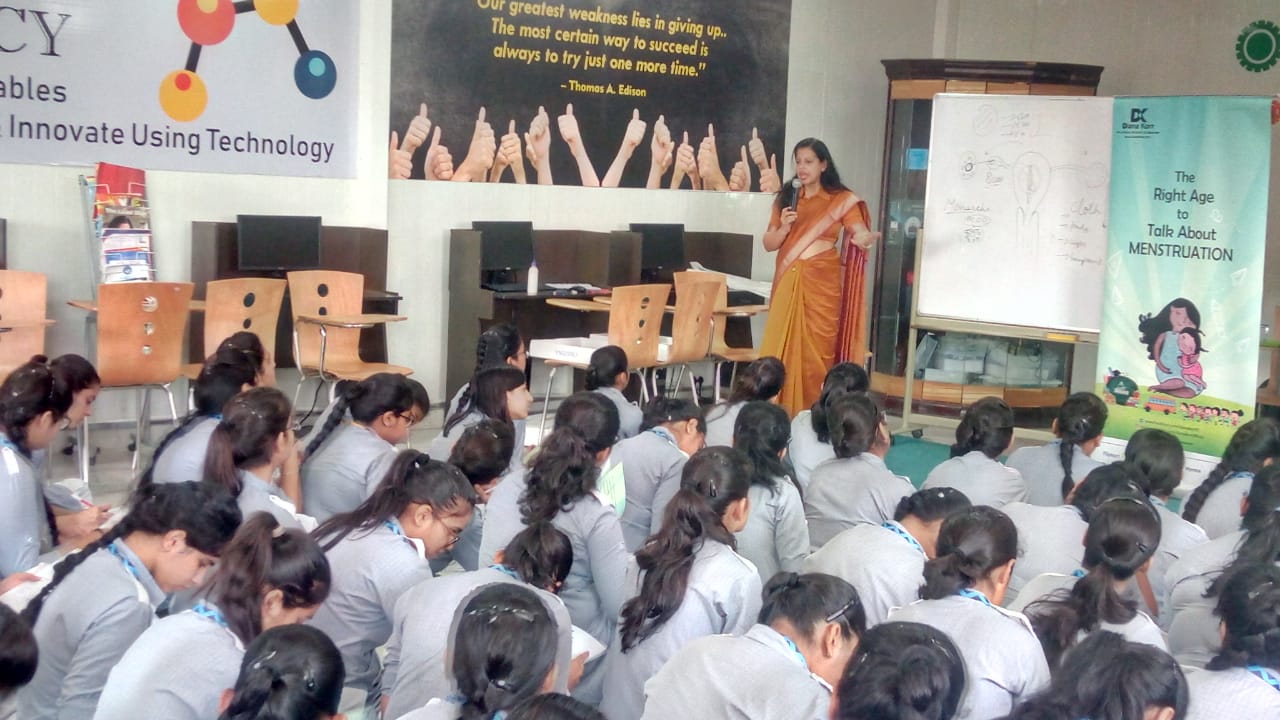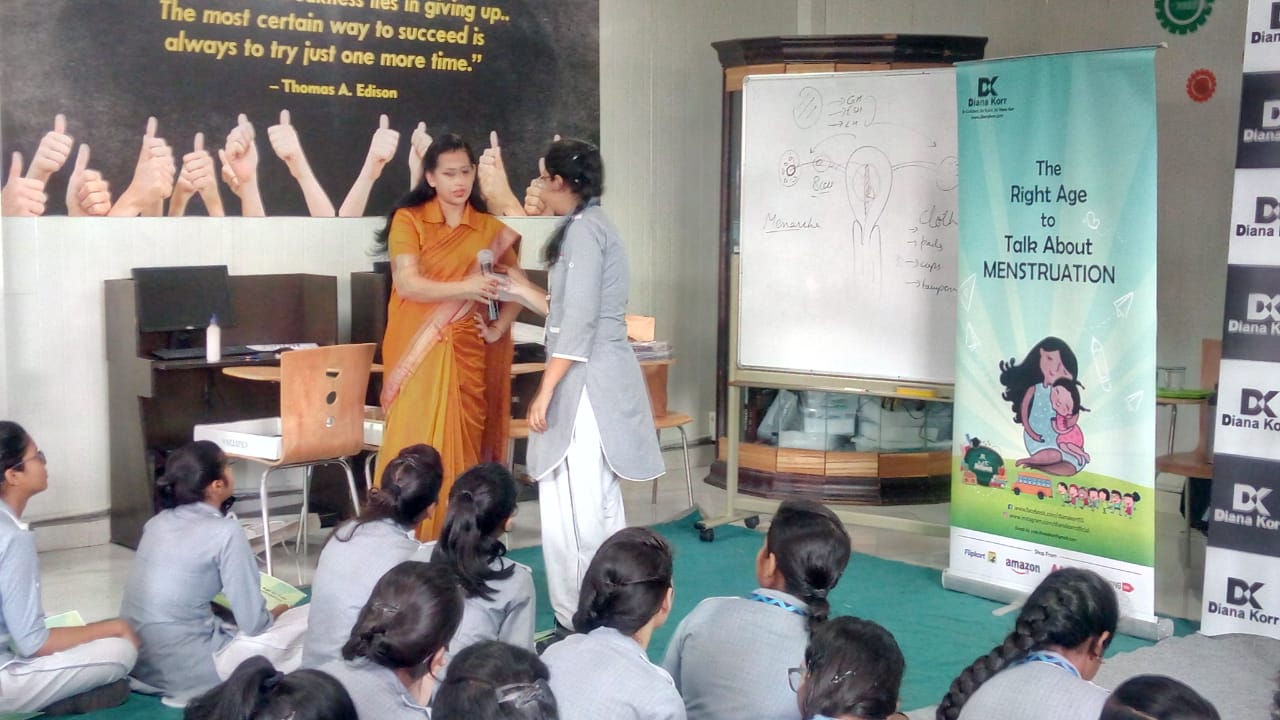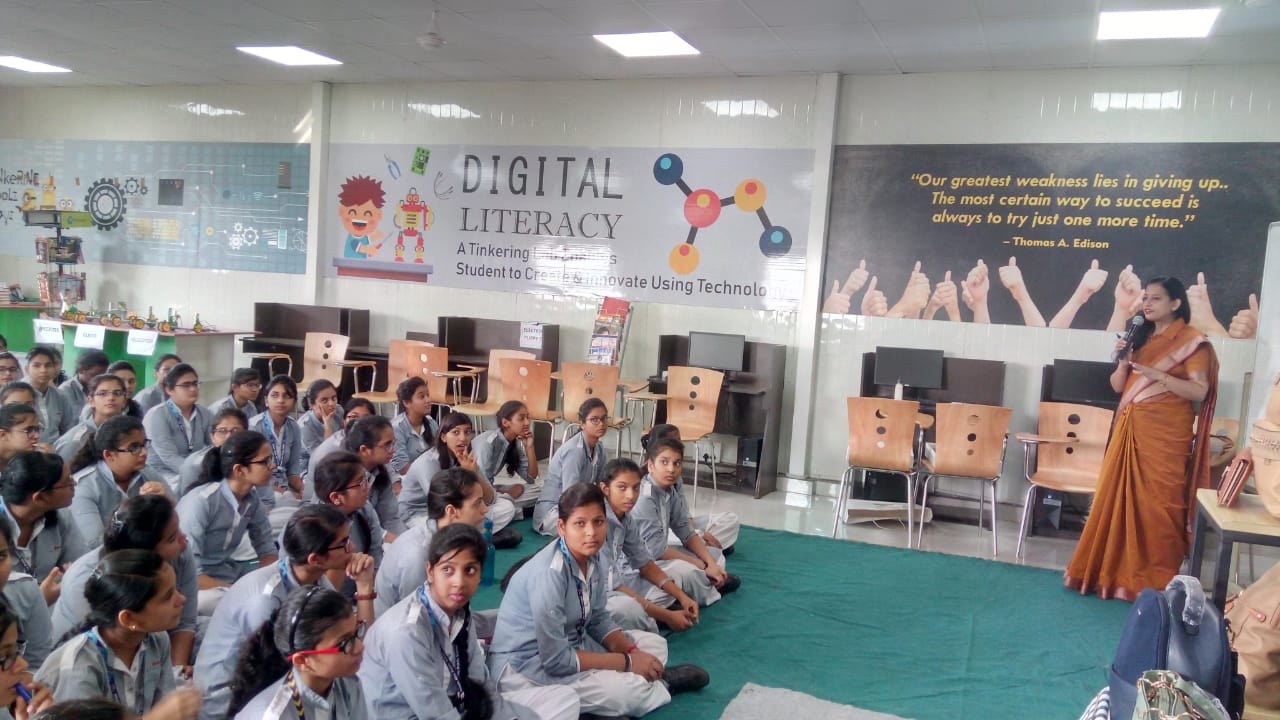 ---
WORKSHOP ON SAFETY MEASURES AWARENESS
"Prevention is better than cure". A workshop was conducted by TPDDL at Mount Abu Public School, which taught the value of preventing any mishappenings while "Flying Kite" on the upcoming event of Independence Day. The session was conducted by two resource person who addressed the students can remain safe. A presentation on safety measures was shown to the students which taught them basic safety measures like – not to fly kites near electrical wires; Not to keep down galleries, fences, roof tops or terrace borders and not to catch kites. The session was interactive as several questions were put up for the students, they answered them correctly and received many gifts in return. It helped the students to take keen interest. Hence forth, it helped the students to gain an insightful learning.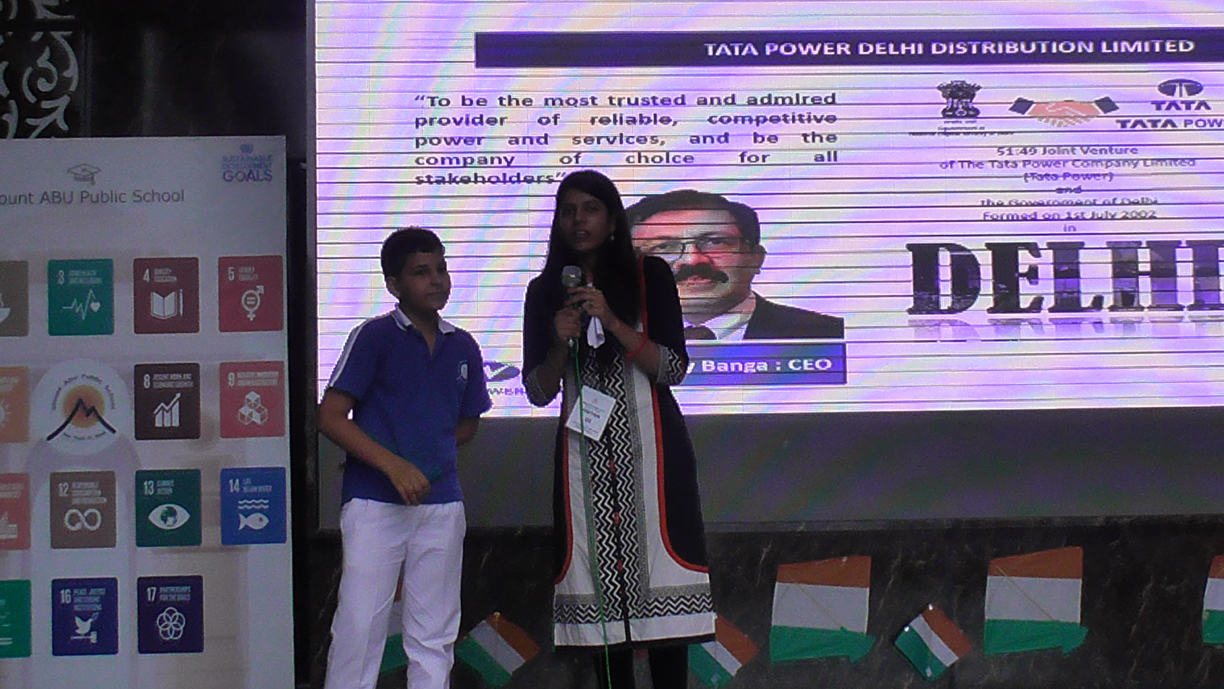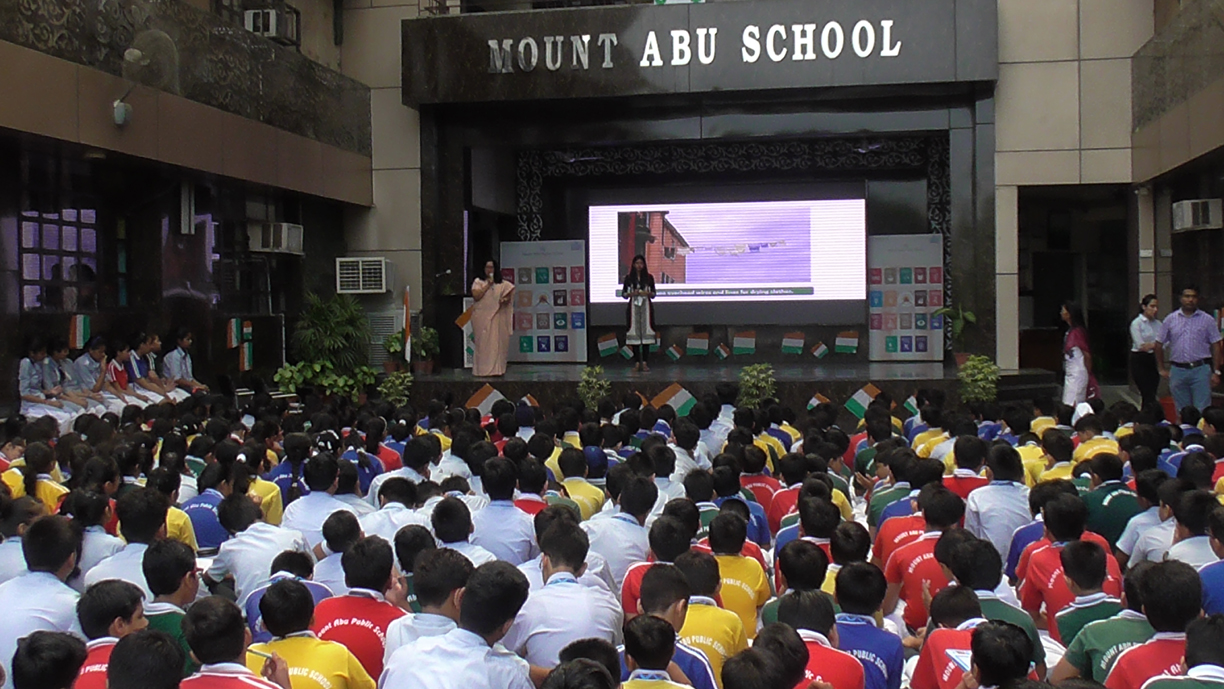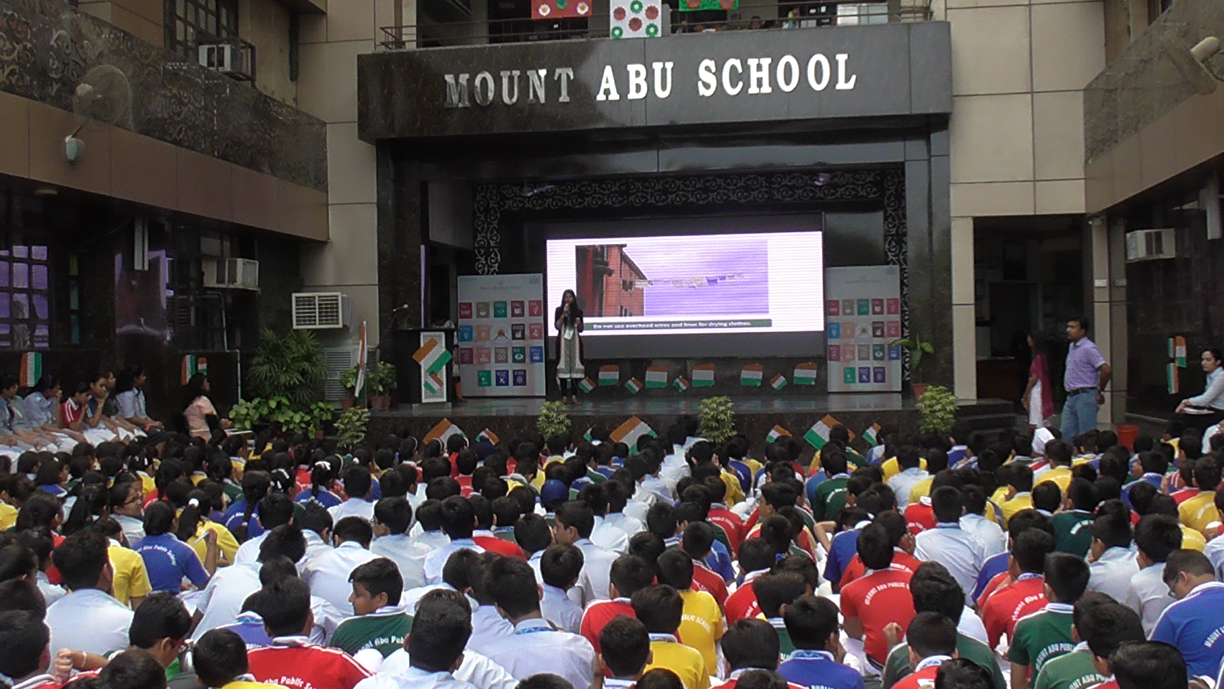 ---
MINECRAFT SESSION
The school organised Mine craft session for the students of classes 6 & 7 on 11th August '18. It was a wonderful session as the students learnt to design various games on their own. They learnt about different elements, blocks and controls. Students participated whole heartily and enjoyed the session .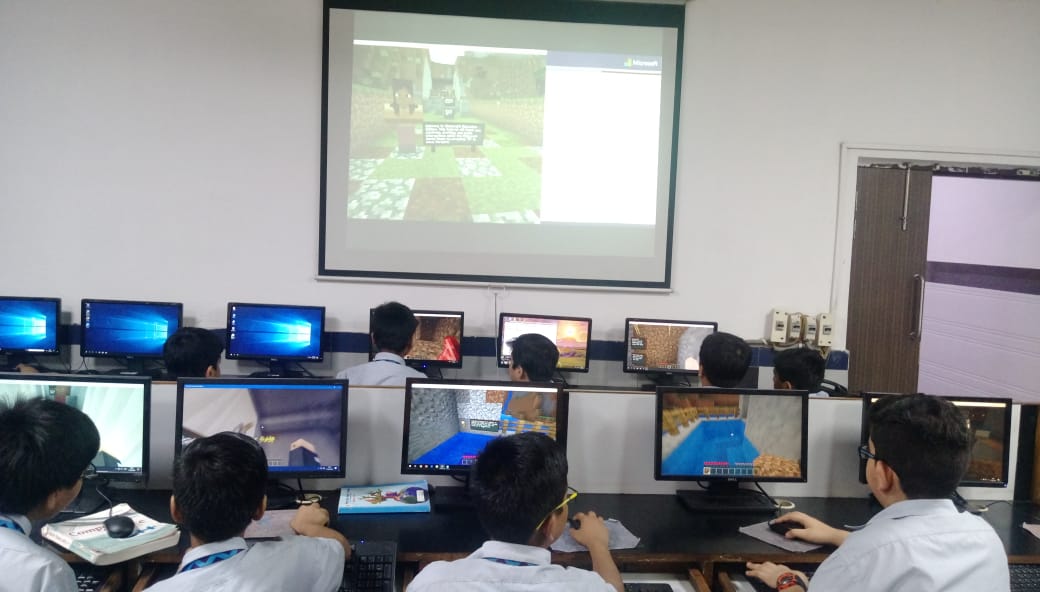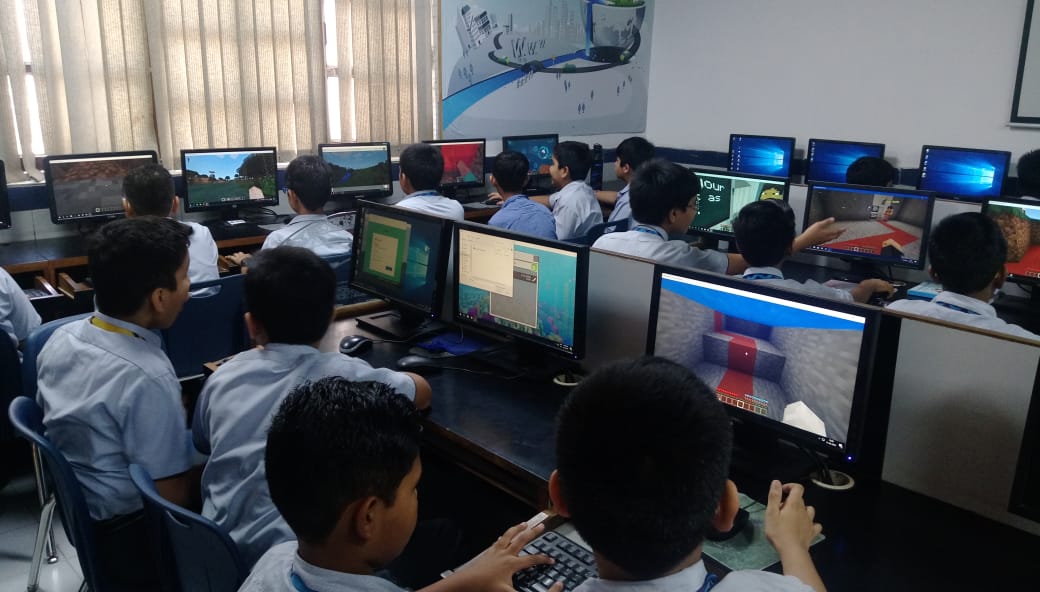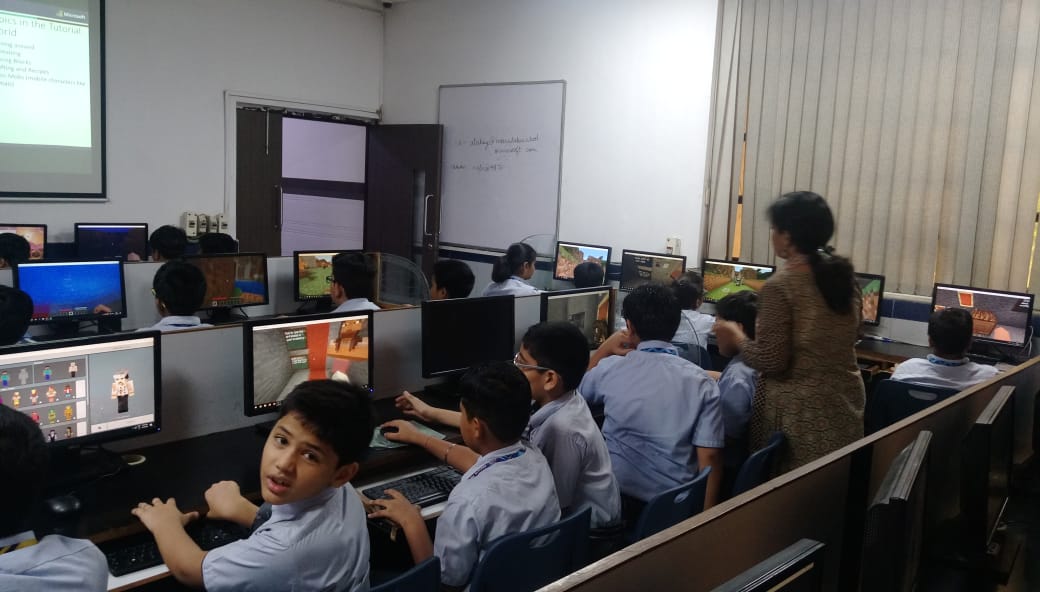 ---
Career Counseling Session
A Career Counseling Session on LAW AS A CAREER was organised for students of Class XII Commerce and Humanities stream. Mr. Karan Mishra, Regional Head Delhi NCR from CLAT possible briefed students about the preparation strategies to crack CLAT , placements by National Law University.It was an enlightening session for students which ended with one to one discussion of the students with the guest speaker.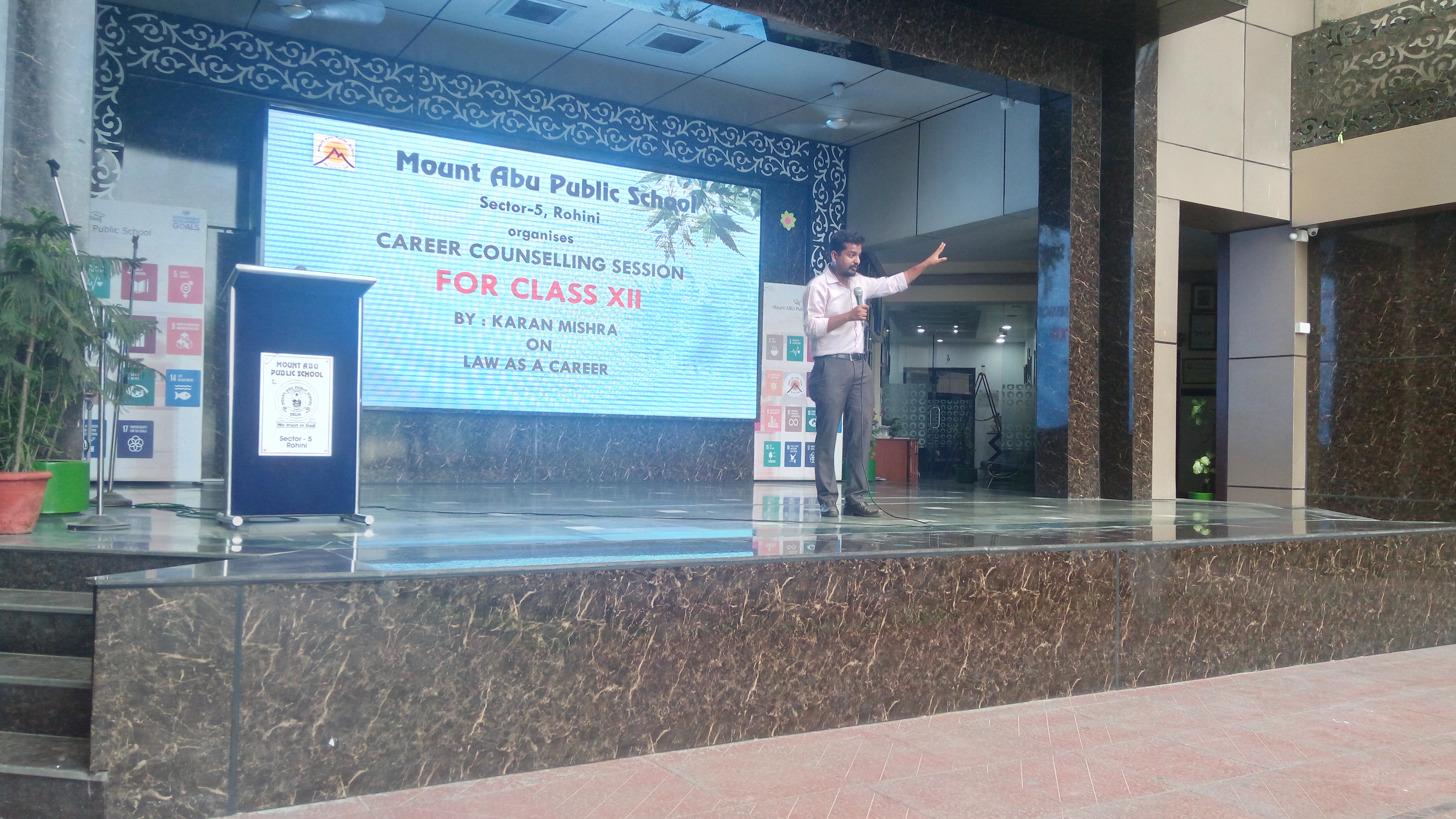 ---
Career Workshop
A Career Workshop was organised for Class XII Science Stream for Merchant Navy as a career.Mr.S.P.S Oberoi, Consultant -HR conducted the workshop. Students gathered information regarding Merchant Navy as a rewarding career.The resource person took individual queries of interested students.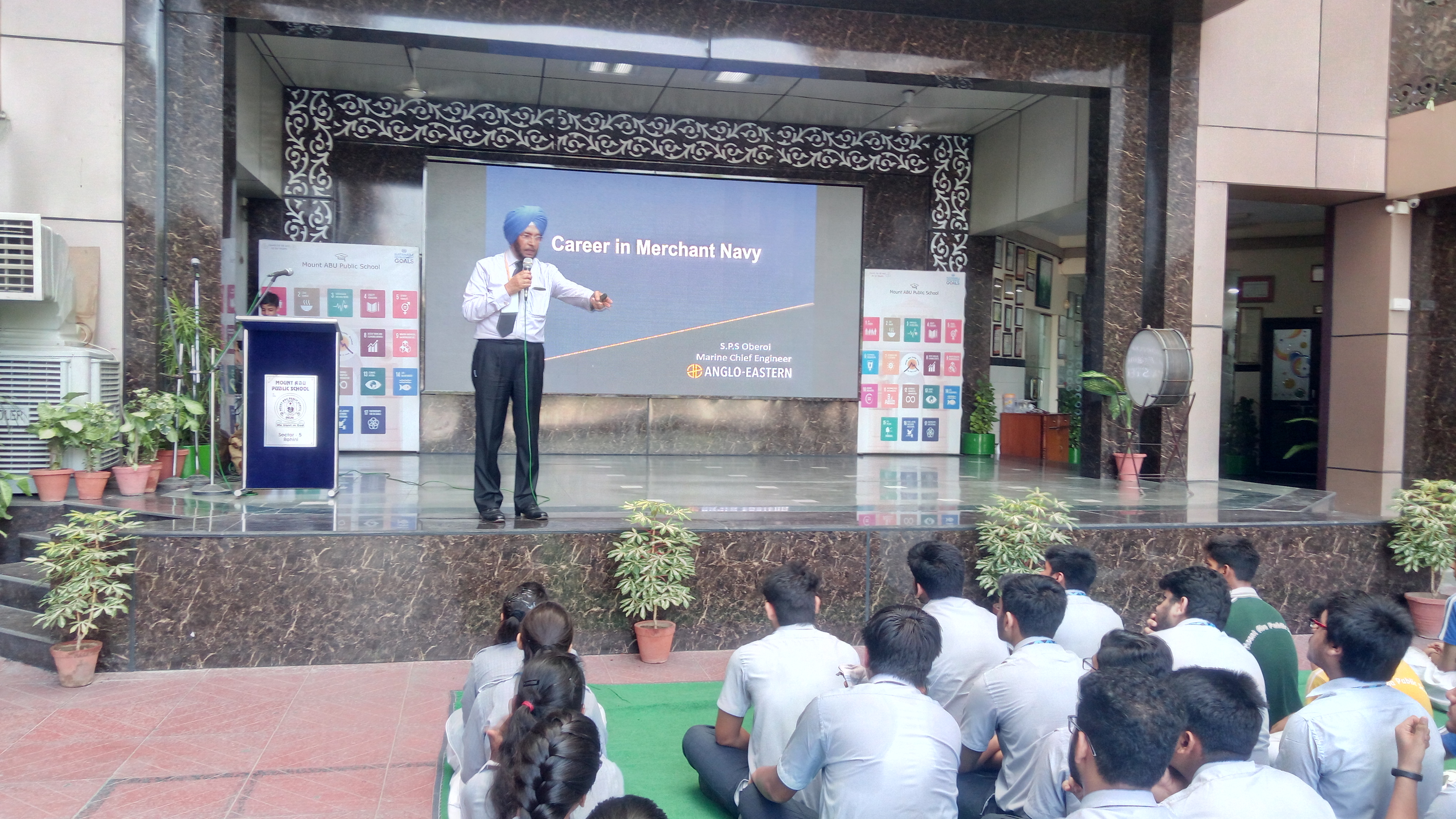 ---
WORKSHOP ON BEAT THE PLASTIC
The School conducted a workshop on Beat The Plastic, organized by KSHITTI ORGANIZATION – The Earth And Environment. Dr. Neha Mishra addressed the students about the harmful effects of plastic. She also discussed various alternatives. For example – use of glass bowls instead of plastic bowls, increase the use of earthen pots, more usage of cloth bags. Various activities were also conducted by her team members such as Paper bag designing, students were encouraged to make flower pot and pen stand, they even planted a sapling. It was overall an enriching experience for the students and teachers.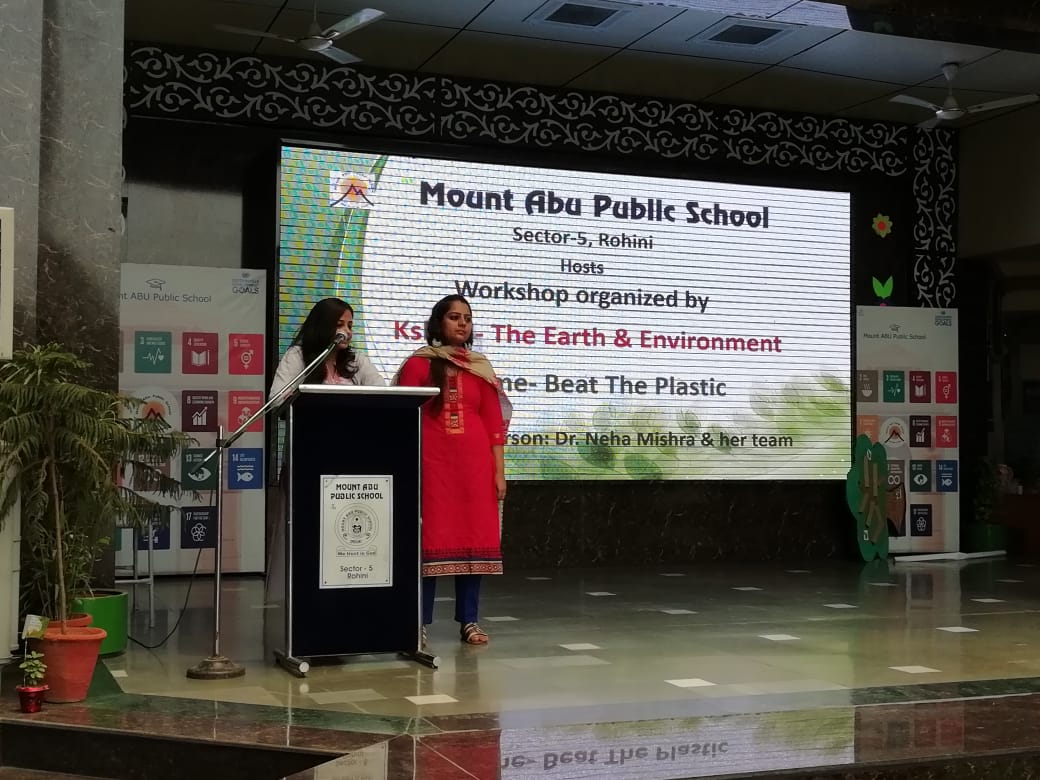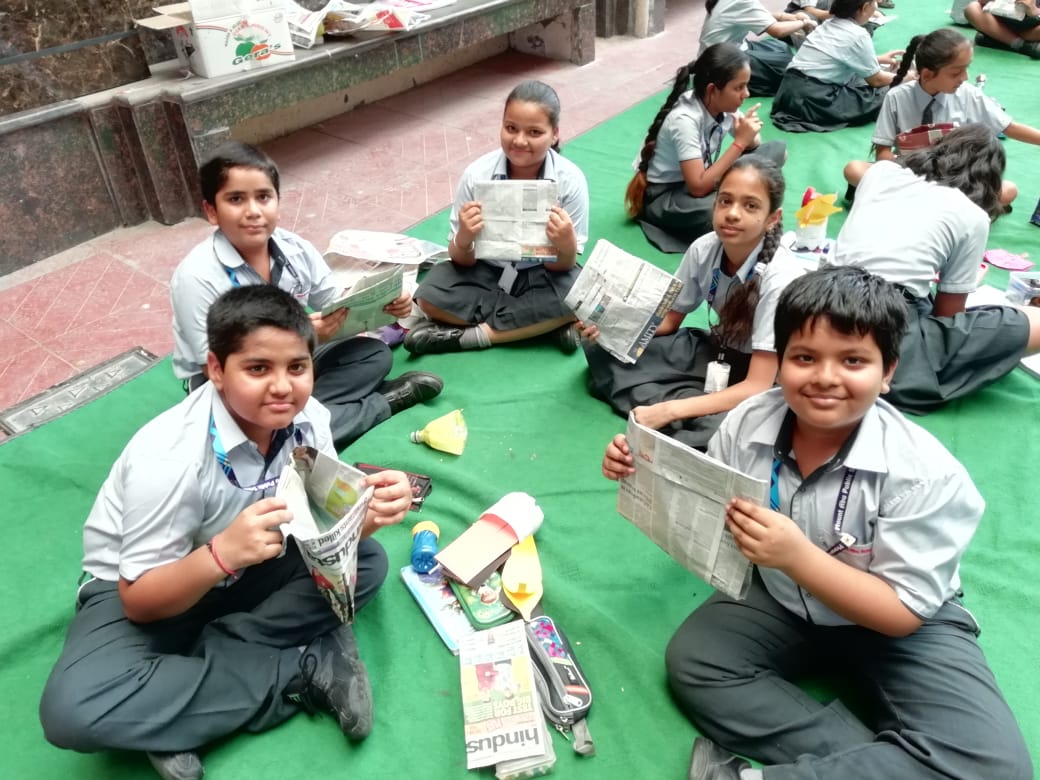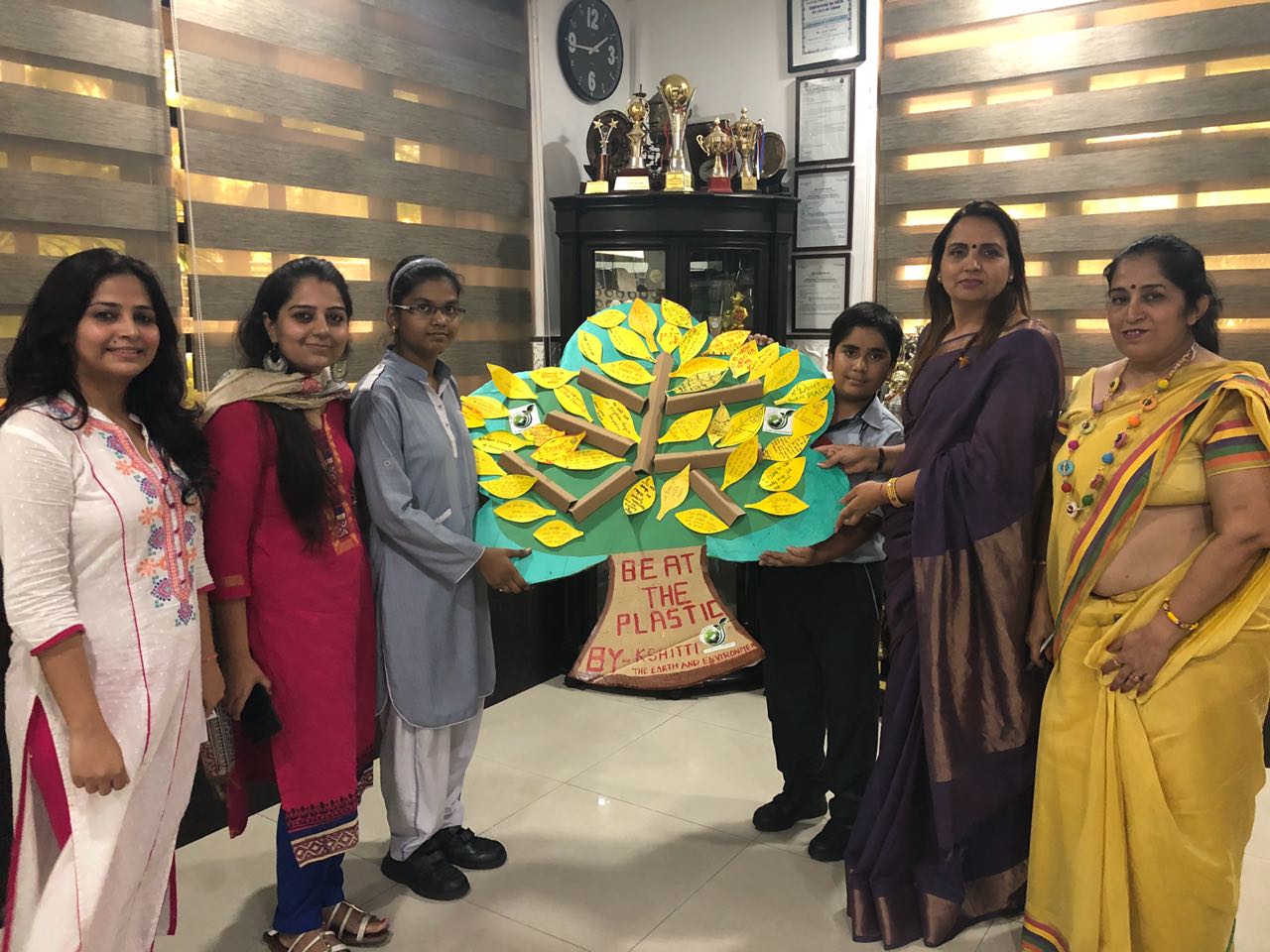 ---
Dance Workshop
Dance is a conversation between the body and the soul.Keeping this essence alive the western dance workshop was conducted by The Hindustan Times on 7 July,18 for the children of classes ll and lll. The children learnt various western dance forms and grooved their bodies on Hip hop beats. It was indeed a cheerful experience for the little Mapians as they danced not only with their feet but also with hearts.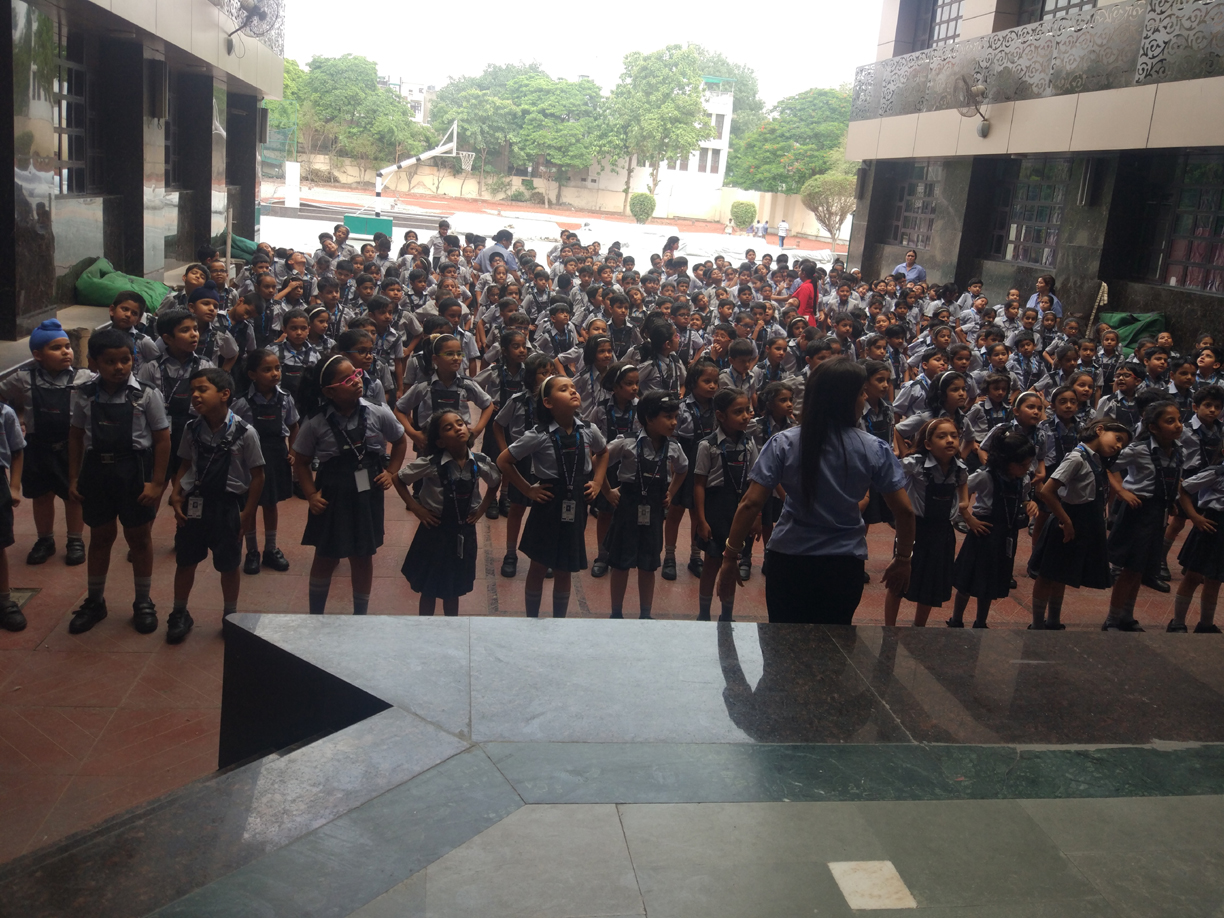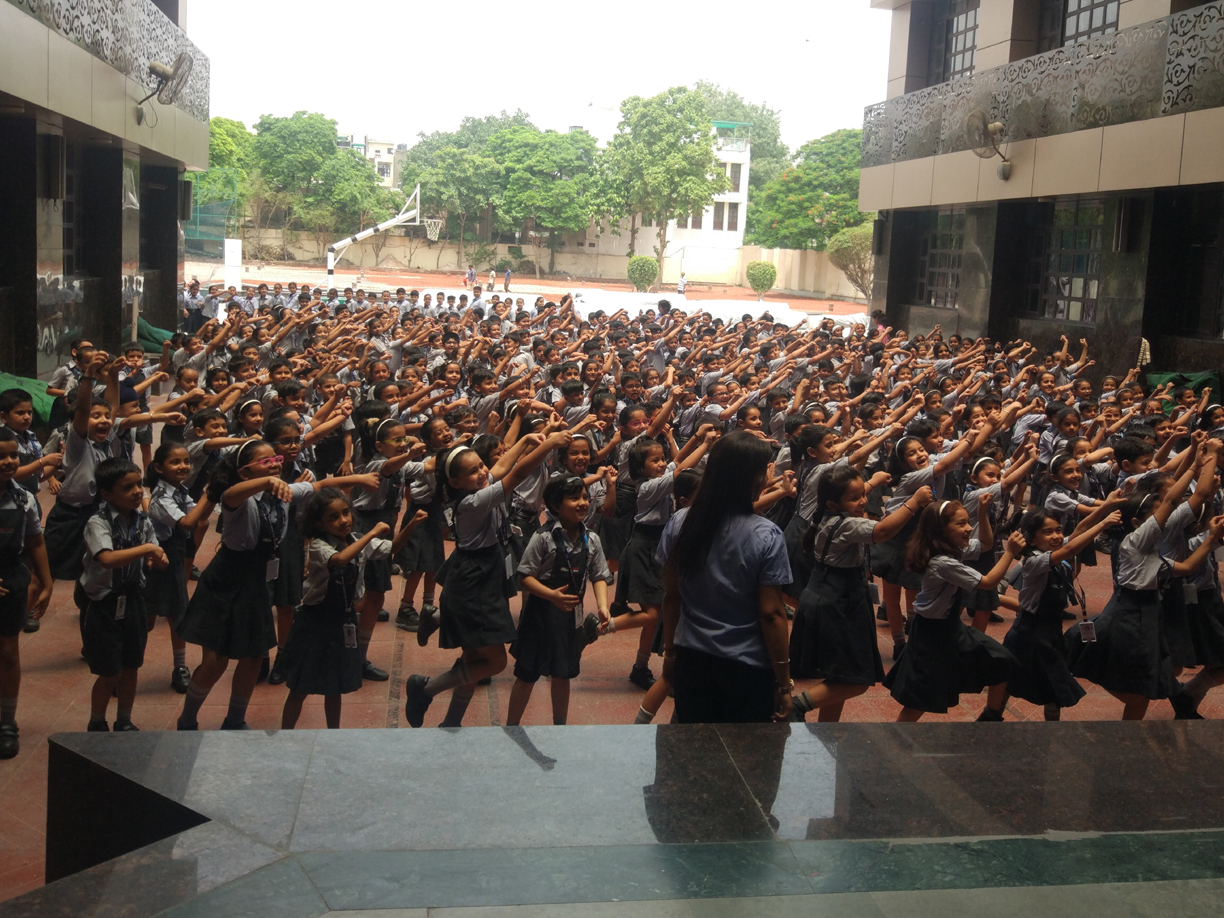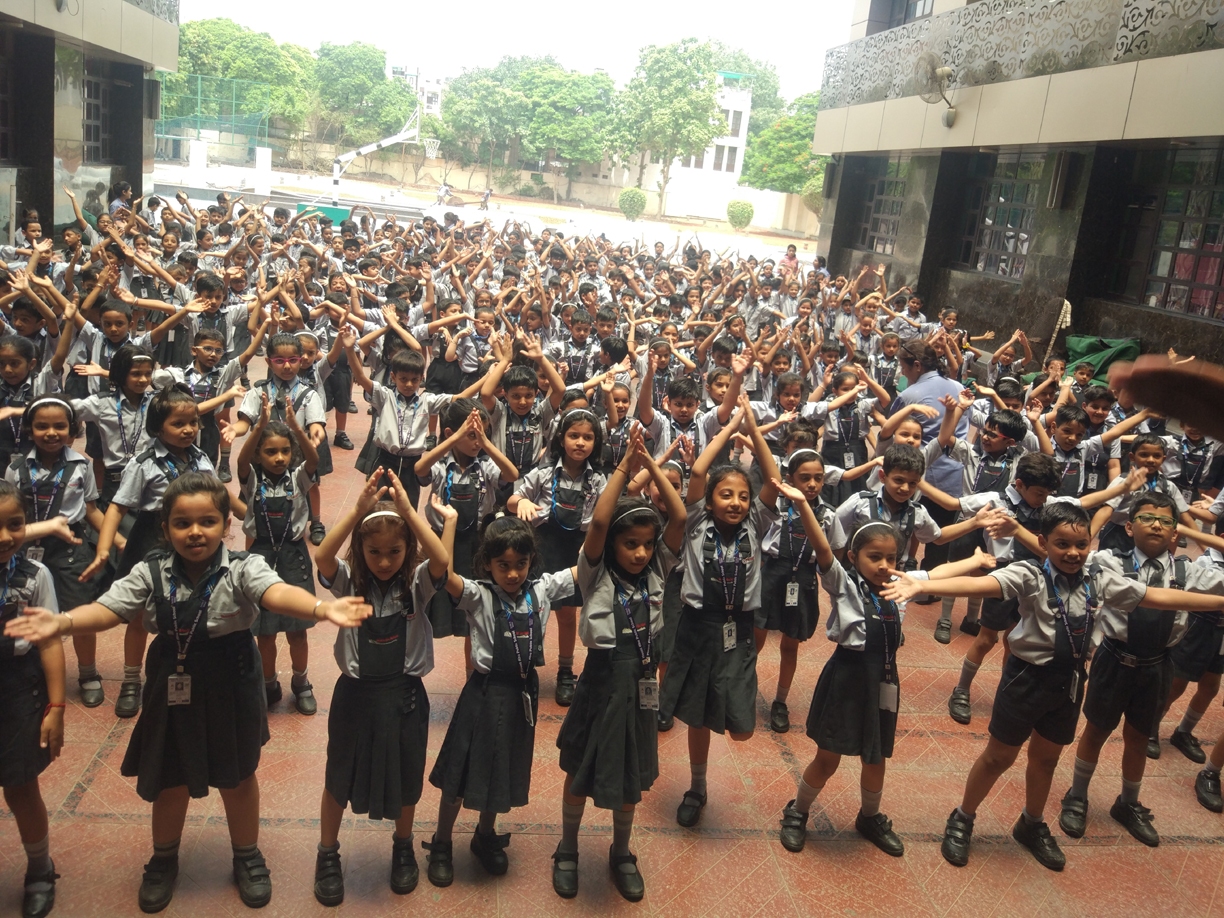 ---
Workshop on Sanitary Napkin Vending Machine
To sensitize the importance of cleanliness, waste management . sanitation , hygiene and healthy practice among children, MAPS organised a workshop on Sanitary napkin vending machine on 5th July ,2018 in co-ordination with Elan organisation for girls of class 6th to 12th where they were guided about the way to operate the sanitary napkin vending machine,about the mechanism with which it works and the things to be taken care of while operating the machinery .Through this workshop students were guided not only to keep themselves healthy but also make the surroundings clean .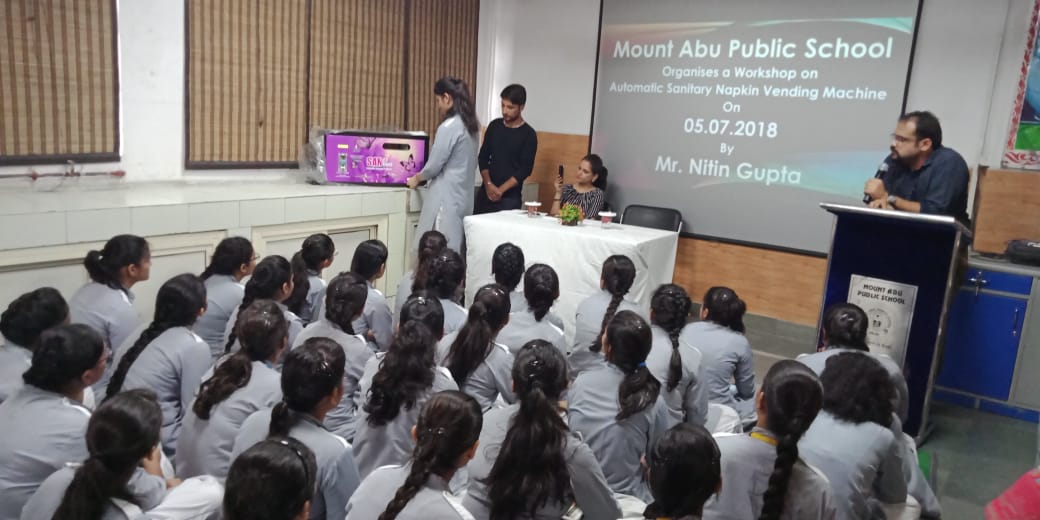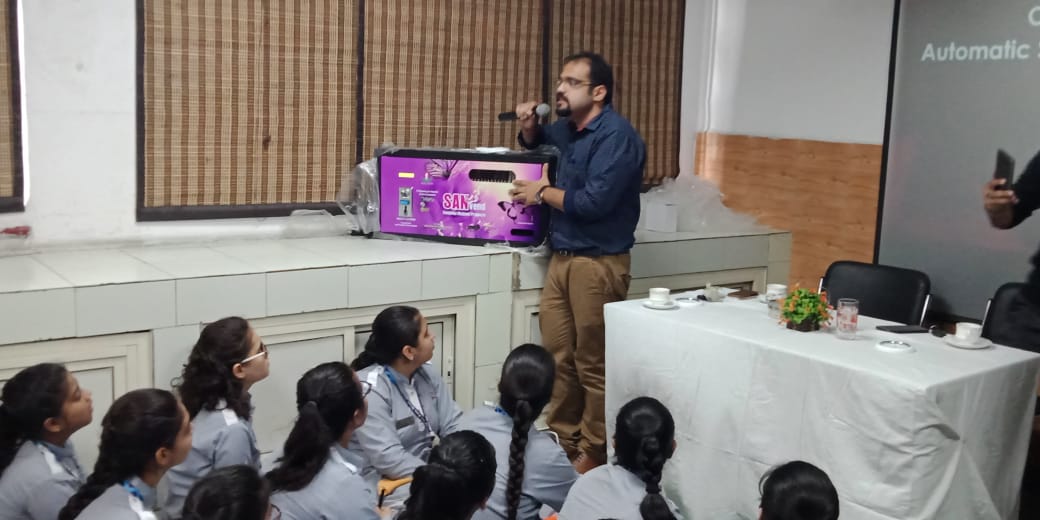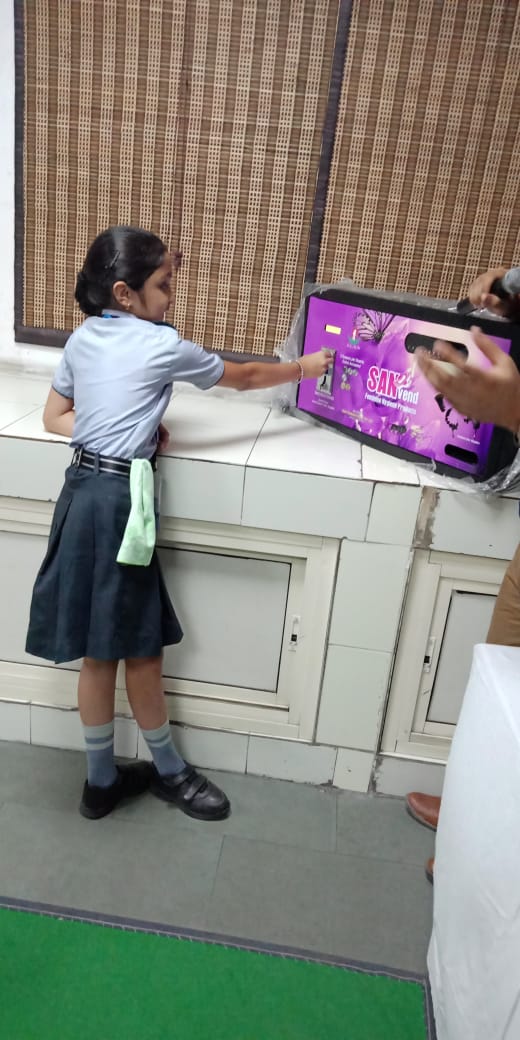 ---
Edvour Space Program
On 3rd July 2018 a workshop by Edvour Space was conducted for a visit to Space Centre for the students of classes VI to VIII. The workshop provided a program guide on an educational and cultural tour to USA for students. It is an opportunity for the young talented and budding students to work together, gain and share knowledge, get a first hand experience in world's best possible facilities under supervision of eminent scientists.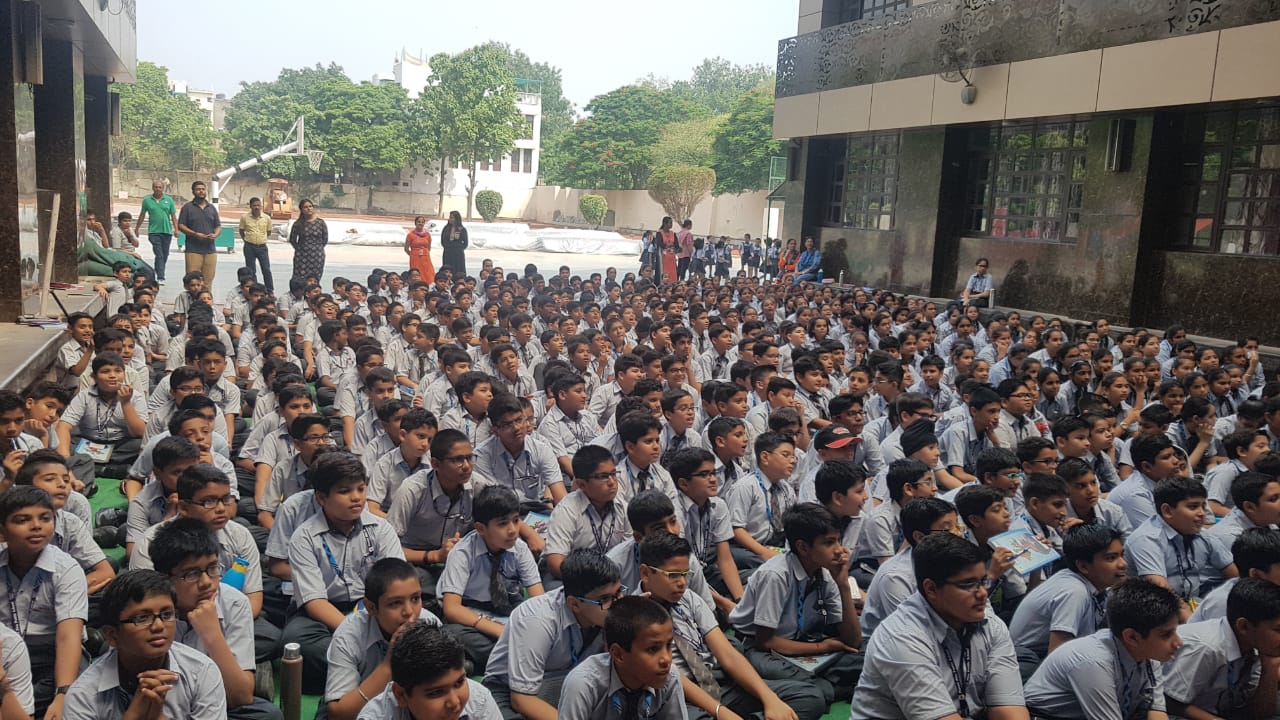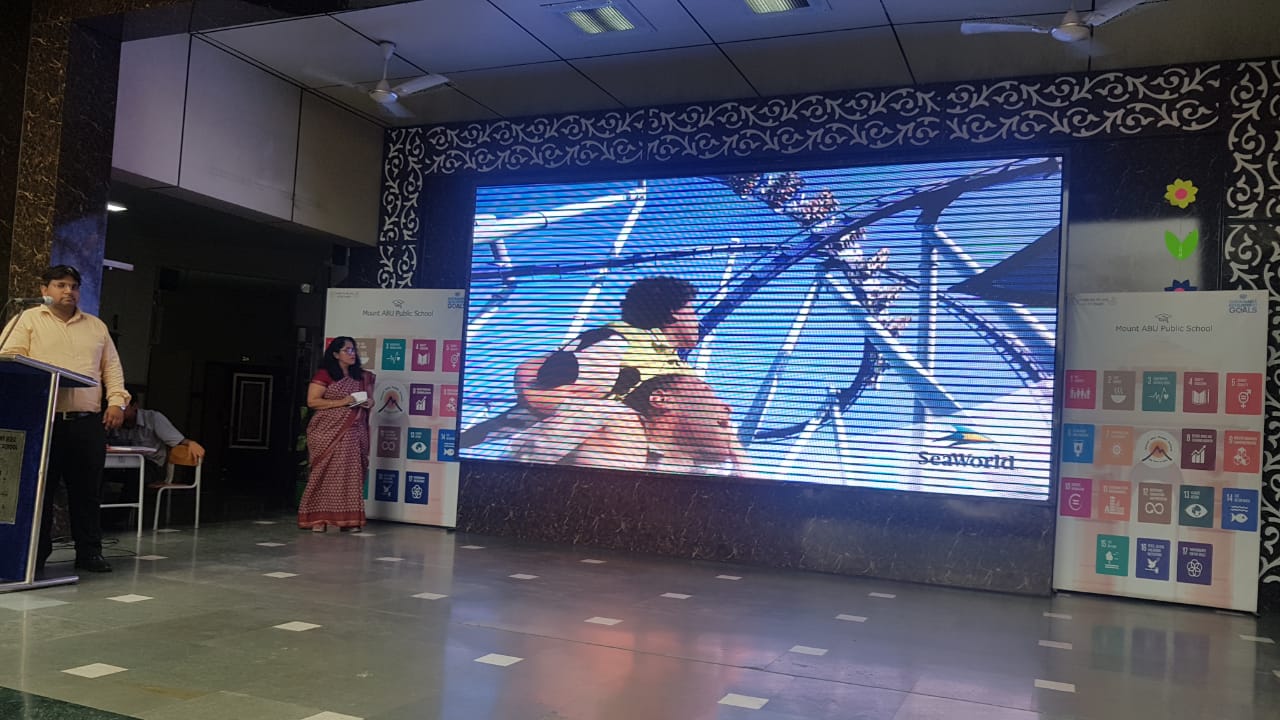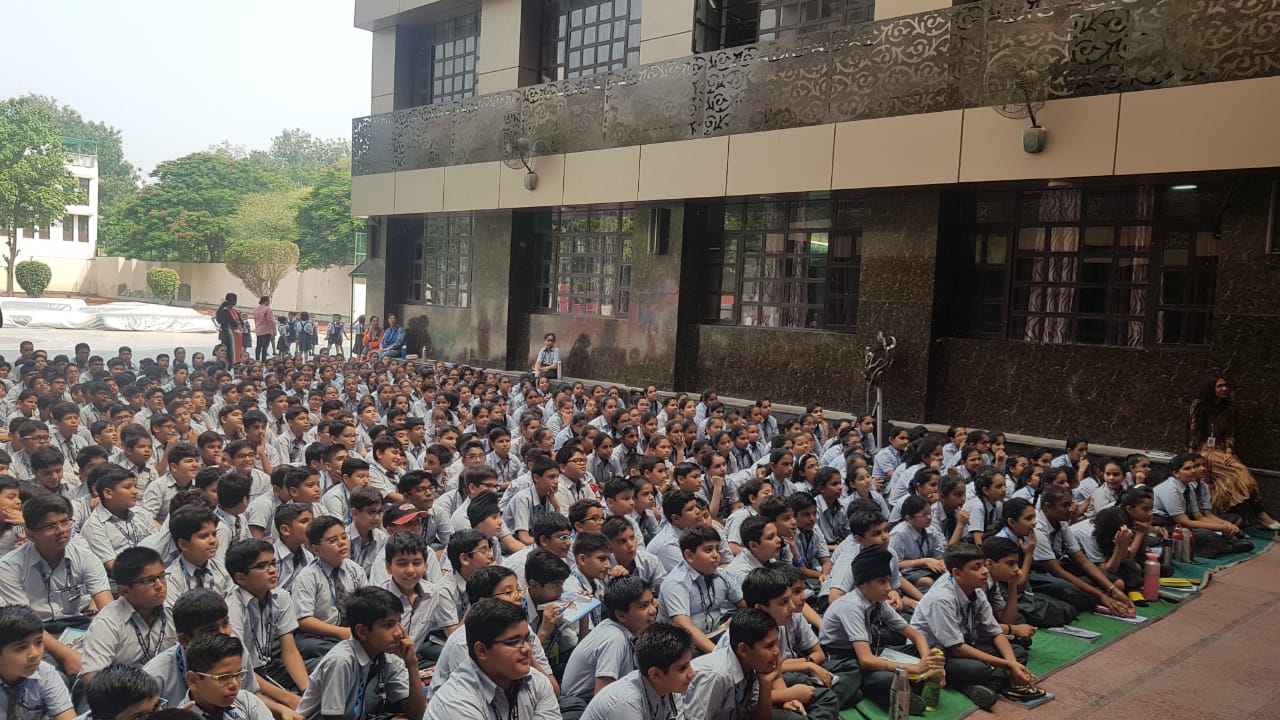 ---
LECTURE ON WATER CONSERVATION
The School organized a lecture on WATER CONSERVATION for class IX by Sh. Dinesh Kumar Pandey, Advocate, DLSA (North). The resource person generated awareness on the prime issue, water conservation which has become the need of the hour. The young students were sensitized to take initiative and contribute as saviors of the environment. The future stakeholders, the students also assured to work for the cause by taking conservative steps and inspiring others to follow.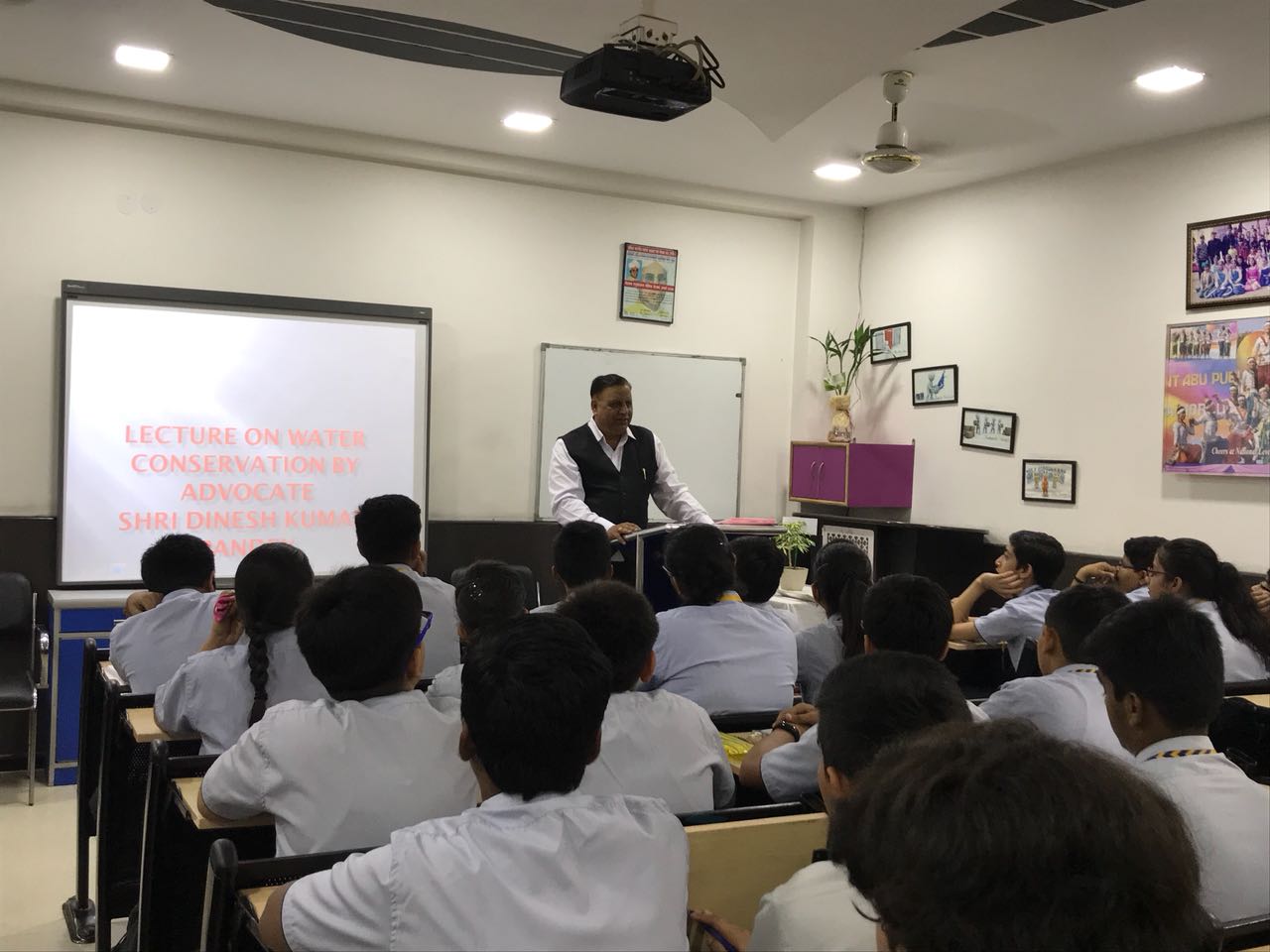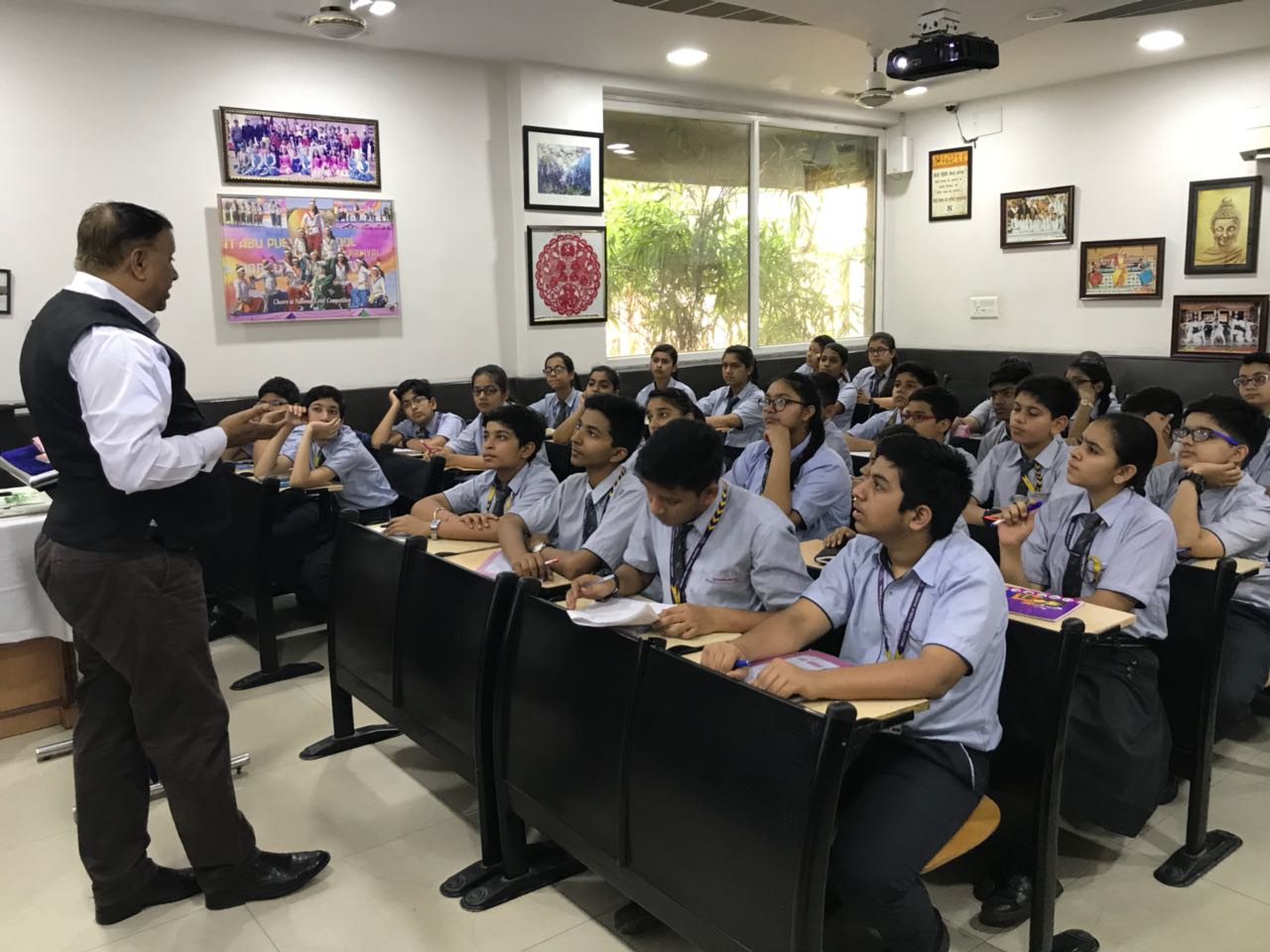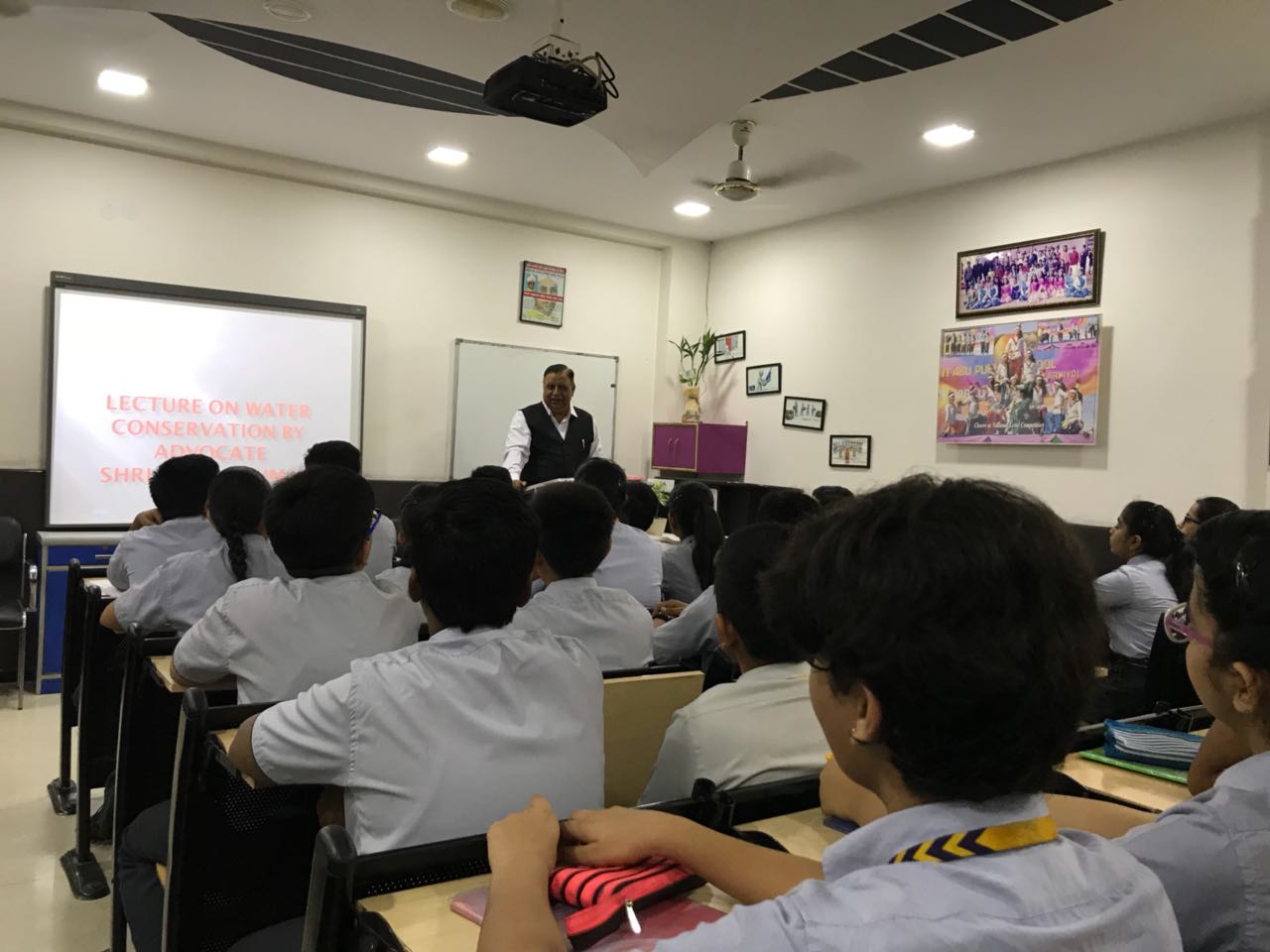 ---
LECTURE ON CHILD SEXUAL ABUSE
The School organized a lecture on CHILD SEXUAL ABUSE, an issue of prime concern by Mr. Dhirendra Rana, Secretary, DLSA(North) to raise awareness and sensitize the students on the growing existence of child sexual abuse. The resource person briefed students of class X on how trauma effects the cognitive and behavioural pattern of the victim and could result in lack of trust, despair, sense of helplessness and deep feeling of guilt and shame. Visuals were also shown highlighting the ways of helping children tackle such sensitive issues. The Principal of the School, Madam Jyoti Arora thanked the officials from DLSA for counselling the young minds to be extra vigilant to prevent mishappenings.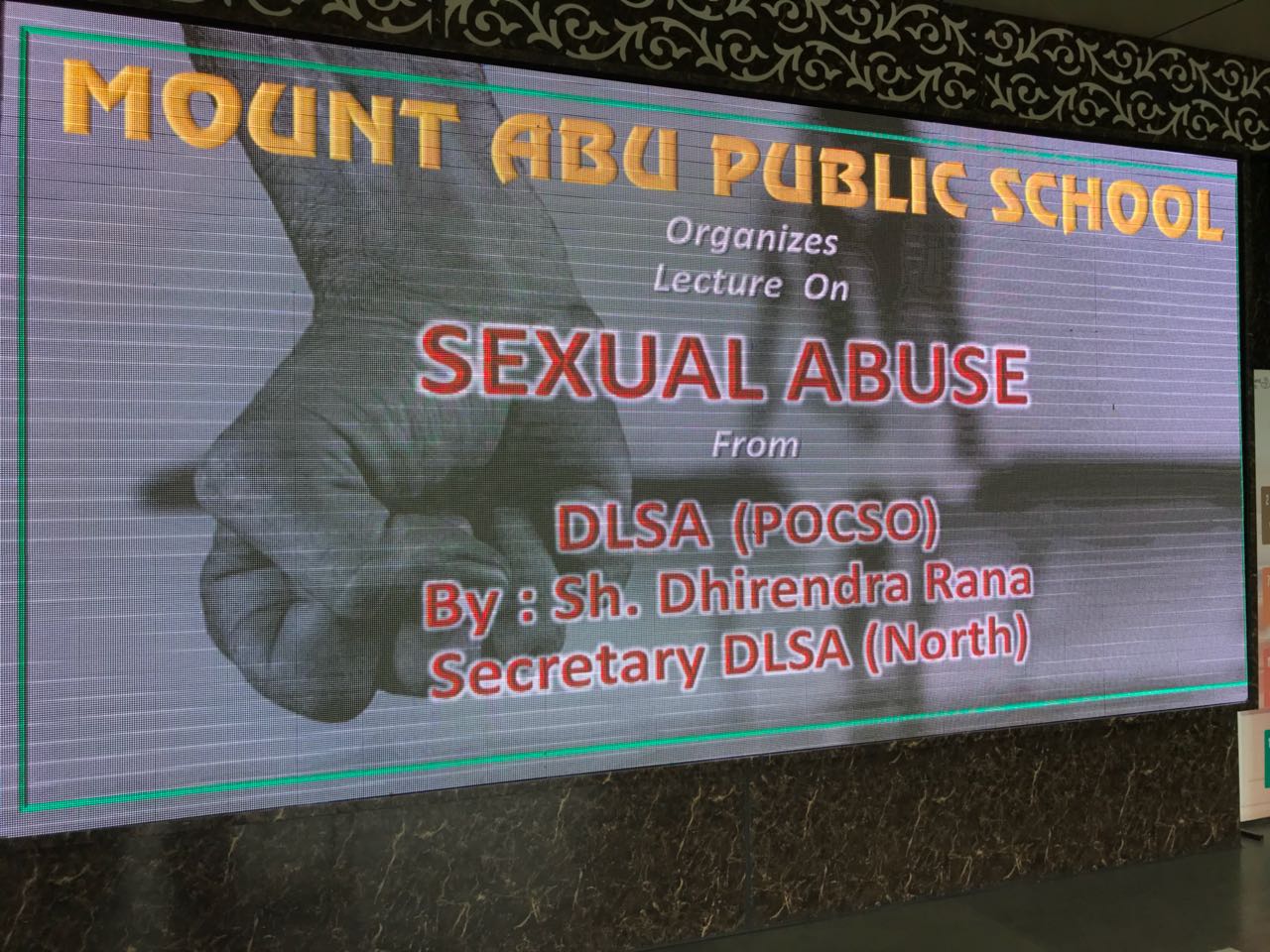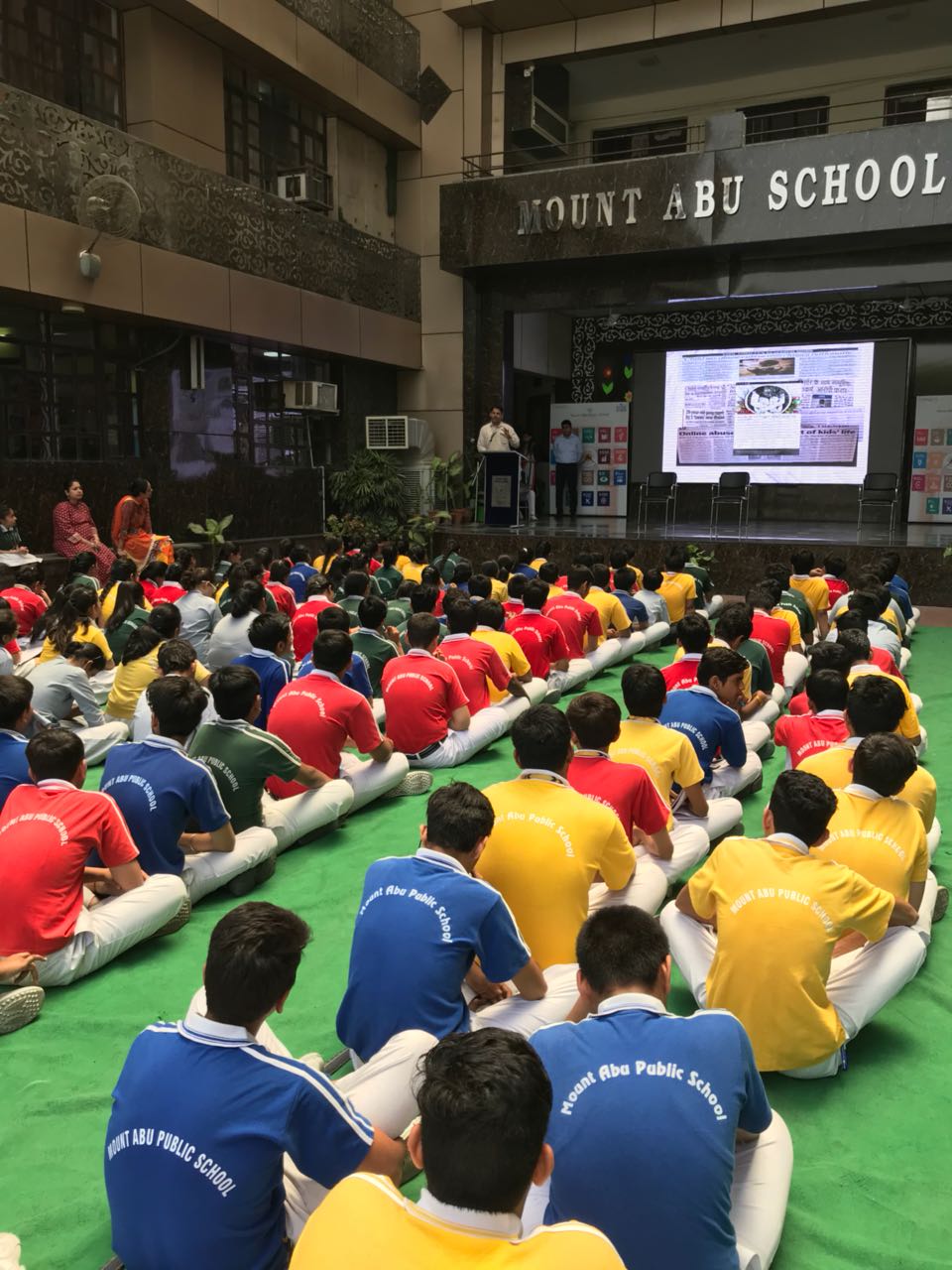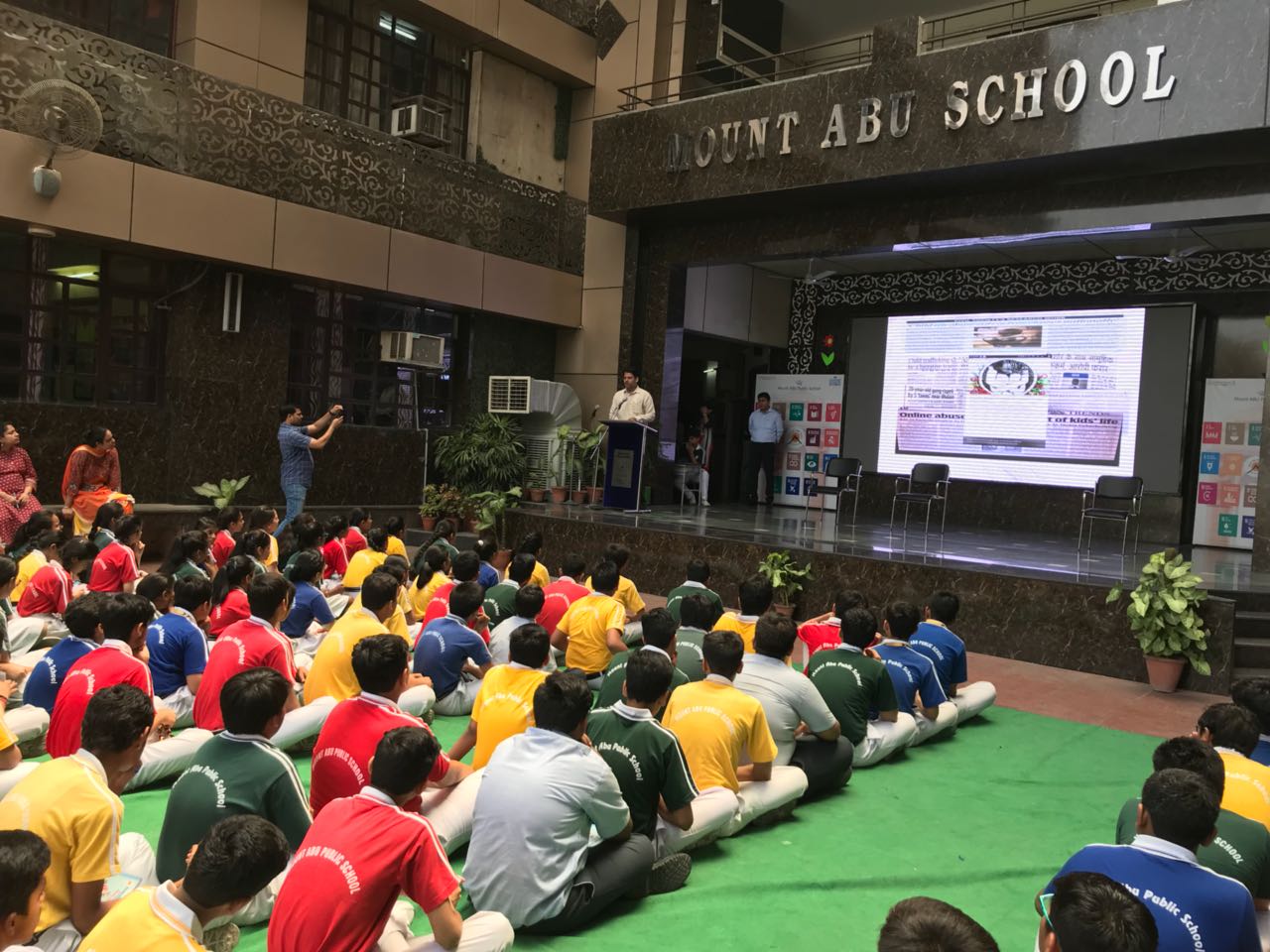 ---
Workshop on Anti Bullying
The Workshop on Anti Bullying was conducted by Ms. Pragya Vijh for Classes 9th and 10th on 5th April 2018. Initially QUIZ was conducted including students as the participants to gain their knowledge about bullying. The children were informed regarding bullying, its types, characteristics and effects of bullying. Two children shared their experiences and views regarding bullying. Certain questions were also posed by children related to bullying in school. Children proved as a very participative audience and giving their inputs. It ended with a healthy discussion with students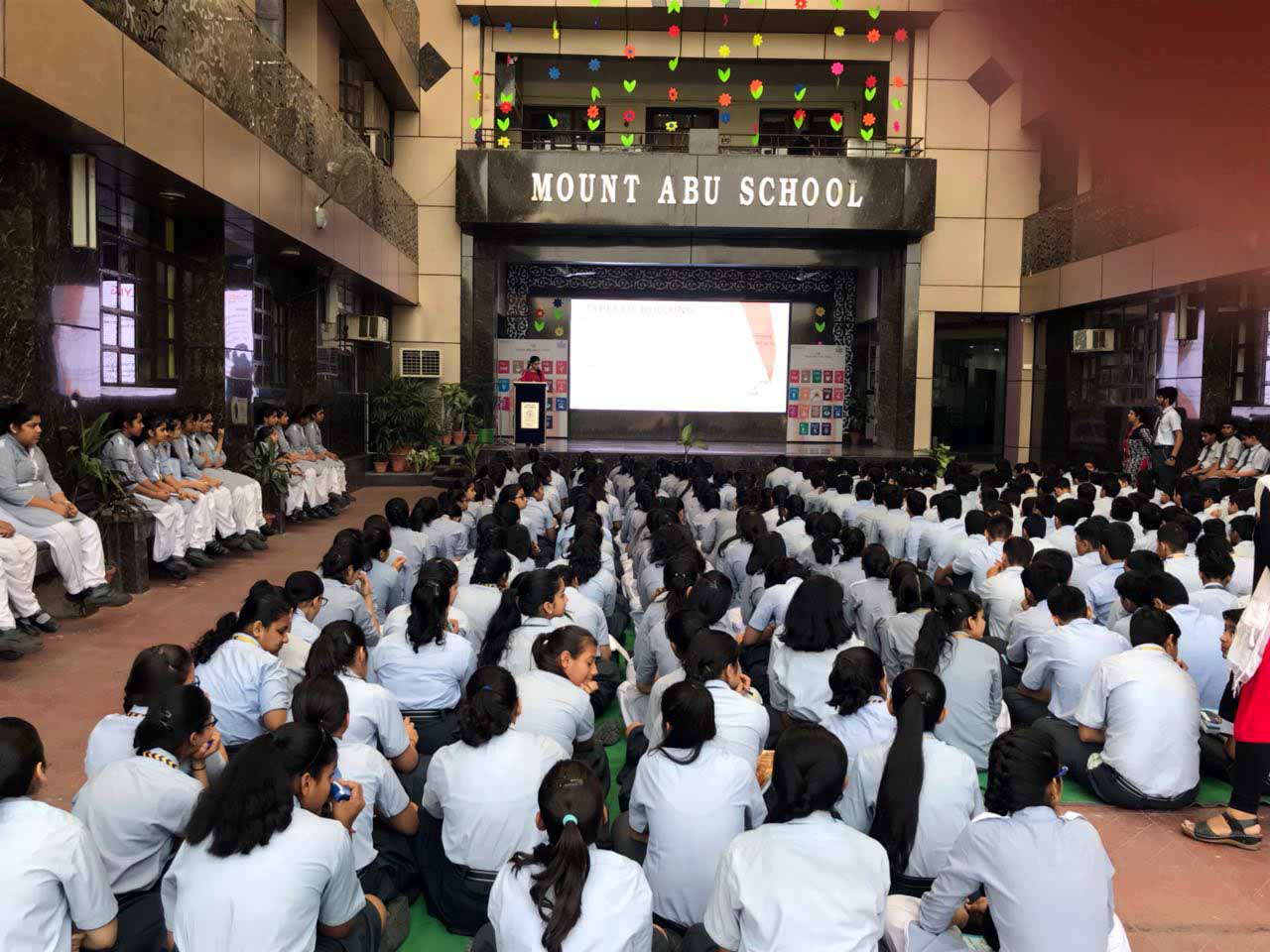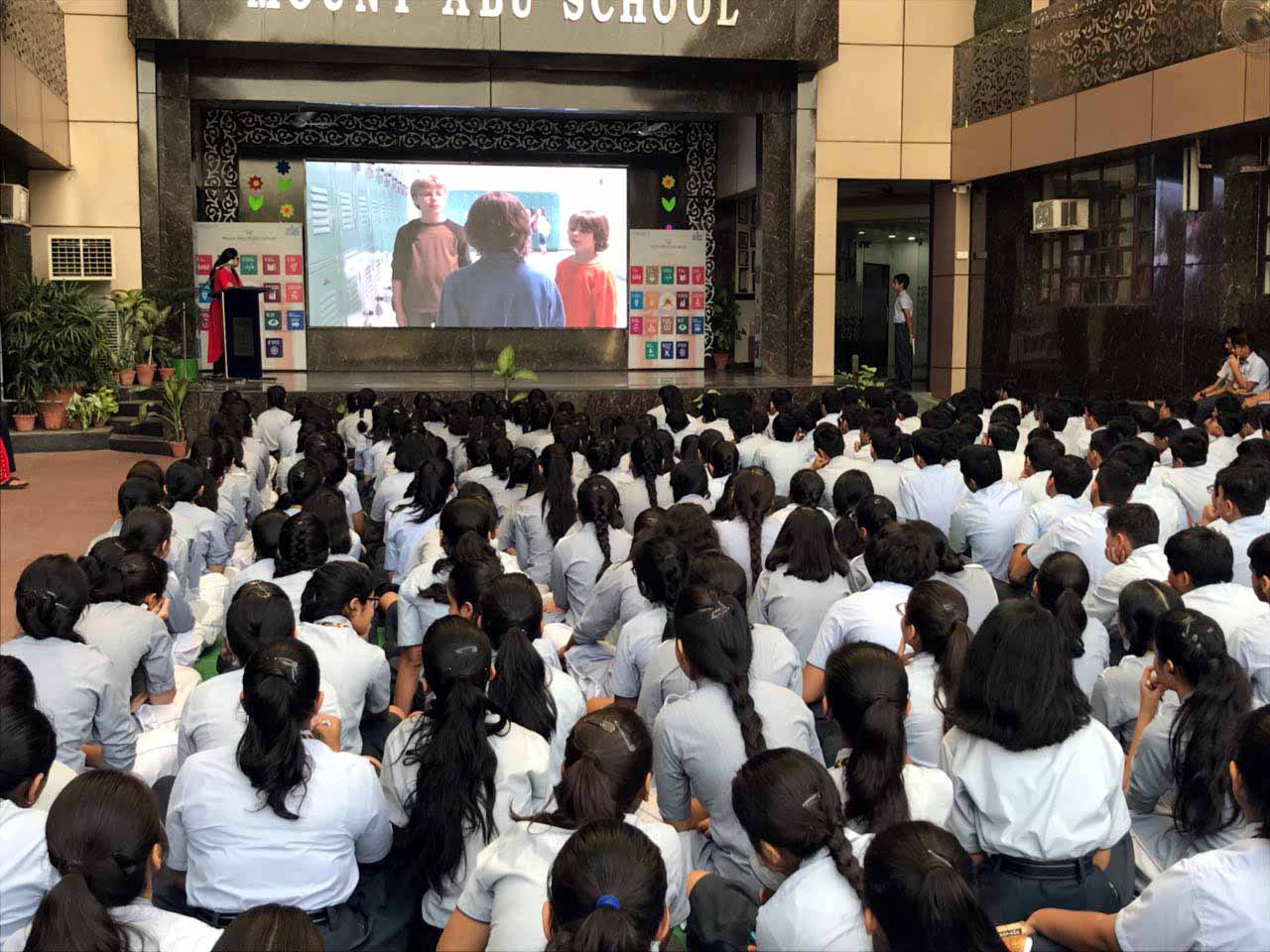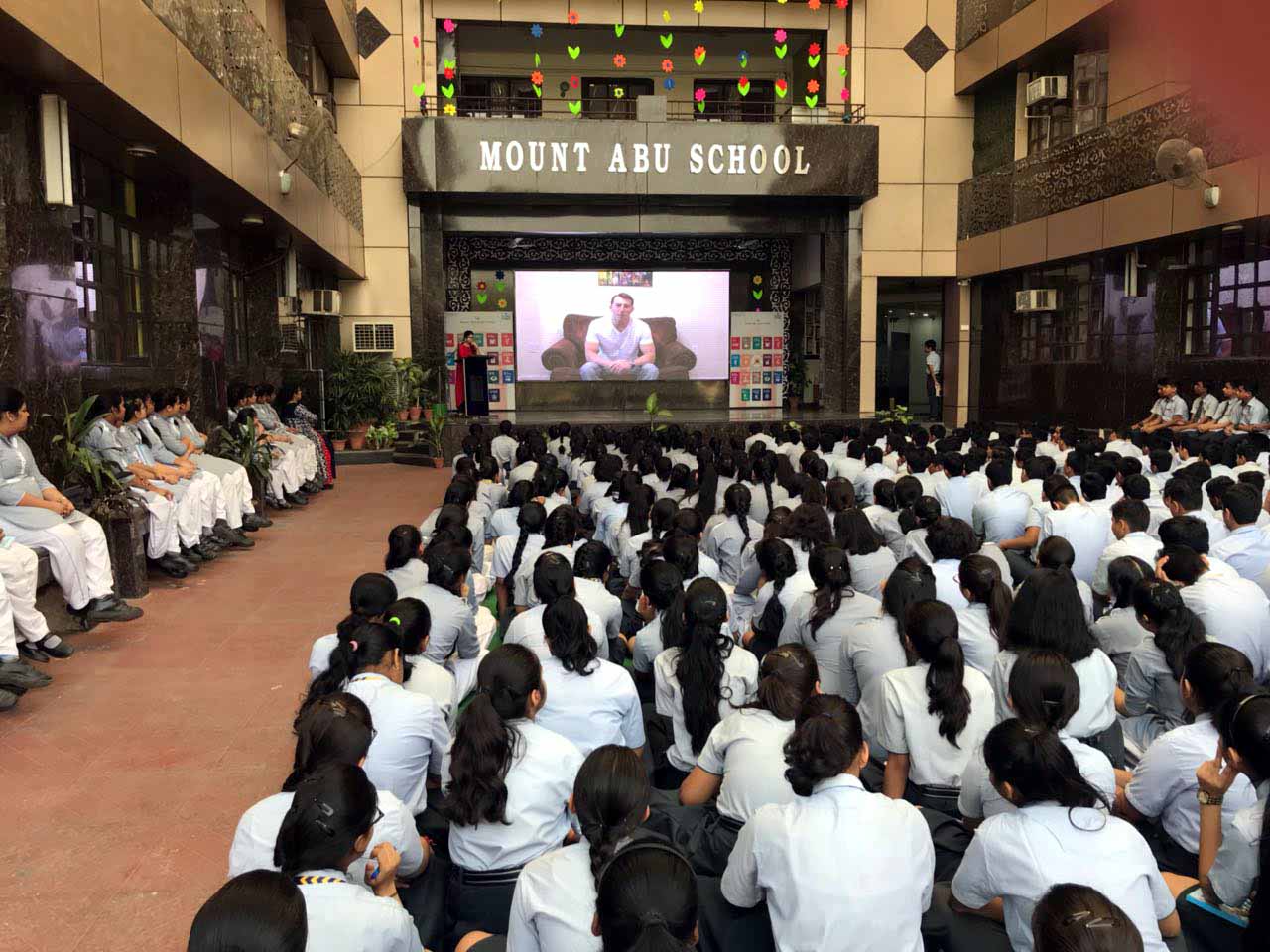 ---
United Nation Young Changemaker Conclave 2018
Students of Mount Abu Public School got a golden opportunity to participate in United Nation Young Changemaker Conclave 2018 on February 24th, 2018 to honour Mr. Justin Trudeau, Prime Minister of Canada. Young Changemaker Conclave enlightened the students with accomplishment of Sustainable Goals. They highlighted the fact that change is personal, it starts with you, so start now. You must denounce and raise your voice whenever you see something wrong happening around you. The event focused on women empowerment, values and productivity of human life, which in turn leads to unity and togetherness.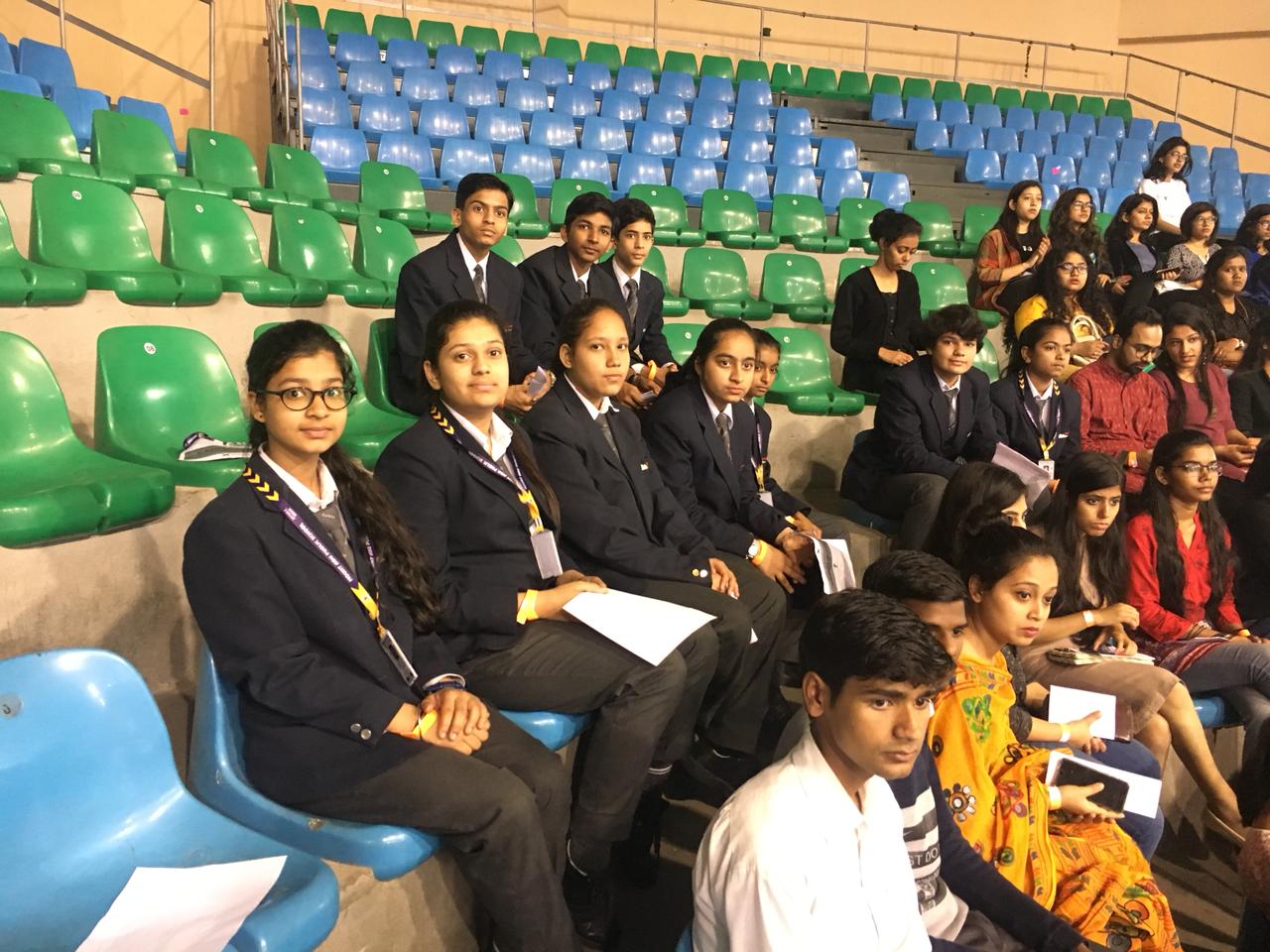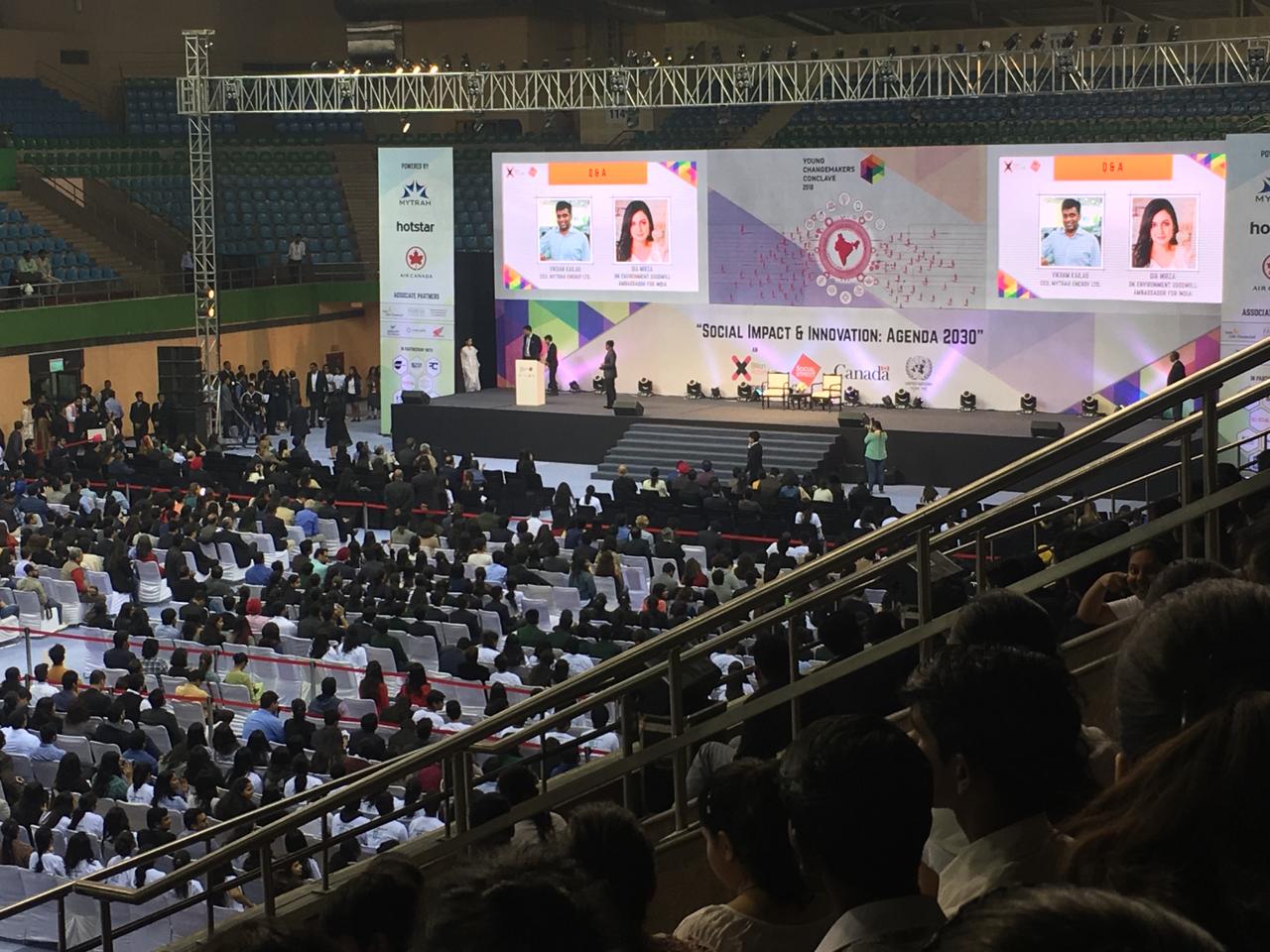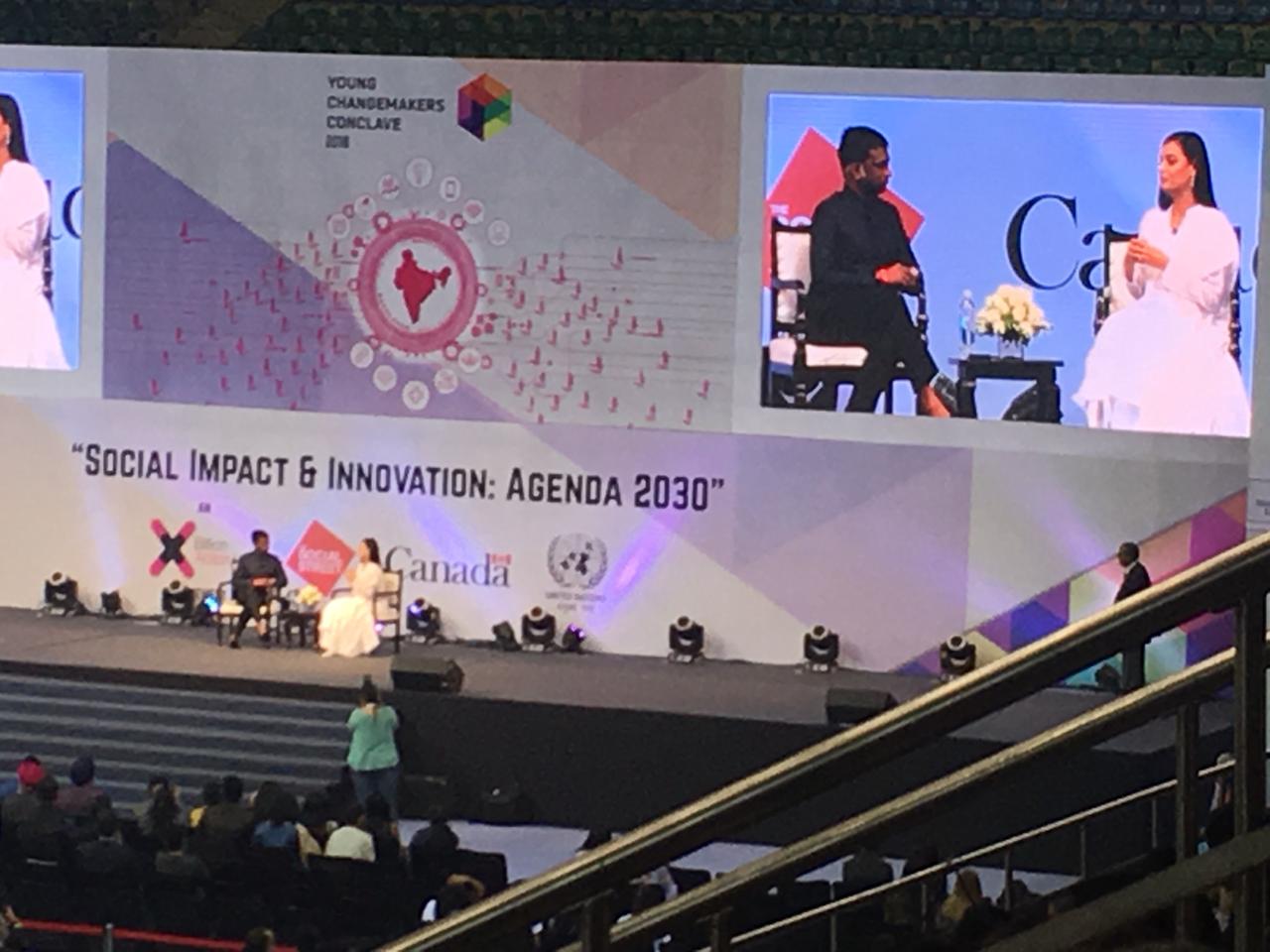 ---
WORKSHOP ON POCSO
The School organized a workshop on the topic "Protection of Children from Sexual offences (POCSO) for the children between the age group 14 to 18 years. The Resource Person from Delhi State Legal Services Authority, Mr. Vipin Singh, Mr. Mohit Yadav, Ms. Dilpreet Kaur, Mr. Mirgendra Singh Baghel and Ms. Aakriti Gupta delivered a very informative lecture on the topic thus guiding the children about the good and bad touch and briefed them as to how they should respond to such incidents. They also talked about the provisions of juvenile justice and policies for the offenders. A movie 'Komal Movie on POCSO' was shown to the children highlighting the importance of causing awareness about the incidents of sexual offences happening so frequently and how the children should leave the hesitation and must report the cases to the concerned authorities. The workshop was quite enriching for the children who generally are not able to see the seriousness of the issue.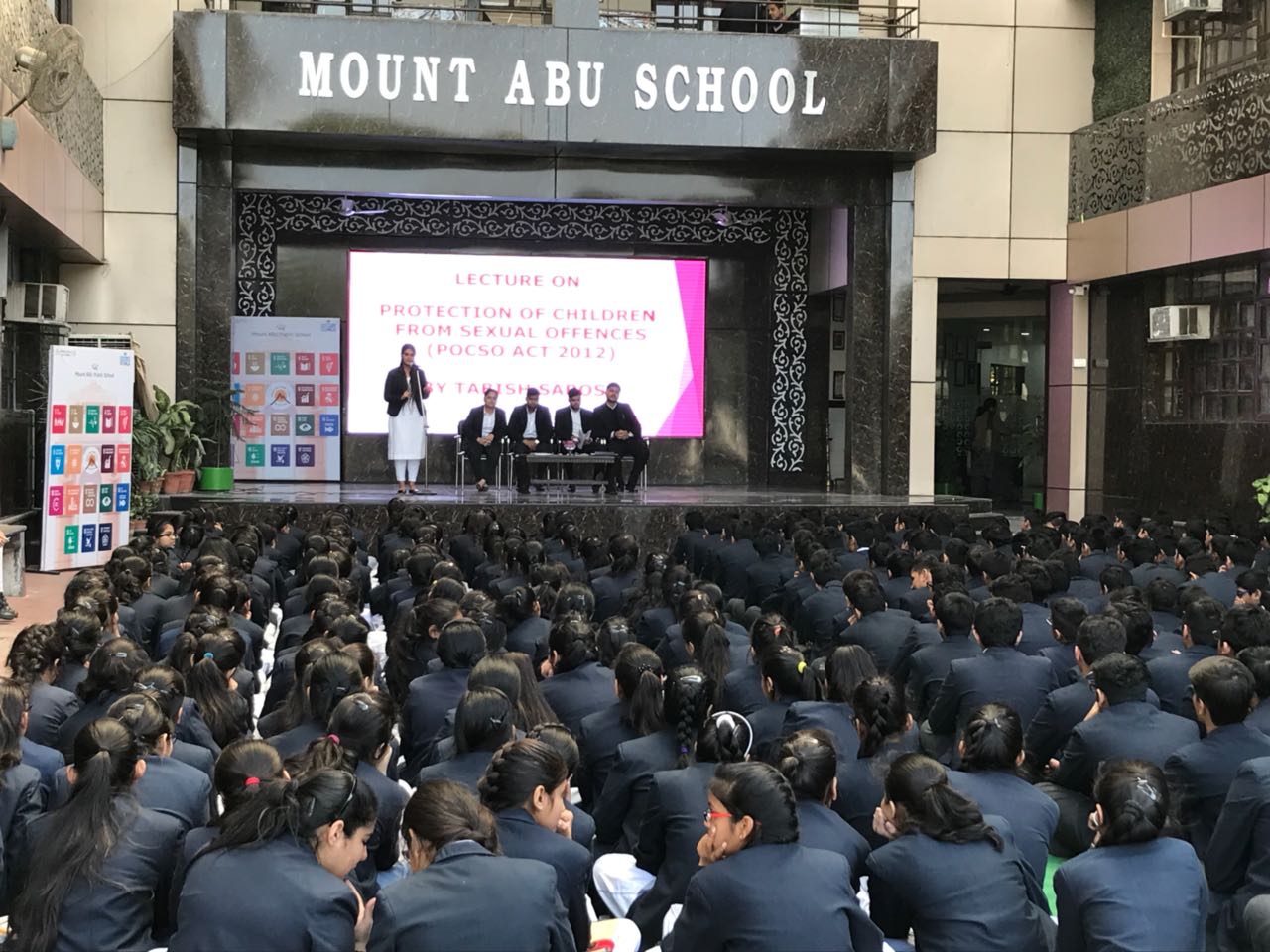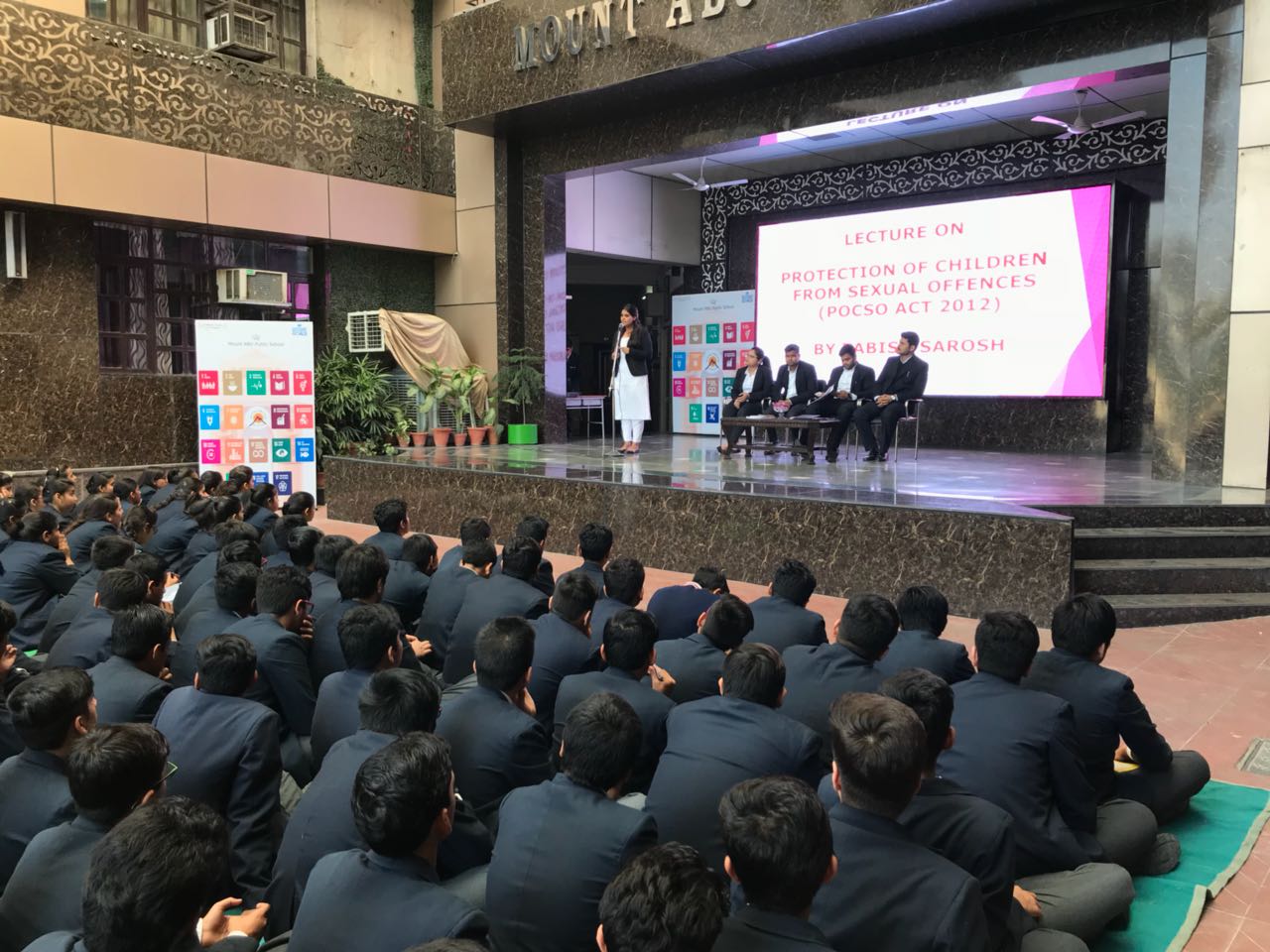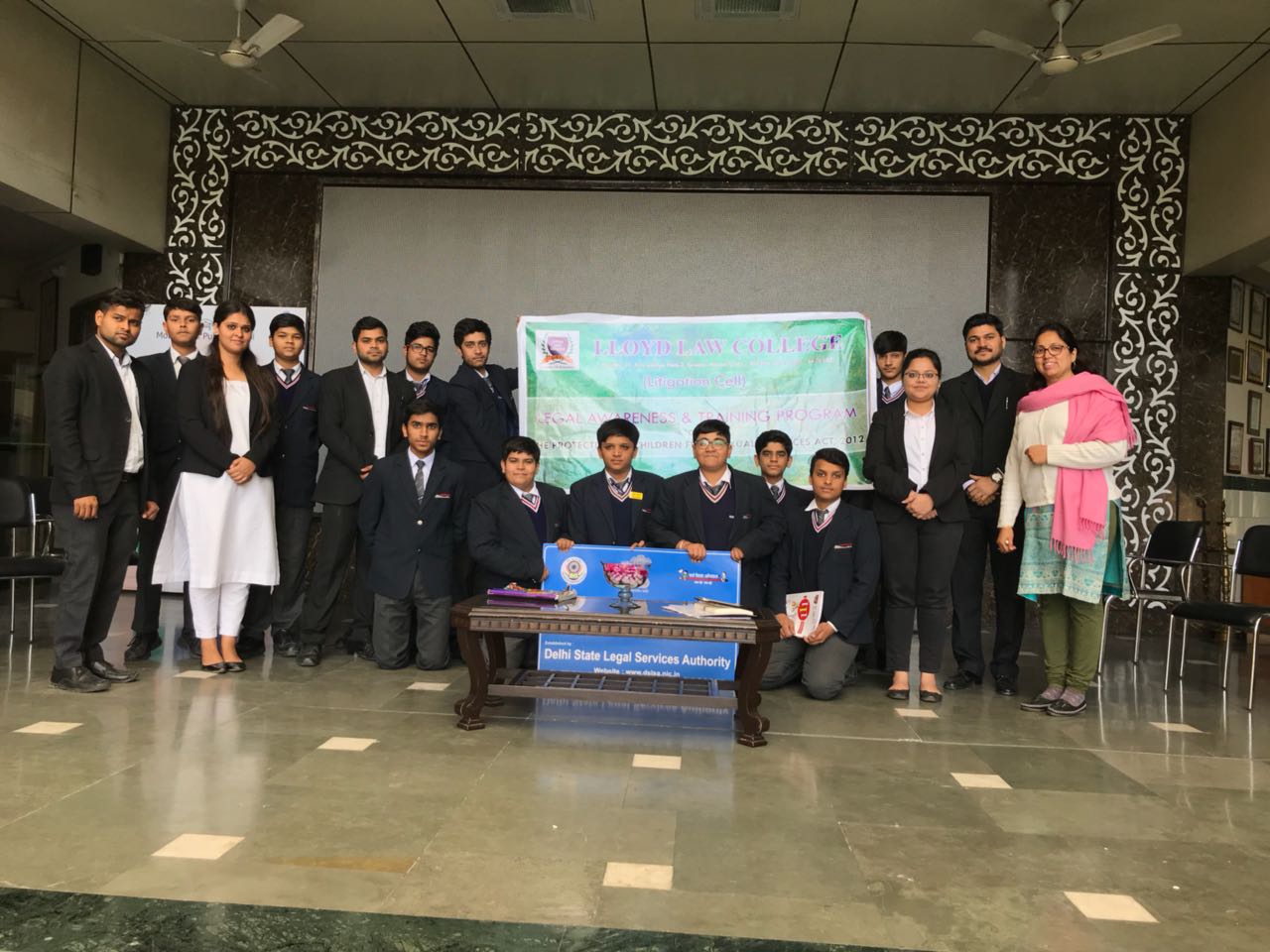 ---
A SESSION ON FOLDSCOPE
A session on "Foldscope" was organised at Maharaja Agrasen Model School. The resource persons Mr. Ronak Jogeshwar, Expert AIM, Niti Ayog and Mr. Jim Cyberlski, President & CEO , Foldscope displayed the technique of making microscope with paper. The students tried many samples and were amazed to see the results.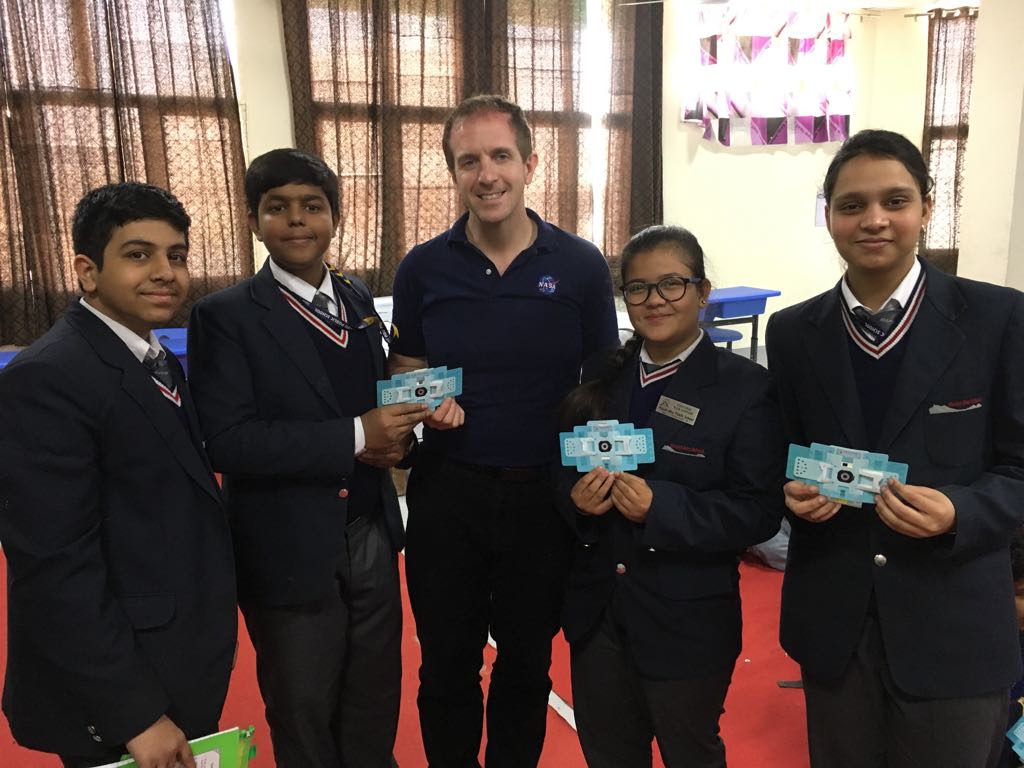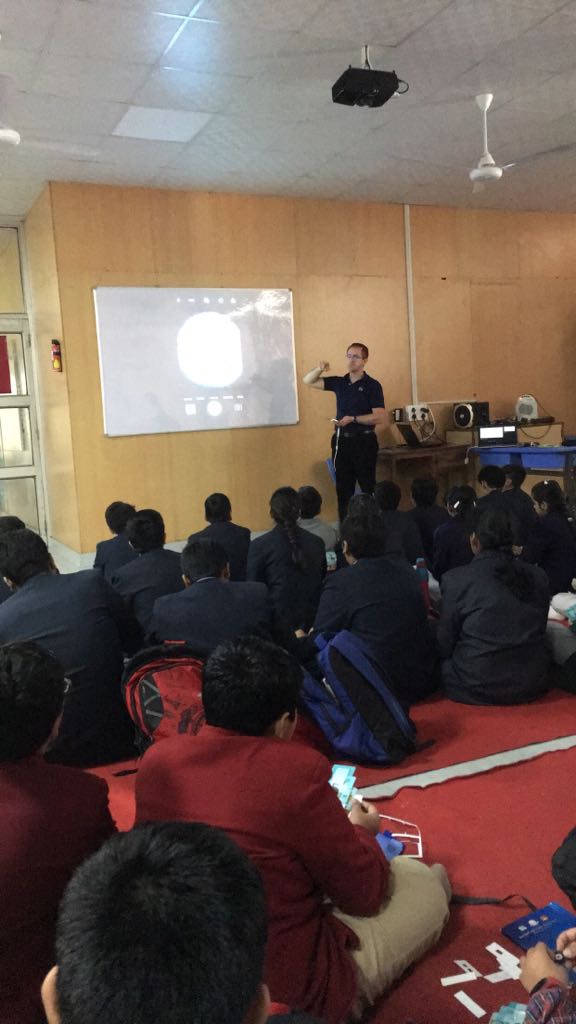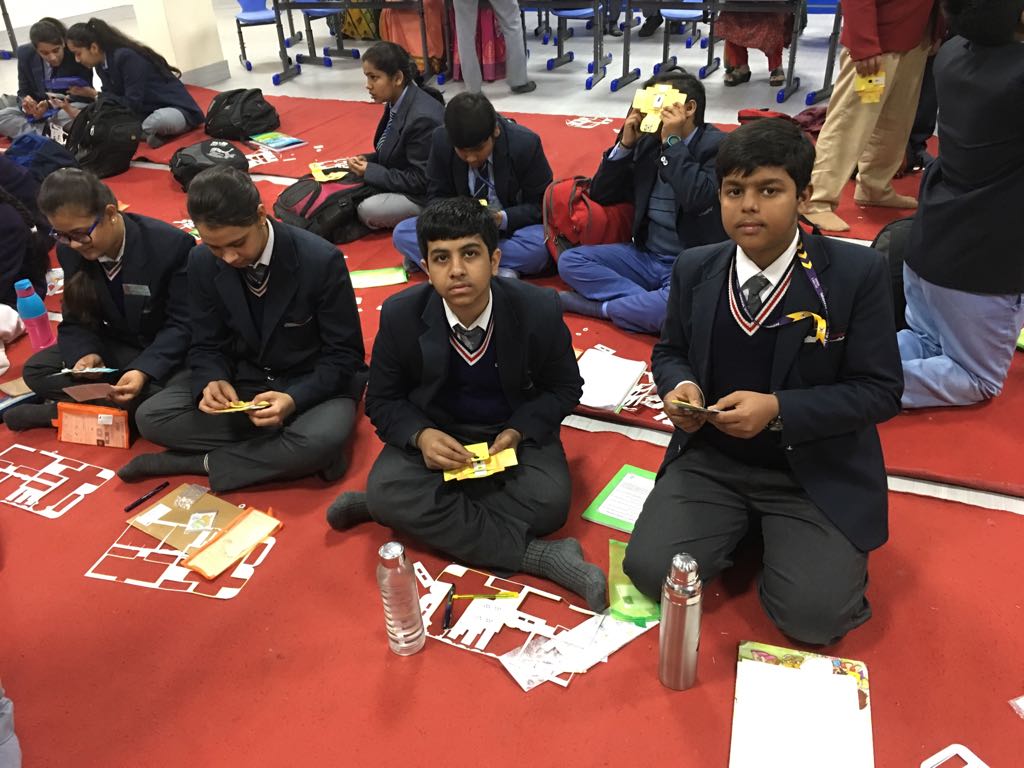 ---
Workshop on Safe and Nutritious Food Drive
The workshop on "Safe and Nutritious Food Drive" was conducted in the school by FSSAI on 23rd January 2018. The students of class VI and VII were guided about the need to include healthy and nutritious food in the diet. The resource person also highlighted the effects of Deficiency Essentials Fortification (DEF) and informed the students to check the fortification logo on the packed food to avoid food with micro nutrient deficiency. The session emphasized on having enriching food for enriching lives.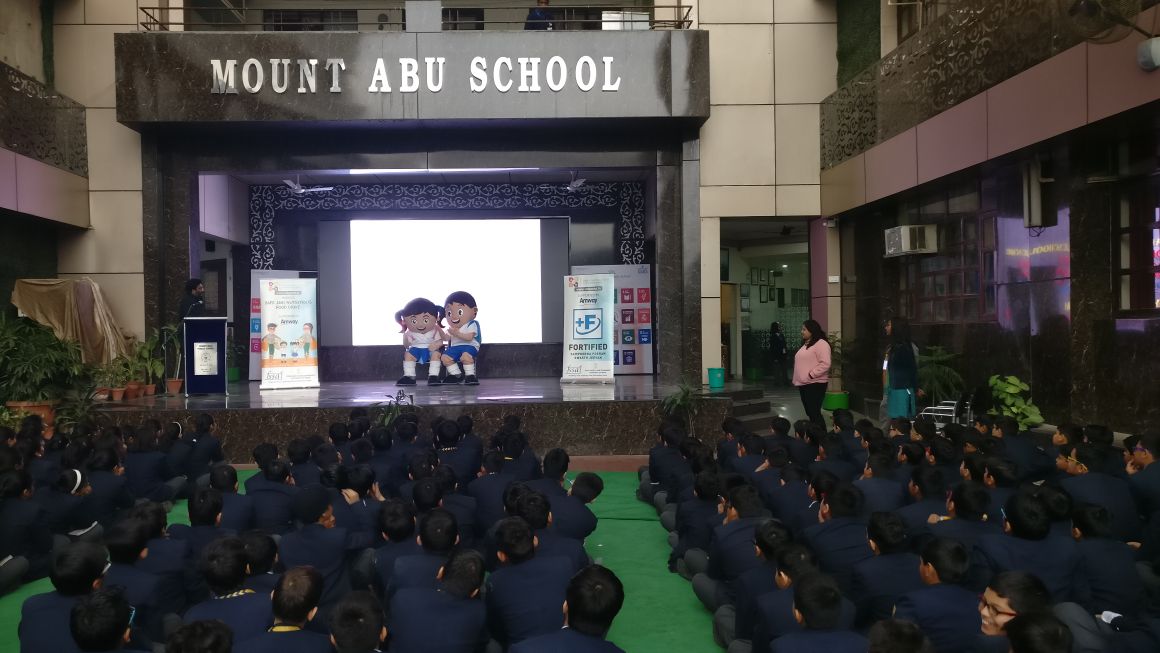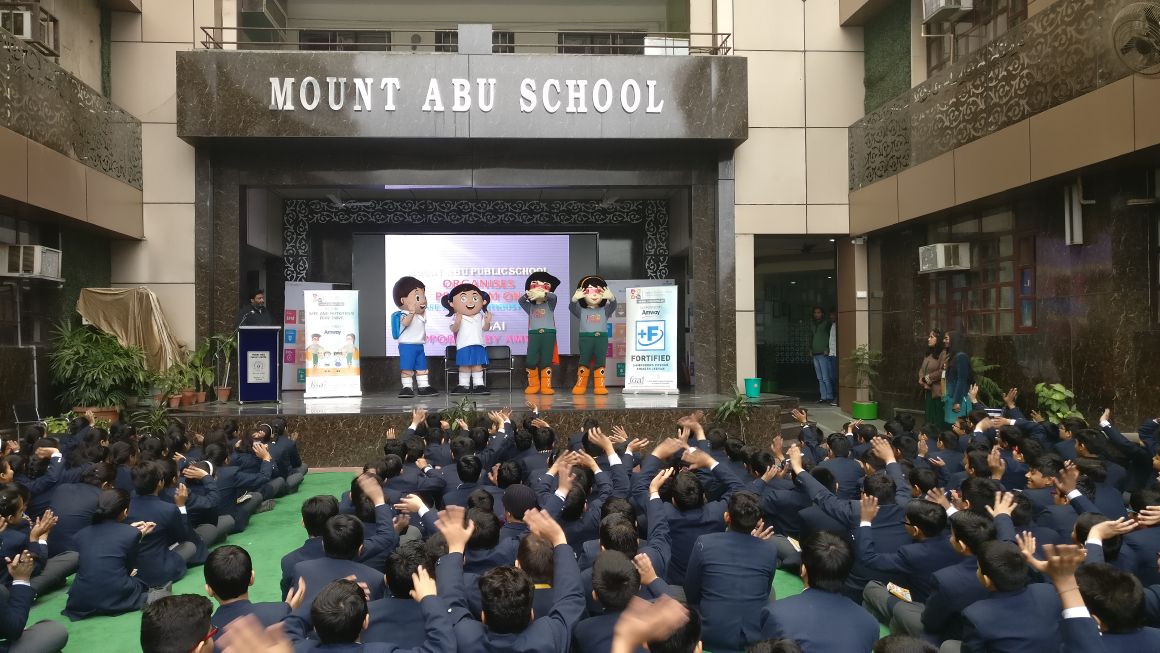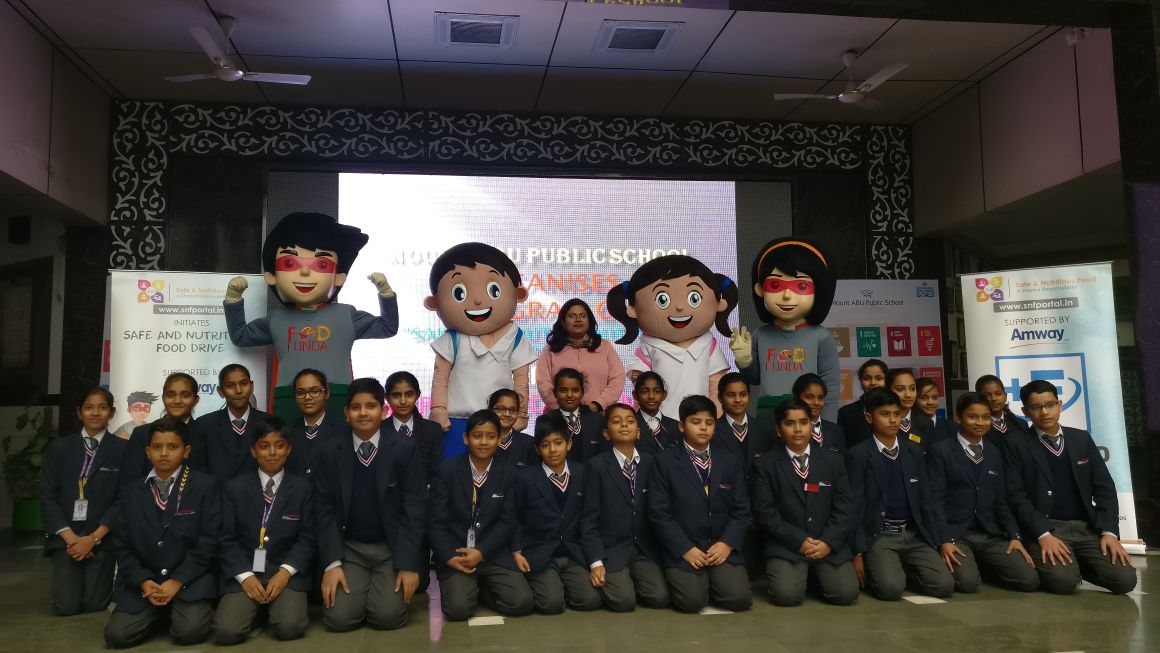 ---
Workshop on The Astronomy World
The workshop on "The Astronomy World" was conducted by Mr. Sarvesh Bhardwaj from SDRO for the class VIII Students on 19th January 2018. The resource person highlighted the fascinating features of the universe and gave an insight into the interesting facts of space.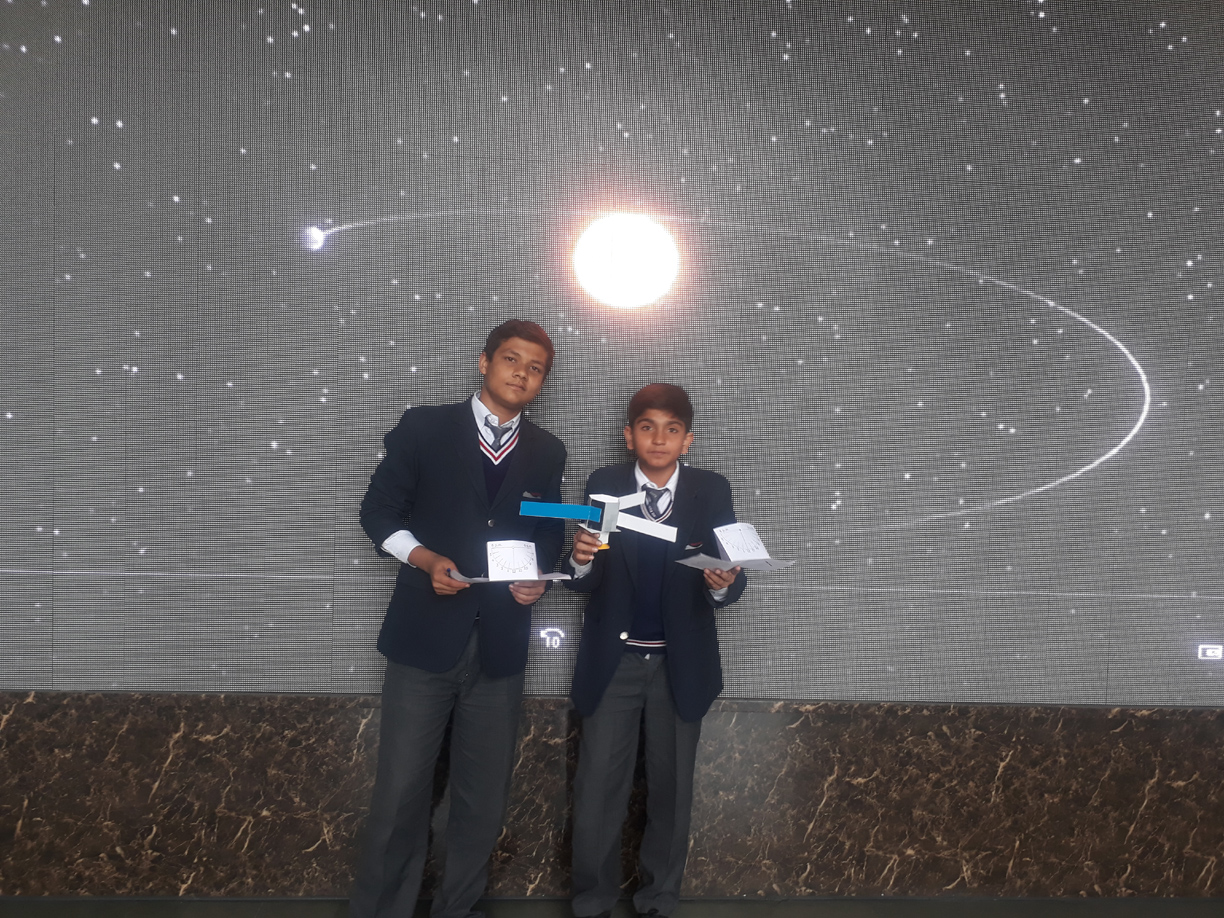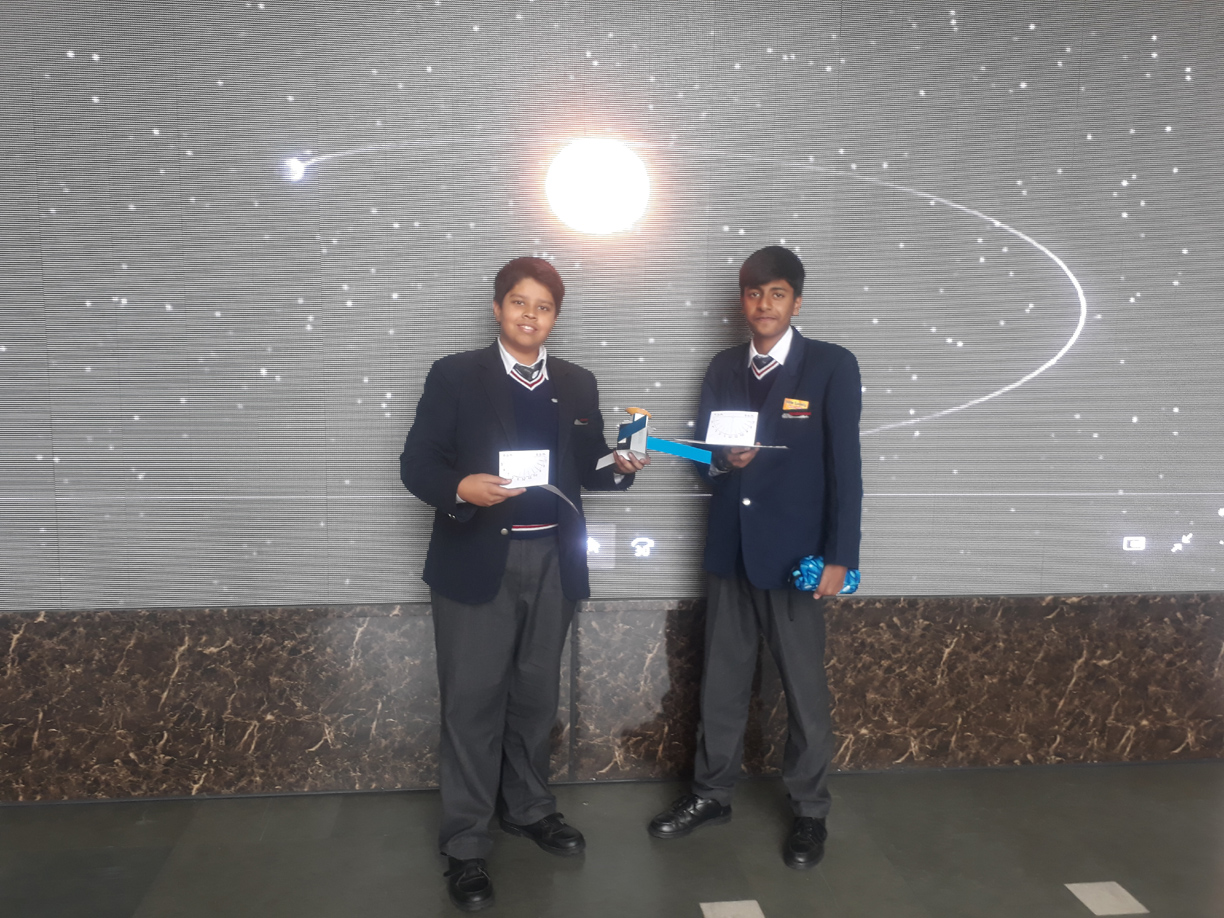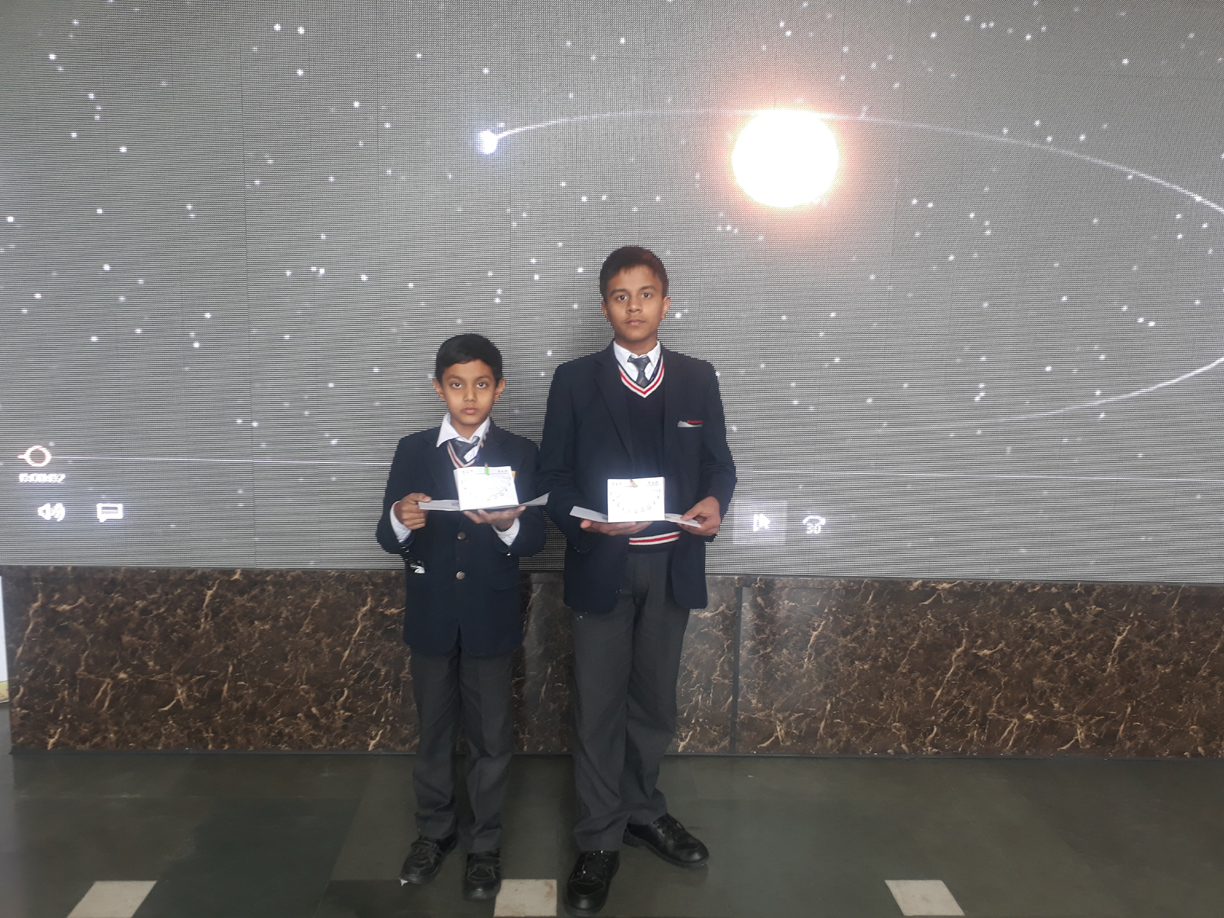 ---
Workshop on How to Score well in Board Examination
A workshop on the theme "How to score well in Board Exams" was organized in the School for the students of Classes X and XII on 18th January 2018 with an aim to make the students realize the essential worth of time and help them overcome all anxieties related to board examination. The resource person Mr. Lucky Puccharat from Hindustan Times focused on value of prior planning and developing habit of consistent practice for three hours. The session inspired the students to strengthen their belief in themselves and to be positive in their approach towards success.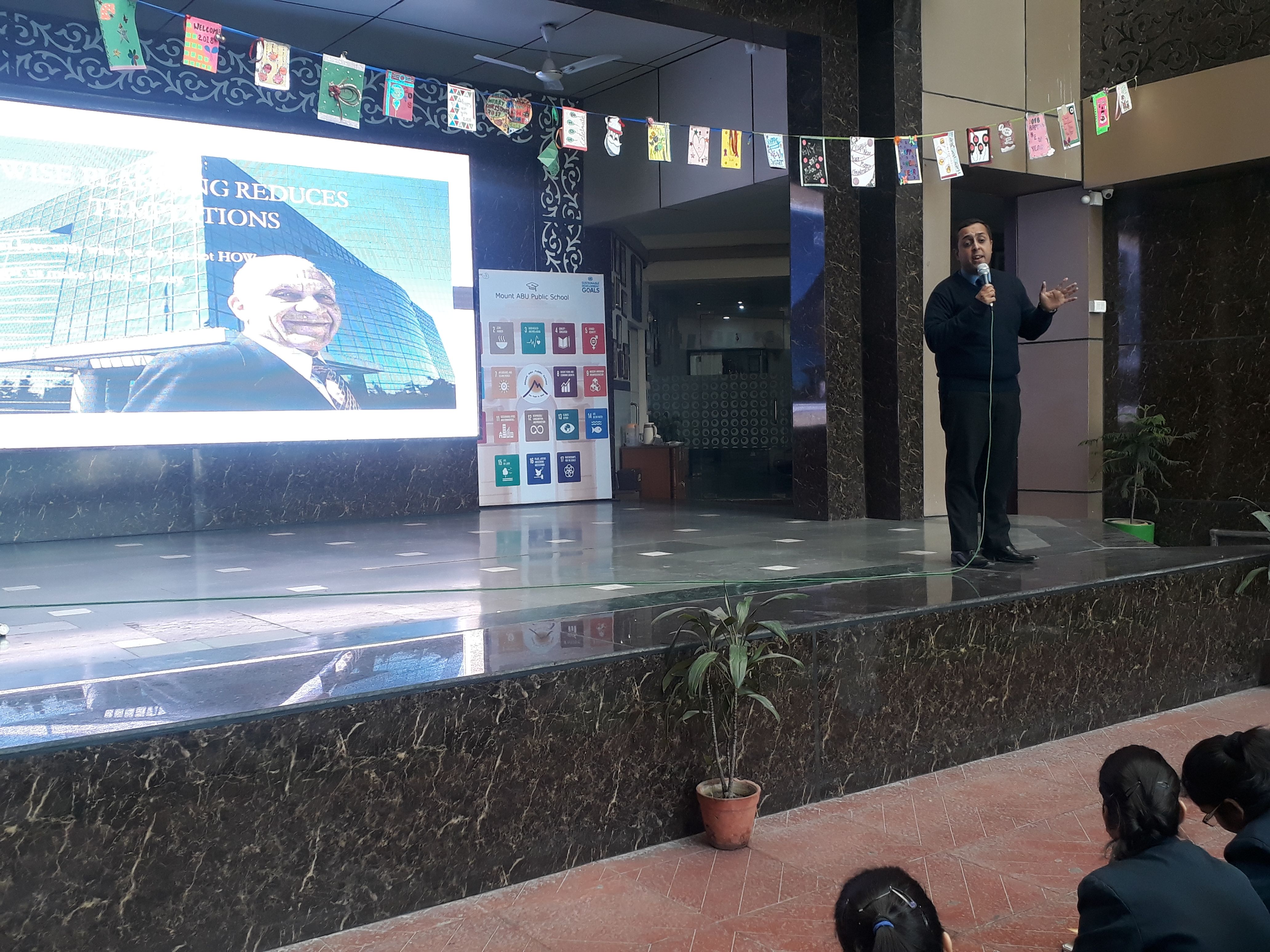 ---
Workshop on Menstrual Hygiene
Workshop on Menstrual Hygiene was organized by SHARP organization on 27th December 2017. The young girls of Classes VI - VIII were guided about he remedies to reduce the menstrual cramps and the eating habits to be followed during menstruation. They were also informed about the menstrual cycle and the need to maintain hygiene during that time.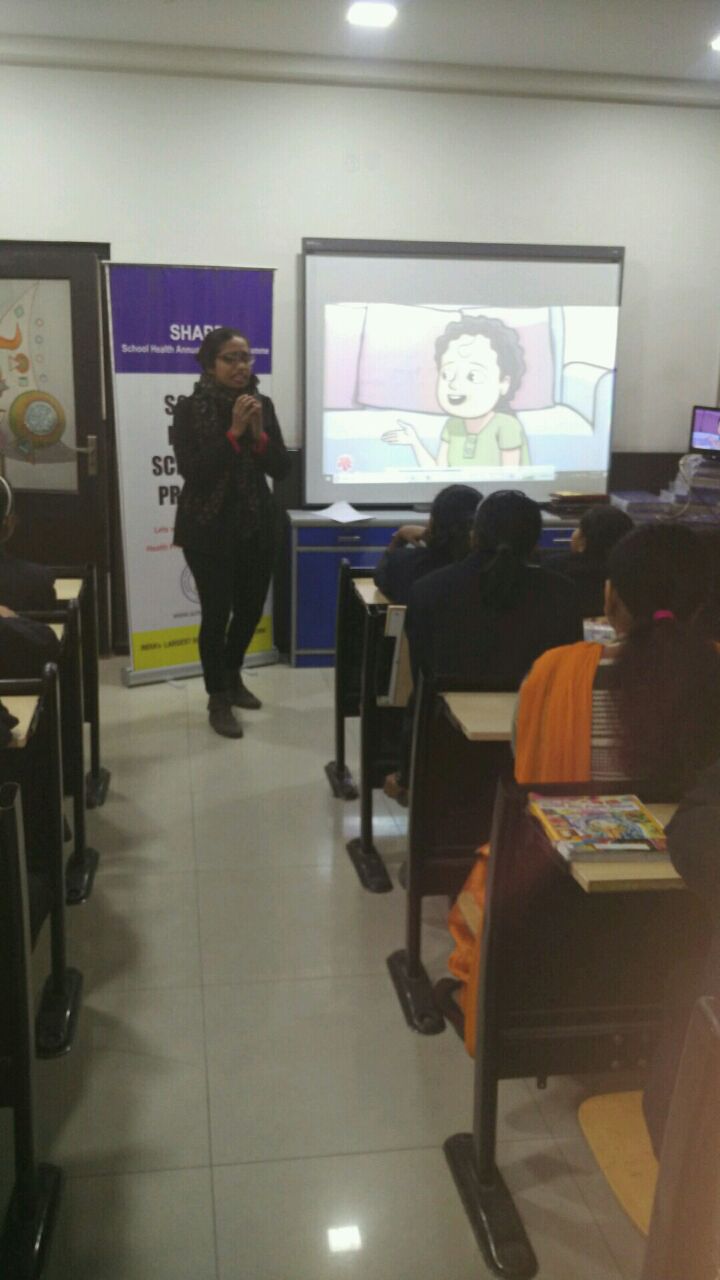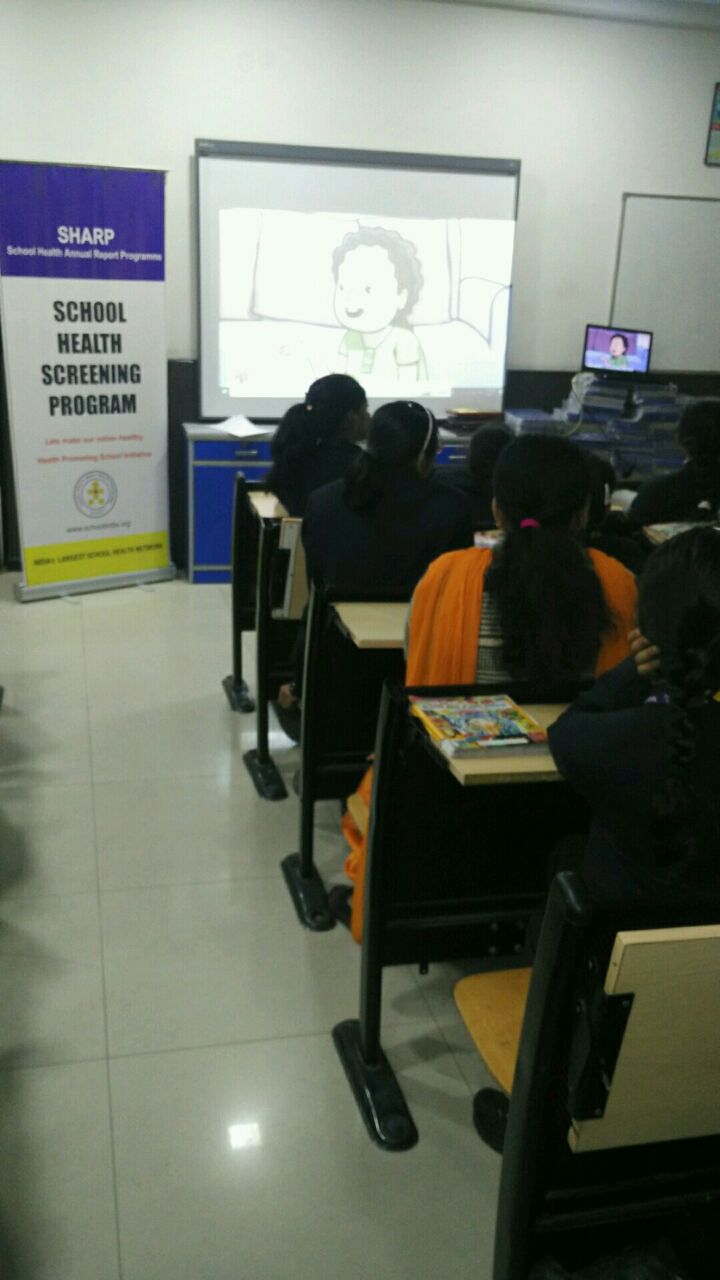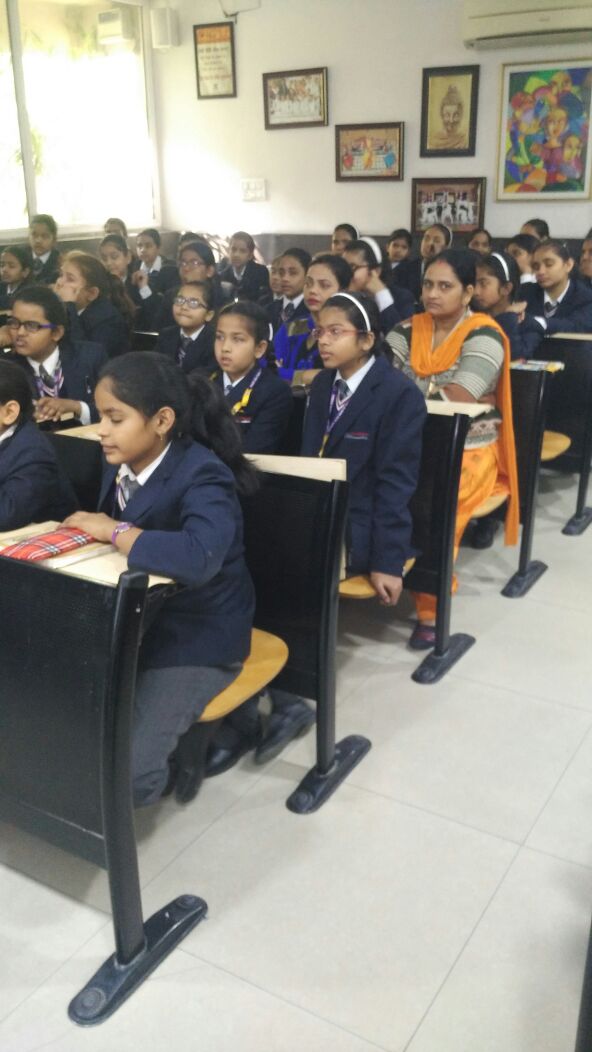 ---
TATA ENERGY CONSERVATION
The School organised TATA ENERGY CONSERVATION WORKSHOP on 23.12.17 for the students of Classes VI- VIII. the main motive of the workshop was to sensitize the students about energy conservation as well as conservation of natural resources. The energy club of TATA POWER introduced various ways through which the children can be the volunteers and help society to overcome the paucity of energy. Different competitions were also introduced through a PowerPoint presentation for the students so that they can participate and be the energy champions. Overall , it was a very fruitful workshop for the both students and teachers.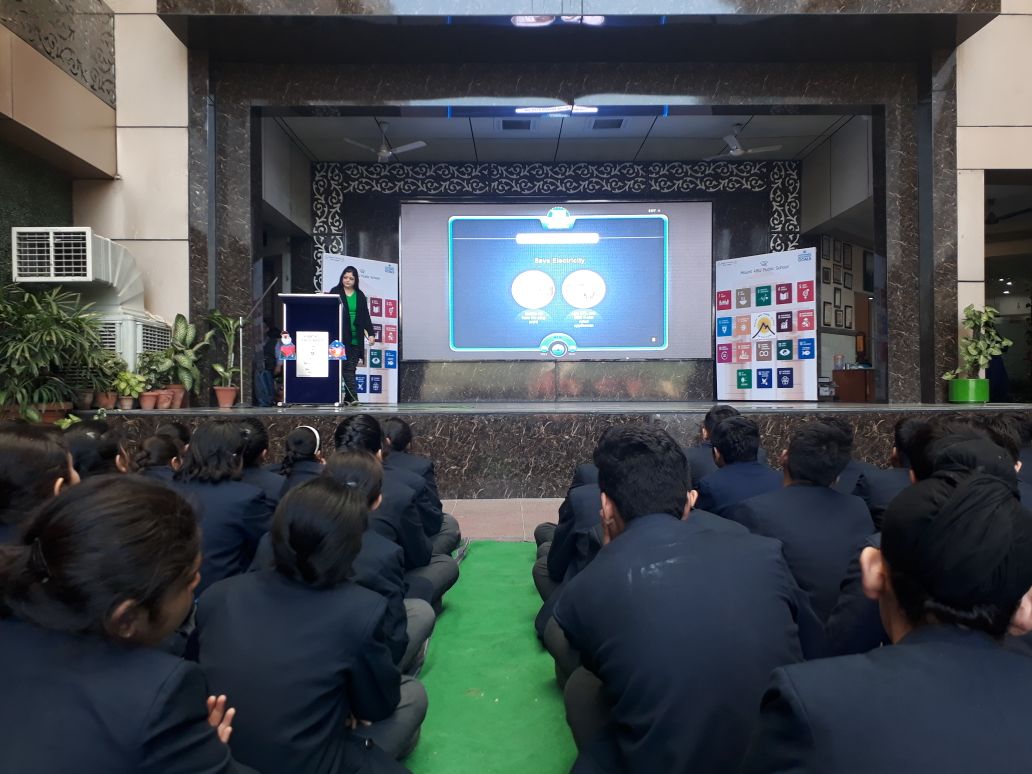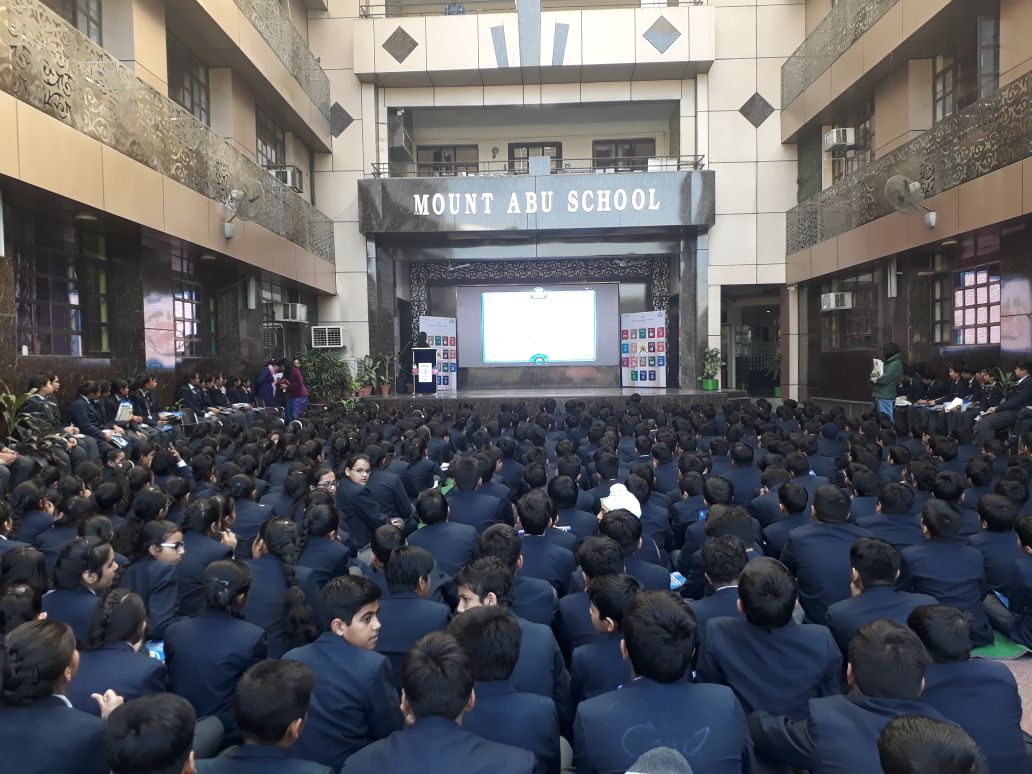 ---
Workshop on First Aid and CPR
The workshop on 'CPR' was conducted by Mr. Yogesh from Heart Care Foundation , India on November 25, 2017. The workshop imparted knowledge of commonly occurring situations in our day to day life. The main aim of the workshop was how to maintain hygiene and apply the best sanitation practice in our daily life. It was explained to the students as to how one should remain calm and give basic medical aid i.e. CPR to the person in need. The main focus of the workshop can be summarized in 3 key points:

1. Save Life through CPR – Hand on Hand
2. Minimize Health damage
3. Prevent further harm
The workshop was helpful in dealing with common accidents especially heart strokes.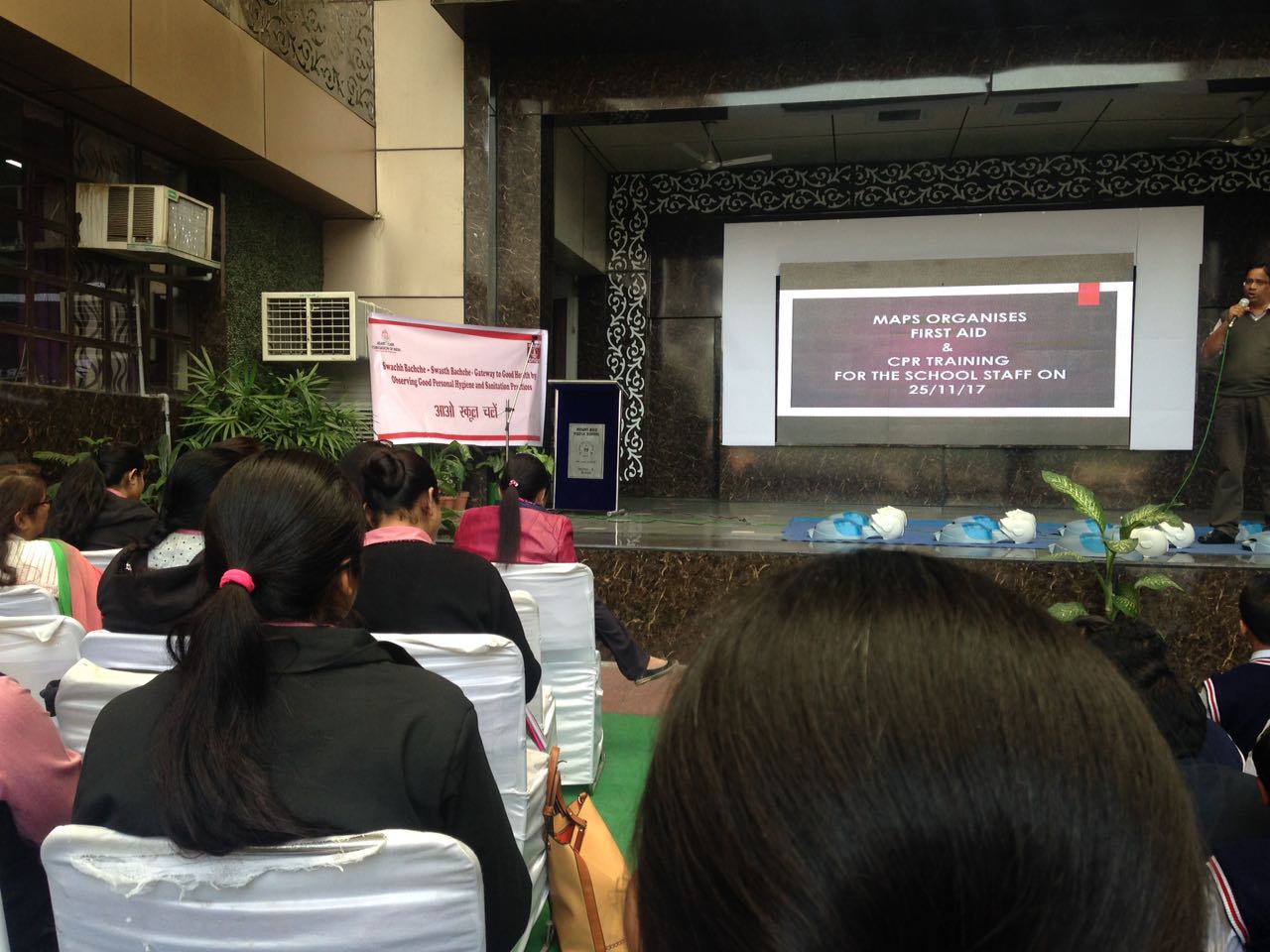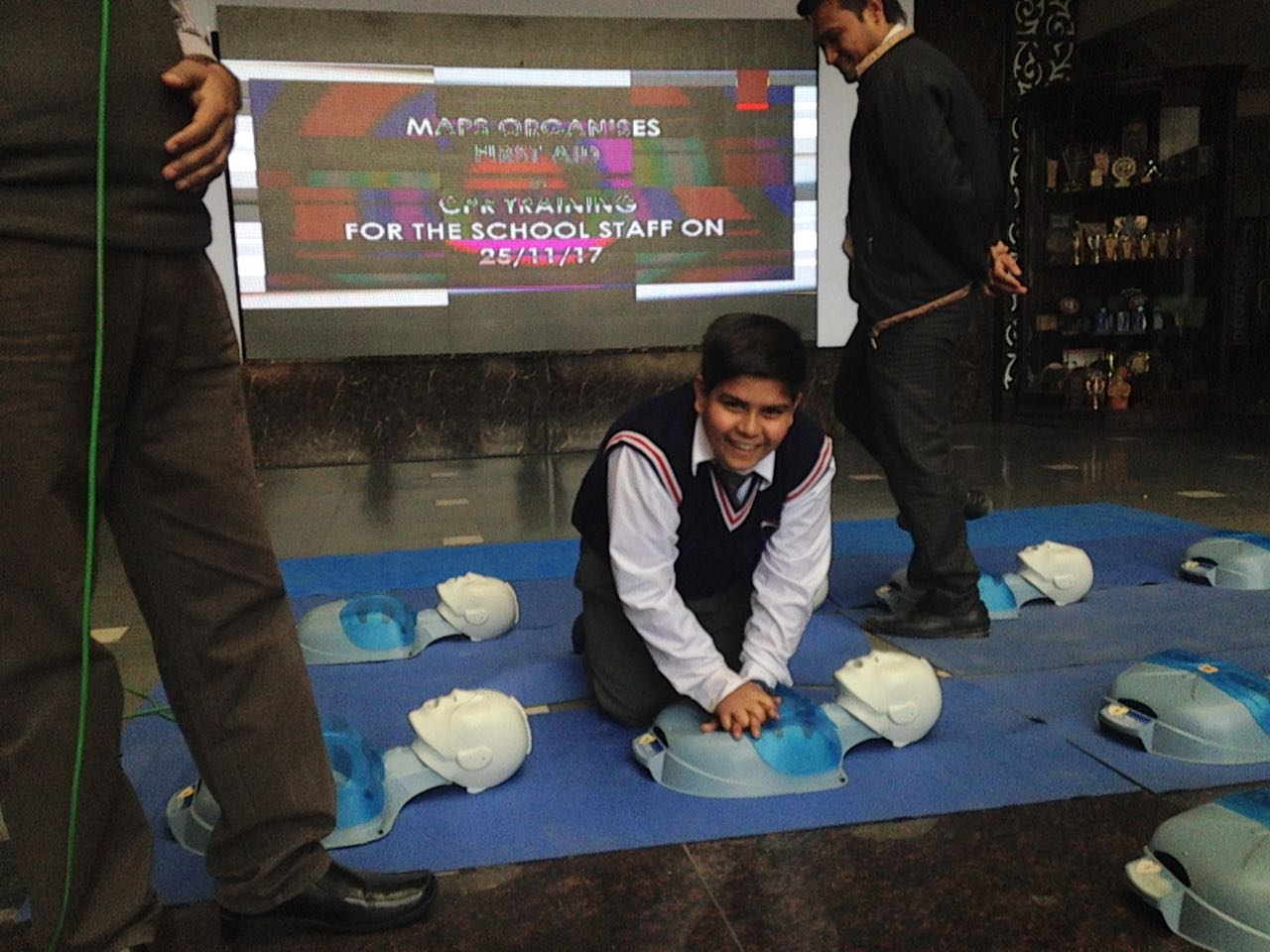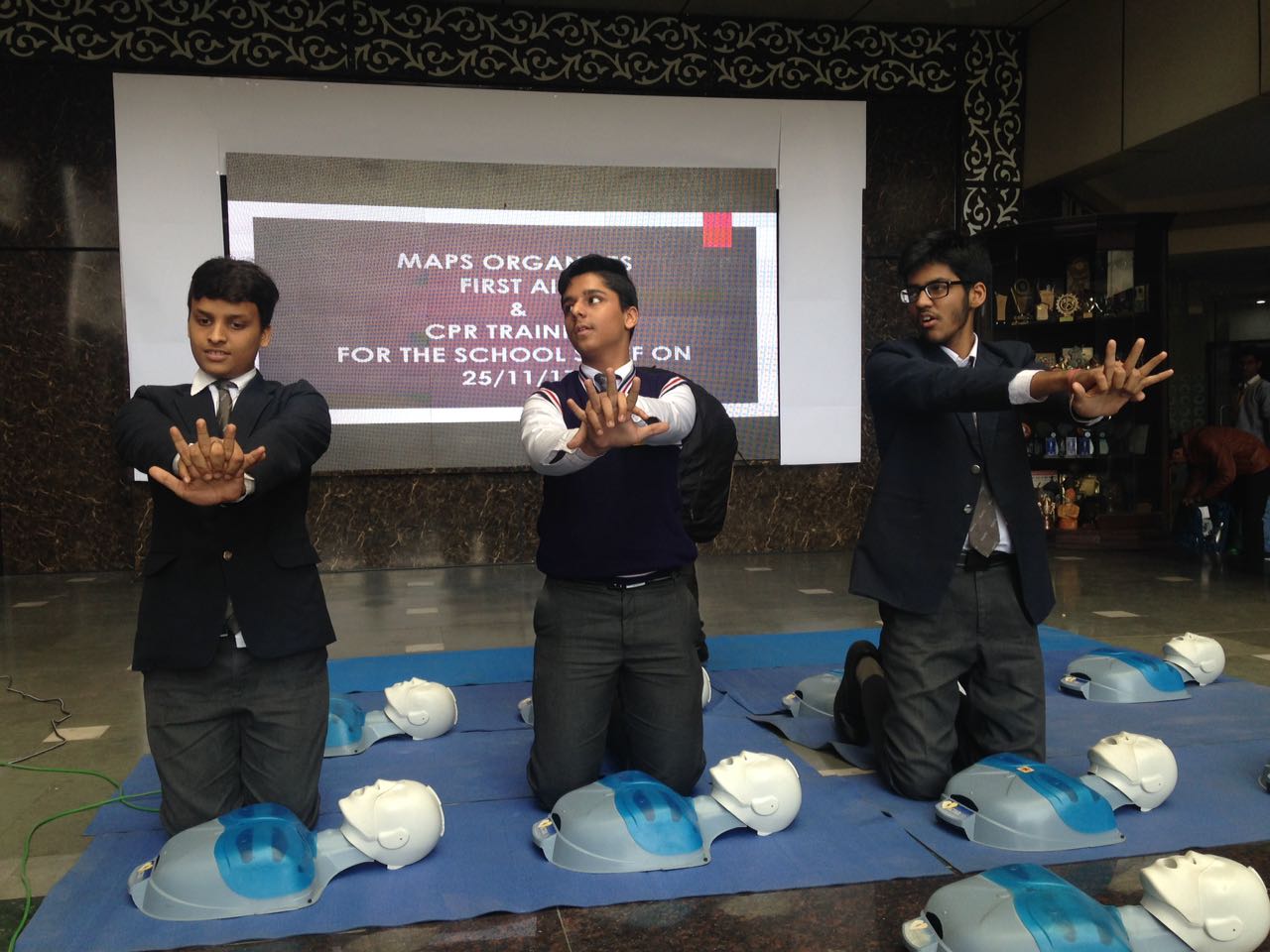 ---
CAREER ORIENTATION FIESTA
Every student faces a question "What Next" and "Which Course" after class XI and XII. There are many career options available and it is very difficult to choose the right one. Taking all these into account Mount Abu Public School organized a Career Orientation Fiesta on 25th November, 2017 for classes IX to XII. Seven Institutions and Universities participated in the Fair. Students were given the opportunity to view and access a whole range of opportunities open to them for higher education. The speakers presented a plethora of options to the students in all the streams – Science, Commerce & Humanities. A lot of insight was given about the various courses available in various colleges. The students were enabled to clarify their doubts and queries about various career options. The sessions proved beneficial and were appreciated by all.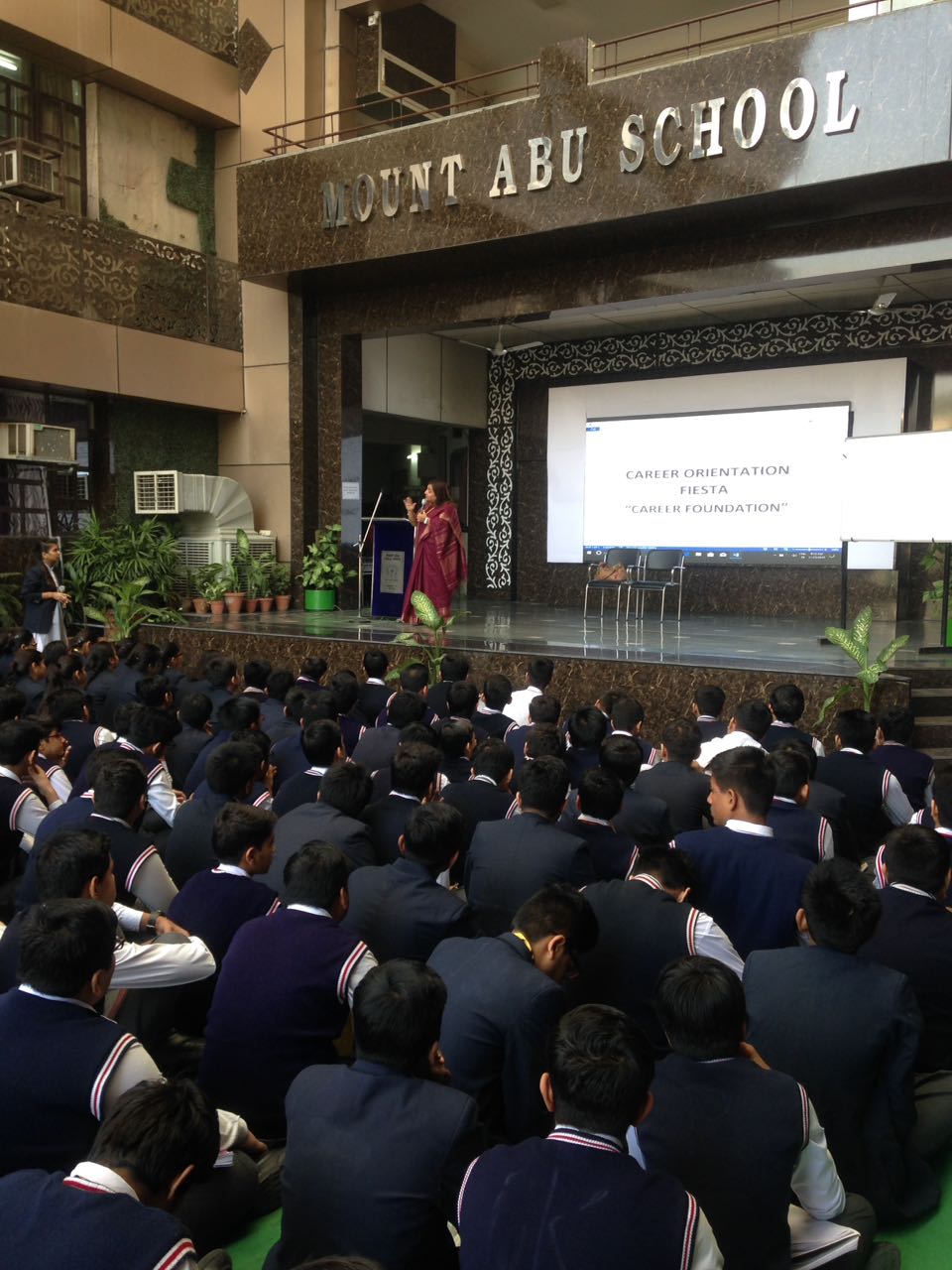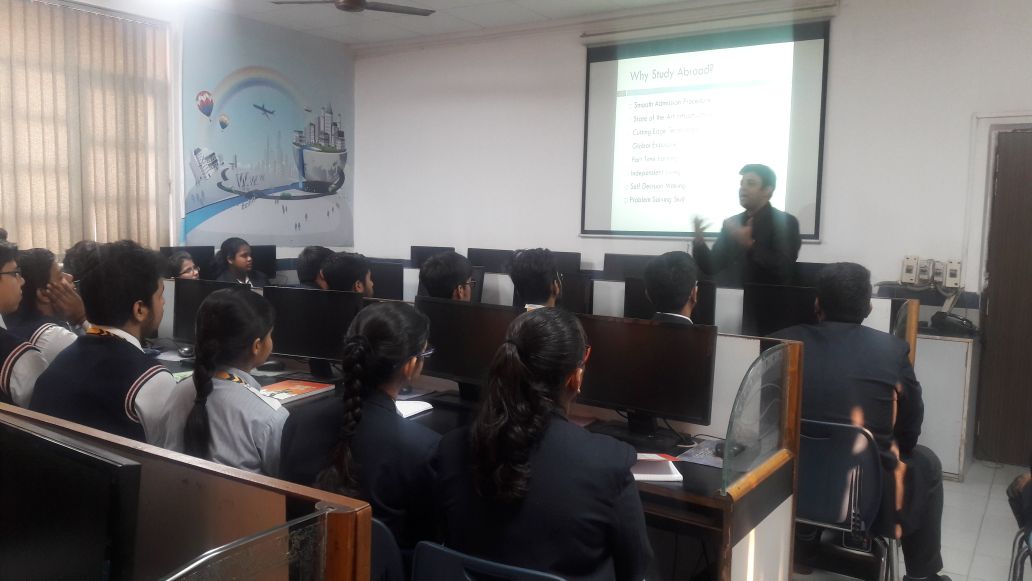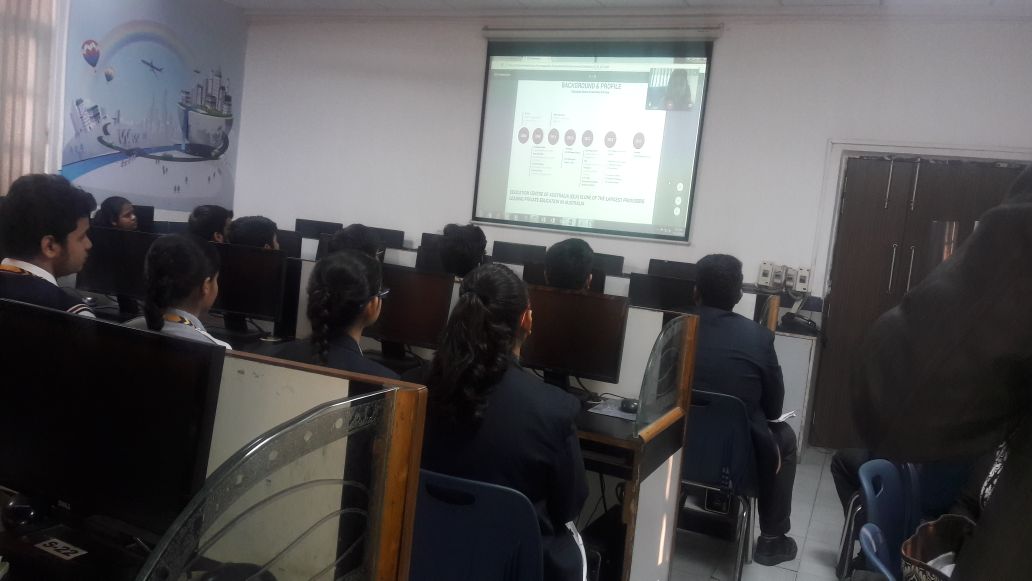 ---
Workshop on CHILD ABUSE
The School organised a workshop conducted by Mr. Lucky Prichhrat on 22nd November 2017. The objective of the workshop was a very sensitive topic called "Child Abuse ". He stated that Abuse in exploitation caused by the near ones as they know our weakness so we should learn saying the magical word "NO". We should not accept any kind of emotional, physical and sexual abuse and we should always ask for help. He related with the students by sharing his real life experience, solved the problems of students and shared an inspiring video of a girl named Khushi. It was an immense pleasure to have him in our school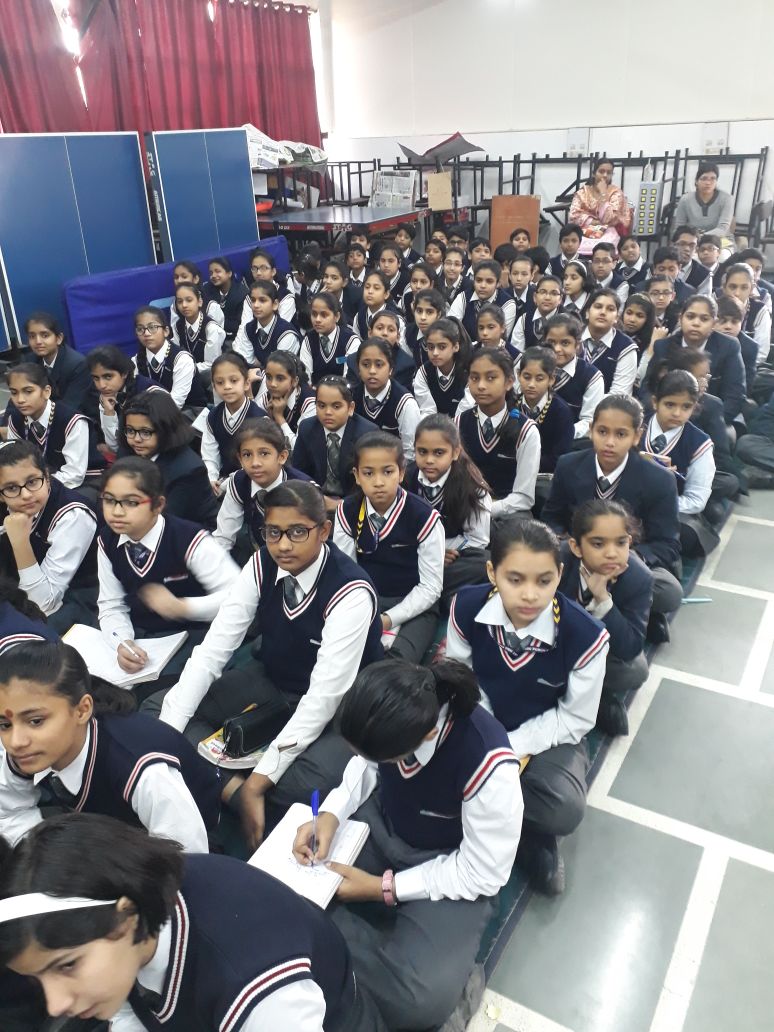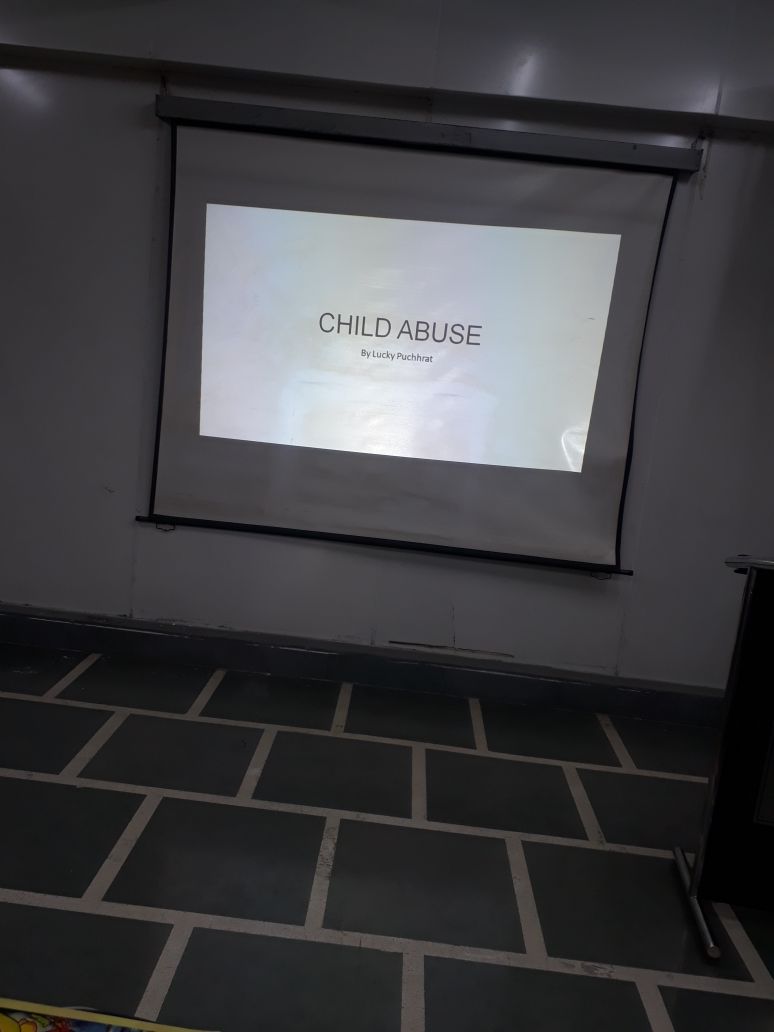 ---
Globe Protocol Training
To Provide opportunity to the students to participate in Data collection of Scientific process & contribute meaningfully to understand the earth system & global environment, students of the Classes VII, VIII & X attended the workshop on Globe Protocol Training conducted by Dr. Desh Bandhu at DAV Pushpanjali Enclave on 18th November 2017. Students were demonstrated how to measure atmospheric temperature, water, surface temperature, types of clouds using scientific instruments for Globe.
---
DANCE WORKSHOP
Dance is a conversation between the body and the soul. Keeping this essence alive the western dance workshop was conducted by the resource person by The Hindustan Times on 3 Nov,2017 for the children of Classes ll and lll. The children learnt various western dance forms and grooved their bodies on Hip hop beats. It was indeed a cheerful experience for the little Mapians as they danced not only with their feet but also with hearts.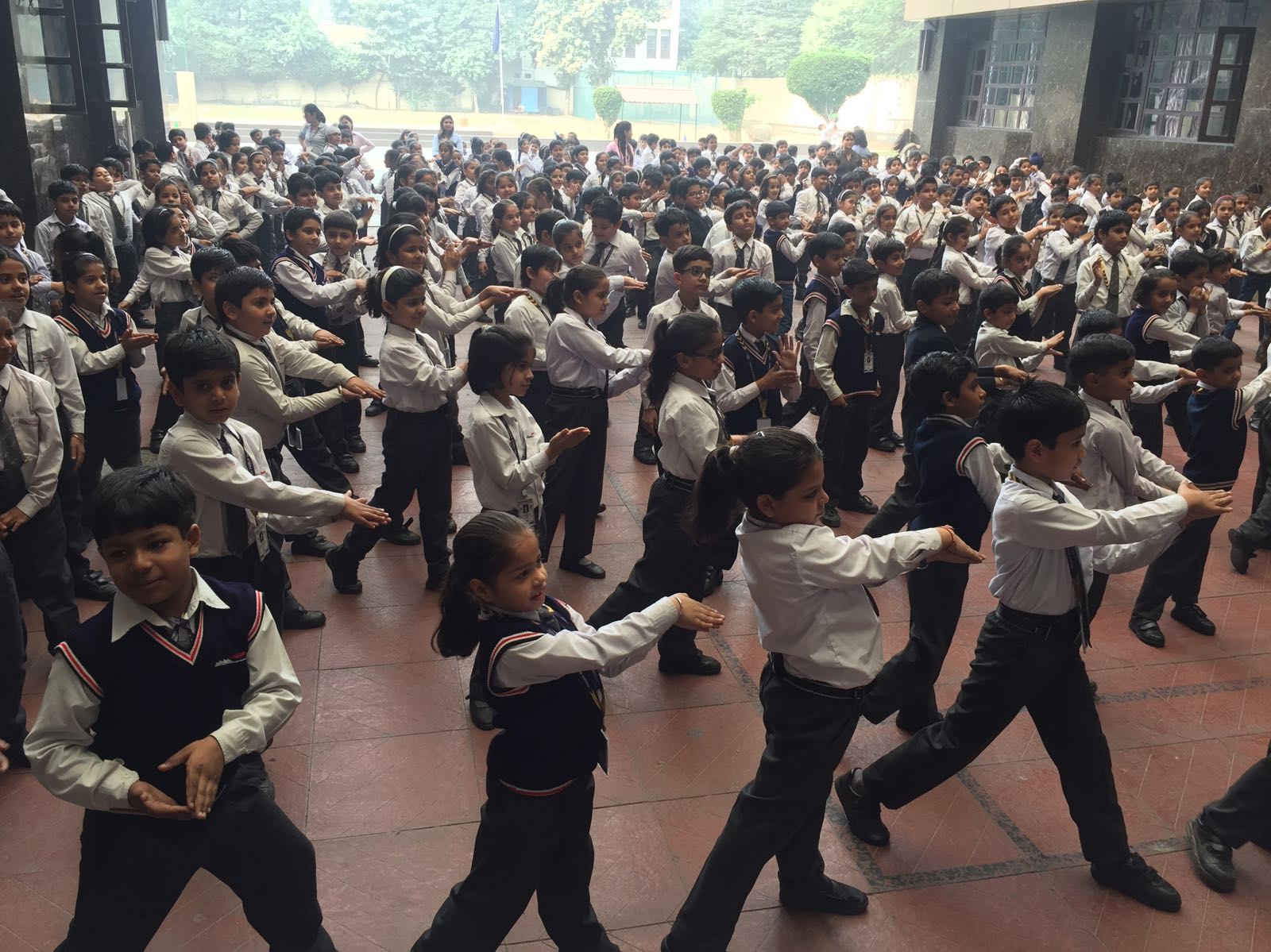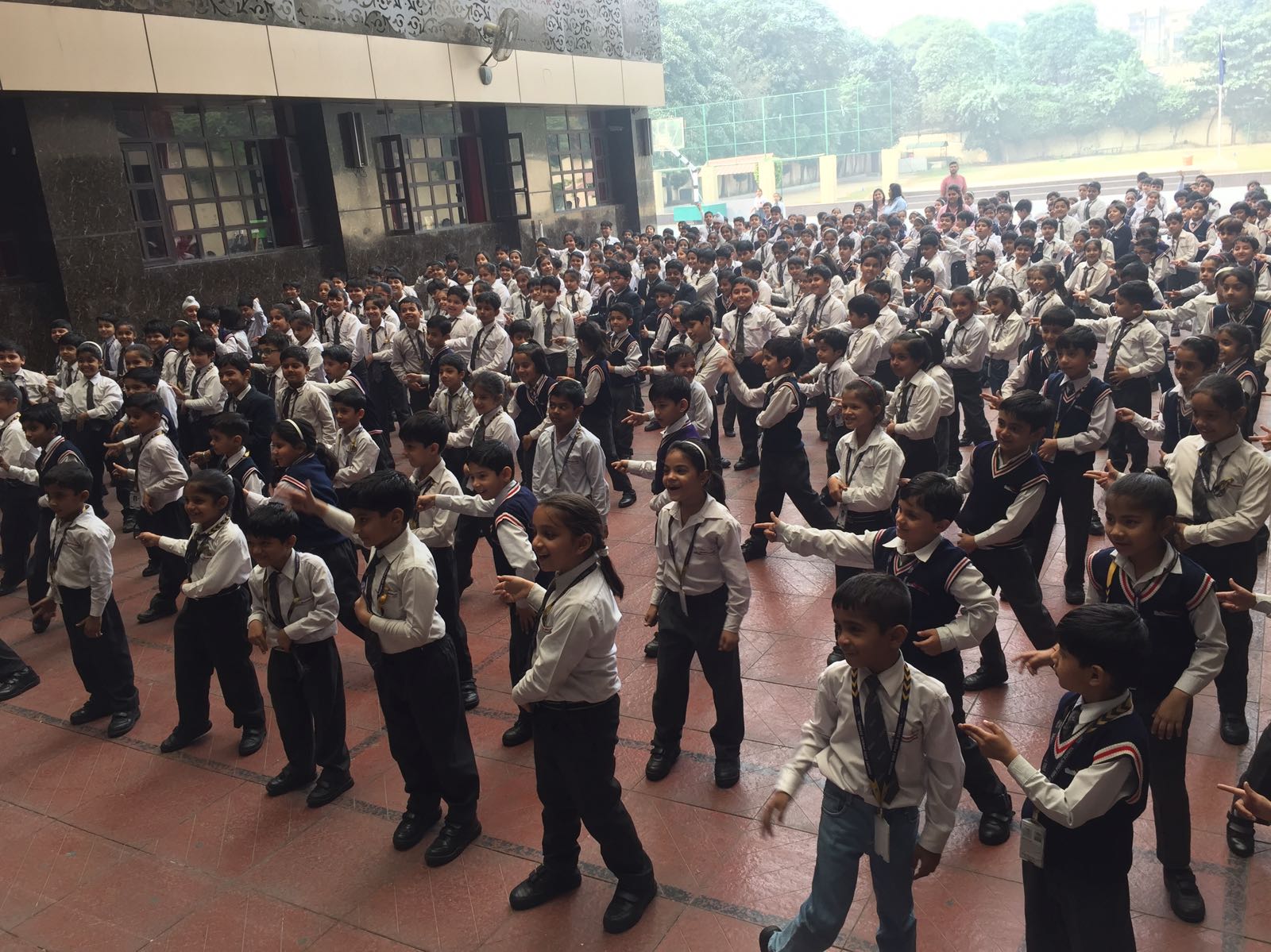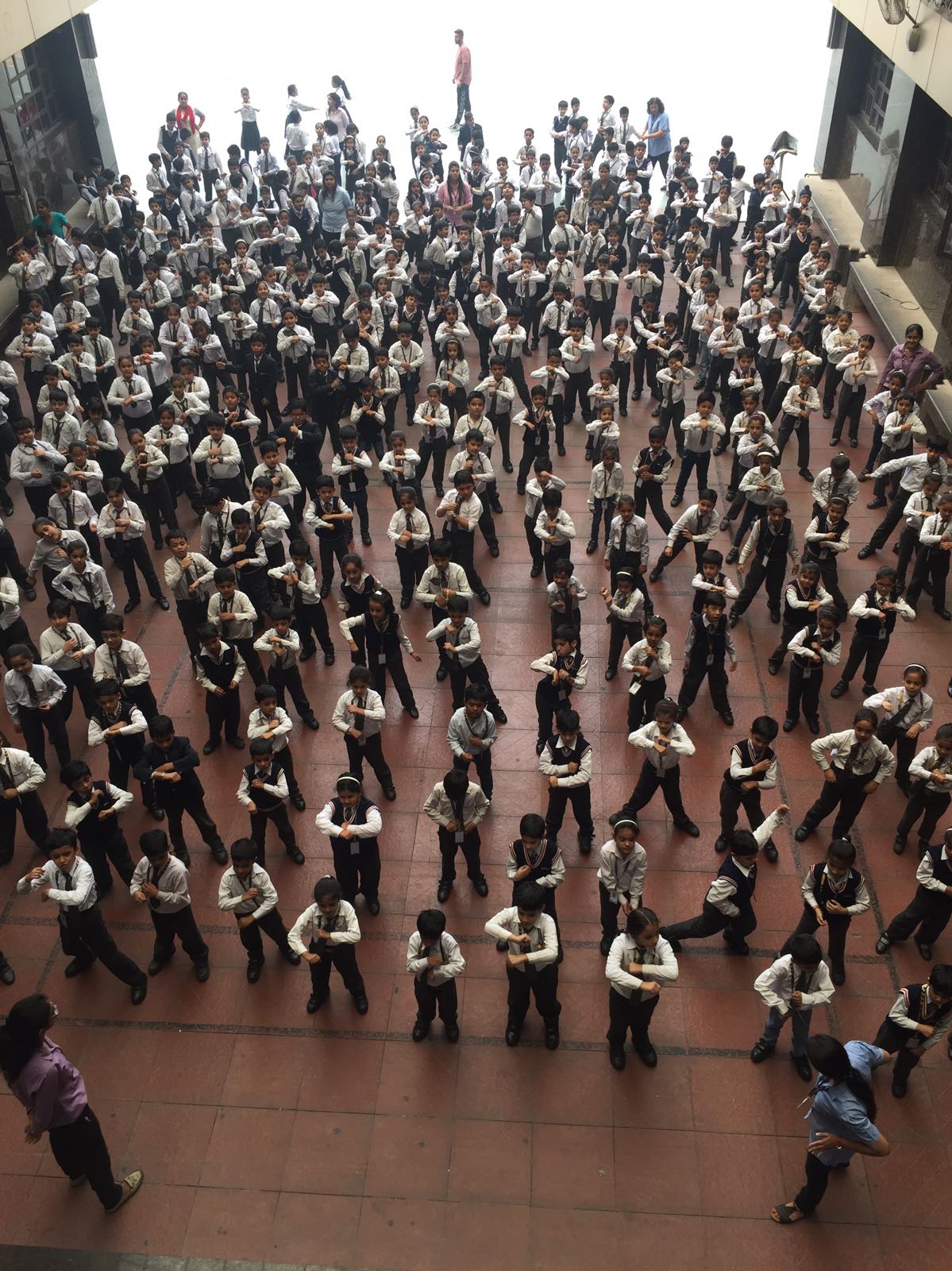 ---
Workshop on "CHILD ABUSE"
The School organized a Workshop on child abuse for Classes IV & V on 24th October 2017. the session was conducted by Hindustan Times. The Resource Person, Ms. Jaishree- The eminent Psychologist & Director student at excellence Educo. Pvt. Ltd. guided the students about comfortable and uncomfortable touch. A movie on "Dealing with Child Abuse" was played for the students that made them aware about the need to safeguard their bodies and understand the good and bad touch. The students were made aware about the strategies to safeguard themselves from any untoward incident that can harm them. They were also informed about the child helpline number 1098.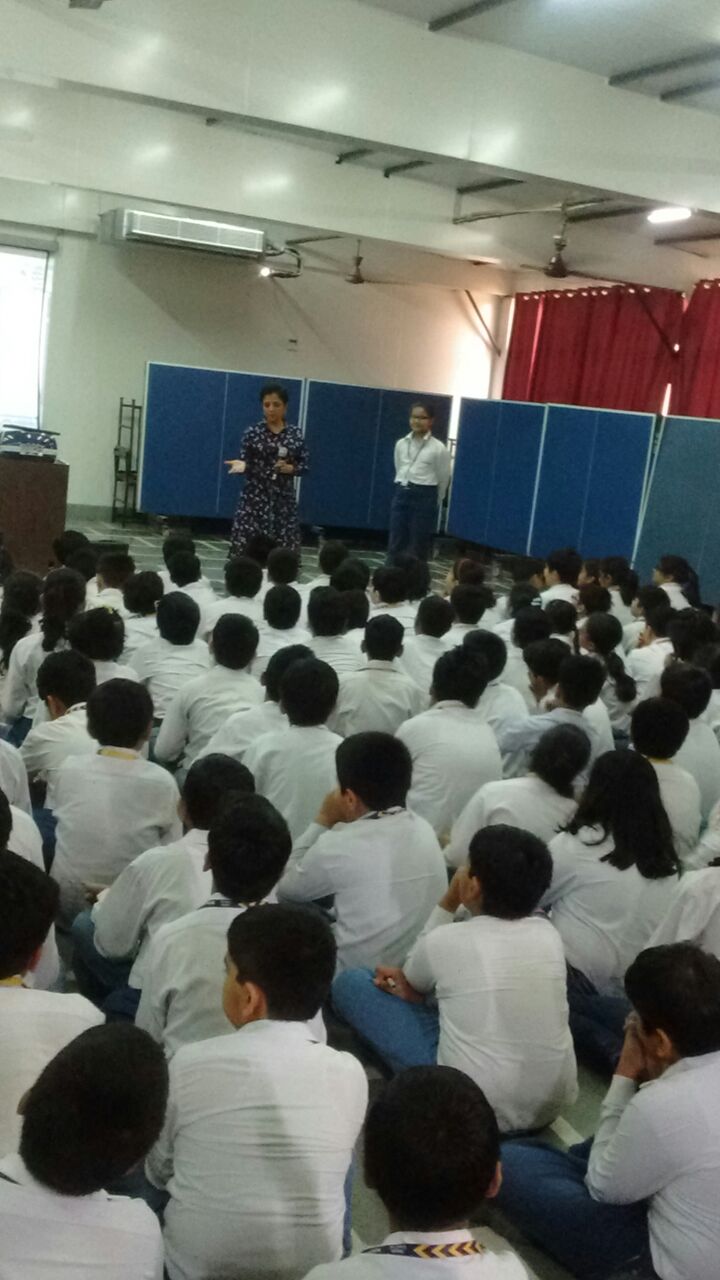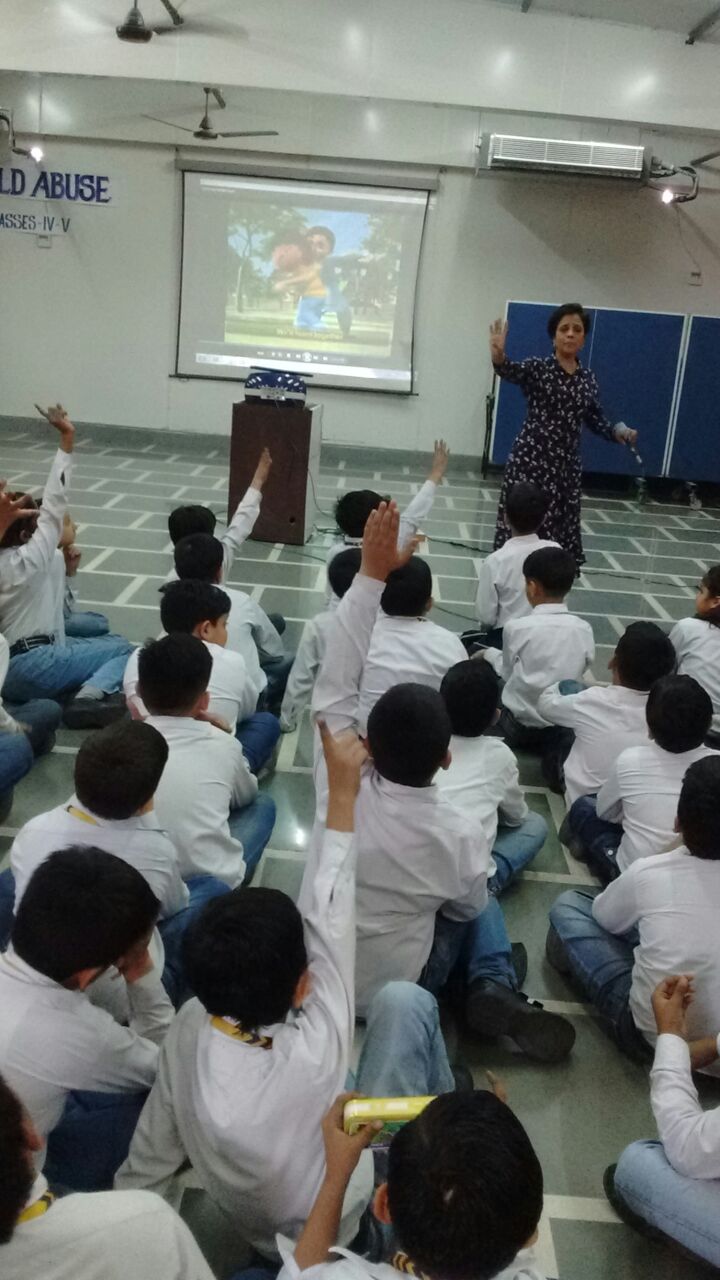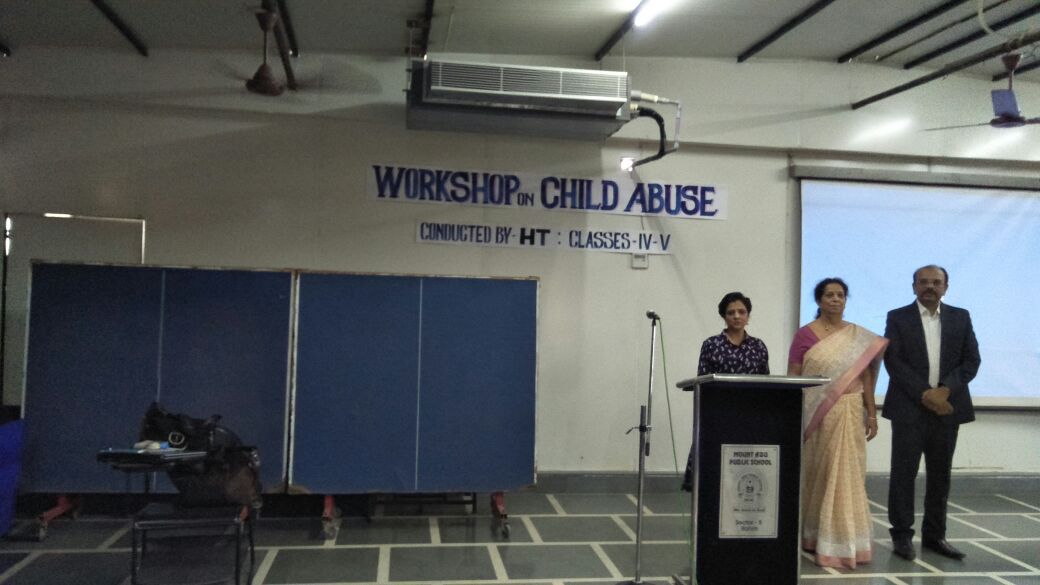 ---
WORKSHOP ON OZONE LAYER DEPLETION
With increasing concern of Ozone Layer depletion and its prevention, the School organized a Workshop on 'Ozone Layer Balance' on 7th Sep 2017 in collaboration with HT pace. The workshop was an interactive session in which the resource person brought out the importance of Ozone Layer, its elements interesting facts related to ozone layer. The students could actually realize the significance of ozone layer and need for its preservation. The workshop ended with ways to prevent ozone layer depletion.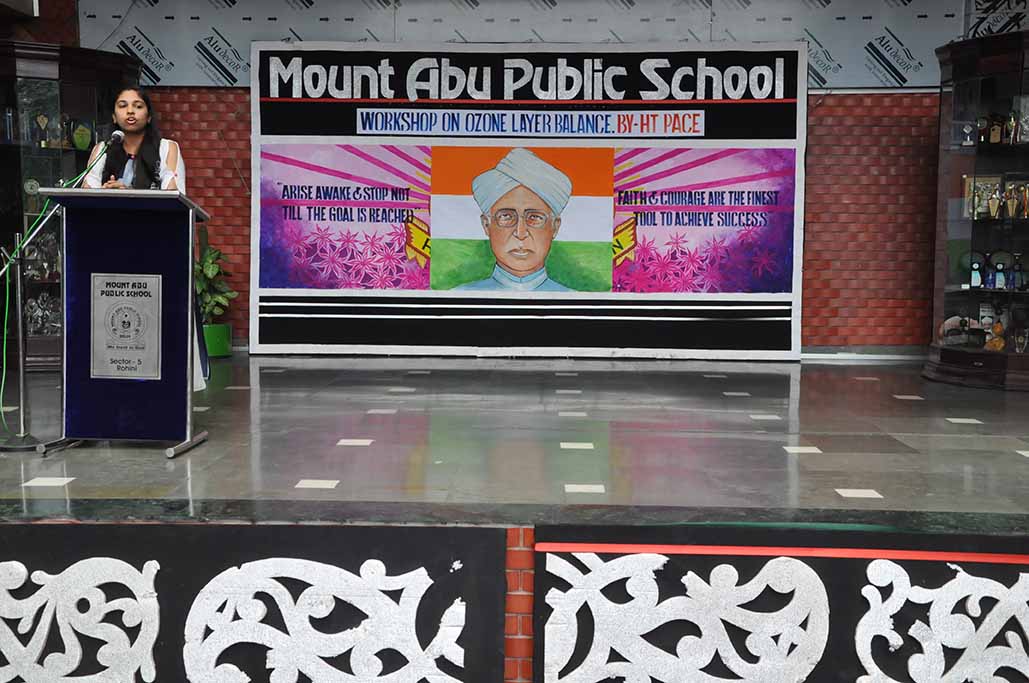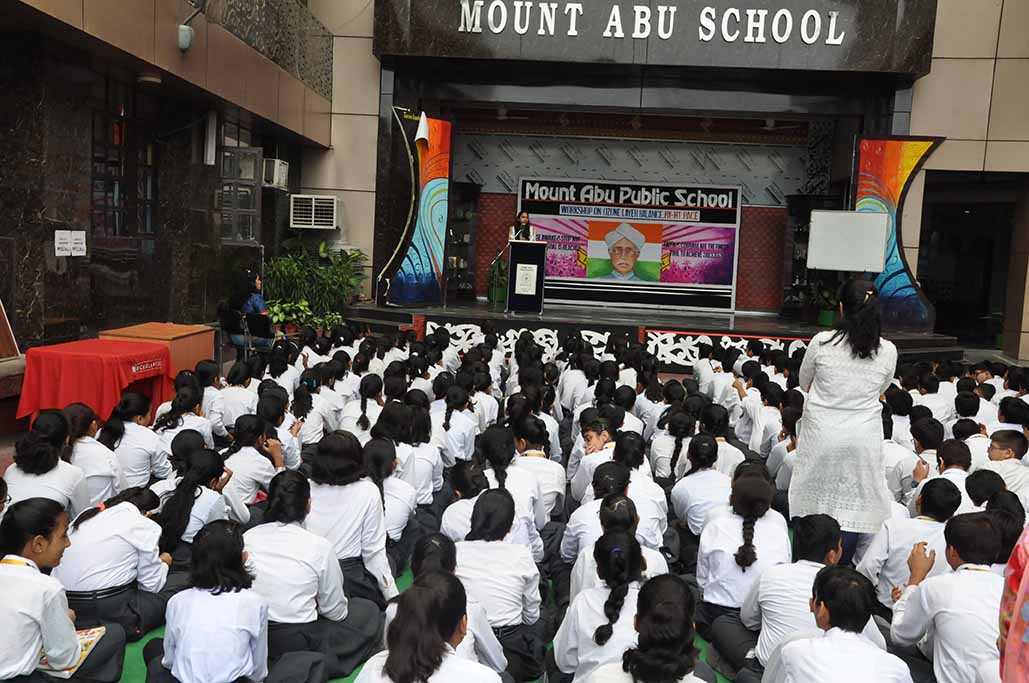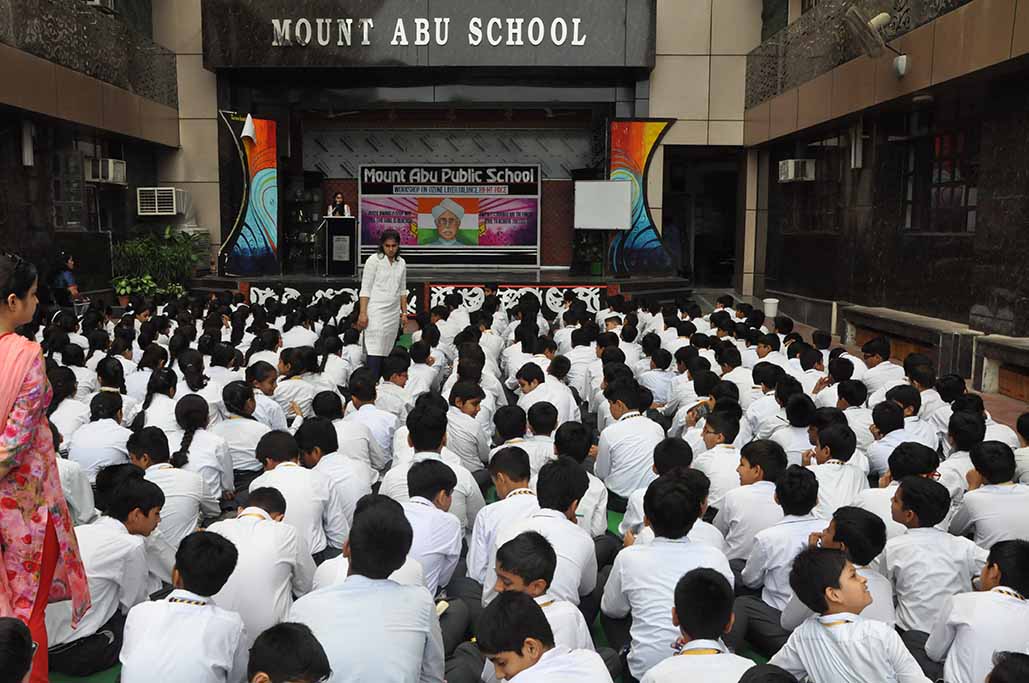 ---
Memory Training Session
The School organized a workshop on Career Options that Humanities and Commerce students can pursue after Class XII. Mr. Satnam Singh from Singh Study Circle guided the students regarding the different ways through which they can grab the best colleges of Delhi University. He also highlighted the foreign educational system and how we can be a part of it. The session came to an end with an interactive session in which the students got the opportunity to gather knowledge about the variegated career options that are available. The workshop was indeed a motivational and enlightening session for the students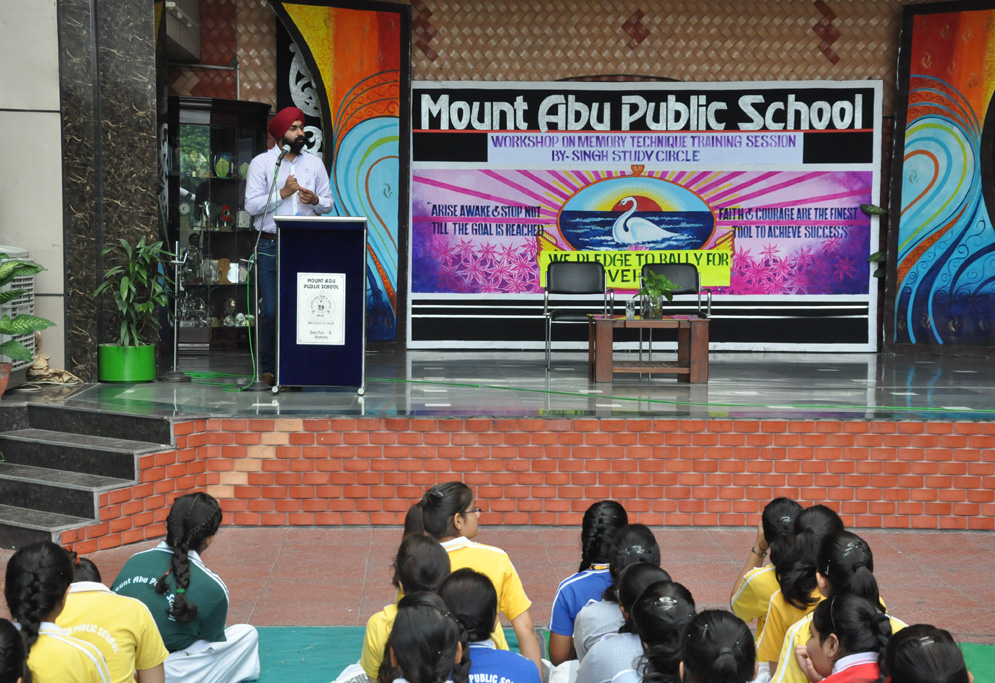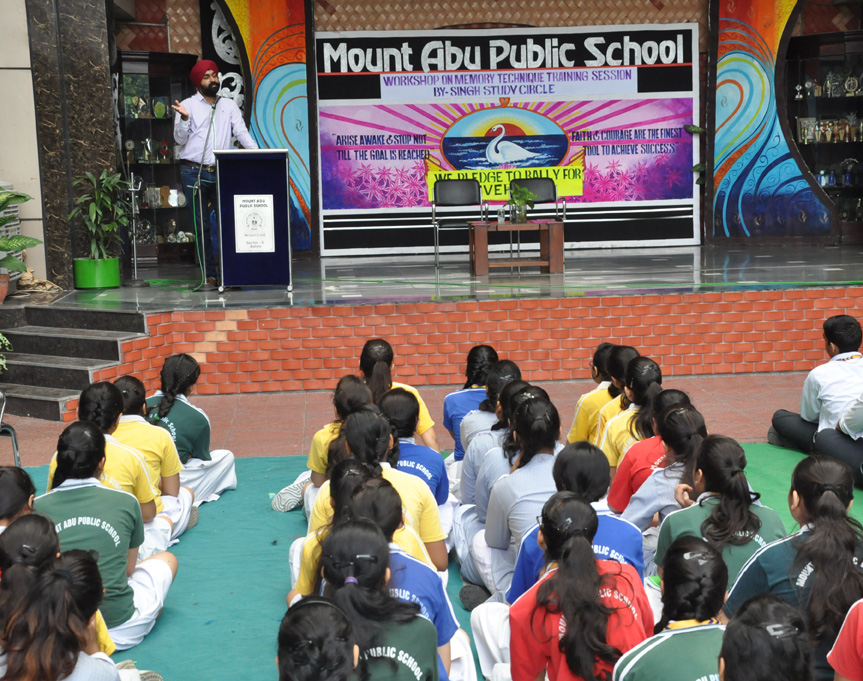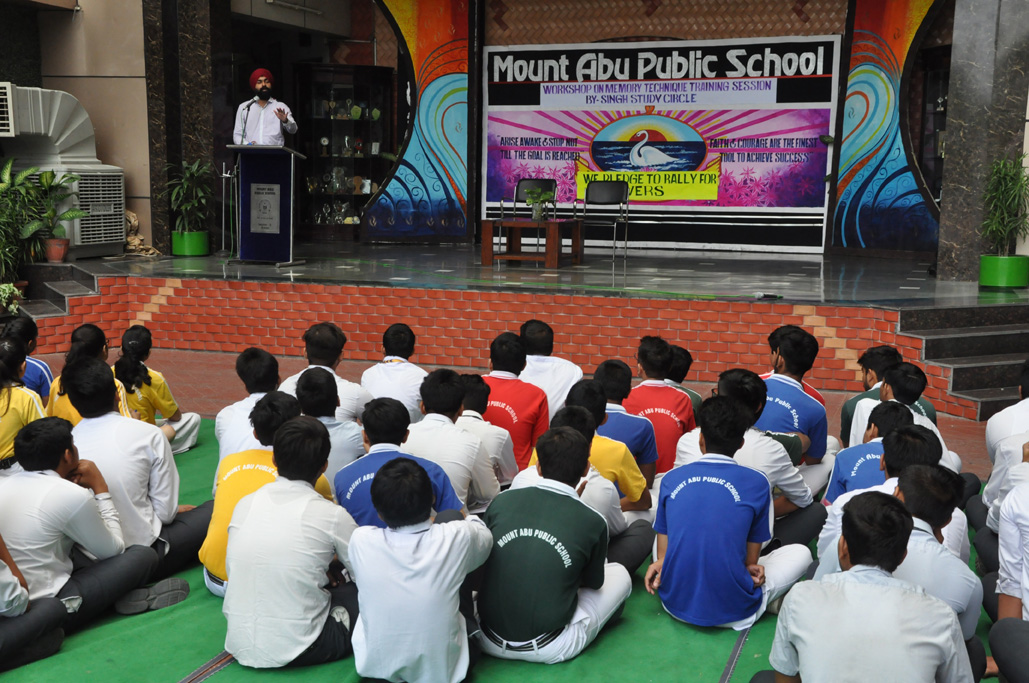 ---
Workshop with Cartoon Network Channel
Cartoon always fascinate children and to bring some fun in their life, school organized a Workshop with Cartoon Network Channel for class III students. The workshop was based on their favourite cartoon shows i.e. Oggy ,cockroaches and Krish Roll No. 21. Students took part in different types of quiz related to the above mentioned shows. Workshop also touched the sensitive issues such as road safety, personal hygiene and healthy eating. Winners were awarded by the channel and they also provided sample gifts to other students as well like sample of toothpaste , Dettol sanitizers , dukes waffy etc. It was an enriching workshop for the students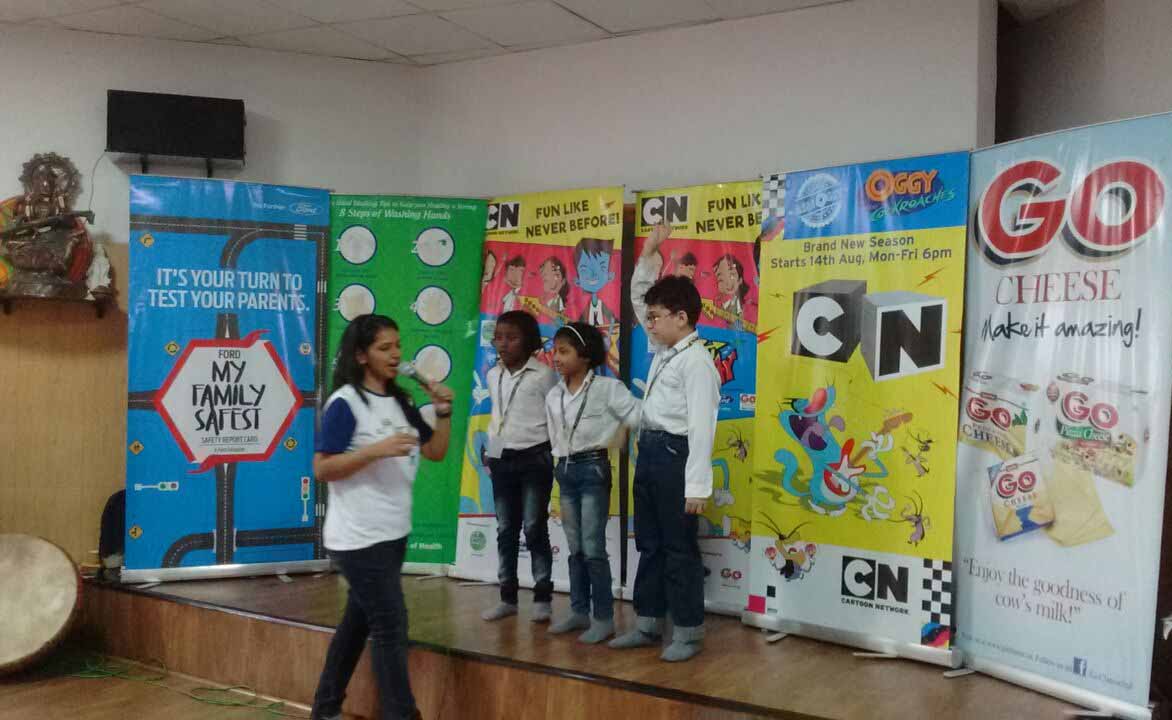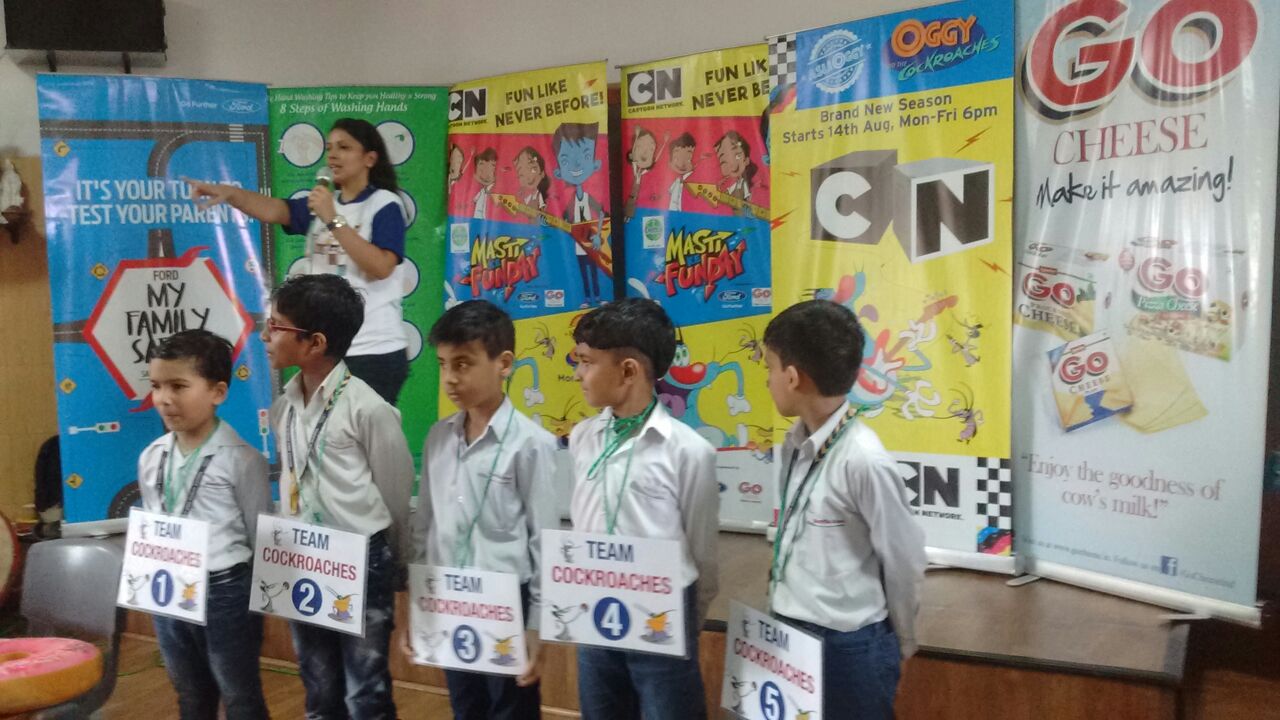 ---
Workshop on Food and Nutrition
The School conducted a workshop on "Food and Nutrition" for students of Class V. The workshop was conducted by Ms. Gitanjali from Pearson. The interactive workshop focused upon building healthy eating habits among the young children. The workshop guided the students about the balanced diet and the fluids and food that the young students should have to keep them fit and healthy. The resource person focused on eating dry fruits and fruits for keeping us active. The students enjoyed the engaging activities conducted during the workshop and realized the need to reflect upon their eating habits and maintain a healthy lifestyle.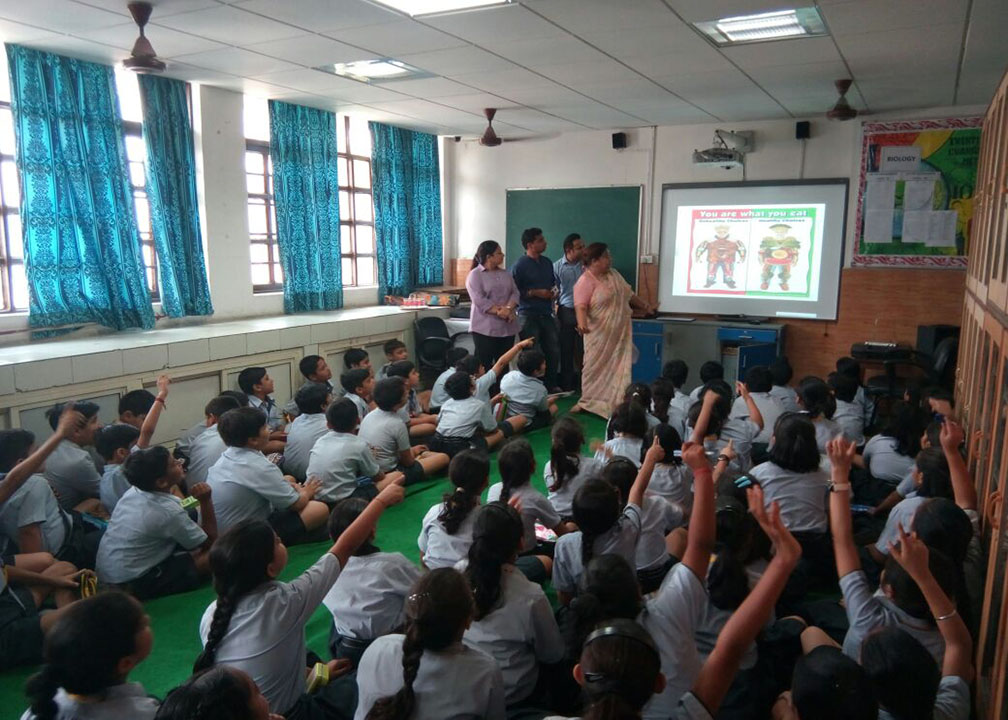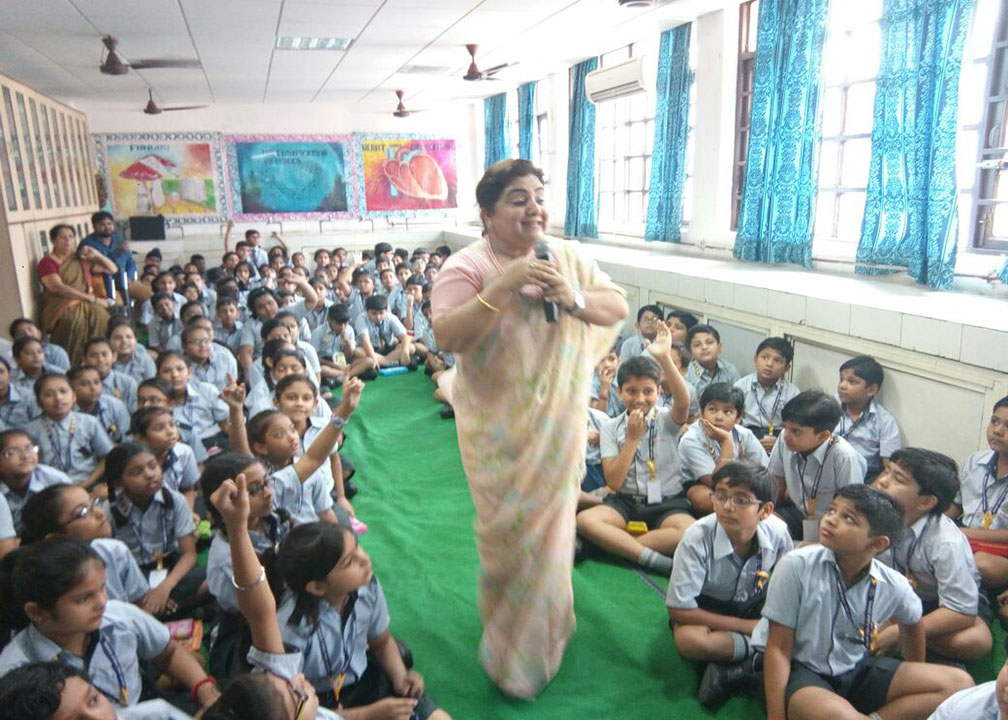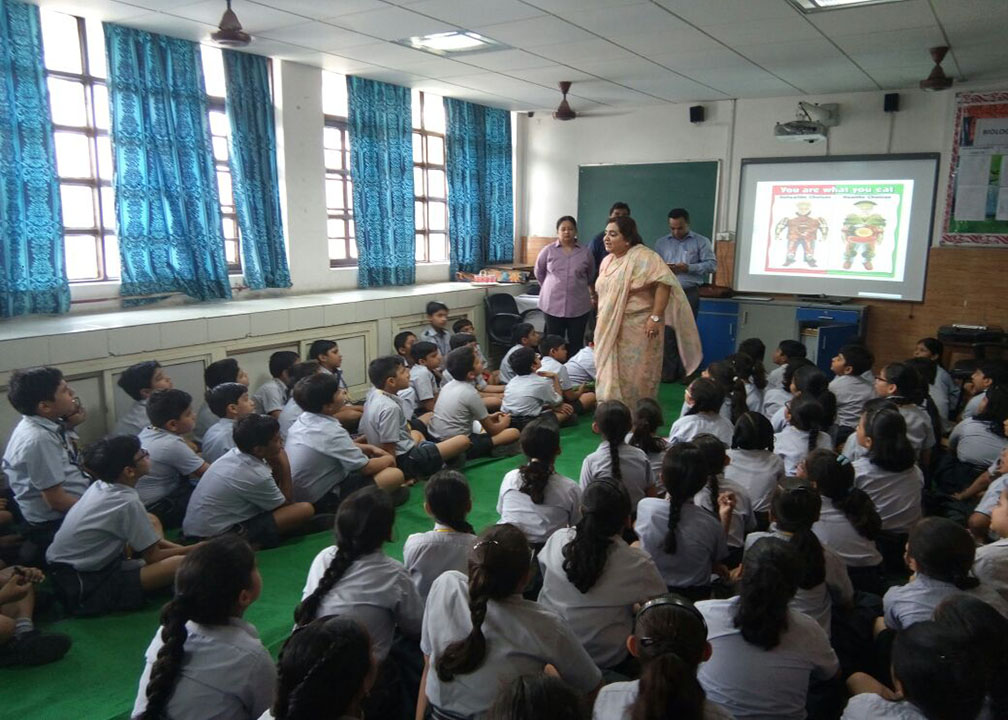 ---
Interactive Session with Author Vaijayanti Saant Tonpe
The School hosted an interactive session on 28th April 2017 with Ms. Vaijayanti Savant Tonpe who has authored many Children's books. The session highlighted the importance of reading and writing for children in order to hone their communications skill. The author also stressed on the role of language which is essential for every sphere of life. The session for classes ended with Ms. Tonpe reading out an excerpt from her latest story, 'Daddy's Girl'.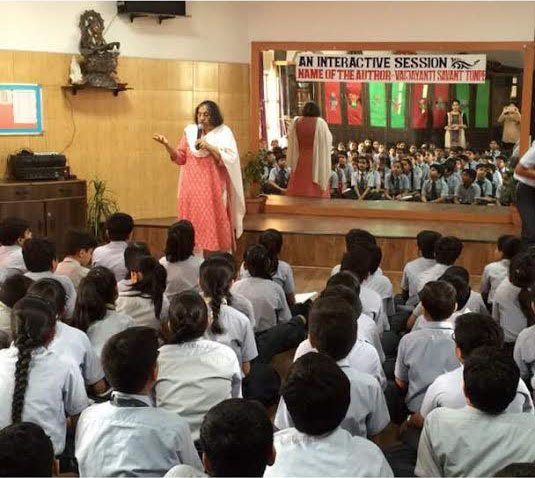 ---
workshop on Educational Opportunities in United States of America
Workshop on Educational Opportunities in US for Classes XI- XII was organised by SIMPL-ED, Mr. Ricardo Castro Salazar from Pima Country Community College, Arizona and Ms. Jetza Torres from Rancho Santiago Community College , California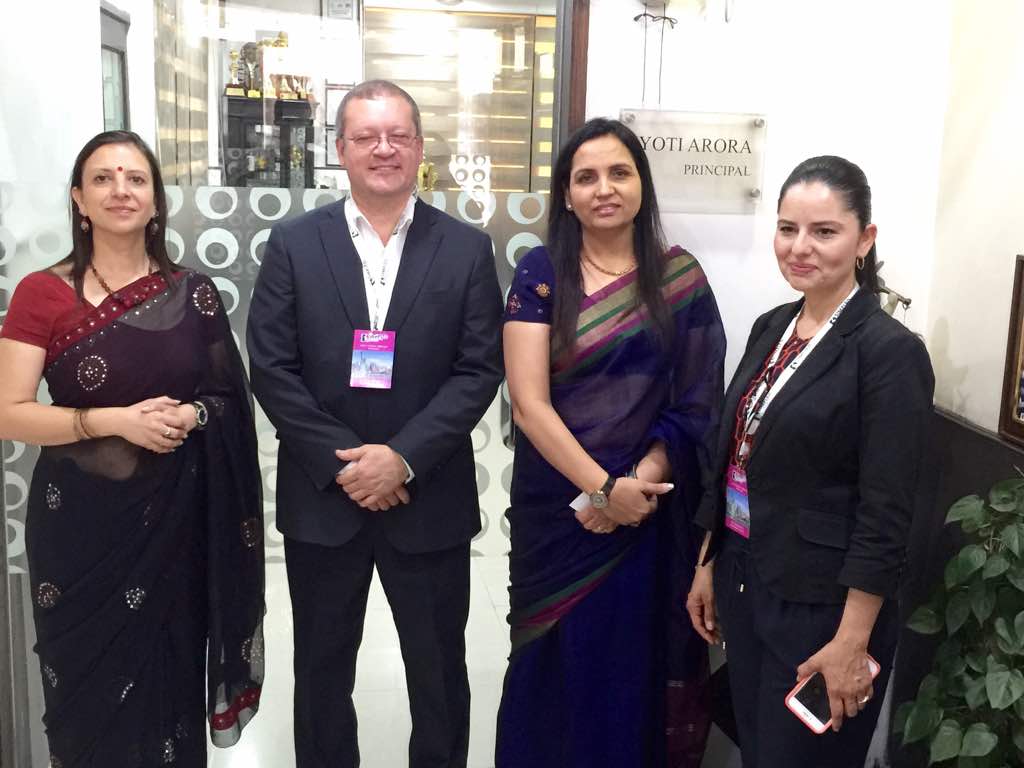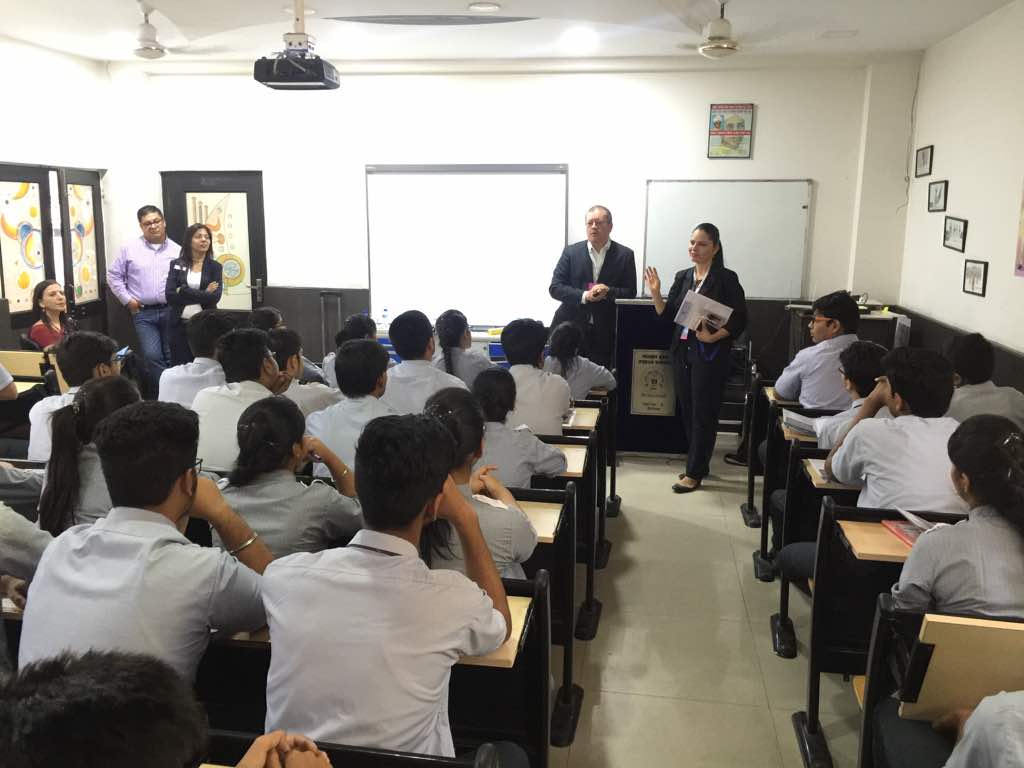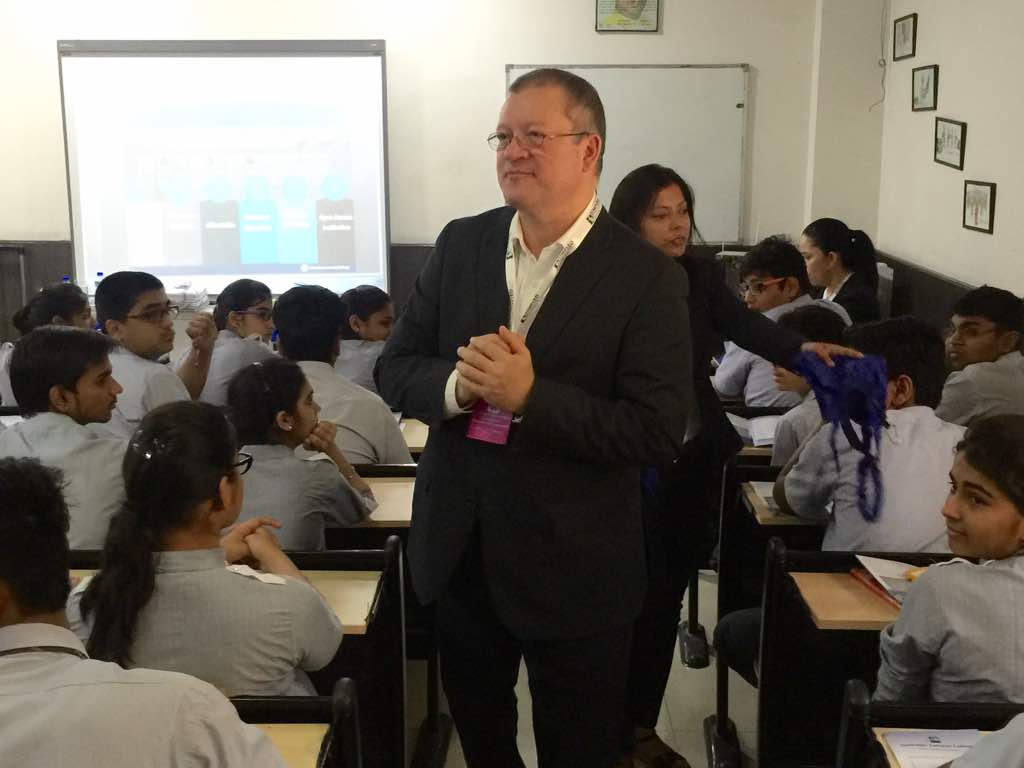 ---
Adolescent Peer Educator
Workshop on Adolescent Peer Educator conducted by Dr. Jitender Nagpal of Expressions India at National Science Centre on 19th April 2017
Attended by
Navya, Ridhima, Rachit, Diptesh And Ujjwal Gupta (IX)
---
STOP THE CLOCK
STOP THE CLOCK for Class VII was organised by Quality Education Asia on 14th February 2017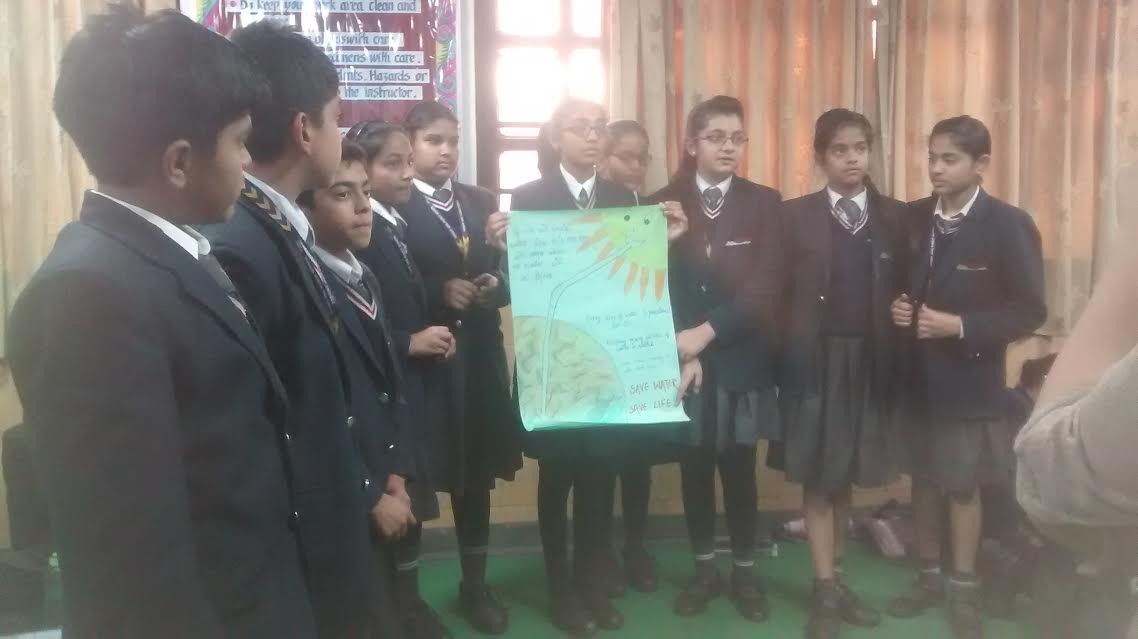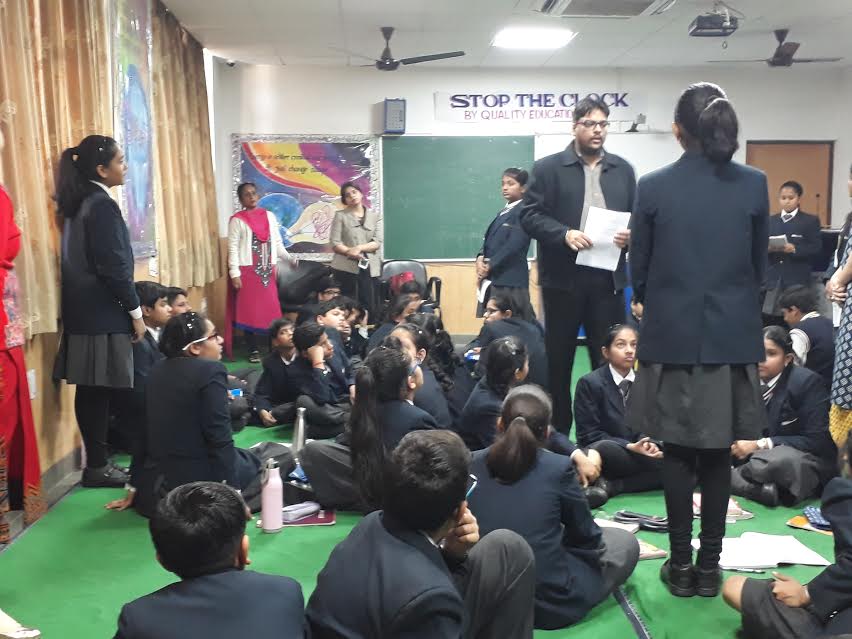 ---
Memory Retention
Memory Retention session was organised for Classes IX - X by Mr. Mohammad Faisal on 7th October 2016
---
MindSmart 2016
MindSmart 2016 for Classes IX - X was organised by Ms. Aparna Singh & Ms. Aprajita Dixit of Expressions India on 5th October 2016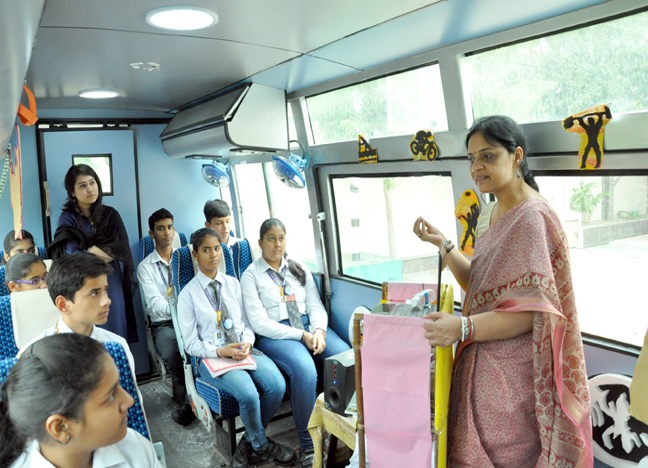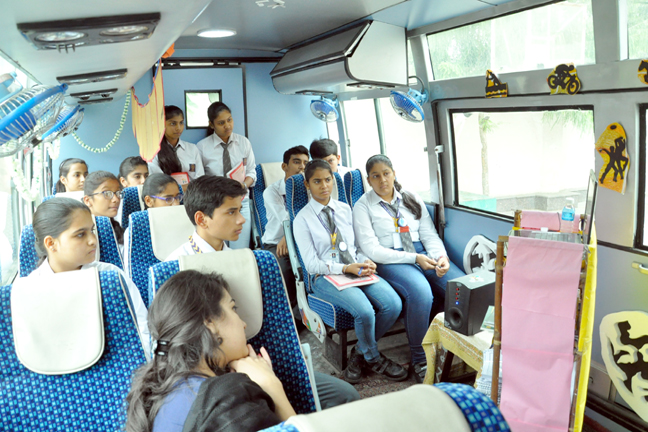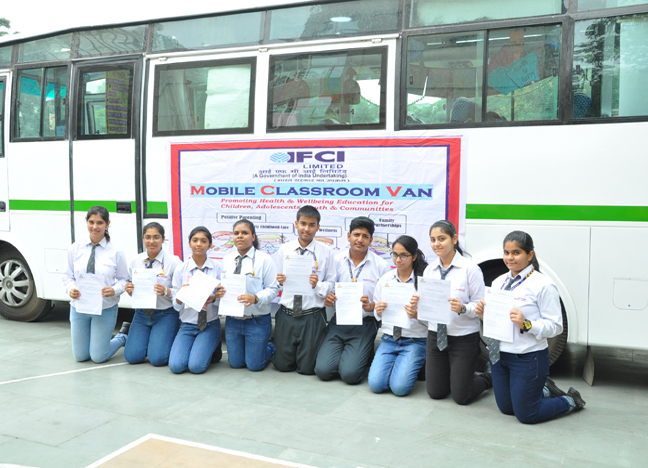 ---
Career Counselling Session
Career Counselling Session for Class XII was organised by Mr. Vikram Tomar of O.P. Jindal University on 19th September 2016
---
Mobile Classroom Van
Workshop on Mobile Classroom Van organised by National Science Centre and Expressions India on 7th September 20-16
Attended by Preeti Handa & Aryan Sharma of Class X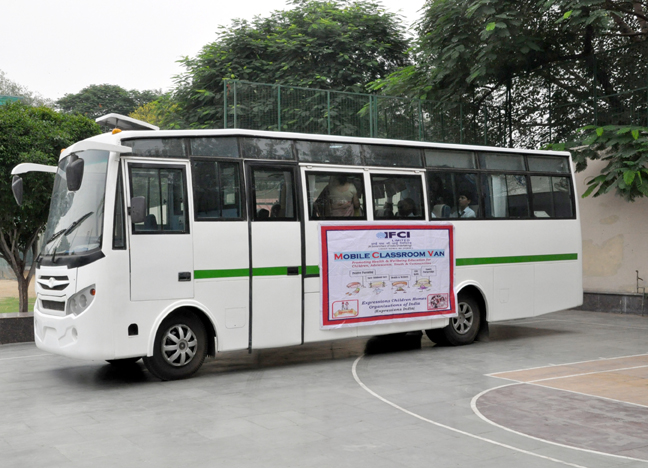 ---
Expression - Understanding Emotions
Expression - Understanding Emotions for Class IX at National Science Centre on 19th August 2016
---
Life Skills & Values
Life Skills & Values at National Science Centre on 19th August 2016
Attended by Kanishka, Sonali Katyal, Kiran Chhabra, Yashowardhan, Shruti Mathur
---
Slam Poetry
Slam Poetry for Class XI at Springdales School, Pusa Road
---
Guideline for NTSE and JSTS
Guideline for NTSE and JSTS for Classes IX - X by Narayana Institute, Punjabi Bagh
---
Life Skills & Values
Life Skills & Values at National Science Centre on 29th July 2016
Attended by Kanishka, Sonali Katyal, Kiran Chhabra, Yashowardhan, Shruti Mathur
---
Tiger Walk
Tiger Walk for Class VIII organised by WWF India & Wildlife Trust of India on 29th July 2016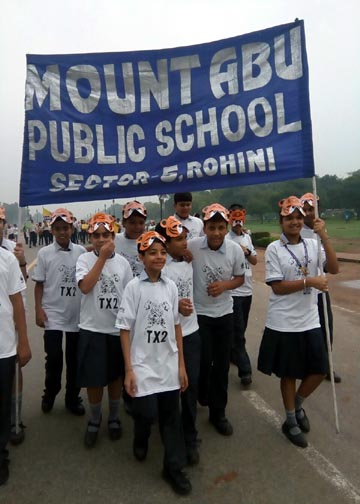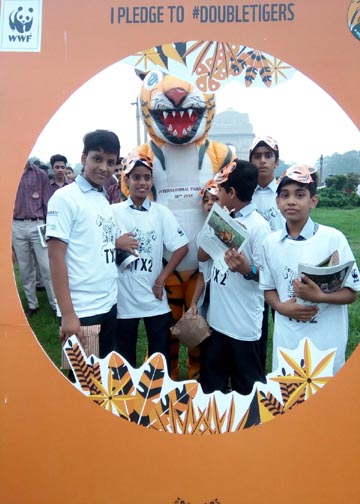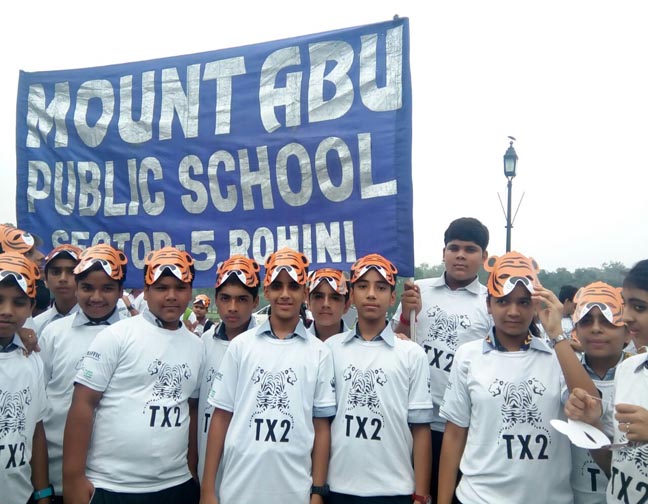 ---
Chemistry Popularization
Chemistry Popularization for Classes X - XI by Forum of Public Schools & Association of Chemistry Teachers Mahavira Model Sr. Sec. School
---
Antroid App Design
Antroid App Design for Classes X- XII
Resource Person: Mr. Vishnu Aggarwal
---
Self Defense for Girls
Self Defense for Girls for Classes VI - VIII
Resource Person: Ms. Kimati
---
SDRO
Classes VI - X
Resource Person :
Mr. Sarvesh Kumar Bhardwaj
---